It's going to sound odd, but Monero (XMR-USD) being down only 80% from its 2018 high is potentially a positive sign. That's because its comparisons, including Etheruem (ETH-USD) are down further, and many altcoins are nearing 95% off what investors saw in early 2018.
Why did Monero hold off just a bit better than other coins? Amongst many more complicated explanations, I believe it's likely that its believers kept holding their coins through massive sell-offs.
And that's because Monero's backers are believers in its potential, and that potential is not going to be reached in the short term. The goal is to be the best privacy-coin in the cryptocurrency market, an achievement that could propel Monero's price (and value) well past Bitcoin's, which will rely on consumer adoption, node support, and well-observed addresses.
Monero is different, and cutting-edge when it comes to utilizing the blockchain for private addresses. The main way it does this is by using "stealth" addresses, which allow transactions to be confirmed, but not transparently reported.
Recently, Keysheet.io did a full report on 'The Best Privacy Coins For Anonymous Payments' which broke down several important criteria for coins. Its winner? Monero. And it goes in-depth (for those interested) in why it deserves the top spot.
Here's one chart that shows acceptance on various darknet markets, which isn't the whole point here but you can see Monero's advantage over other main coins (except Bitcoin (BTC-USD)).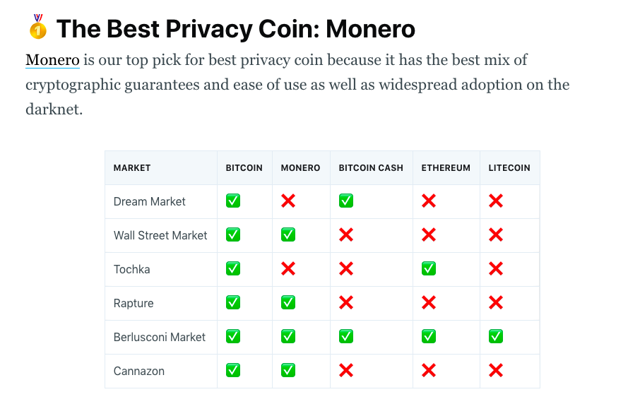 Still, as the report says, "With Monero, you can check to see that a public address exists, but you can't see its balance or history without a corresponding private key."
Here's a more in-depth analogy of how Monero works if you're interested.
Monero Updates
As it works to achieve its technological goals, the project has seen some recent success. It rolled out perhaps its biggest tech update of the year just last week. Called 'bulletproof'; the roll-out was successful in implementation and effect. It saw transaction fees on the network drop to levels under $.01, a 95% reduction from past fees.
That number should catch some eyes. As Monero works to become a de facto coin for private transfers, it's vital that it keeps its fee structures below competitors like Zcash (ZEC-USD) and Verge (XVG-USD) and this is an enormously positive step in that direction. Now Monero can boast its tech alongside its price opportunity, putting it in classes of low-fee coins like Litecoin (LTC-USD).
That comparison is not for naught. Recently, Litecoin founder Charlie Lee announced he was more interested in the Monero project and saw room for privacy coins to fit into the cryptocurrency market growth. Why did he say that? For one reason, an August Twitter poll found that crypto users were interested in confidential transactions (above several other options listed). It's something that's been a part of the adoption ethos from the beginning.
Lastly, the tech updates also saw another important marked change. The mining difficulty of XMR dropped this month, an important note to make as other coins (including Bitcoin) have seen difficulty steadily increase over time. This causes mining operations to call profits into question and potentially put the entire mining operation (the backbone of proof-of-work systems) into question. Of course, if miners left, difficulty could drop and stabilize, but it also risks too much of the mining operation being handled by one house.
Monero Price
As the earlier article pointed out, Monero is listed for trading on almost 100 different exchanges, so it's seeing high-volume levels - mostly above $20 million per day. Unlike other altcoins, it's not waiting to be added to some kind of exchange that might boost its prices.
Still, there's something odd here about its volume. Sites are reporting that daily volumes lately have been around $16 million, but that seems to exclude Bithumb, which Coinmarketcap shows as having nearly $200 million in trading of Monero with the Korean Won pairing. This will need to be monitored - but the strong volume coming from South Korea is a positive sign in a country that wants to keep its crypto friendliness strong, but also recognizes the demand for cryptographic innovation.
Lastly, Monero is not part of the Coinbase five that look to be added this year, though its competitor Zcash is. Success in the ZEC-USD will bode well for Monero, as it can affirm investors' interest in coins that can be traded safely but without watchers.
XMR-USD price is down about 10% in just the last month, which fits with the overall market trends. It hasn't broken upward like a small group of altcoins have in the bear market (all of the Coinbase ones have, for instance).
In the short and mid-term, it doesn't appear that investor interest or tech updates are going to have a noticeable effect on Monero's price, but the play here is for the long term. If Monero can be the #1 privacy coin, or even share that distinguished title with Zcash, there will be value here. There will be a sect of crypto traders, with a big market, bear or bull, that want to exchange coins without being tracked. It's been that way since the beginning of this market, and it will stay that way.
Long term, Monero is something to hold and watch to see where and what trading communities it breaks into. But waiting might be the play, holding in BTC and waiting for that to raise before it lifts the rest of tides, including XMR.