The Day After Tomorrow: Is Europe About To Break Down? - Part I
Includes:
ADRU, BAC, BBVA, C, DAX, DB, DBEU, DBEZ, DBGR, DBIT, DEUR, DEZU, DIA, DRR, DXGE, EEA, EPV, ERO, EUFN, EUFX, EUO, EURL, EWG, EWI, EWP, EWQ, EWU, EZU, FEEU, FEP, FEUZ, FEZ, FGM, FIEE, FIEU, FLGR, FLIY, FXE, GF, GREK, GS, GSEU, HEDJ, HEWG, HEWI, HEZU, HFXE, IEUR, IEV, IWM, JPM, MS, PGAL, PTEU, QDEU, QQQ, RFEU, SAN, SPEU, SPY, TUR, UEUR, ULE, UNCFF, UNCRY, UPV, URR, VGK, WFC
by: The Fortune Teller
Summary
The economic and political cracks in Europe are wider than ever before.
Winter is approaching fast, and if things won't change quickly for the good part, we may see an "ice age" looming soon over Europe.
The problems in Europe run from top to bottom. Those are not only the weak/er countries that are posing a threat to the stability of the union.
Where will you be the day after tomorrow?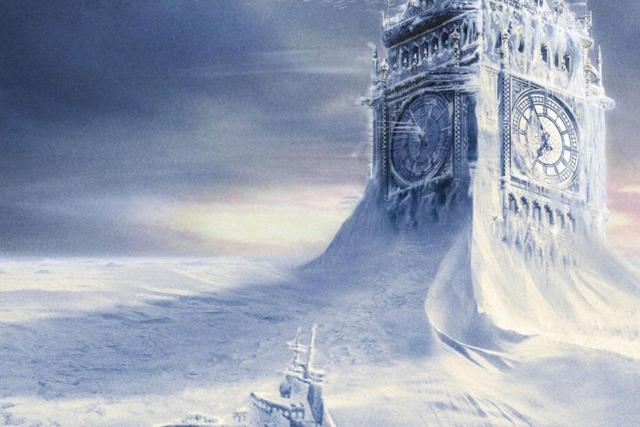 Background
Germany on one side (EWG), Italy (EWI) on the other side. In a nutshell, that's the dividing story of Europe right now. Literally and figuratively.
The two countries - one representing the "rich North", the other is the image of the "poor South" - aren't only distant from each other geographically, but they are also miles apart culturally, mentally, and economically.
On the surface (literally), there are many similarities between the two countries: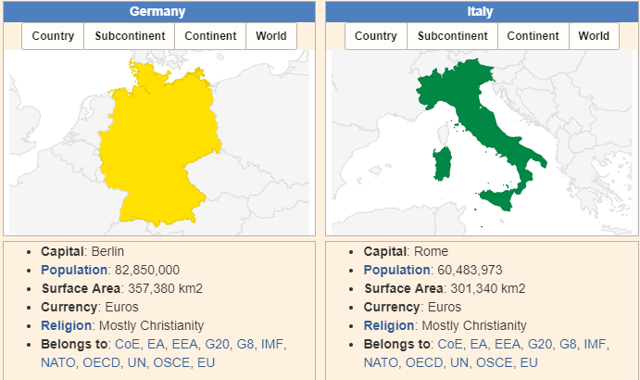 Source: countryeconomy.com
Nonetheless, in spite of these similarities, the two countries are sitting at two completely opposing sides on the economic spectrum:

Source: countryeconomy.com
This three-part series is about Europe (VGK, EZU, HEDJ, FEZ) and its leading organizations: European Union ("EU"), Eurozone ("EZ") and the European Commission ("EC").
Nonetheless, there's no better way to examine the old continent, and to assess its (in)stability, than by taking a closer look at these two, very different countries.
Italy has been in the spotlights in recent months mostly due to its own, internal, issues. Nevertheless, the snowball has most probably started to roll down when Deutsche Bank (DB), Germany's top bank, produced a slate of negative news early in the year. Since then, the stream of negative news hasn't really stopped for one of Europe's leading and most important lenders.
While Wall Street (SPY, DIA, QQQ, IWM) and American banks (JPMorgan (JPM), Citigroup (C), Bank of America (BAC), Wells Fargo (WFC), Morgan Stanley (MS), Goldman Sachs (GS)) went from one record-high to another, DB has done the exact opposite.
By the way, the exact same thing is true when it comes to European banks (EUFN), as a whole, too.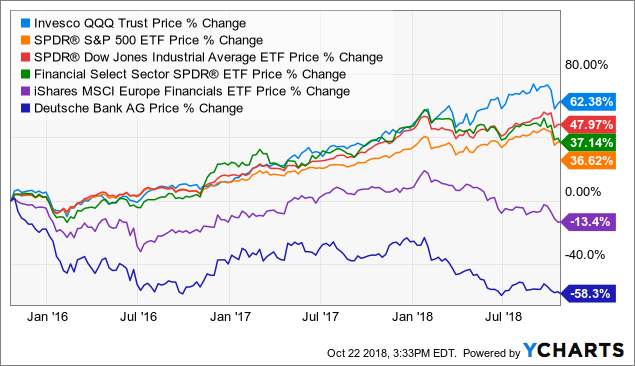 Although DB isn't the one to blame, things have spread out quickly from the struggling German bank to the entire European banking system, and from there - to weak European countries, such as Italy, Spain (EWP), Greece (GREK)**, and Turkey*,**(TUR).
*In the case of Turkey, we are talking about different reasons. However, Turkey (for itself) is a leading cause, that has been contributing a fair share to the weakness across the European banking system, especially among leading Spanish banks such as BBVA (BBVA) and Banco Santander (SAN).
** In the race between Greece and Turkey for the unofficial title of "more unsound economy", the Greeks are once again in the lead. The renewed Greek banking crisis has pushed the country's default probability to circa 30%, while Turkey's has fallen to low 20%'s. Sultans of swing...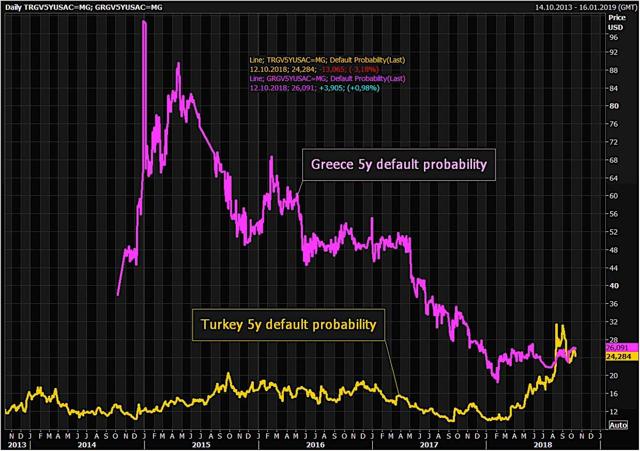 Italy in the Spotlight
Over the last couple of months, it is Italy making the headlines.
There are many reasons why and how Italy has reached its current situation, and we will need much more than one article to cover all of those. Having said that, we do offer an intensive coverage of the boot country. In case you haven't been around lately or wish to get the full details behind the recent months' escalation - please visit our most recent articles, touching upon the most relevant topics:
For the sake of this article, here are the main issues/reasons behind the current situation/complication of Italy:
1. "The Big Brother's Ponzi Scheme" is about to end
More than anything else, it's the ECB which is at the very core of "the Italian job".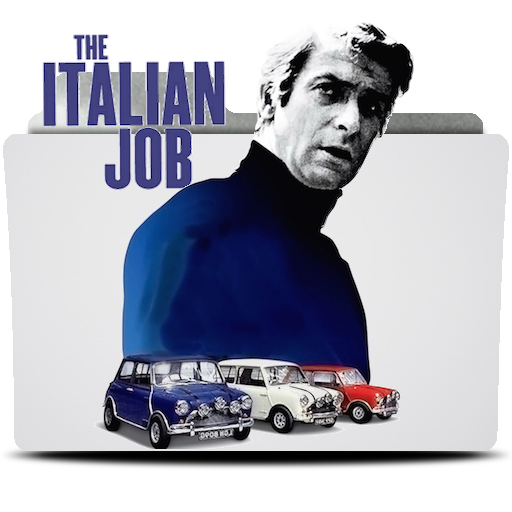 In the picture: not Mario Draghi...
The European Central Bank asset-purchasing, aka bond-buying, program - which was implemented in 2015 to revamp the euro economy, in the wake of the 2011 sovereign debt crisis - is coming to an end at the end of this year. This is very likely to reveal the over 3-year old European bluff, i.e. that the European credit markets can't operate efficiently (or at all, for that matter) without the biggest market-maker remaining deeply involved.
That's particularly true about Italy, where the ECB has been (almost) the sole buyer of government debt in recent years.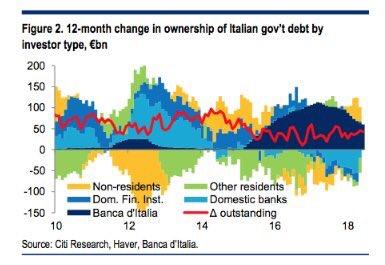 While we talk about the ECB and its enormous influence, let's not also forget that Italy has the biggest pile of bad debt (and that's in absolute terms) in Europe!
Italian banks amassed their pile of non-performing loans ("NPLs") during years of little or no economic growth. We are talking here about loans that still appear on banks' balance sheets as "assets", although they don't contribute any income anymore, because the borrowers stopped meeting their scheduled payment obligations.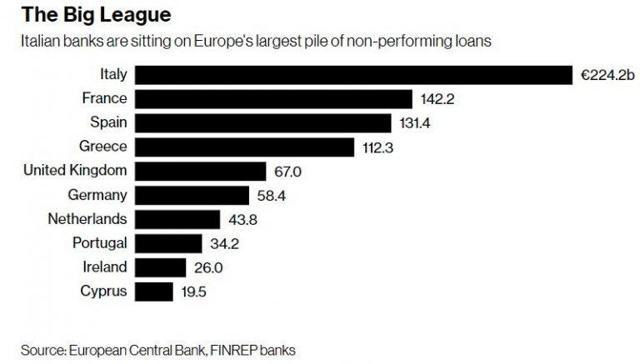 2. Elections/Political Instability
The 2018 Italian general election was held on March 4th, 2018, after the Italian Parliament was dissolved by President Sergio Mattarella on December 28th, 2017. Nonetheless, no political party won an outright majority in these elections, resulting in a hung parliament
On May 31st, 2018, following 88 days of negotiations and several impasses, law professor Giuseppe Conte (even though he hadn't been running for the Italian Parliament) was appointed as the prime minister, with support from the League and the Five Star Movement. Matteo Salvini of the League and Luigi Di Maio of the Five Star Movement were also appointed as vice premiers, thus forming the 66th Italian government since World War II.
That's pretty close to holding elections, on average, each and every year during the past 73 years...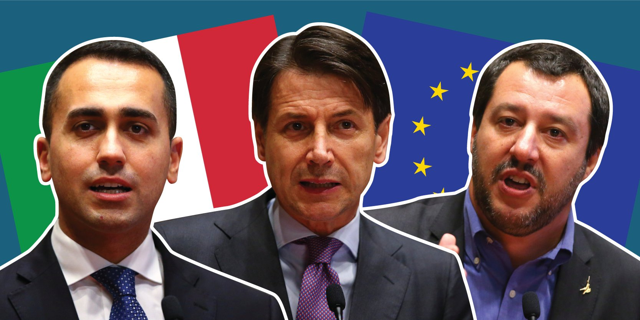 While the formation of a new government prevented the country from going through another immediate round of new elections, things have remained far from being awesome in the boot country.
3. Budget/Deficit
In the heart of the recent drama is the country's upcoming fiscal budget - the first under the newly-elected populist coalition government.
The issue surrounding the budget effectively boils down to a conflict between i) the leaders of the two ruling parties (i.e. Northern League and Five Star Movement), ii) the EZ, and iii) Giovanni Tria - Italy's technocratic finance minister.
Tria wants to pursue a more fiscally responsible strategy aimed at cutting Italy's sizeable debt pile.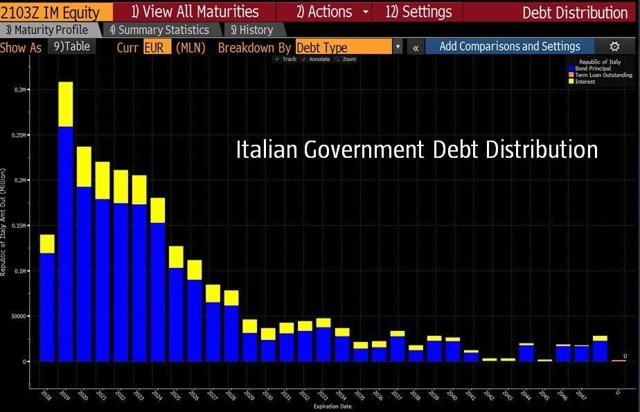 He has proposed a cap of 1.6% of GDP on Italy's budget deficit, something both Five Star and the League reject. Instead, they had agreed to set Italy's budget deficit at 2.4% of GDP - above the EU structural deficit target of 2%, and a significant increase to current levels.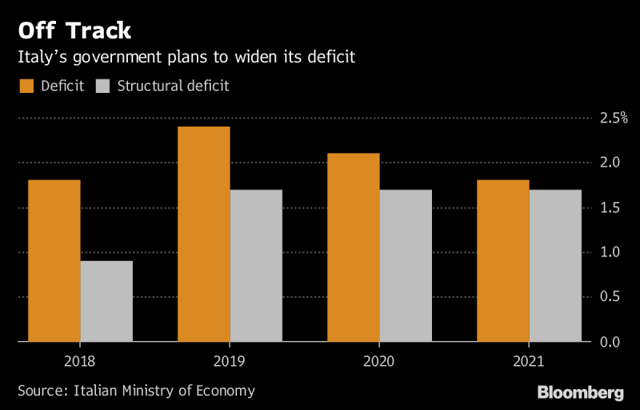 Imbalance of Balances
Taking into consideration that:
1. Italy is Europe's biggest debtor; even bigger than Europe's three largest economies - France (EWQ), Germany and the UK (EWU)!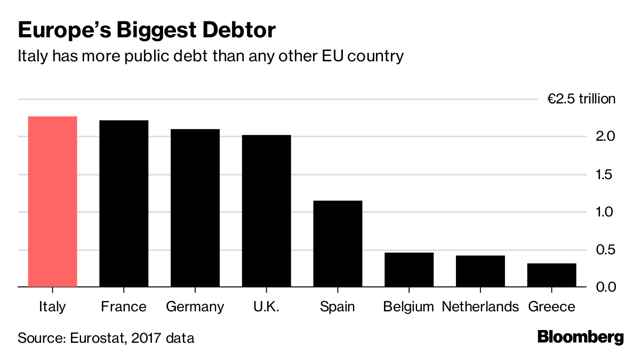 2. The underlying growth assumptions in Italy's budget are way too optimistic...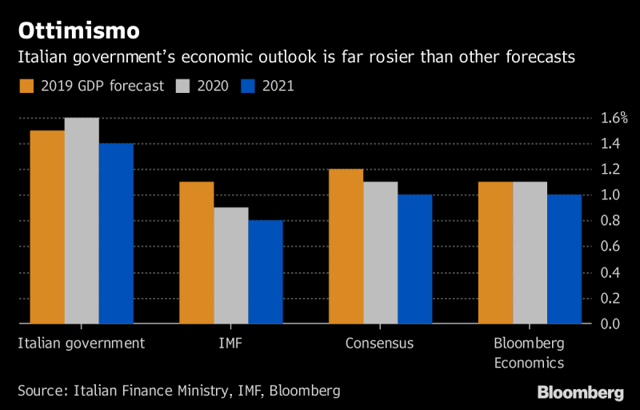 ...it's no wonder that Italy and the EU/ECB have reached a deadlock.
While the leading political figures put the blame on everyone/everything else but themselves/the country, Tria is the only one recognizing the "doom loop" effect. He says that government bond yields must go down (quickly) in order to avoid a devastating effect on Italian banks. So far - not so good...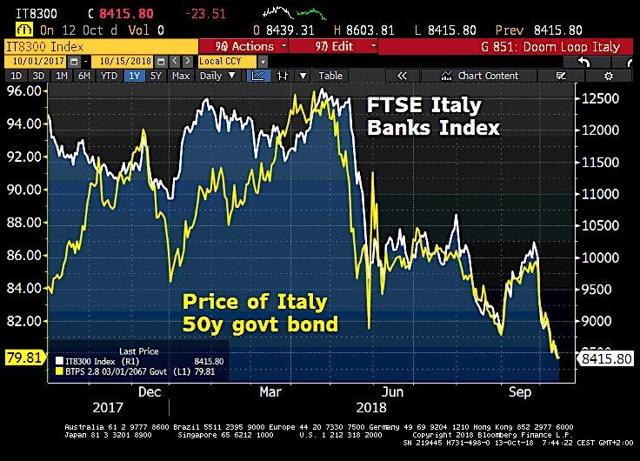 Rabobank is echoing Tria's view, saying that Italy is already on the precipice of a debt spiral. Analysts at the bank say that the average yield on Italian debt must fall to 2.63% in order to regain balance.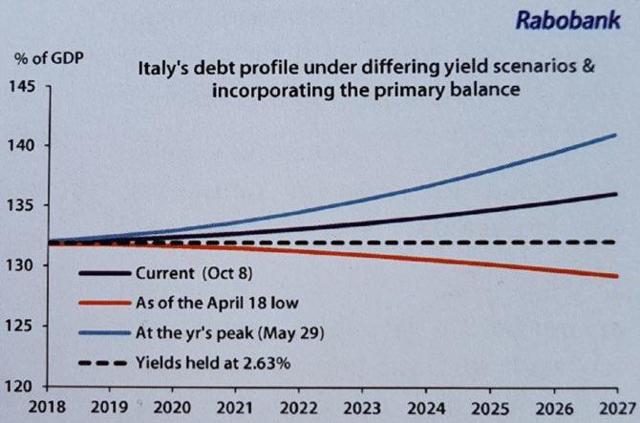 How Bad Things Are?
Italy is a country that is mostly dealing with and investing in the past. The country's public spending compared to the EU average is horribly skewed towards pensions on the expense of education.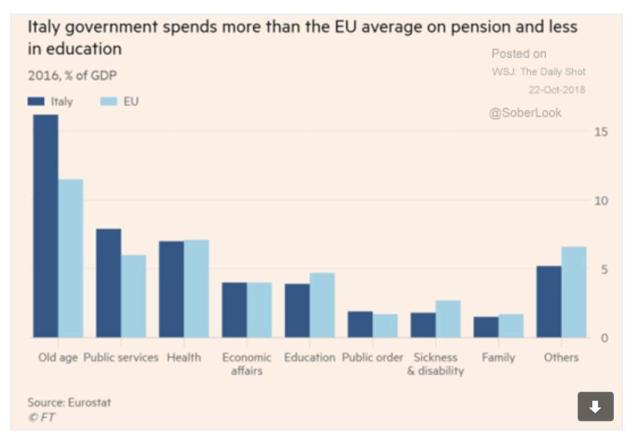 While European (in general) and Peripheral (specifically) bond returns (not yields!) have been (more or less) flat for more than two years, the returns on Italians bonds have been outright negative.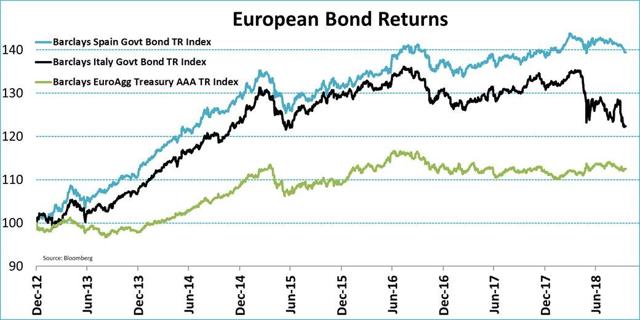 Moody's has just cut Italy's sovereign rating to the lowest possible level that barely keeps the country inside the "investment grade" pool.
In spite of assigning a "stable" outlook, analysts at the rating agency are citing the "material weakening in Italy's fiscal strength" and stalling plans for (much needed) structural reform.

On one hand, Italian markets might be set for a relief rally as the risk of the country falling into the junk category has been prevented. For now.
On the other hand, one notch above junk rating is nothing to be proud of, and history teaches us that Italy - unlike its current outlook - is anything but stable.
Indeed, the CDS (Credit Default Swap) market is already pricing Italy as if it belongs to the junk-rated pool: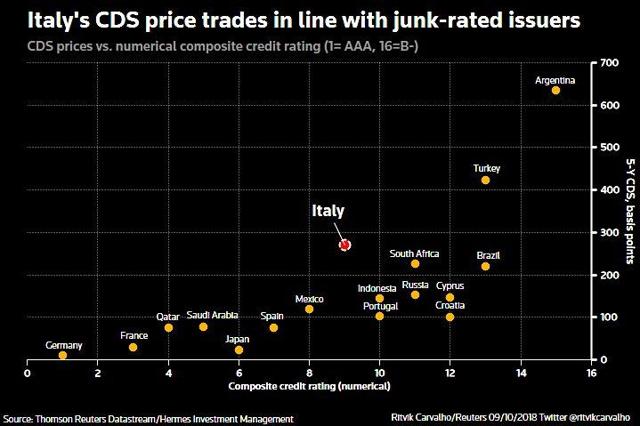 Furthermore, since an increase in spending (by any government, for that matter) tends to be structural in nature, it's hard to believe that such an increase in Italy - and, consequently, Moody's lower rating - could be reversed in the foreseeable future.
The 5-year default probability is as high as it has been in years.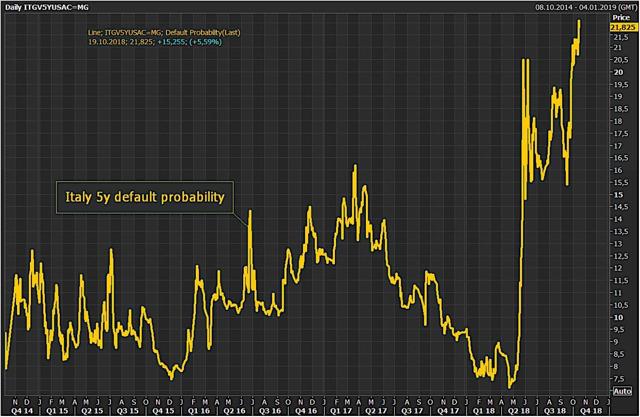 Italian banks are not looking any better as the "doom loop" is running at full power. The budget woes are pushing default probabilities of Italian banks up, alongside the country's default probability.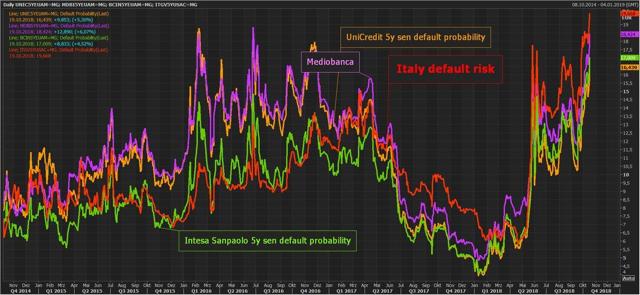 Take for example the perpetual bonds of UniCredit SpA (OTCPK:UNCFF, OTCPK:UNCRY), Italy's leading bank, that continue to take a hit (falling about 20%, from over 106 in late January to 85 right now.)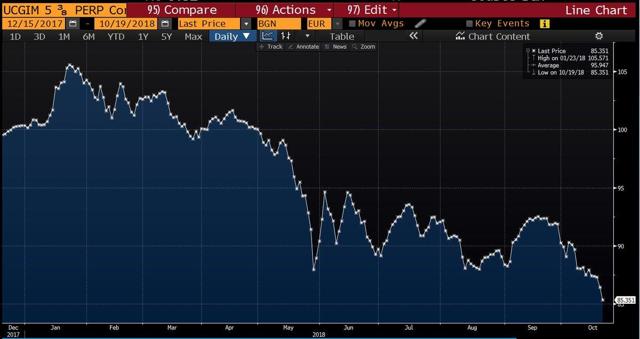 As a reminder, about 10% of Italian banks' total assets consist of Italian sovereign debt - and the latter is sinking like a stone.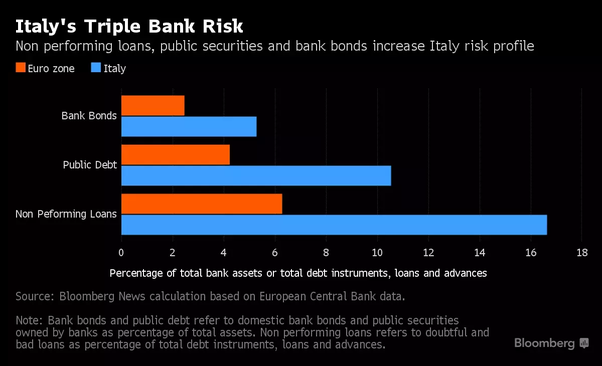 It's clear, even within the League party, that Italians banks are at risk from the widening yield spreads. According to Cabinet Undersecretary Giancarlo Giorgetti, who is also a senior official in Deputy Prime Minister Matteo Salvini's League party:
The spread is a risk for banks, which we can't ignore... [The situation requires] a serious and responsible approach from the government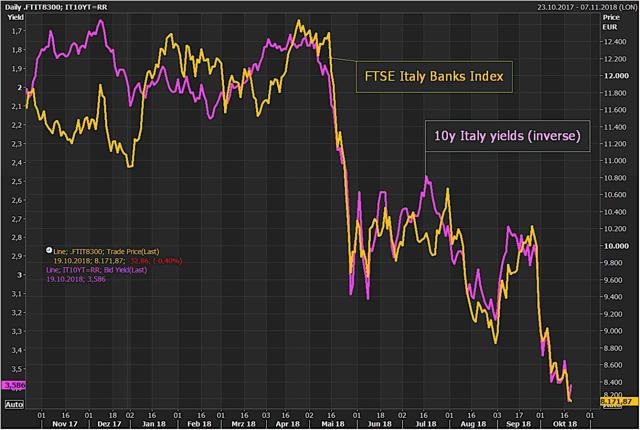 Political Tension is Rising
It's hard to be optimistic that things can calm down soon, when you hear/see/read Mr. Salvini. Here are few examples, taken only from the last few days, featuring the "Salvini's highlights":
declaring a win over the budget, saying that "The government will go ahead despite ratings agencies, European commissioners and some internal misunderstanding."
blaming the ratings agencies for "having it wrong before" about Italy, and promising that "they'll fail again this time. It's a good budget and we'll see it through to the end."
calling France an "international disgrace" over a border dispute.
complaining that the EU is sanctioning Russia for "alleged violations against Ukraine," while taking no action against Turkey, occupying the northern part of Cyprus - "a European country" - since 1974.
tweeting he would support "the battle of farmers" against "a Europe that fills tables and shops with junk food that arrives from the other side of the world, without controls", causing Vytenis Andriukaitis, the EU's health commissioner, to accuse him of telling "big lies" about the bloc's food policy.
hinting he may be interested in taking over the European Commission, the same institution he despises, once current president Jean-Claude Juncker steps aside next year.
This can't be seen other than a complete lack of trust and a clear intent/attempt by the head of the Euro-skeptics in Italy to test the nerves in Brussels.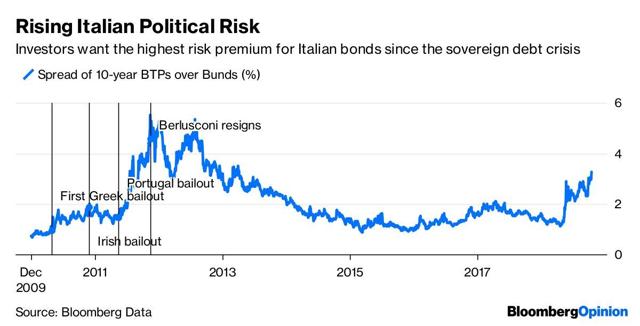 Salvini maintains the "we're keeping our promises to voters" mantra, and it's hard to say he isn't a man of his word thus far. Remind you of somebody?...
I am extremely happy, we are keeping our promises, slowly but bravely. We are dismantling the previous pension law, giving back the right to work at 400,000 Italians (young people able to pick up the jobs vacated by older people who could retire earlier). We are not raising taxes of any kind for 2019
While he certainly looks to be right (doing so) from where he stands, it's hard to see how this mantra doesn't develop into a major clash with EU/EC officials.
Italy's leaders insist they're "extremely happy" with their expansionary budget plans for 2019. Now, the onus is on Brussels over whether to accept or reject the new spending proposals.
Meanwhile, the 10-year government spread (Italy vs. Germany) persistently remains above 300 bps, as an EU rejection of the Italian budget proposal is very likely to come as early as this coming Monday/week.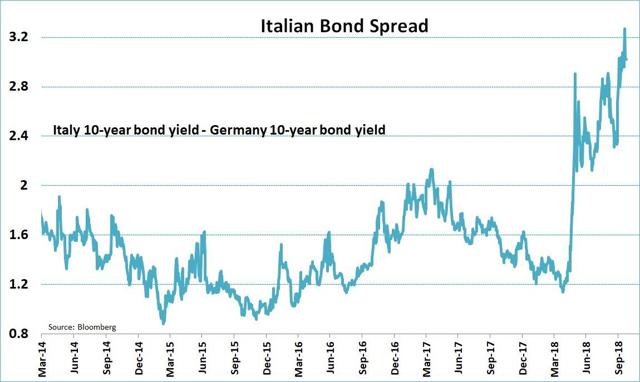 Italians Are Unhappy with the EU
As part of its duties, the European Commission ("EC") is conducting surveys that are addressing major topics concerning European citizenship.
Through the @EurobarometerEU, an EC's sponsored service, we can get a better idea about the current public opinions within and among the EU 28-member countries.
Here are two charts that investors may wish to keep in mind when the EU (in all likelihood) rejects the Italian budget proposal:
1. Italy is only second to the Czech Republic, among EU countries, with the lowest ratio (42%) of those thinking that their country membership in the EU is a good thing. That very same ratio is almost twice as high in Germany (78%) than it is in Italy, ranking Germany the third most pro-EU country among the EU's 28 members.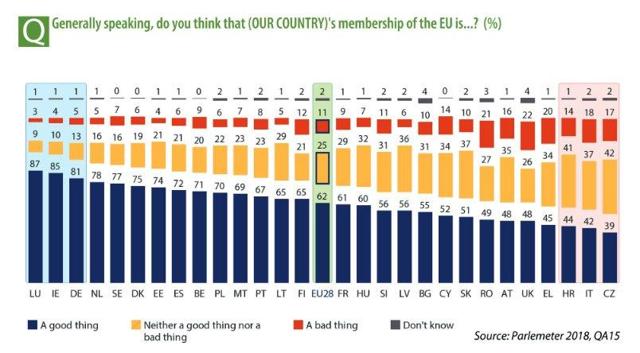 By the way, the EU average is 62% which shows you how anti-EU (or under-performing, if you'd like) Italians are.
2. Italians are, by far, the most unhappy/dubious about the benefits that their country is seeing/getting out of its EU membership. As a matter of fact, Italy is the only country where you can find more people who believe that being a member in the EU is not beneficial (45%) than those who think it is beneficial (43%). Meanwhile, Germans are much more decisive with 76% of respondents being pro-EU and only 16% that are against.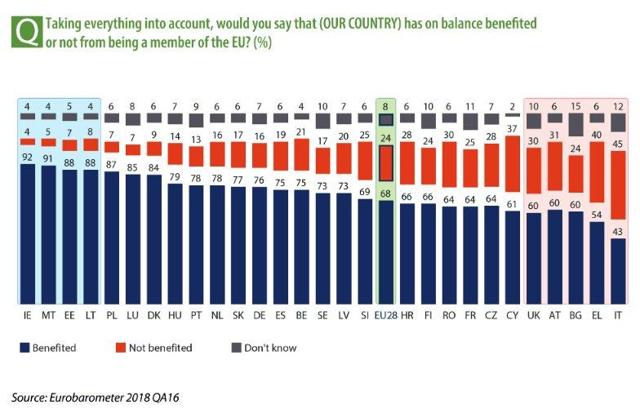 The EU average is 68% (pro-EU) vs. 24% (against) which, once again, emphasizes the huge gap/difference between the two opposing countries.
Truth is, it's hard to blame Italians for their anti-EU opinions. I mean, it's hard - perhaps impossible - to be happy about the union when your country:
sees the biggest rise in poverty among EU countries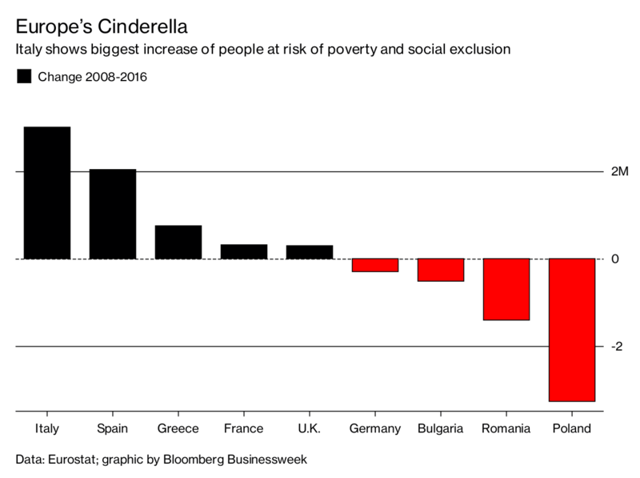 suffers from the largest brain drain among EU countries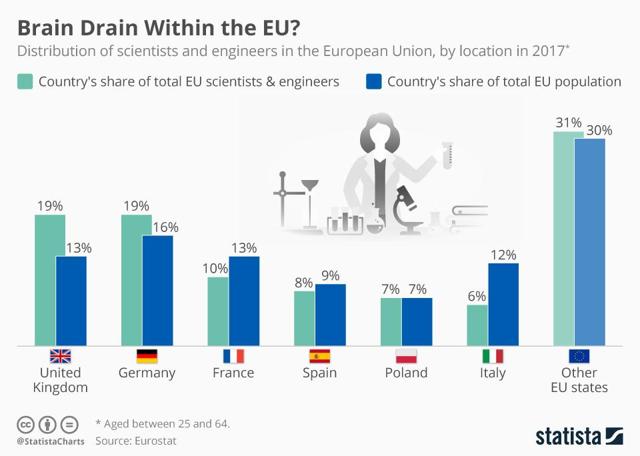 has the third-highest youth unemployment rate among EU countries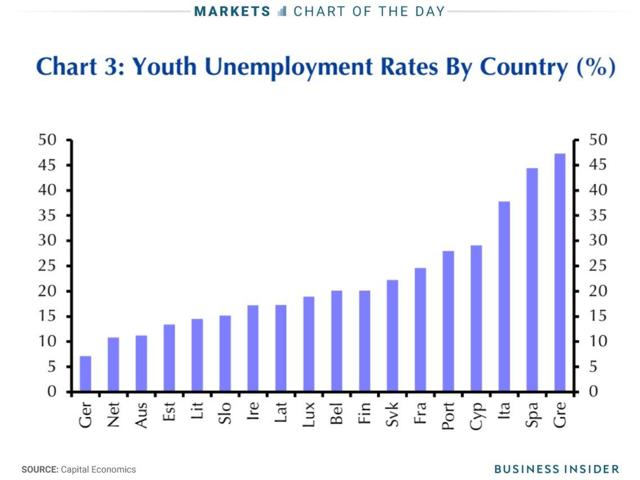 It's Not Only Italy
Thing is that while the spotlight is on Italy, things up north in Germany are not looking much better; mainly politically but also economically. We will, of course, provide an in-depth outlook into the German economy in the second part of this series. However, even before doing so, here are few interesting things about Germany in conjunction with Italy.
According to the BIS, German banks have cut their financial exposure to Italy from $95.4B in Q1 to $91.3B in Q2.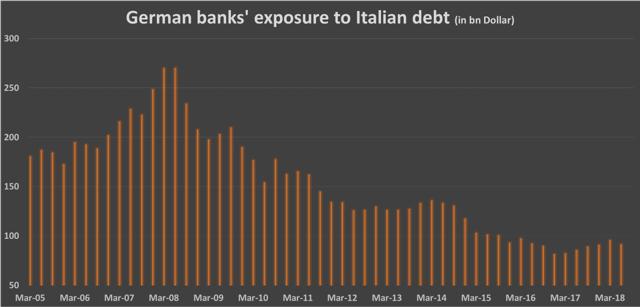 Note that should Italy experience more trouble, let alone slide into default, German banks have much less to lose than French (EWQ) banks, with the $315.7B exposure of the latter.
Germans outweigh Italians 3:1 when it comes to thinking that they have a real influence within the EU. Perhaps more important is to see the drop from 30% in April to 24% in September of those Italians who believe their country has a say in Europe.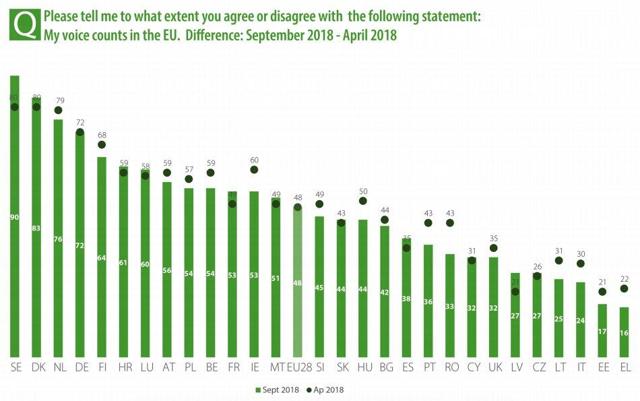 It's no surprise to see that Italian 10-year bonds are now yielding the most relative to similarly-dated German debt, since 2013.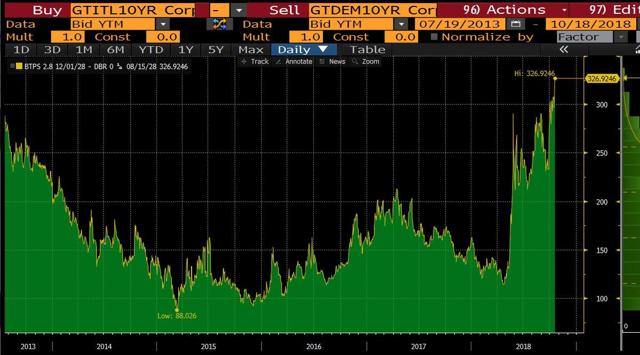 The funny/sad thing is that Italy is under-performing not only against the strongest but also against the weakest links in the EU, e.g. Portugal (PGAL). Italy's 10-year government bonds are now yielding the most on record relative to Portuguese 10-year debt.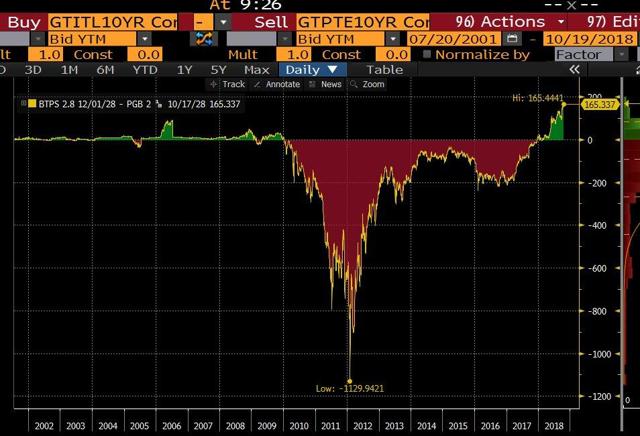 In addition, Italy may face even more trouble ahead, once the ECB will be resetting its cap key at the beginning of 2019. Italy will lose approximately 1%, which is the equivalent of about €22.2B, under the ECB's public sector purchase program (PSPP).
Interestingly, as a result of German's GDP and population growing more than those of Italy, Germany will gain just about the same as Italy loses. A pure coincidence?... This may very well have an impact on the PSPP program and/or reinvestment policies regarding proceeds of maturing debts.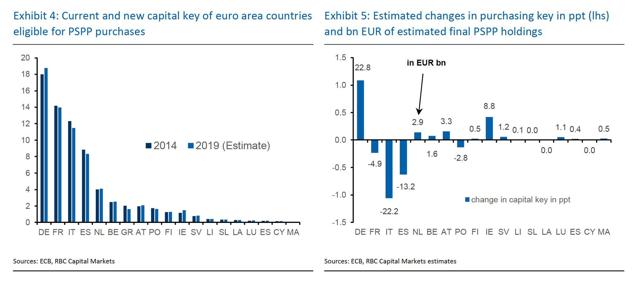 Bottom Line
Italy is no Greece!
The latter was/is lacking both economical scale as well as political support. Back in 2011, neither the government nor the Greek people pushed or really wanted to take a bold/wild decision. A decision that, retrospectively, may have served the country better than the path it chose to walk through.
Don't get me wrong: I intentionally use "bold/wild" rather than "right" or "wrong", because a decision to leave the EU (as the UK did)/EZ is not an easy decision, to say the least.
Devastating consequences are waiting for any country that may decide to leave the union, especially those tied-up to its monetary system, i.e. EZ members. However, there are also some potential advantages, on the long-run, especially for weak/er countries.
Once the first few years of imminent suffering (post leaving) go by, these countries may find themselves on a new, better, path.
That's especially true if you have a high level of debt that theoretically, once you leave the EZ, will collapse in value as a result of both perception (credit rating, strength of the country on a stand-alone basis) as well as depreciation of the new-independent currency (that the leaving country will adopt).
Guess what? Italy has tons of dents!...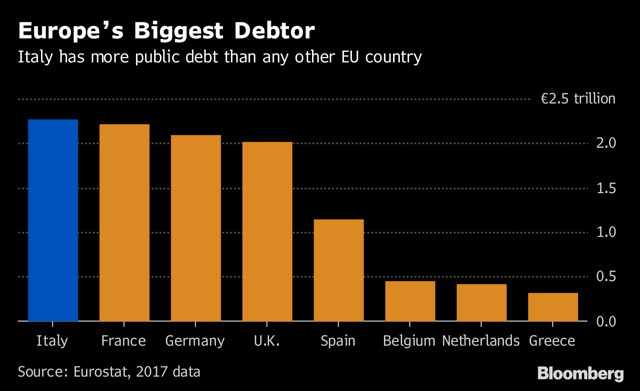 Italy is a powerful economic force. The economy of Italy is the third-largest economy in the EZ and the eighth-largest (measured by nominal GDP) in the world.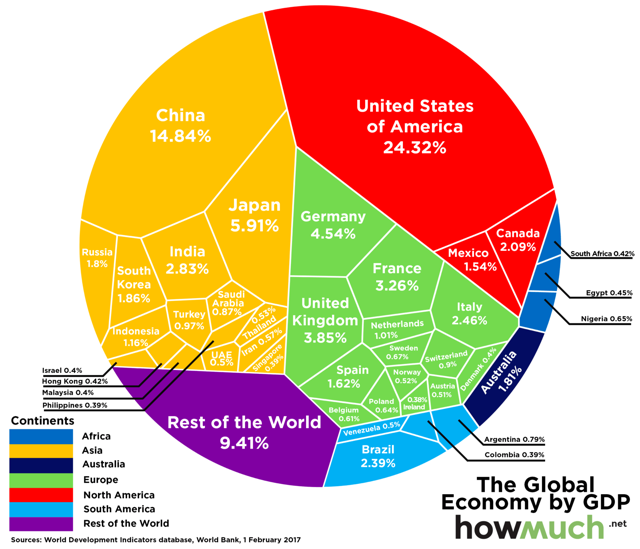 The country has an advanced economy, and it's a founding member of the EU, EZ, the OECD, the G-7 and the G-20. Quite an impressive record of memberships.
On the other hand, it has the second-largest debt-to-GDP in the EU, turning it into a "hot potato" (or a boiling slice of pizza, if you'd like) that nobody wishes to deal with - and that's before the 2.4% proposed budget deficit comes into play.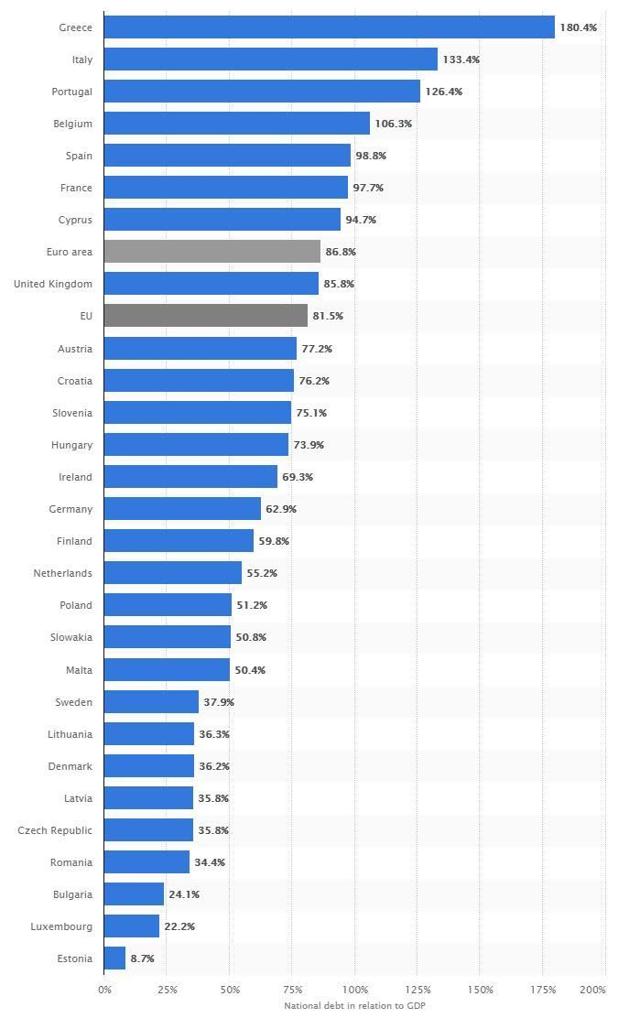 Italy is now governed by two far-right parties that officially adopted an anti-EU approach as an integral part of their political agenda.
Italy is one of the countries where the EU gets the highest disapproval rates.
Putting all three aspects - economy, politics, people - together, and you have all the ingredients required to prepare a mind-blowing "dish", i.e. an EU blowout.
After all, there are no better people knowing how to "cook" things (to a perfection) than Italians!...
Part II is coming soon. Stay tuned!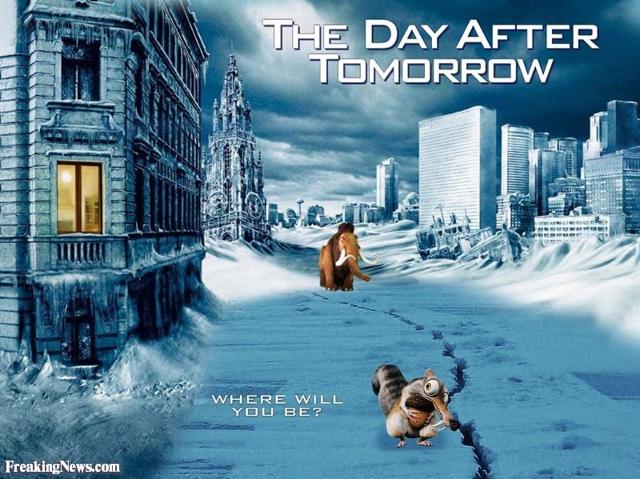 Author's note: Blog post notifications are only being sent to those who follow an author in real time. In order to receive notifications for both articles and blog posts, go to Author Email Alerts, which lists all the authors you follow, and turn on "Get e-mail alerts" (see below).


The Wheel of FORTUNE is one of SA Marketplace's most comprehensive services. We view our service as a "supermarket of ideas" with an emphasis on risk management and risk-adjusted returns.
Our monthly review for October, where you can find all suggestions since launch, is only one click away.
We cover all asset-classes: common stocks, preferred shares, public debts, baby bonds, options, currencies, and commodities.
With Trapping Value on-board, you're getting two leading authors for the price of one.
Before committing to the service on a long-term basis, take advantage of the two-week free trial.
Disclosure: I/we have no positions in any stocks mentioned, and no plans to initiate any positions within the next 72 hours. I wrote this article myself, and it expresses my own opinions. I am not receiving compensation for it (other than from Seeking Alpha). I have no business relationship with any company whose stock is mentioned in this article.