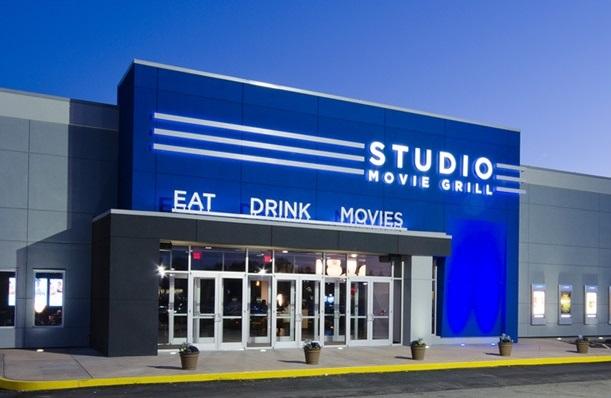 Source of photo: SRC Website
Originally issued in 2017, the preferred shares of Spirit Realty Capital, Inc. (SRC), namely the Spirit Realty Capital Inc 6 % Cum Conv Perp Red Pfd Registered Shs Series A (SRC.PA), offer good value at $22 or below. At $22, the yield on SRC.PA shares is above 6.8%, and with strong liquidity and an investment grade rating, the dividend should be well protected. If shares are ever called by SRC in the future, capital appreciation (assuming current pricing levels) will exceed 13%.
High Quality REIT Post Spin-Off
SRC is among the largest net lease REITs with a market capitalization of approximate $3.6 billion. Competitors in this space include Realty Income (NYSE:O), National Retail Properties (NYSE:NNN) and W.P. Carey (NYSE:WPC).
SRC recently spun off its lower quality assets into Spirit MTA REIT (SMTA). Prior to the spin-off, Spirit was considered a lower-quality net lease firm, with high exposure to speculative tenants, including Shopko and 84 Lumber, and elevated vacancy risk.
Today, SRC has changed materially. The spin-off of its lower quality and problem properties left the company with a high-quality portfolio that is more in line with the quality of its competitors.
An impressive snapshot of SRC from its recent Investor Presentation is set forth below.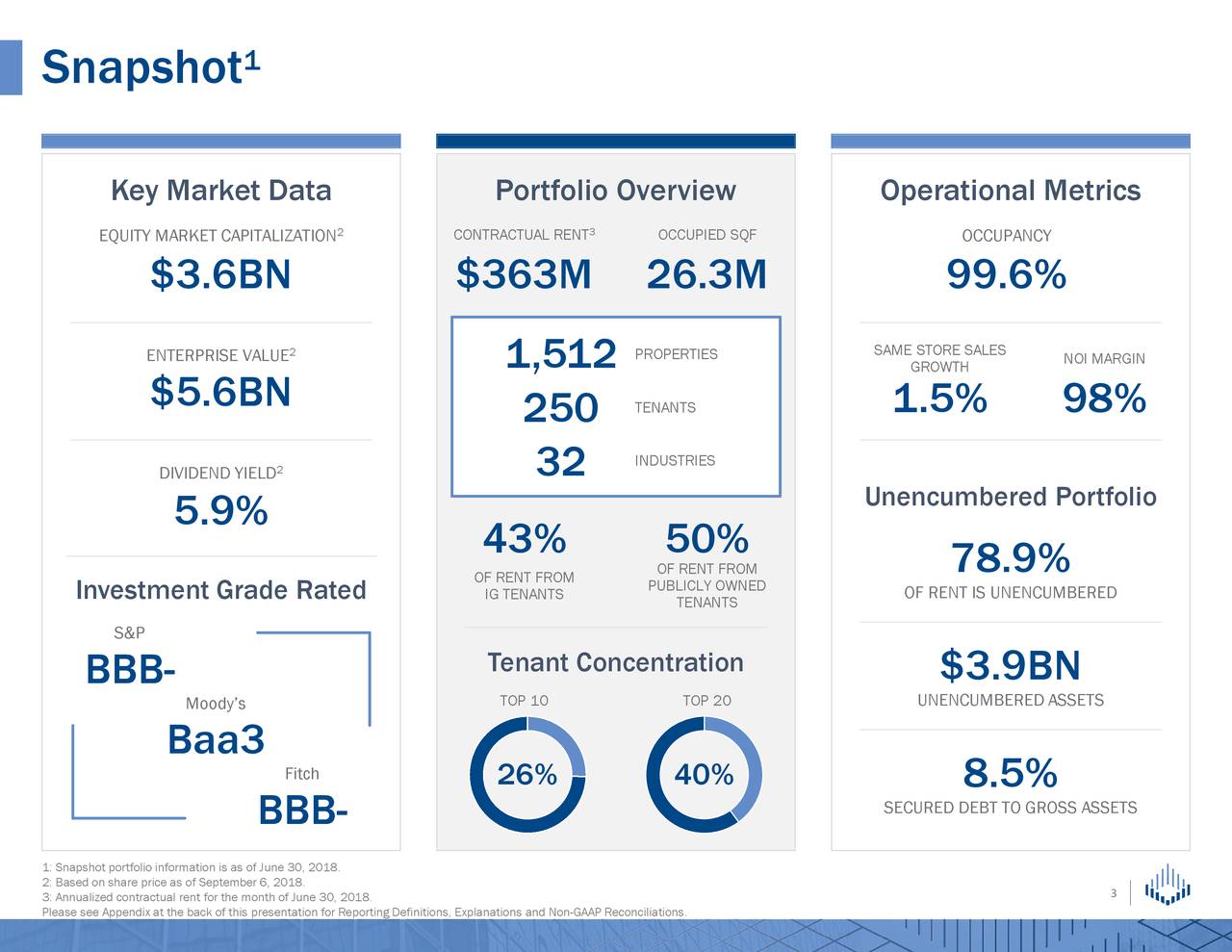 At the time of its IPO, SRC's top 5 tenants represented over 43% of the annual base rent, while today the top 5 tenants are approximately 15%. Moreover, many of the top tenants, pre-spin off, were not particularly strong.
The tables below, from the September Investor Presentation, help tell the story.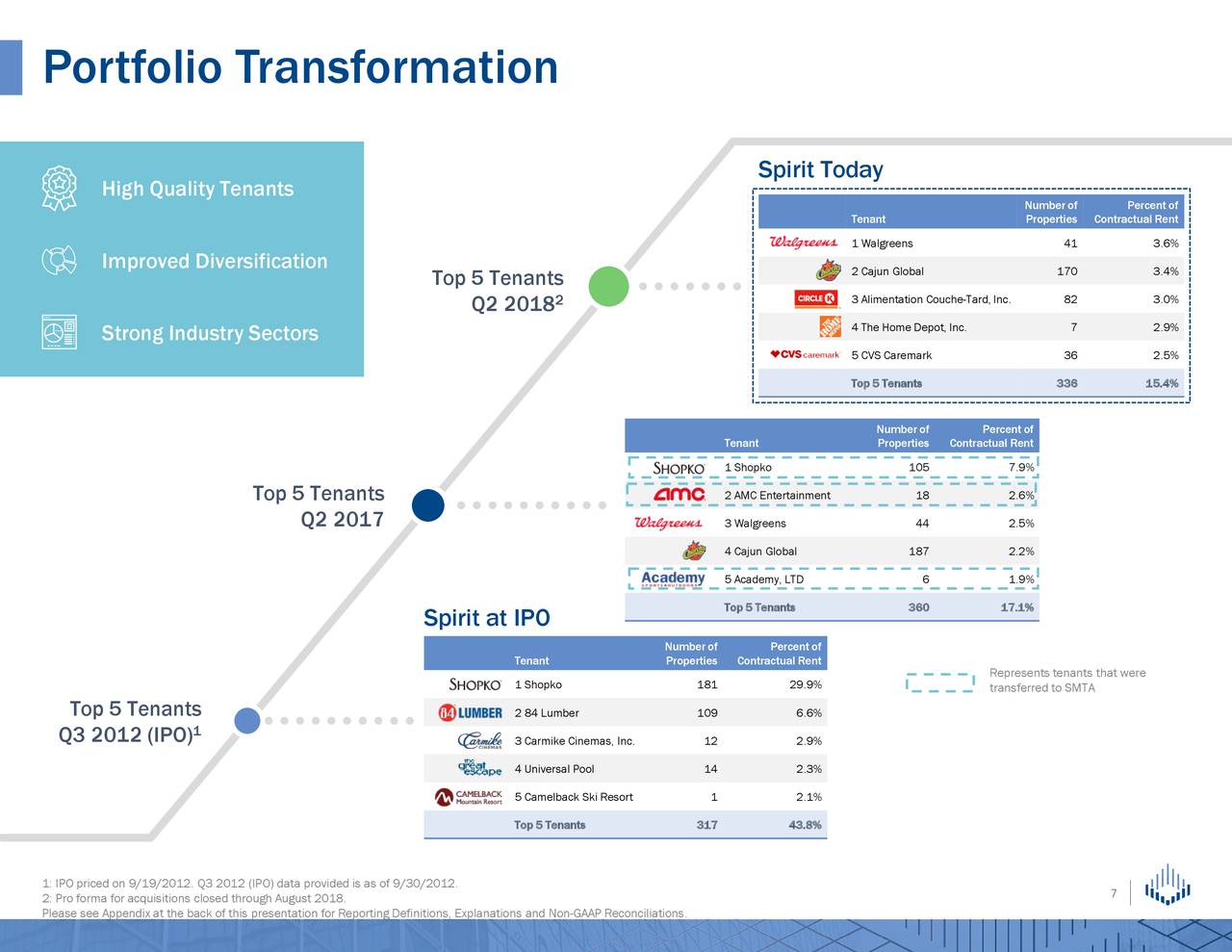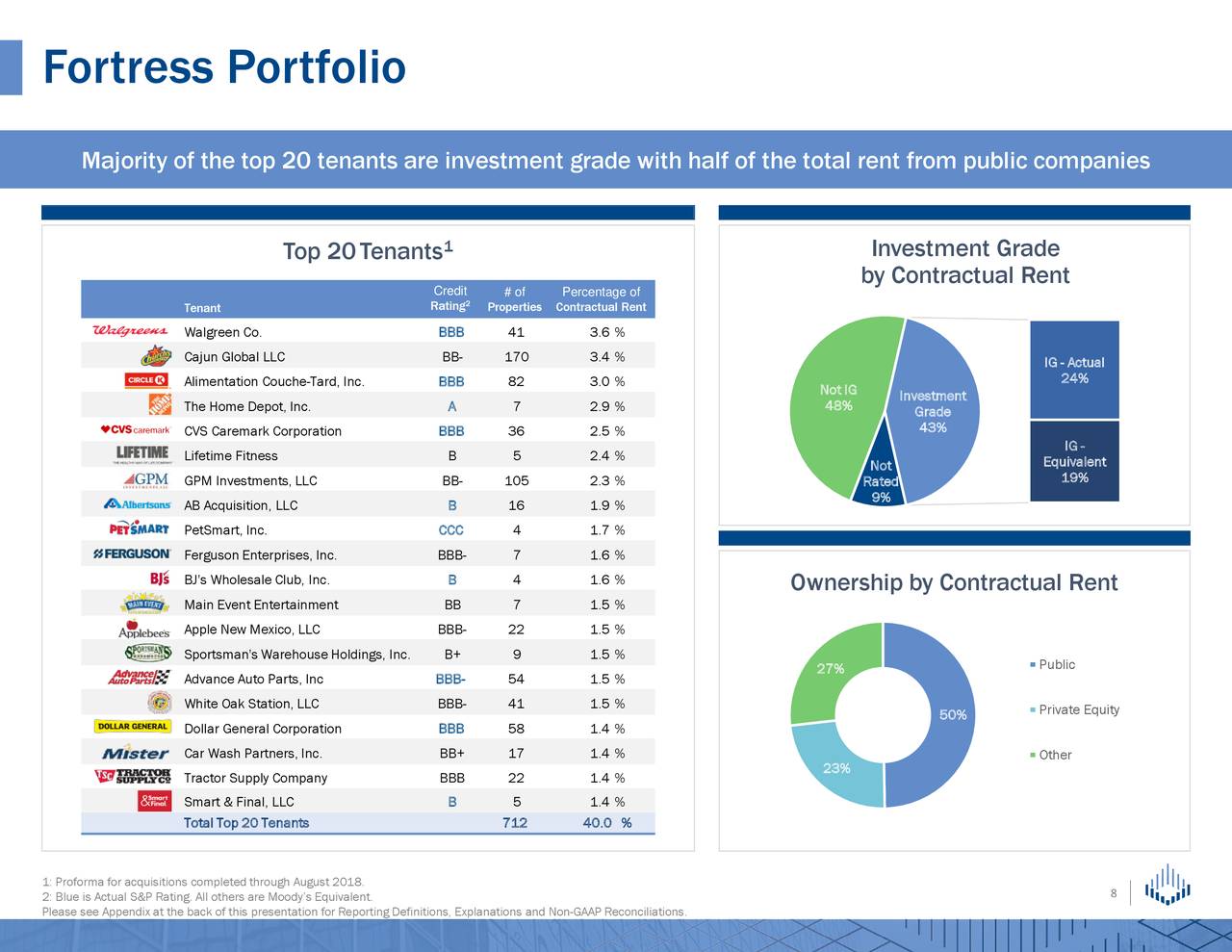 SRC's current portfolio consists of approximately 1,500 properties, which includes approximately 250 tenants. By industry, SRC's tenants are also reasonably diversified, as is shown in the table below.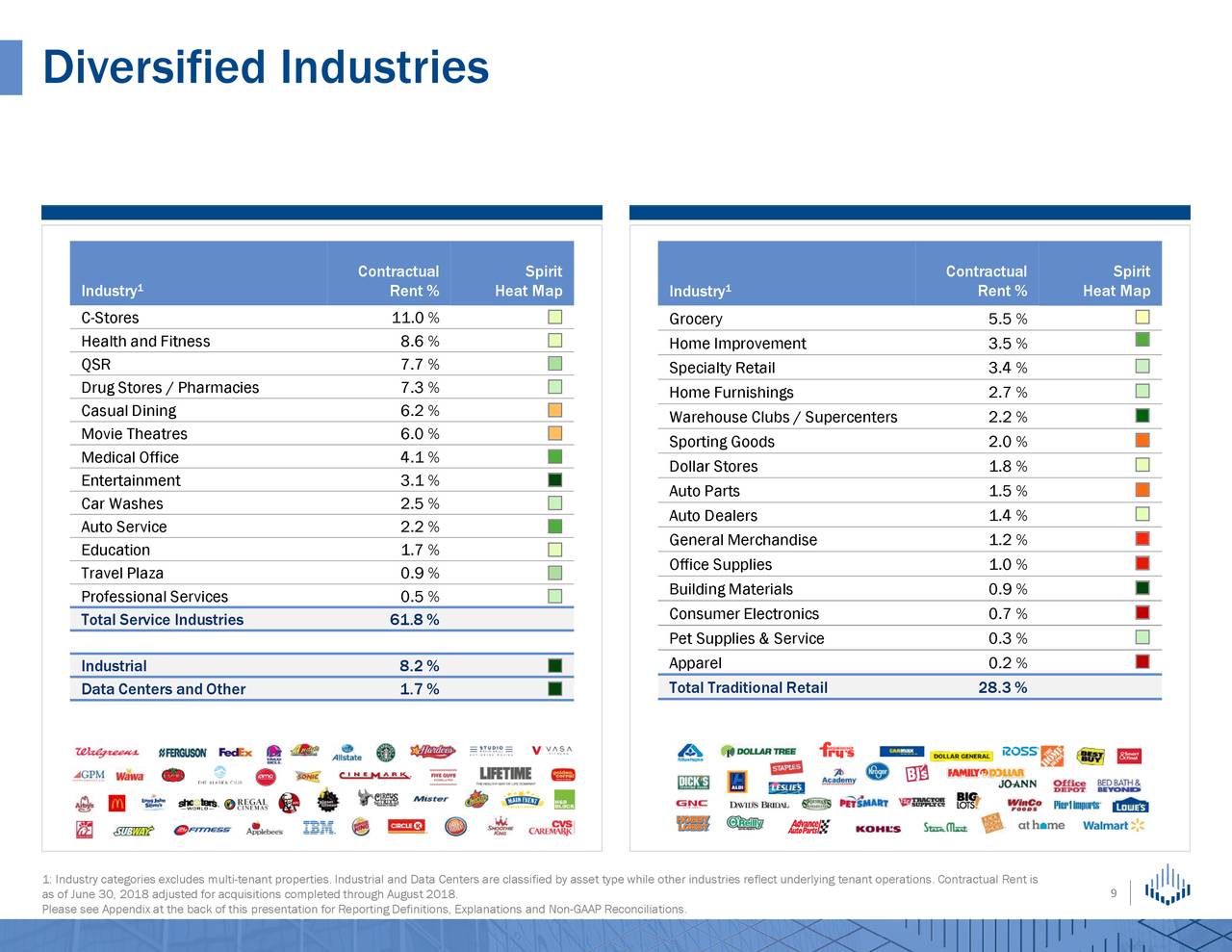 Q2 Results, Liquidity and Share Repurchases
Following Q2 2018, SRC's President and CEO, Jackson Hsieh, commented on the quarter in the related quarterly press release:
We are very pleased with our second quarter results and activity, having successfully completed our Spin-Off transaction, which we believe has created meaningful value for investors and significantly improved Spirit's operating and balance sheet metrics. Spirit now has a portfolio that is 99.6% occupied, with a top 10 tenancy that comprises just 25.5% of contractual rent and an unencumbered asset base that represents approximately 80% of total real estate investments. We are also excited about the acquisitions pipeline we are building for Spirit as we seek to prudently deploy our well-funded balance sheet toward targeted acquisitions that fit within our heat map strategy. In fact, we have $285 million of acquisitions either under contract or letter of intent. As we look ahead, we believe Spirit offers an attractive combination of stable income and potential earnings growth."
With respect to SRC's liquidity, as of August 6, 2018 and as noted in the recent qaurterly press release, SRC had approximately $25.6 million in cash/cash equivalents and available borrowing capacity under its unsecured line of credit of $800 million.
Moreover, during Q2 2018, SRC retired its $123.1 million of Master Trust 2013 Series 2013-1 Class A notes on May 21, 2018, without any make-whole payments being required. SRC also purchased $8.1 million of its common shares during Q2 2018.
Further, given SRC's strong liquidity position, its Board of Directors of SRC authorized a new common share repurchase program, under which the company may repurchase an additional $250.0 million of its outstanding common stock.
SRC's strong financial position has been rewarded by the rating agencies with investment grade ratings: S&P (BBB-/Positive Outlook); Fitch (BBB-/Positive Outlook); and Moody's (Baa3/Stable).
The table below, in more granular fashion, highlights the financial performance improvements made by SRC over the course of the company's history.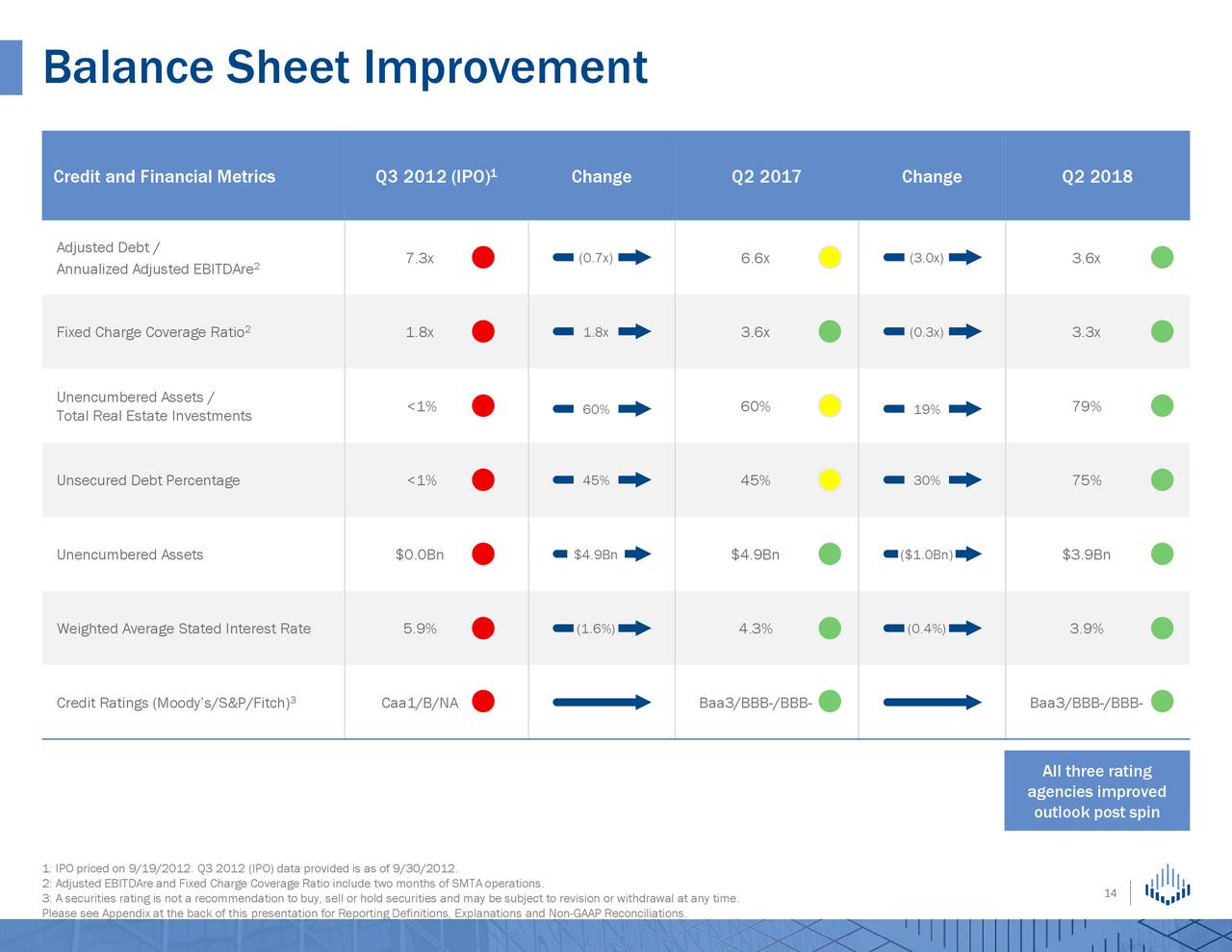 Clearly, SRC today is a much stronger entity from a financial and operating perspsective then it was in the past. This bodes well for the company's ability to pay dividends, and it may also make SRC a more attractive acquisition target.
Preferred Shares
The key details of SRC.PA shares are as follows: at SRC's option, SRC.PA shares are callable on or after 10/3/2022 at $25 per share plus accrued and unpaid dividend. SRC.PA shares have no stated maturity date. Cumulative distributions of $1.50 per annum or $0.375 per quarter are paid quarterly on 3/31, 6/30, 9/30 & 12/31 to holders of record on the record date fixed by the SRC board, not more than 35 days or less than 10 days prior to the payment date.
Upon the occurrence of a change of control, SRC will have the option to redeem SRC.PA shares at $25 per share plus accrued and unpaid dividends. If the SRC does NOT exercise this redemption right upon the occurence of a change of control, holders of SRC.PA will have the right to convert their SRC.PA shares into common shares as more fully described in the SRC.PA shares prospectus.
In regard to the payment of dividends and upon liquidation, SRC.PA shares rank junior to SRC's senior debt, equally with other preferred share series (currently there are none), and senior to the common shares of SRC.
Trading around $22, SRC.PA shares have limited call risk since the shares are trading below par ($25.00). Given SRC's strong occupancy (near 99.6%) and its investment grade rating and its improved financial position as highlighted above, the biggest risk to the preferred shares are rising interest rates.
Strategy
For conservative investors, SRC.PA shares are worth a look. SRC is clearly a much stronger company post-spin as outlined above.
Notably, I am eating my own cooking here too as I purchased shares close to $22. Also, it should be noted that half of my position is effectively leveraged as I chose to take a home improvement loan when I did not need to do so (i.e., I had saved the cash for the improvement). I chose this route because the rate on the loan was 2.99% fixed for 10 years [note: margin loan rates are currently much higher]. I then invested a portion of those funds in SRC.PA (with a yield of 6.80% or approximately 380 basis points above my cost of funds). Since investment returns are likely going to be harder to come by in the coming decade, I am trying to be conservative, but creative at the same time (but hopefully not too creative!).
Of course, risks remain (see the prospectus linked above), and management execution will be key for SRC going forward. Nonetheless, at these levels, SRC.PA shares provide, in my estimation, a reasonable return relative to the risks involved.
Finally, I previously owned SRC common shares but sold those in the recent run up above $8. If we get a pullback, I will consider buying the common shares again (preferably near $7), particularly if management continues to execute. Stay tuned.
Disclosure: I am/we are long SRC.PA. I wrote this article myself, and it expresses my own opinions. I am not receiving compensation for it (other than from Seeking Alpha). I have no business relationship with any company whose stock is mentioned in this article.