U.S.-based cannabis firm Terra Tech (OTCQX:TRTC) just took out a whole page on the Wall Street Journal asking for help from President Trump. The letter is short but the implications behind it are worth our discussion. Terra Tech is an OTC-listed cannabis company that has struggled for years since the 2014 mania and we think its frustration is shared broadly among U.S. cannabis firms. As Canada celebrates the legalization this week, we think it is worthwhile to share our thoughts on the industry and how investors can think about this matter strategically and manage their portfolio accordingly to take advantage of the shifting attitudes in the U.S. We also think Terra Tech is representative of a U.S.-listed cannabis company suffering serious disadvantages due to limited access to capital and a lack of investor interest as a result of competitions from Canadian-listed cannabis stocks.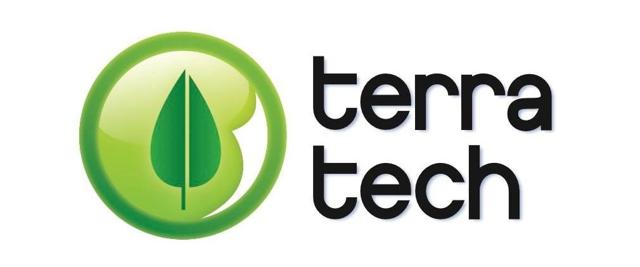 Who's Terra Tech
The company operates vertically-integrated operations in Nevada and California and is listed on the OTC market, unlike many of its peers that chose to list on the CSE in Canada. The company's main activities include:
The company announced a 1 for 15 reverse split in March 2018 which had a negative impact on the stock from an investor confidence point of view. A reverse split is usually associated with struggling businesses and their financial engineering in order to avoid delisting. In this case, the CEO said that the reverse split was to achieve a higher share price in order to help the company pursue M&A using stock and potentially uplist to Nasdaq once the U.S. legalizes cannabis on the federal level. Nevertheless, the stock has struggled in recent years as investors shift to focus on larger companies with better geographic reach and access to capital. Terra Tech management lacks the ability to raise capital partially due to the troubling personal track record of its many executives as discussed many times by other SA authors.
The company has 72 million shares outstanding which give it a market capitalization of $142 million. The company generated revenue of $8.7 million during Q2 2018 which implies an annualized revenue of $34.8 million. The stock trades at an EV/revenue multiple of 4.1x which is in-line with similar-sized peers such as Golden Leaf (OTCQB:GLDFF) and MPX (OTCQX:MPXEF). The stock is inexpensive but it also has shown little growth for years.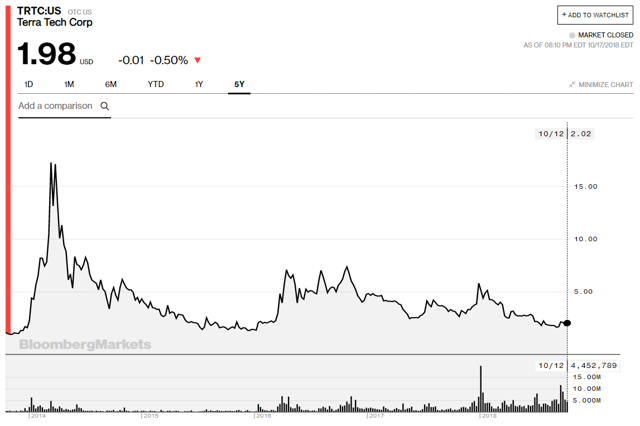 (Bloomberg: adjusted for reverse split)
The Letter to President Trump
The letter argues that the U.S. cannabis industry is a huge market that creates millions of jobs and billions of tax revenue. The legalization in Canada this week puts American jobs in danger by giving Canadian companies a huge advantage over their American counterparts in this nascent industry. The cannabis companies in the U.S. have limited access to banking and capital markets due to restrictions on the federal level and many of them are listing on the Canadian exchanges in order to gain access to capital and provide liquidity for investors to cash out. We think the letter presented a feeling that is likely widely felt among the U.S. cannabis companies and we would like to take this opportunity to share our thoughts on this issue.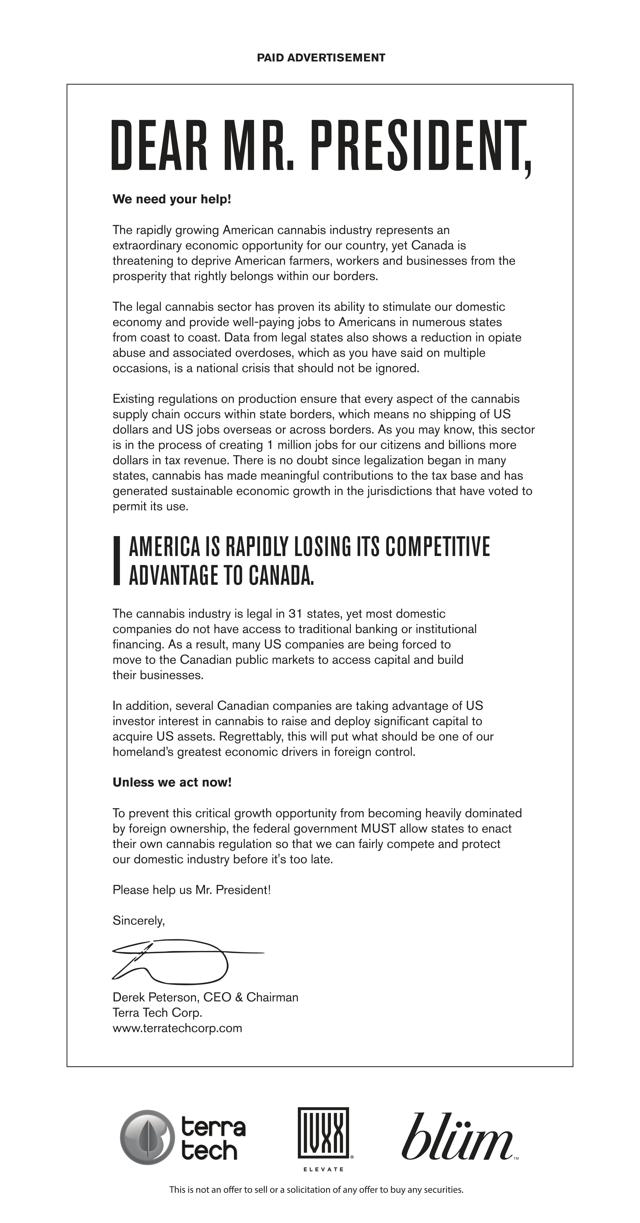 (Source: CNBC/Wall Street Journal)
What We Think
The letter is rather short but included some interesting discussion points. For the past several years, the cannabis industry has been dominated by Canadian firms as companies like Canopy (CGC), Aurora (ACBFF), Cronos (CRON) and Tilray (TLRY) became the face of the industry even for U.S. investors. We had documented the evolution of the Canadian cannabis sector in our article "Are We Heading Into Another Meltdown For Pot Stocks?". The Canadian cannabis industry followed a timeline largely driven by regulatory progress since Justin Trudeau was elected in 2015 and the market had gone through cycles of boom and busts. However, the U.S. cannabis sector has been quiet ever since the 2014 cannabis mania which was driven by the OTC-listed penny stocks, many of which turned out to be promotional frauds that resulted in delistings and heavy losses for some investors.
The emergence of Canadian exchanges as an alternative for U.S. cannabis firms presented an opportunity for these companies to be listed on the public markets and access capital in a way that was never possible in the past. In May 2018, MedMen (OTCQB:MMNFF) took the opportunity to list in Canada and is now a C$4+ billion company. Other U.S. stocks listed in Canada include Green Thumb (OTCQX:GTBIF), iAnthus (OTCQX:ITHUF), and most recently Trulieve (OTCPK:TCNNF) whose CEO cited the ability to raise capital as a key factor in their decision to list in Canada. The upcoming listing of Acreage will ignite another round of enthusiasm among U.S. cannabis investors. MedMen's recent blockbuster deal where it acquired PharmaCann for $682 million would not be possible without its Canadian listing which gave it the ability to issue millions of shares at crazy valuations. Terra Tech's ability to use its stock for acquisitions is significantly limited by its OTC status and sellers are most likely reluctant to accept its stock as consideration due to liquidity concerns.
We think the letter from Terra Tech showed a picture of investors and business owners gradually pushing for the eventual legalization of cannabis on the federal level. In our personal view, the legalization of cannabis is all but inevitable given that 31 states have legalized medical marijuana and 9 states have legalized recreational pot. It might take a few years or even longer, but the tide is turning and we think the letter this week is just the beginning of a push by the industry to move the country closer to legalization. There are many reasons why a federal legalization makes sense from economic perspectives. As Canadians enjoy the outcome of their 4-year journey pursuing the end of cannabis prohibition, U.S. consumers and investors ponder when would their moment come?
Author's Note: Follow us to receive our latest publications on the sector. We also publish a widely read Weekly Cannabis Report, which is your best way to stay informed on the cannabis sector. We are the only place to find detailed research on over 50 cannabis companies in the U.S. and Canada.
Editor's Note: This article covers one or more microcap stocks. Please be aware of the risks associated with these stocks.