To stampede: "rush wildly in a sudden mass panic."
A month ago, I identified three "surprises" that could cause oil bulls to stampede (read here). The first among them was "Iran may be able to sell more of its oil to China, blunting U.S. sanctions."
"China doesn't pay attention to the US sanctions on Iran," said Andrey Yu, head of the international office of the China Petroleum and Chemical Industry Federation (CPCIF).
"It is a routine between Iran and China and has nothing to do with the US. Oil, gas and trade shouldn't be influenced by the US anymore," he said.
A recent report by Reuters states that "an unprecedented volume of Iranian crude oil is set to arrive at China's northeast Dalian port this month and in early November before U.S. sanctions on Iran take effect." When the oil reaches China, the Iranian source said a determination will be made whether to sell it to China or to other buyers.
"Ghost Ships"
According to another source, TankerTrackers, as reported by Financial Times, Iran's oil exports averaged more than 2.2 million barrels per day in the first two weeks of October. That is much higher than has been generally reported by the media because Iran is using "ghost ships" that turn off their transponders to avoid being seen. TankerTrackers are using high-resolution satellite imaging to follow the tankers. "They're doing it more because they embraced the media narrative that exports are down hard," Samir Madani, co-founder of TankerTrackers.com was quoted.
Russian Worries
Trump Administration officials expressed worries that Iran may be able to get Russia to sell its oil, or in the alternative, buy Iranian oil and sell more of its own. Russia produces similar grades to Iranian oil. John Bolton, national security adviser to President Trump, said, "Iran might be pushing the idea of Russia selling their oil on the world market to evade sanctions."
Long Oil Bulls
The specter that U.S. sanctions may not be as effective as once feared has caused oil bulls to exit their positioning as November 4th approaches. The CFTC has reported that long NYMEX crude oil speculative positions dropped to 300 million barrels for the week ending October 16th. That's a drop of over 150 million barrels since the week ending July 10th...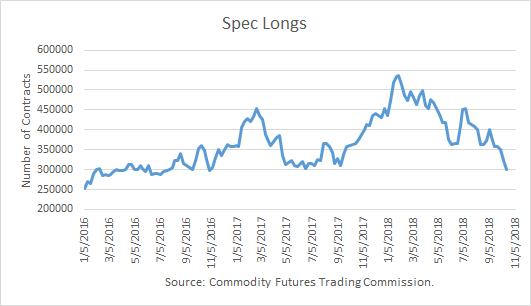 …and of 235 million from the peak in the week ending January 30th.
Sources of Selling Pressure
Speculative short sellers' positions have started to recover but stand at just 58 million barrels. They have another 150 million barrels of potential selling, based on the peak in 2016.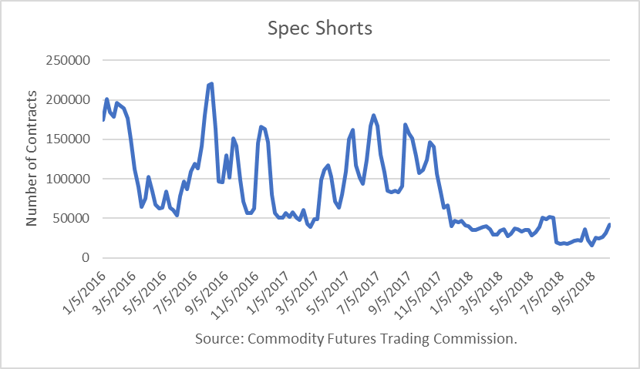 Hedge short positions have dropped to 481 million barrels. They have 270 million barrels of potential sales to return to the peak in 2017.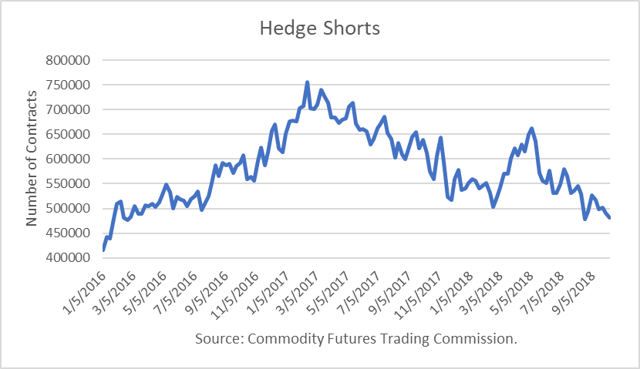 Conclusions
Large price discounts are difficult for buyers to pass up. Meanwhile, China and India do not recognize the legitimacy of the U.S. sanctions.
A more complete picture will emerge after November 4th, but then again, Iran will try to hide what oil is actually flowing out, and it may be difficult to track accurately. Oil inventories may not match-up with reported supply and demand as a result.
But based on accurate oil positioning data at the CFTC, oil bulls have become much less confident that U.S. sanctions alone can stop Iran from selling its oil, one way or another.
The rise in oil prices was based on nothing more than irrational fears.
To guide investors who are interested in profiting from outstanding opportunities in the energy sector, I provide a service on Seeking Alpha's Marketplace oriented toward individual investors, Boslego Risk Services. A long/short Model portfolio is continuously updated, along with on-going analysis of the oil market.
I am now accepting new members to Boslego Risk Services and invite you to sign-up. There are monthly and annual pricing options as described here. You may also read reviews posted by members here.
Disclosure: I/we have no positions in any stocks mentioned, and no plans to initiate any positions within the next 72 hours. I wrote this article myself, and it expresses my own opinions. I am not receiving compensation for it (other than from Seeking Alpha). I have no business relationship with any company whose stock is mentioned in this article.