Welcome to the flip-flop central edition of Natural Gas Daily!
Housekeeping item first.
We expect a +56 Bcf change in the storage report for the week ended October 19. A storage report of +56 Bcf would compare with +65 Bcf last year and +77 Bcf for the five-year average.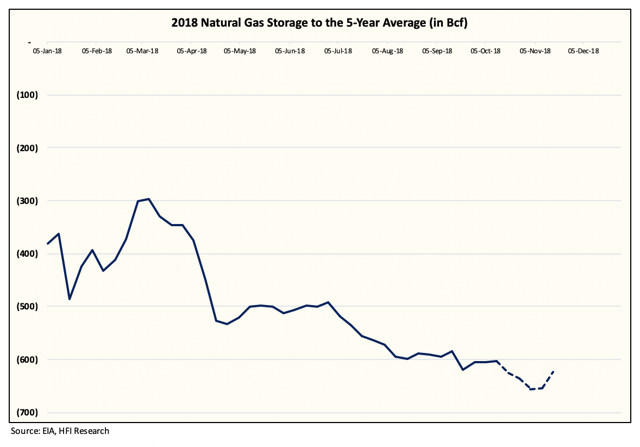 Flip-Flop Central As Weather Models Flip More Neutral/Bullish
Yesterday, we disclosed to readers that we are bearish on natural gas in the short term on the back of a bearish outlook on November 6th.
But yesterday's ECMWF-EPS long-range outlook showed a much more bullish outlook for the week of Oct. 29 to Nov 5. In addition, the ECMWF-EPS 00z this morning confirmed the bullish flip:

Source: StormVistaWxModels.com
And in the face of much lower TDD revisions this morning, natural gas prices are rallying on the back of this more neutral/bullish 15-day outlook as the trend appears to be not as bearish as the update we noted yesterday.
For us, our short NG position via our long DGAZ remains today despite this one-day whipsaw. Our view on the latest update is that the 15-day outlook is more neutral leaning rather than outright bullish. In addition, the ECMWF-EPS long-range outlook shows the middle of November to be also biased to the bear side (e.g. warmer than normal). As a result, we are inclined to hold our DGAZ long position for now.
Volatility biased to the upside this winter
The set up this winter will be very interesting. With natural gas storage entering heating demand season near record lows, our view is that natural gas volatility will be mostly biased to the upside: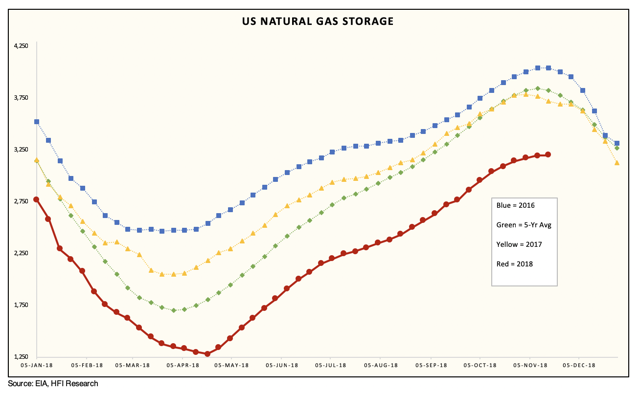 This is because even though the natural gas market is currently in surplus (supply > demand), the weather-induced volatility over the winter could see natural gas prices gap higher in the face of very bullish weather forecasts. One key reason is that because the Northeast now represents some ~34.5% of Lower 48 production, any potential freeze off in production from the result of much colder than normal weather will spike natural gas prices upward. This will be largely a regional price effect, but we see Henry Hub also being dragged higher as a result.
This makes our trading bias over the winter bullish leaning rather than bearish biased as we have been over the summer.
Conclusion
For now, we are bearish on natural gas prices in the near term as we think the weather models will trend warmer than normal into mid-November. But heading into the winter heating season, we are switching our bearish biased trading position over the summer to a bullish one.
Author's Note: Thank you for reading this article. If you found this article insightful, please leave a "Like" below.
For readers who are interested in receiving real-time trade alerts along with our exclusive natural gas fundamental, weather, and trader positioning updates, we highly recommend you to give HFI Research Natural Gas a try. You can see here for more info.
Disclosure: I am/we are long DGAZ. I wrote this article myself, and it expresses my own opinions. I am not receiving compensation for it (other than from Seeking Alpha). I have no business relationship with any company whose stock is mentioned in this article.