Summary
China's latest stock market rally underscores a key factor for gold.
Specifically, gold needs safety demand from global market weakness.
Watch for gold's immediate-term trading range to continue for now.
After a stellar performance two weeks ago, the gold price has stalled out after hitting a widely-watched technical benchmark. The reasons for gold's recent lack of forward movement can be traced to two main factors, which we'll discuss in today's report. Particular emphasis will be placed on the need for safe-haven demand as it concerns emerging markets. For now, the most likely outcome is for gold to establish an immediate-term (1-4 week) sideways trend and mark time until the dollar weakens enough to justify another breakout attempt.
Gold prices were lower on Monday in response to another dollar rally. Spot gold fell 0.3 percent to $1,222 after hitting a 2 ½-month peak last week. The December gold futures price fell 0.3 percent to $1,225. The problem immediately facing gold, as we'll see here, is two-fold. The first aspect of the problem involves a continued weakness of gold's currency component, the second concerns a decline in safe-haven demand.
Many traders believe that gold's failure to break out above the 100-day moving average last week (below) added to its latest weakness as the metal has clearly lost some of its luster in recent days. The main reason for gold's inability to rally, however, is the persistent strength in the U.S. dollar index (DXY). While gold still enjoys some technical momentum from its recent rally, headwinds generated by the resurgent DXY will likely cap additional upside potential in the coming weeks. As I argued in my previous commentary, investors can expect to see a lateral trading range develop in the gold price in the coming weeks, or until the dollar shows significant weakness.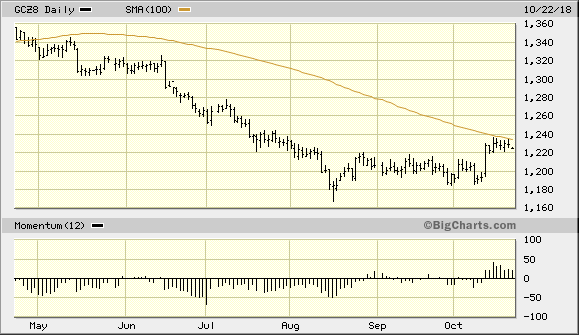 Source: BigCharts
Another factor which may serve to further diminish gold's immediate-term strength is the latest diminution of short interest in the gold market. Much of the recent gold price rally was attributable to short covering after a huge short interest position built up in recent weeks. Gold speculators reduced their net short position in COMEX gold to the smallest short interest level in nearly three months. CFTC data showed that money managers were net short by 49,382 contracts for the week ending Oct. 16, down from 109,454 the prior week. This reduces the potential fuel for additional rallies, though it doesn't completely alleviate it. According to one source, for instance, the overall gold short position has dropped 63% to the equivalent of 116 tons, but remained negative for the 14th consecutive week. This is reportedly the longest net short period for gold since 2006. Thus gold can still benefit from additional short covering, assuming there's a stumble in the dollar index soon.
The reason for gold's recent rally, though, was as much a function of the October plunge in the U.S. stock market as well as the intensification of weakness in China's economy and the emerging markets. This inverse correlation was threatened on Monday when China's Shanghai Composite Index rallied 4% and posted its best performance in nearly three years. While China stocks remain firmly in bear market territory, any additional strength in China and emerging markets equities in the coming days could temporarily undermine gold's immediate-term technical position. As I suggested in today's headline, one of the most important factors for gold going forward is the safety bid and gold can scarcely afford to lose it. China's stock market hasn't been able to establish a series of higher peaks and higher lows all year. As long as the Shanghai Composite Index shown below remains in a downward trend, gold's safe-haven demand shouldn't be seriously threatened.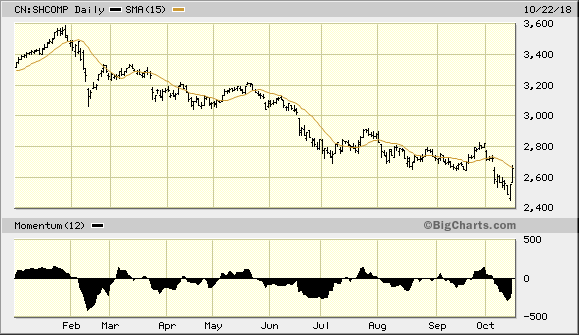 Source: BigCharts
While the pullback in the dollar index earlier this month served as a catalyst for gold's recent rally (coupled with record short interest levels), it also was the weakness in the world's major stock markets which gave gold bulls the impetus they needed to regain control of the immediate-term trend. Without safe-haven demand to focus the attention of investors, gold has a tendency to move in a trendless fashion at best. At worst, gold prices will decline if the dollar index is rising in a sustained fashion. But safety-related demand is definitely needed to keep the gold price buoyant in the face of a trendless dollar index.
Shown below is the dollar index in relation to its 15-day and 50-day moving averages. While DXY remains above both trend lines and is threatening to rally, its intermediate-term (3-9 month) trend is actually net sideways. This has alleviated some of the downside pressure from gold in recent months and has allowed the gold price to establish a bottom since August. As I argued in a previous report, a break below the 95.00 level in the dollar index (the nearest pivotal low) would put the gold bulls in a position of immediate-term strength and would serve to stimulate another short-covering gold rally. As long as DXY stays above the 95.00 level, however, gold will face headwinds due to its currency component. I anticipate that gold's sideways range will remain intact for the balance of this month.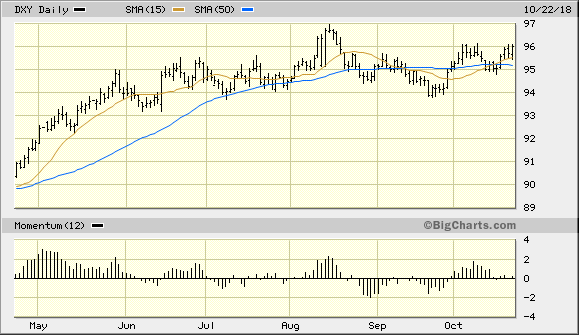 Source: BigCharts
On the gold ETF front, the iShares Gold Trust (IAU) recently confirmed a technical breakout by closing above the pivotal $11.60 level and returning above its rising 15-day moving average. This put me back on an immediate-term buy signal for IAU, where I remain despite the dollar's recent strength. I suggest watching the $11.37 level (the Aug. 23 closing low) closely from here, as this is my recommended initial stop-loss (intraday basis) for this trading position. A violation of $11.37 would put me back on the sidelines for the immediate term. My continued expectation for IAU and the gold price is for a lateral trading range to be established in the coming weeks.
Disclosure: I am/we are long IAU. I wrote this article myself, and it expresses my own opinions. I am not receiving compensation for it (other than from Seeking Alpha). I have no business relationship with any company whose stock is mentioned in this article.