While I am not a fan of having to trade more frequently, I have to listen to the markets. Right now, and likely through the next real stock market crash (#crash2020 anybody?), we will likely need to tweak our asset allocation several times per year. Now is one of those times.
Our asset allocation strategy is in line with what we discussed in our 4th Quarter Macro And Market Outlook. Let's do a quick review of the last few years though, before we reiterate our strategy for the 4th Quarter.
A Narrowly Missing a Recession
There have been a few catalysts for the stock market since the near-miss recession of 2015. The first of course, has been the record amounts of stimulus pumped into the money supply after the financial crisis and the accompanying historically low interest rates.
In 2015 though, the economy and stock market were cooling and monetary policy was about maxed out. Enter a plunge in energy prices when OPEC flooded the market with oil. The impact on corporate balance sheets and consumer spending were significant enough to keep the economic party rolling.
Under President Trump, we have also seen stimulus that has driven the economy and stock buybacks. While the long-term impact of tax-cuts for the rich and extreme deregulation is unknown (to some), rising interest rates and trade pressures seem likely to offset those stimulus as early as in 2019.
The Importance of Buybacks
From 2011 until now, corporate stock buybacks in the S&P 500 (SPY) (VOO) have been a major factor that has driven the stock market as well by reducing share counts to prop up earnings on only marginally rising revenues.
In 2018, the surge of buybacks, largely driven by repatriation money, has offset recently tightened monetary policy and a lack of foriegn direct investment by China, which had also been a major source of stock market and real estate demand prior to President Trump's election.
As we can see here in this chart from Yardeni Research, corporate stock buybacks will set a record this year - by a lot.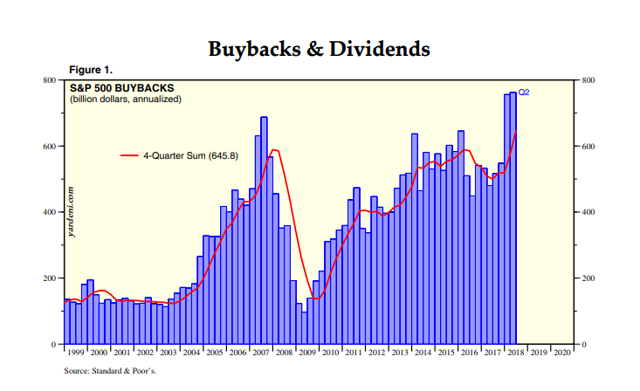 As I predicted earlier in the year, The Buyback Bubble Will End Badly, but that day is not here yet. There is at least one more huge buyback surge coming. I anticipate around $300 billion of the $400 billion in authorized, but unused, buybacks will be made in November and December of this year.
I have been talking about buybacks driving the stock market for a few years now. When buybacks slowed down last January, the stock market corrected. In April, when buybacks slowed down, stocks corrected. The same in July and now in October.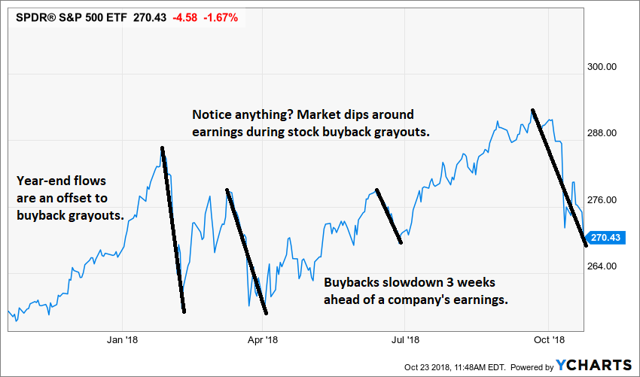 The rules on buybacks are not completely understood by most, or explained well. Here is a simple view: buybacks that are part of pre-planned programs can go on, but new and discretionary purchases must stop within 3-weeks of earnings announcements until after the public earnings release.
The Heisenberg noted that the corporate stock buyback blackout was about to peak back on October 12th.

Deutsche Bank (DB) reiterated that point in an easier to read chart this week: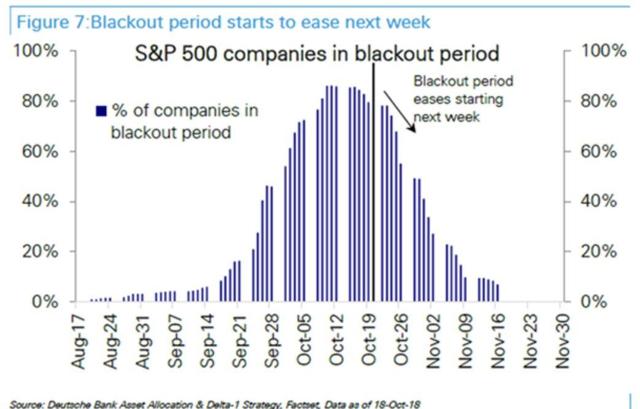 By next week, the stock market should start to see significant buybacks flooding in again as executives look to protect their bonuses, errr, efficiently allocate capital.
The QQQ and You
As members discussed just prior to buying the Powershares QQQ (QQQ) at $169 (further discussed in this free Friday webinar at about the 17m mark), the majority of buybacks are occuring within the Nasdaq 100. That makes buying the QQQ an easy to execute strategy.
In the past, I have recommend QQQ as a core holding for a number of reasons (see: ETF File: The Only ETF You Need To Start Investing). Those reasons all still exist. I rate the Powershares QQQ a buy right now.
The Powershares QQQ can be as much as 25% of a portfolio asset allocation in my view. Consider the strong sectors of the economy. The QQQ is allocated towards those stronger sectors as I discussed with Brian Bain founder of Investor In The Family in a recent interview (which Brian provided excellent bullet points for) that reignited the battleground of "old economy stocks" which I dubbed grandpa stocks vs "New Economy stocks."
Once again, I rate QQQ a buy right now.
Picking Stocks
Within the QQQ are several stocks that I like a lot.
One of my favorites is PayPal (PYPL) which ran up on strong earnings last week. Many members own this stock. It is a quintessential buy the dips stock for all the reasons big institutional investors are opining about.
I use PayPal on a daily basis for personal and business transactions. I have gotten to know their products intimately. I cannot recommend them highly enough. Their position in the market is strong and I believe will grow stronger as more digital transactions occur.
Attaching PayPal to your mobile phone through a third party app or pay system seems as though it is going to become very popular. Already, I am seeing not only the numbers that indicate this, but I see it with younger business people including my daughter who uses it that way for personal and business transactions.
PayPal is also working on blockchain and cryptocurrency. I believe they will evolve and likely become a big player in the surviving cryptocurrencies - and might even provide a major surprise soon.
PayPal has a $10 billion buyback in place.
Google (GOOG) is another top holding that needs little description in a summary piece. Their growth will continue for another decade or more as communications and edge computing evolve.
I have also discussed with members that I expect "baby Googles" at some point to be spun off or IPO'd. I expect that Google will break itself up preemptively to stave off more Draconian regulatory measures.
Google is another buy the dips stock. Their buyback is a weirdly perfect number of $8,589,869,056, but I expect it to be higher soon.
Micron (MU) has been oversold to "worst case" levels. Micron is a buy now - no need to wait for a further dip.
Behind the times analysts are declaring a huge semiconductor downturn. While they are hitting some of the right points, they are looking only at the empty part of the glass.
Yes, cryptocurrency mining will fall off in 2019. While this only accounts for about 4% of Micron's business according to their last conference call, the marginal pricing of their products was likely higher by more than that 4%.
NAND memory pricing is in a rut and not likely to emerge for a year or so, as the competition in NAND is far more intense than Micron's core business in DRAM. If NAND prices drop 30% (has fallen about half that so far) and NAND accounts for approximately 30% ( a bit under, but I want to make the math easy) of Micron revenue, then we should expect a 9% drop in Micron revenues if shipments remain the same - which they won't. Micron projects shipments to grow 35-40% in 2019. That will offset the revenue loss on pricing, but the margins will be obviously much tighter.
China trade issues are also weighing on Micron, however, the amount of profits that Micron makes there is a single digit, that is, about 1% according to their recent earnings report.
So, in short, we should expect Micron earnings to fall in 2019 from 2018. How much is the question? There are bullish catalysts to offset the bearish.
First off is that DRAM memory, which represents 70% of their business, remains strong for Micron. DRAM pricing remains firm and demand is increasing, though, a bit slower than analysts had wished to put in their wonderfully short-term analysis of the company.
The growth of DRAM is extremely high to begin with, though will fall from about 20% in 2018 to a number in the upper teens. Intel (INTC) had a CPU production issue in 2018. That actually slowed NAND and DRAM growth a bit. They are dealing with those issues. We should expect that to largely offset some, and maybe all, inventory issues that had begun to emerge.
In short, Micron's problems are being taken out on the share price as if the worst case will emerge. I find that extremely unlikely.
Micron's buyback is pegged at $10 billion, however, I believe that buyback will be increased at some point in the future.
Selling Cash-secured Puts To "Recycle" Money
When volatility rises, so do options premiums. For stocks on our "Very Short List" we get the double benefit of selling puts at lower prices.
Since it is our thesis that 2019-20 will be weaker for U.S. markets than 2017-18, we want to continue to find ways to have cash in our accounts to buy on corrections, selling several puts per quarter is a good way to do that. As the puts expire, we can then utilize that cash to buy stocks or sell more puts. Our cash take this year has been significant.
Right now, most of the companies on our focus list for the quarter can have puts sold near the money with January strike prices. I have a list titled "Five Favorite Puts To Sell Now" coming after market close. Members should review the October Options report as all the new picks come from that piece with only minor modifications.
A Closing Thought
When volatility rises, it is easy to scare. However, when you have expected it and have a plan, it is easier to deal with - hopefully. Regardless, sometimes the hardest trades are the best trades. I think that is the case right now. I do not doubt for a minute that buybacks will rush in with a vengeance in November and December - executives need to eat too.
Disclaimer: I own a Registered Investment Advisor - Bluemound Asset Management, LLC - however, publish separately from that entity for self-directed investors. Any information, opinions, research or thoughts presented are not specific advice as I do not have full knowledge of your circumstances. All investors ought to take special care to consider risk, as all investments carry the potential for loss. Consulting an investment advisor might be in your best interest before proceeding on any trade or investment.
If you found this valuable, please follow me, during what is shaping up to be a volatile few years.
Disclosure: I am/we are long GOOG, PYPL, GOOG, MU. I wrote this article myself, and it expresses my own opinions. I am not receiving compensation for it (other than from Seeking Alpha). I have no business relationship with any company whose stock is mentioned in this article.