"ts beginning to look a lot like Christmas…" Hit Christmas song first sung in 1945 that became a standard.
These two stocks have been bludgeoned and are now at entry points relative to their strengths that are pure gifts for those who remain believers. A buy on both gives investors a position across the entire Macau GGR segment from VIP, to premium mass to mass. And solid growing non-gaming revenue.
In addition to Christmas, for the gaming sector, its also beginning to feel a lot like 2009, for those of us old enough to remember the aftermath of the 2008 financial crisis. For those who can recall the prognostications of too many gurus. They opined that Las Vegas was headed for extinction and Macau's 33 casinos were reaching saturation by posting US$15bn in GGR, with over 60% of it coming from VIP.
Then in 2015 came the junket/capital flight crackdowns that sent Macau GGR tumbling and along with it, a gang up of bearish sentiment that had sent the sector lower. Exponential growth stopped in its tracks. Now what about 2018? Right now, Macau is tracking on reaching an estimated GGR for this year that will just scrape below $40bn, roughly a 35% increase since 2009. The percentage of VIP of the total has slipped to 53% but mass growth due to more supply well absorbed has more than made up the difference.
In Las Vegas,(Clark County) the strip posted $8.922bn in gaming win for 2009, the nadir aftermath of the 2008 financial crisis. That number showed a 0.80 increase, essentially flat y/y. Moreover, average gaming budgets were down, average non gaming spend was down, all reflecting the very real hit taken on the US as well as global economies. Where are we today as the bears are all growling in expectation that Q3 will show softness in Vegas?— Growling, beating down the sector again. But Q4 is expected to spike north again.
But in 2017, the strip's gaming revenue hit $9.978bn, a 2.72% increase over 2016 and a $1bn increase since 2009. That upside is fine, nothing to rave about, but in the same period, non-gaming revenue ballooned to represent 65% of the entire revenue base of the strip. Our point: These two gaming markets have shown tremendous long term resilience at a time when the short term dips or pauses in the growth cycle have clobbered the stocks.
And Wynn and LVS have taken their blows as if these pauses have ushered them toward the glue factory as if they were old, worn out, sway backed thoroughbreds who couldn't make it around the corner anymore, no less a mile and a quarter around the track. Why? Simply because the media's business model today is entirely based on short termism. In other words, this month's GGR numbers out of Macau, or Las Vegas or any other major gaming jurisdiction are major news. Any snowflake becomes an avalanche. A pause becomes a trend. And in its desperate and relentless pursuit of eyeballs, outlier possibilities become scary sell signals for those without the patience to stand up to the bears.
For LVS, we get conjecture about the utterly absurd idea that due to Sheldon Adelson's support of President Trump, he is potentially going to be singled out by China for water torture by getting the reconcession door slammed in his face.
For Wynn, who has had very real internal woes springing out of the Steve Wynn sexual harassment mess, we have the same bloviating on pure conjecture that Massachusetts regulators will punish the company for Wynn's board presumably looking the other way for years on Wynn's behavior. The prospect of lifting its plenary license for its Boston development became another reason for scared money to flee or short the shares.
Add to that the sore loser lawsuits by spurned would be licensees, alleging that Wynn knew it was buying land parcels from shady owners. While nobody can forecast the loopy decisions that often emanate from regulatory bodies, the license issue looms as one of the last internal negatives that Wynn has to deal with. But anyone who sells the shares based on a litigation that will be fought tooth and nail for possibly years better be a short term player.
The company passed muster on the issue once. The commissioner who oversaw the procedure has retired. But the bottom line for Massachusetts is this: In the final analysis, with Wynn's new white hat board and operating history that has bred immense success wherever the company has sited its properties, its hard to imagine a license being pulled now just 8 months before the opening.
Neither we nor anyone else can predict the outcome of any litigation and we don't presume that here. But we factor in or remove what we believe will be around a $350m EBITDA accretion to the company from the Boston property by 2020.
If we remove that number from projected earnings, we still see an upside for the company based on its plans for Las Vegas expansion, sports betting market share, and as a strong contender for a Japan license. However, should Encore Boston be force sold by order of officials, the complications for all would be immense.
The commission can deny the license but it can't legally force the company to sell at a given price. Nor can it tolerate the probable delay of such a negotiation with a new owner. Imagine that magnificent building waiting to churn out state tax revenue by the hundreds of millions, sitting empty for years while the cut and thrust of sale negotiations goes on. And even further, such a forced sale would easily fetch over $2 billion in cold cash to Wynn coffers, money that could be used to reduce debt, finance its Vegas development, or even pick a new jurisdictional target to build another spectacular property. Is this a company you want to be partners with? Is this Boston threat the headwind the bears are growling at? I don't agree.
Las Vegas Sands faces two internal issues: One, succession planning in a post Adelson era. And two, Sheldon's apparent disinclination to reduce his equity which would clearly enlarge its investor base and make the stock more attractive to investors by the hard commitment to dividends which could rise.;
The PLAY: BUY LVS AND WYNN TOGETHER AND OWN THE ENTIRE SPECTRUM OF MACAU GGR AND NON GAMING REVENUE BASES in VIP, Premium Mass, hotel room capacity and all non-gaming amenities.
At their current prices: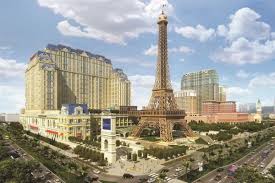 AT WRITING: (NYSE: LVS) :$52.32—one year low
.52 wk range: $52.61-$81.45 You can buy the stock today at its low point for the year
Five year low: $39 in April of 2016, several months before the crackdown turnaround. The company presently enjoys a

22% market share in Macau, which this year could reach $8.8bn, plus of course Marina Bay Sands Singapore adding $2.5bn brining the Asia revenue base for 2017 to $11.3bn. We expect 2018 to beat this number by at least $750m.
Wynn Resorts Ltd (NASDAQ:WYNN)
At writing: $101.96
52wk range: $101/24--$203. You can also buy Wynn at a 52 week low.
Five year low: $64.50, reached in April 2016 before opening of Wynn Palace. The company's estimated market share stands at 12% translating to $4.8bn should GGR reach $40bn for 2018.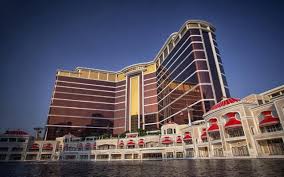 All together now
You can buy a piece of the total Macau consumer market representing the three player segments for a total of $154.28, LESS THAN WHAT YOU WOULD HAVE PAID FOR WYNN ALONE LAST JULY. And since then the pounding both stocks have taken have been almost entirely driven by sector fears that for the most part tell us this:
1. VIP will remain stable or recede in a pause as the China economy confronts and we believe, defeats its headwinds. Our conviction now: There will be a tariff deal no later than next spring. Part of that conviction right or wrong is based on my perceptions of the US President after working for him as a senior executive for three years.
2. Mass will continue to grow as new supply is absorbed transforming day trippers to overnight guests. Ands praise the lord, the Zhuhai-Hong Kong bridge will be open to traffic in a matter of days. This will clearly be a spike to mass Macau business and
directly and predominately show up in LVS revenue boosts.
3. Premium mass will resume a growth pattern at Wynn Palace which will go on a tear in non-gaming, where it has had traditional strength in all its properties.
4. Performance at both companies Las Vegas properties will take a bit of a Q3 hit, but resume healthier profile in Q4. In either event they will about hold their own.
The weighting
We see a 60/40 balance leaning to LVS primarily because we think the vitality of mass growth will be carrying the day from here to years end.
You buy LVS you get a dominant operator in mass.
You buy Wynn in get a dominant operator in mass and premium mass.
YOU BUY BOTH, YOU HAVE ACROSS THE BOARD COVERAGE AT WHAT IS BY ANY MEASURE, EVEN CONSIDERING THE CONTINUING BLOODBATH ON THE DOWM, THE WORLD'S BIGGEST MOST ROBUST GAMING MARKET.
It's a mini-portoflio that's a gift. Merry Christmas to those who see Santa sliding down the chimney and into the room bearing gifts. And remember at these gift prices, the downside risk is minimal.
Disclosure: I/we have no positions in any stocks mentioned, and no plans to initiate any positions within the next 72 hours.
I wrote this article myself, and it expresses my own opinions. I am not receiving compensation for it (other than from Seeking Alpha). I have no business relationship with any company whose stock is mentioned in this article.