By Gary Alexander
The S&P 500 ended September at 2913.98 and set a high of 2925.51 on Wednesday, October 3. It fell 6.7% in the next week, closing at 2728.36 on October 11. Last Friday's close was 2767.78, down 5% for the month-to-date and +3.5% year-to-date, but the press coverage of up and down days is wildly different.
Julia Seymour of the Media Research Center studied the mainstream media coverage of the market this month and said, "The network evening news shows focused on the 'major selloff' and 'meltdown' on Oct. 10 and 11 and ignored a record high on Oct. 3, as well as a 500-plus point gain on Oct. 16." When the Dow set its 15th record high of 2018 on October 3, "all three broadcasts were silent about the good news."
From January 1, 2017, to January 26, 2018, according to Marketwatch.com, there were 82 record highs in the Dow Jones Industrials. According to the Seymour and MRC media, one or more of the three major media news outlets (ABC World News Tonight, CBS Evening News, and NBC Nightly News) reported only 20 of those 82 highs, but when the Dow fell 666 points on February 2, 2018, the Big 3 gave 33% more coverage to a single day's drop than to the times the Dow broke through 25,000 and 26,000.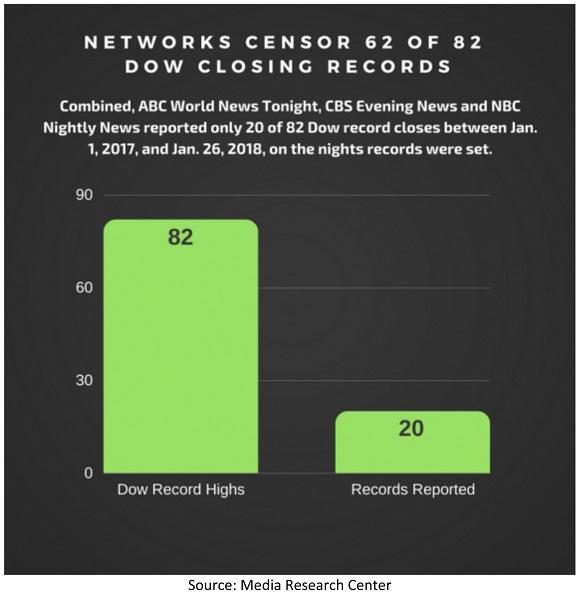 Economist Ed Yardeni has counted 62 panic attacks since the start of this bull market on March 9, 2009. Only three of those 62 attacks have happened during 2018, one in February (over "wage inflation fears"), another in March (over "trade war talks"), and one this month (tentatively over "global growth slowdown fears"). There were only two panic attacks in 2017 - in May (a "Trump impeachment scare") and August ("North Korean crisis"). All 57 of the other market scares came during the 8-year Obama administration.
Measuring from election days in 2008 and 2016, the Dow rose 90.5% in the eight Obama years (+8.3% per year compounded) and it's up 38.6% (17.5% per year) in the near-two years since Trump was elected, yet the media seems fixated on the story of an Obama bull market and a coming Trump crash, an Obama recovery and a coming Trump recession. Now, with elections around the corner, we see talk of a market crash if the Democrats take control of Congress, or a debt crisis if the Republicans retain their control.
Right now, the smart money and most polls predict that the Senate will remain narrowly in Republican hands while the House of Representatives will likely switch from Republican to Democratic control. We don't know for certain this will happen - polls failed us twice in 2016 with "Brexit" and Trump - but if the House comes under Democratic control, the division in our nation may become even worse than now.
GDP, Stocks, or Earnings Could Tip the Election
The Bureau of Economic Analysis (BEA) releases its first advance estimate for third-quarter gross domestic product (GDP) this Friday morning at 8:30 am Eastern Time, just 11 days before the election. Economists expect a slowdown to 3.3% from the previous quarter's 4.2%, partly as a result of the new tariffs imposed last quarter. As of last Friday, the Atlanta Fed's GDPNow model indicates a third-quarter GDP growth of 3.9%, on the verge of 4% but not quite there. A reading next Friday near 3% might oddly sound like a "slowdown," even though it will still make 2018's growth rate the strongest year since 2004.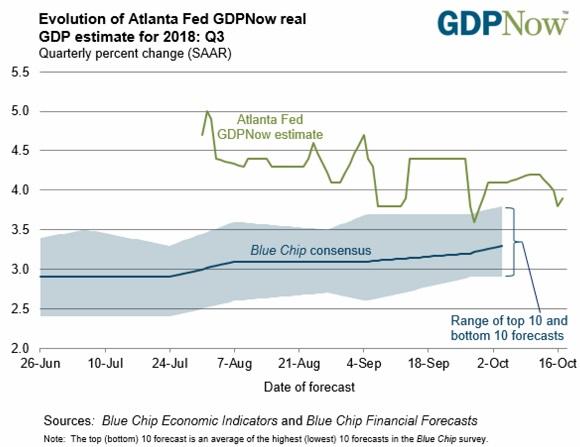 Thankfully, the next meeting of the Federal Open Market Committee (FOMC) will be November 7-8, just after the election, so the President won't have to worry about a rate increase right before election day. On election day, I'll be flying home from the New Orleans Investment Conference after moderating our annual political panel, featuring Jonah Goldberg, Mark Steyn, and Doug Casey.
My prediction is a market surge if the Republicans retain control of Congress, and a temporary market correction if the Democrats take control of the House - followed by a recovery in 2019, when the truth sinks in that "gridlock" in Washington is a proven historical formula for above-average market profits.
In the meantime, the markets will move more on earnings than politics, and the market will be in the heart of earnings season on Tuesday, November 6. In the first and second quarters of 2018, S&P 500 operating earnings were up 25.9% and 25.3%, respectively. Profit margins were at a new record high of 12.3% in Q2.
Analysts are expecting another excellent quarter - not quite 25% (that would be too lucky), but third-quarter year-over-year profit growth should be 21% to 24%. For all of 2018, profit growth is expected to be +23%. That can't continue in 2019, for a variety of reasons, but with the S&P 500 up only 3.5% YTD, stocks have some room to grow. Even if 2019 profit growth falls to 10%, stocks still have room to grow.
Disclosure: *Navellier may hold securities in one or more investment strategies offered to its clients.
Disclaimer: Please click here for important disclosures located in the "About" section of the Navellier & Associates profile that accompany this article.