In a recent article I wrote, Metals and Miners – Don't Miss Act 2, I discussed the substantial opportunity that is currently setting up for investors that focus on metals and miners. In this article I'll compare the immediate downside price targets, and long term upside targets for both metals.
To reiterate from my previous article on miners:
It's rare we see opportunities that provide for a 5x-10x increase - or greater - in capital within 12-18 months, but that's precisely what's setting up right now in the precious metals mining sector.

First, allow me to discuss why this is high-confidence. In viewing the weekly chart, note that between January and August 2016 GDX formed an Elliott Wave picture perfect 5-wave move up from $12.40 to $32.01. From an Elliott Wave perspective, after a retrace, 5-wave moves are virtually always accompanied by another 5-wave move in the same direction. Another layer of confidence comes in the form of the consolidation that's occurred since the since the August 2016 high. The A-wave is another clear 5-wave move down, followed by what can best be described as a year-long choppy pattern that is classic of a B wave. This ABC pattern defines the entire retrace of the move up in 2016, which is what we do know. What we don't know is if this retracement is a wave 2 of a B wave.
This same analysis applies directly to that of gold, and quite possibly silver. Refer to the weekly chart for gold below. Gold completed a picture perfect Elliott Wave 5-wave impulsive structure up off the late 2015 low. Since its high into August, 2016, it's been forming a retracement that once complete into later this year, will setup the next move higher. The expectation is that after a retrace against the 2016 move up is complete, we would expect a move of similar or larger size to the upside. The question is, will the next move up be a C-wave into the 1,666 to $1,700 region that completes a very large corrective structure before heading to new lows below the 2015 low, or will it be a 3rd wave that sets up substantially higher targets? From a pure trading or investing perspective, at this moment the answer is not relevant, as the upside in either case is substantial, and the entry into a long position for either target is the same. Based on a number of factors, it's our opinion the next large move up with be a C-wave that sets up new lows in the metals complex, but we'll monitor for an impulsive move off the next low that sets up a 3rd wave higher, in case we're wrong. Note that gold can conclude it's retracement in the $1,150 region for a 2 in a i ii 1 2 upside setup, or can drop deeper into the $1,124 to $1,083 for a larger and deeper overall wave ii, where either count resolves significantly higher. We'll zero in more on precise downside targets shortly, after the next move down commences.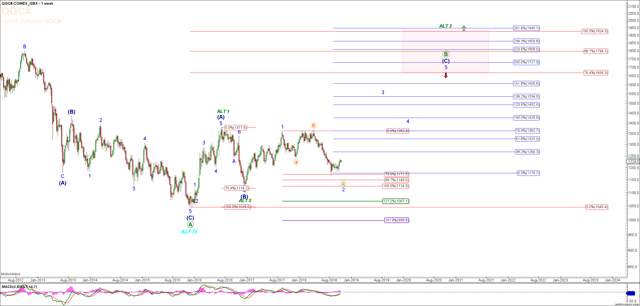 (Gold Weekly Chart)
Now, let's review the upside targets for silver and then compare gold to silver. Off the late 2015 low, silver formed a diagonal 5 wave structure up, and topped at $21.60 in August 2015. Unlike gold, that's held up much better than silver on its retrace, silver is now threatening to take out its 2015 low. Whether silver does or doesn't make a new low, our analysis is effectively the same, insomuch as the new low could either complete all long term downside in silver, or complete the green A, as presented on the weekly chart below. Upon completion of this retracement and/or new low, upside in silver will form a larger (A)(B)(C) with price targets of as high as $36 - $43, then head to new lows, or will form a larger impulsive structure that completes similar to gold's larger third wave structure. Note below on the 240 minute chart that our price target to complete the downside in silver is in the $13.80 to $13.60 region.
As you can see, a move in silver from $13.80 to $36 is a much greater percentage move than gold moving from $1,150 to $1,750. There are a number of machinations that could occur that narrow the delta in performance between gold and silver. However, the one thing we know from long experience is that in metals rallies, the gold: silver ratio tends to drop. The gold: silver ratio is the price of gold divided by the price of silver, and represents the number of ounces of silver one can buy vs. one ounce of gold. To illustrate my point, presently the gold: silver ratio is 83.77 (gold - $1,239/silver - $14.79). When both metals peaked in late July, 2015, the gold silver ratio was 65 (gold - $1,379/silver - $21.21). Whenever metals rise, silver consistently raises at a faster rate to that of gold, hence the drop in the gold: silver ratio.
In addition to the gold: silver ratio, in a hyper bullish move up in metals, silver typically leads in price appreciation with a vengeance. While we expect substantially higher in both metals, if silver takes the lead in an aggressive upside fashion vs. a similar rise relative to gold that we saw in 2016, it will provide an additional clue for the prospects of both gold and silver, and miners, being in a 3rd wave vs. a C wave. We'll be watching any and all clues on the rise up to determine if we exit with larger profits or hold on for larger profits.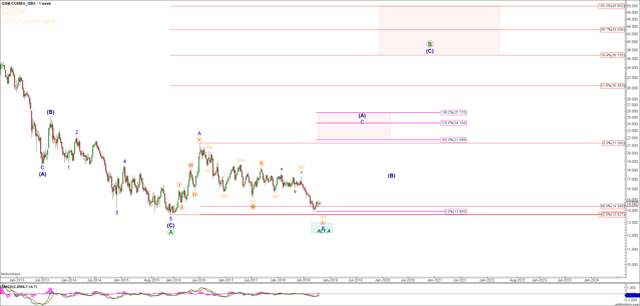 (Silver Weekly Chart)
There are several ways to take advantage of a faster move up in silver to that of gold that I'll mention here. First, be sure to have some of your miner portfolio exposure allocated to quality silver mining companies. Secondly, focus on ETF's like iShares Silver Trust (SLV). Our primary focus is in the area of mining stocks, as miners demonstrate a strong elasticity to directional moves in metals – meaning, metals go up, miners go up more, and the converse when metals drop. To illustrate this point, I published an article recently on a silver miner, One Miner Set for Enormous Growth – SSR Mining. SSR Mining (SSRM) shares have held up very well as compared to the drop in silver. Below is our chart for SSRM that suggests lower could still be in the cards, but we'll also be watching the price of silver, and gold, to act as additional proxies to assist in tight entries into this stock, and other stocks that are part of our Strategic Miners Portfolio TimePriceAnalysis.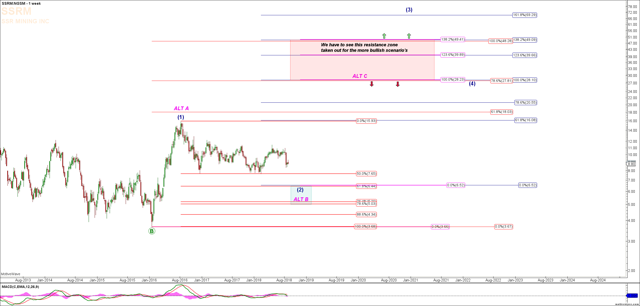 (SSRM Weekly Chart)
Concluding Remarks
Gold, silver and miners are setting up a rare opportunity with huge upside. Once these instruments and stocks bottom, the upside will occur quickly. Our Hurst Cycles work suggests the sector is coming into a 18 month cycle low, acting as additional support to our overall Elliott Wave count. Silver offers more upside to that of gold, and there are several ways of taking advantage, including buying silver ETF's, physical silver, or optimally to ensure you have shares of silver miners in your miners portfolio.