In the first part of this quick, two-part, series we looked at the leading ETFs of the financial sector (XLF), American banks (KBE), European banks (EUFN), and US regional/smaller banks (KRE).
In this part, we will touch upon some of these ETF holdings and compare the performances of the top holdings of each ETF to the performance of the ETF itself.
US Banks Returns in 2018:
Benchmark: SPDR® S&P Bank ETF -10.1%
Except for JPMorgan Chase & Co (JPM), with its +0.7% positive total return YTD, they are now all in the red:
* BK and STT are considered to be both banks and asset managers.
** Not a US bank per se
*** Technically, a regional bank; the largest holding of the SPDR S&P Regional Banking ETF
Average total return YTD (excluding HSBC): -10.9%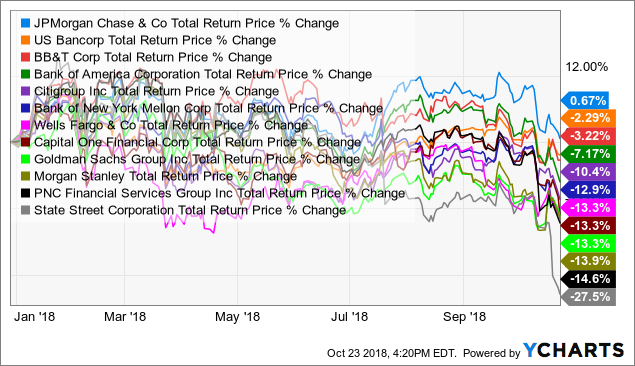 US - relevant articles:
The most important thing for US banks is the Fed (specifically) and central banks (worldwide) is monetary policies. Banks would love to see widening spreads, i.e. yields start rising higher and faster than rates.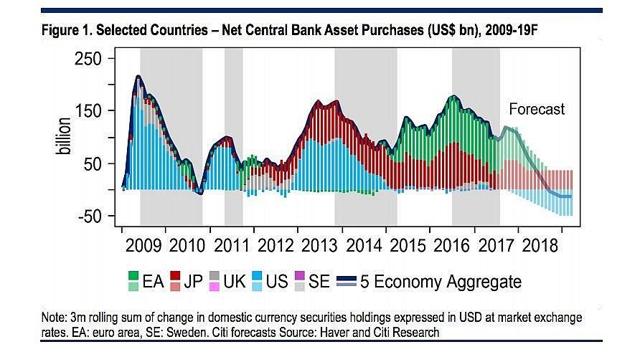 Asset Managers Returns in 2018
Benchmark: Financial Select Sector SPDR® ETF -5.9%
Ouch! All are in double-digit negative total returns:
Average total return YTD: -29.1%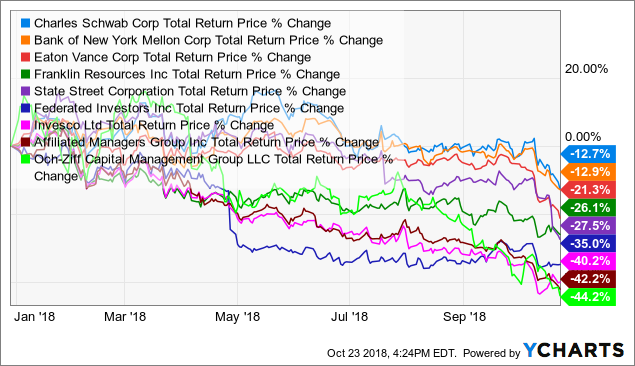 Asset managers are currently suffering from three main issues:
1. AUM Outflows
The volatility of flows in and out of iShares iBoxx $ High Yield Corp Bd ETF (HYG), BlackRock's $14.4B US high-yield bond ETF, has been tremendous and accelerating. This suggests that there is a lot of institutional involvement here and a great deal of disagreement as to market direction.

2. Shift of focus (Abandoning the traditional profit drivers)
A big takeaway from BlackRock's earnings is the increasing focus on their technology unit, where revenue increased 18%. CEO Larry Fink said he hopes this unit will produce 30% of the firm's revenue by 2022.
It speaks volumes that the biggest ETF issuer in the world (and the only company who is even close to Vanguard, flow-wise) is aggressively diversifying away from fund management businesses.
I'm wondering whether BlackRock is looking ahead to a new model of fund management in a zero-fee era where tech support/applications/trading platforms are the revenue drivers and fund management is the enticement/public?...
3. Fierce competition that drives fees (too?) much lower.
Last week, Prudential (PRU) has quietly launched the cheapest active equity ETF, priced at only 0.17%* per annum. Unless I'm mistaken, this is the cheapest active equity and fixed income ETF in the market.
*Indeed, Vanguard's factor and iShares evolved ETFs are cheaper, but they are traditional-active, not pure active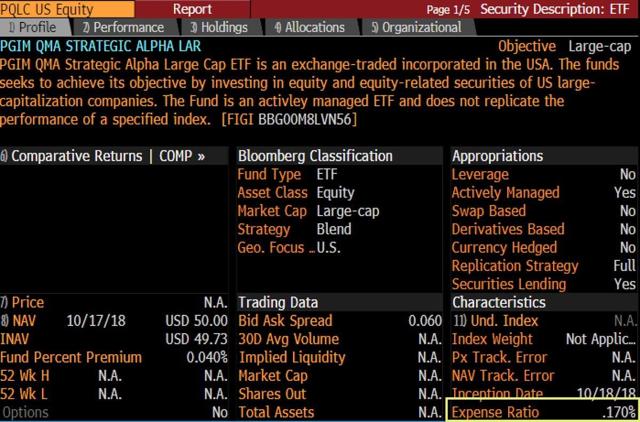 European Banks Returns in 2018
Benchmark: iShares MSCI Europe Financials ETF -17.2%
They are all showing negative total returns of about 20% or worse:
**Not a European bank per se
Average total return YTD (excluding HSBC): -25.4%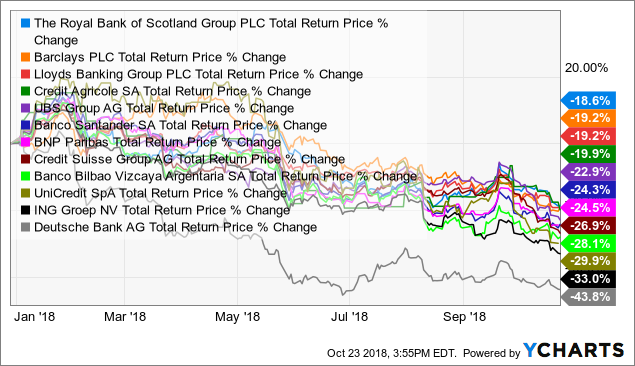 Europe - relevant articles:
Spanish banks - relevant articles:
German banks - relevant articles:
For European banks, there is one thing - and one thing only: The "big brother" support. The harbinger of a new era doesn't look good/promising.
ECB's balance sheet has shrunk by €4.6B to €4,628.3B as the amount of bonds reaching final redemption have exceeded the reduced amount of new purchases. This means that liquidity is being drawn out of the markets.
Having said that, ECB's total assets still equate to 41.3% of the entire eurozone GDP, (more than) twice as high as the Fed's 20.5%.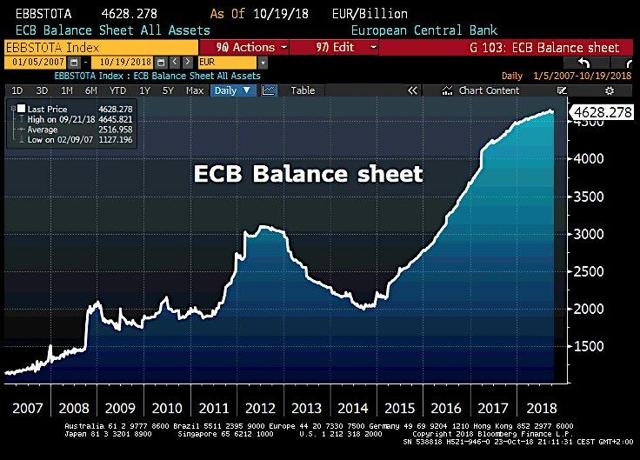 Regional/Small Banks Returns in 2018
Benchmark: SPDR® S&P Regional Banking ETF -8.6%
Not that bad as you would expect, especially when you read about names like Bank OZK (OZK), Opus Bank (OPB), or Texas Capital Bancshares (TCBI)
Average total return YTD: -5.9%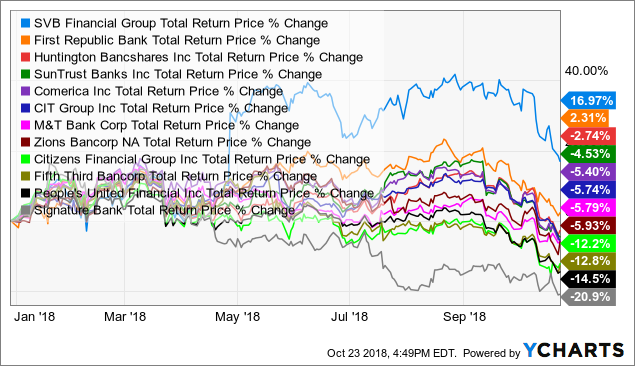 This is good perspective to understand the dramatic underperformance of smaller banks this year. They've been unable to regain their prominence as lenders over the past few years as big banks get bigger and alternative investors get more into direct lending.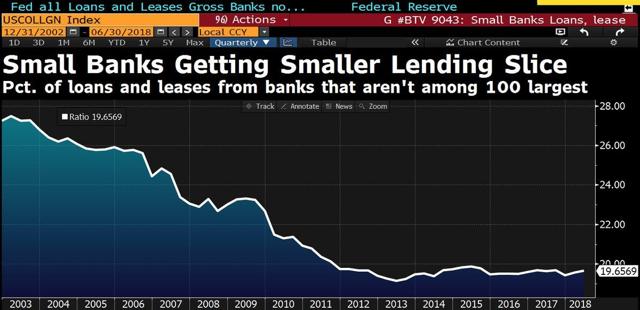 Author's note: Blog post notifications are only sent to those following an author at real time. In order to receive notifications about both articles and blog posts - go to Author Email Alerts, where all the authors you follow are listed, and turn on the "Get email alerts" next to my name.


The Wheel of FORTUNE is one of SA Marketplace's most comprehensive services. We view our service as a "supermarket of ideas" with an emphasis on risk management and risk-adjusted returns.
Our monthly review for October, where you can find all suggestions since launch, is only one click away.
We cover all asset-classes: common stocks, preferred shares, public debts, baby bonds, options, currencies, and commodities.
With Trapping Value on-board, you're getting two leading authors for the price of one.
Before committing to the service on a long-term basis, take advantage of the two-week free trial.
Disclosure: I am/we are long JPM, C, BAC, MS. I wrote this article myself, and it expresses my own opinions. I am not receiving compensation for it (other than from Seeking Alpha). I have no business relationship with any company whose stock is mentioned in this article.
Editor's Note: This article discusses one or more securities that do not trade on a major U.S. exchange. Please be aware of the risks associated with these stocks.