The Weather
Last week, the number of total degree-days (TDDs) jumped by more than 35% w-o-w, as heating demand more than doubled - particularly, in the Midwest and Northeast parts of the country. We estimate that total energy demand (as measured in total degree-days - TDDs) was no less than 60% above last year's level. Please note that during this time of the year, heating degree-days (HDDs) are driving natural gas consumption, while cooling degree-days (CDDs) no longer have any meaningful impacts.
This week, the weather conditions cooled down again, but to a lot lesser extent. We estimate that the number of HDDs will increase by 8% w-o-w in the week ending October 26. However, total energy demand (measured in TDDs) should still be some 30% above last year's level. Next week, the weather conditions are expected to remain broadly unchanged. The number of HDDs is currently projected to remain flat w-o-w for the week ending November 2. On balance, total energy is projected to drop by 2.0% w-o-w (see the chart below).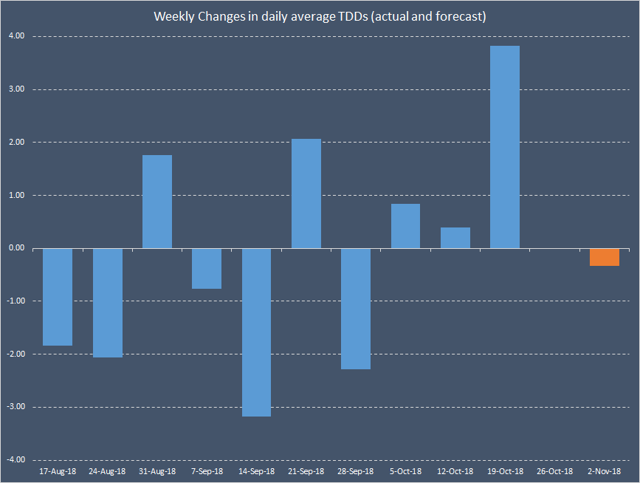 Source: Bluegold Research estimates and calculations
The latest numerical weather prediction models are showing above normal HDDs and TDDs over the next 15 days (October 24-November 8). Consumption-wise, the latest weather models are bullish in absolute terms, but not as bullish as previously. Total demand is expected to average 80.0 bcf/d over the next 15 days (some 20% above 5-year average), supported (in part) by strong exports - specifically, into Mexico, which hit 5.2 bcf on October 24, an all-time record. Natural gas consumption is also supported by a number of non-degree-day factors such as higher nuclear outages. As of Wednesday, there were a total of 22,300 MW of nuclear power generation offline (-200 MW from Tuesday, but +15% vs. 5-year average). Although the deviation of nuclear outages from the historical norm has been moderating lately, the absolute figures are still high. Our subscribers receive daily (early morning) update on all the market variables, including nuclear outages. Consider signing up, if interested (see the link below).
Overall, while total demand remains strong, its deviation from historical norm is declining. We currently estimate that it will drop to only 5% by mid-November, before growing again (see the chart below). At the same time, we estimate that total natural gas supply will remain no less some 15% above 5-year average over the next three months (at least).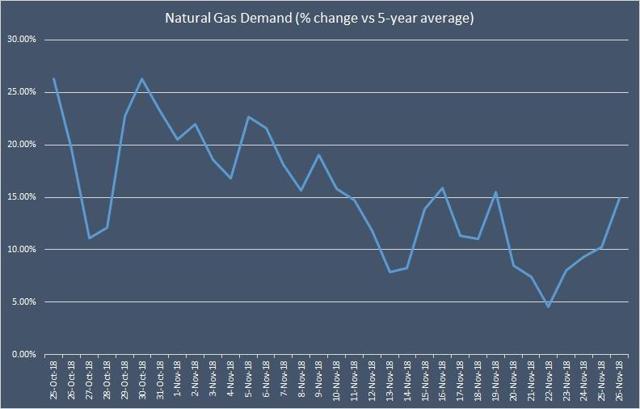 Source: Bluegold Research estimates and calculations
Storage
U.S. Energy Information Administration should report a smaller change in natural gas storage this week compared to the week prior. We anticipate to see an injection of 56 bcf (3 bcf larger than the comparable figure in the ICE's latest report for the EIW-US EIA Financial Weekly Index, 7 bcf smaller than a year ago, and 21 bcf smaller vs. 5-year average for this time of the year).
There is currently a double deficit in natural gas inventories - i.e., the amount of natural gas in the underground storage is smaller compared to previous year and also compared to 5-year average. Next, two EIA reports are expected to confirm the expansion of 5-year average deficit by a total of 29 bcf and the expansion of annual deficit by a total of 18 bcf.
Our end-of-season storage indices are currently below market expectations, but the "bullish gaps" are very small (see the table below). The gap for the end-of-injection-season is -5 bcf, while the gap for the end-of-withdrawal-season is -20 bcf.

Source: Bluegold Research estimates and calculations
Technicals
While we are not great believers in technical analysis when it comes to natural gas trading, we still look at key levels and patterns to have a better understanding of the market situation. Below is the chart for December contract. In case the price has broken below a symmetrical triangle bearish pattern and in case this pattern performs according to the textbook, then December contract price is heading towards 3.150 and possibly towards 3.080.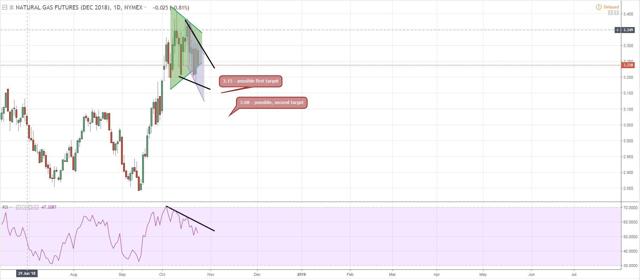 Source: TradingView, Bluegold Research estimates, and calculations
Thank you for reading our weekly report. We also write a daily update of our forecast for key natural gas variables: weather, production, consumption, exports, imports, and storage. Interested in getting this daily update? Sign up for Natural Gas Fundamentals, our Marketplace service, to get the most critical natural gas data. In addition, every Sunday, we publish three special reports: "Trends in the U.S. Electric Power sector", "Trends in Global LNG Market", "Global Oil Products Inventories".
Disclosure: I/we have no positions in any stocks mentioned, and no plans to initiate any positions within the next 72 hours.
I wrote this article myself, and it expresses my own opinions. I am not receiving compensation for it (other than from Seeking Alpha). I have no business relationship with any company whose stock is mentioned in this article.