One of my biggest concerns about increasing trade tensions is the increased possibility of an unintended consequence. The best example of this is the negative impact on some emerging economies such as Argentina, South Africa, and Brazil. While South Korea is a developed Asian economy, it has experienced negative economic shocks since the start of the year. GDP is still in fair shape, growing at 2.8%. But the Markit PMI index dipped below 50 this Spring and Summer, indicating a contraction in this sector. Since January, retail sales have contracted twice and unemployment has risen from 3.6% to 4%. The South Korean equity market is down over 20% since the start of the year, placing it in bear market territory: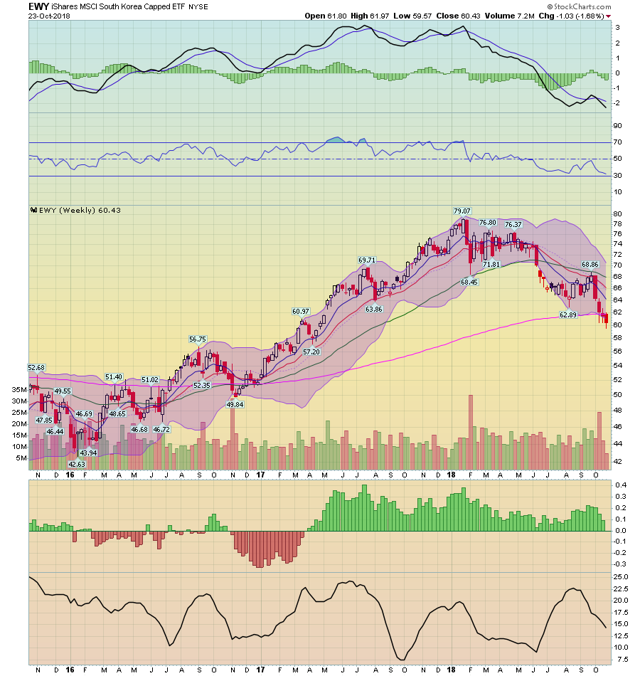 As a result, the government is implementing a mild stimulus package. This package is very small. Others could (and probably will) follow.
Markit Economics released their latest monthly purchasing managers indexes for Japan and the EU. Japan continues to putter along, with a composite PMI of 53.1. Output, new orders, and employment all rose. EU numbers continue to weaken: the manufacturing PMI fell over a point, dropping from 53.2 to 52.1, the lowest in 26 months. Although still positive, expectations for future growth continued to decline. Most concerning, weakness in the manufacturing sector is beginning to negatively impact the service sector. The reports characterize this as "export-led." The German composite PMI cratered: it fell from 55 to 52.7. New orders for manufacturing goods fell into a contraction. Future expectations were the lowest in four years.
New home sales declined 5.5% from the preceding month and 13.2% from the preceding year. This is the fourth straight decline on a month-to-month basis. Sales in the South (58% of total sales) are down four straight months while sales in the West (25% of all sales) are down two consecutive months. As I noted yesterday, mortgage rates are rising which obviously depresses demand. High prices aren't helping either:

Nevertheless, it's difficult to see this as anything but a cost issue. Unemployment is low, household net worth is high, and confidence is strong. In other words, the macroeconomic environment would support stronger sales if prices and the cost of money were lower.
Remember that the markets are trying to find some kind of equilibrium level after the recent sell-off. They didn't find it today:

This was a very sharp sell-off. The QQQs were off 4.5%; the IWMs, -3.7%; the IWCs 3.3%. The treasury market caught a pretty strong bid.
Let's look at the three main daily charts, starting with the IWM: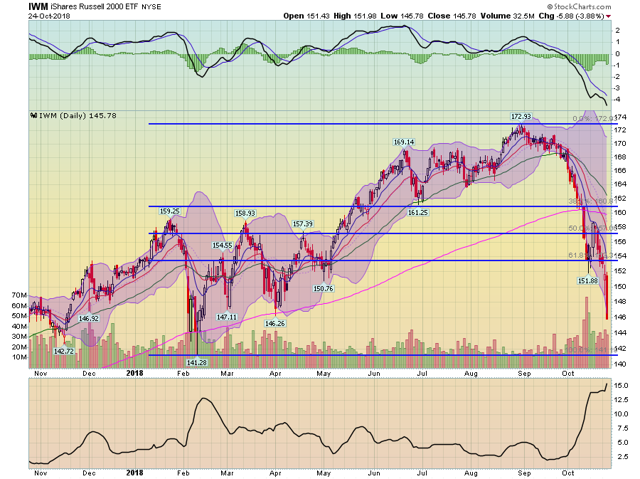 The IWM has blown through all key Fib levels for now, along with the other, less technically important levels established in the Spring. The next logical stopping point is the 141 level. The chart's technicals are very bearish: all the shorter EMAs are moving lower; the shorter EMAs are below the longer EMAs; the 10- and 20-day EMAs are below 200-day EMA. Prices are now down over 15%, which means we're a little less than 5% from a bear market in this index. This is a very bearish chart, plain and simple.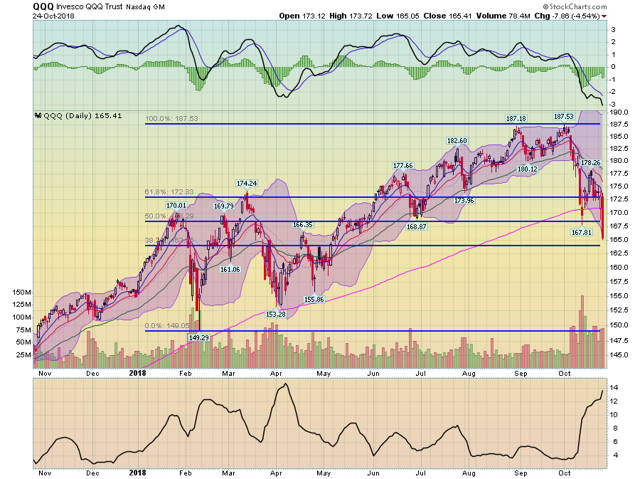 The QQQ is somewhat better, but not by much. Momentum is very bearish; today's price bar is as well. While the shorter EMAs are above the longer EMAs, don't expect that to last.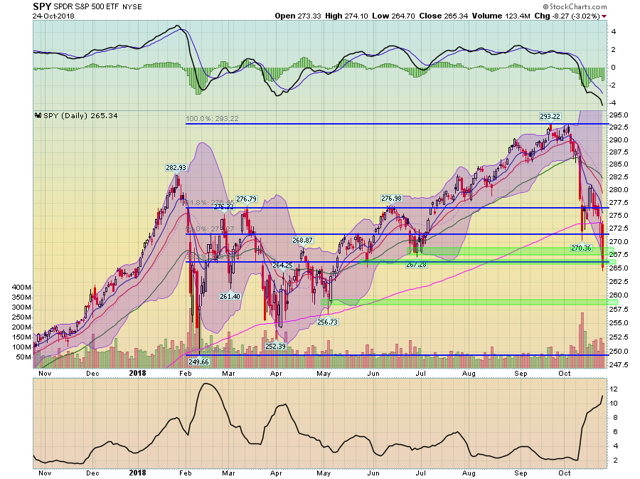 With the SPY, we're back to very negative news. Prices closed below the last main Fib level today; there's some technical support from lows in the Spring, but these aren't that strong. And, like the other two charts, volatility has picked up considerably.
Going forward, pay particular attention to the IWM. As it is one of the riskiest averages, its movement will have a tremendous amount of bearing on the broader market. And, right now, it says we're going lower.
Disclosure: I/we have no positions in any stocks mentioned, and no plans to initiate any positions within the next 72 hours.
I wrote this article myself, and it expresses my own opinions. I am not receiving compensation for it (other than from Seeking Alpha). I have no business relationship with any company whose stock is mentioned in this article.