Introduction
Many investors were eagerly awaiting the update that LOXO Oncology (NASDAQ:LOXO) announced they would provide on their lead candidate larotrectinib, an inhibitor of three TRK proteins. This update was presented on 10/21/18 at the European Society for Medical Oncology (ESMO) 2018 Congress. This analysis includes data from three separate studies: the Phase I trial in adults, the SCOUT pediatric phase I/II trial, and the Phase II NAVIGATE adult/adolescent "basket" trial. What makes this situation even more interesting is that LOXO's competitor Genentech, a subsidiary of Roche (OTCQX:RHHBY), would be presenting data on their lead TRK protein inhibitor entrectinib at the same venue, providing us a chance to compare and contrast these two compounds seeking the same indication. This piece will briefly outline the science of these agents, how a change in therapy paradigm can benefit LOXO, and an evaluation of LOXO's fundamentals and outlook moving forward.
TRK Proteins and a Paradigm Change
Tropomyosin receptor kinases (TRK) have three forms: TrkA, TrkB, and TrkC. The genes that encode for these proteins are the NTRK genes. Genetic mutations to the NTRK genes can result in the TRK protein being fused with another protein causing the enzyme being continuously active or overexpressed. Why is this constant activity or overexpression bad? An active TRK protein results in the proliferation and survival of a cell. In normal cells these enzymes may be present at a lower level, or can turned on and off as needed in an organized fashion. When this regulation is lost, as in NTRK fusion cancers, cells grow unregulated and unchecked, out of control. This is essentially the definition of cancer. It is difficult to estimate the exact frequency of NTRK fusions, which would help estimate the market size, however it is estimated that 1 to 2% of solid tumors have an NTRK mutation. Further detail on estimated frequency of NTRK fusion across tumor types is presented in Figure 1. If one can inhibit this mutant protein, then the cancer growth rapidly declines and often results in the death of the cancerous cells. Larotrectinib and entrectinib are inhibitors of all three TRK proteins, and this is the basis for their development.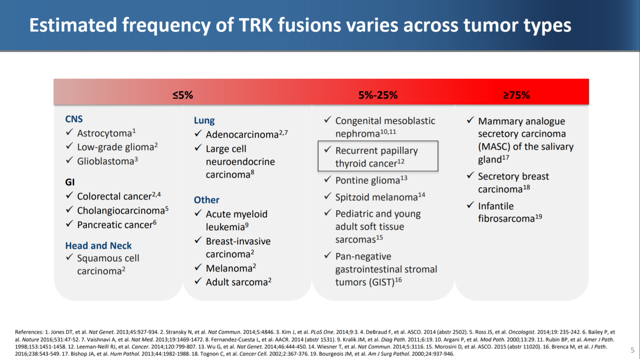 Figure 1. Estimated frequency of TRK fusions (from Larotrectinib ATA 2018 presentation)
What makes this intersting, as seen in Figure 1, is that NTRK fusions can occur in many types of cancers at various frequency. As opposed to studying larotrectinib and entrectinib against a certain type of cancer (i.e. NSCLC, thyroid, etc.), both compounds are being studied in basket studies. A basket trial includes patients based on a biomarker, or tumor characteric, rather than tumor type, in this case, patients with tumors with NTRK mutations. This means these compounds are being studied in cancers with NTRK fusion irrespective of the site of the cancer. This allows for a wider patient population in this more rare mutation, which helps minimze cost of development and maximize the potential market. This type of development has been termed a "tumor-agnostic" paradigm. The FDA has approved therapy based on biomarkers before, with the first being Merck's (MRK) pembrolizumab (Keytruda®), approved for "the treatment of adult and pediatric patients with unresectable or metastatic, microsatellite instability-high (MSI-H) or mismatch repair deficient" cancers. The specifics of these biomarkers are not important at this time, but what is important is having an FDA approval based on biomarkers de-risks this approach for LOXO. A breif discussion on the significance of this paradigm shift can be read here and here.
Entrectinib and Larotrectinib
Entrectinib is an inhibitor of all three TRK proteins, but also has activity against ALK and ROS1 proteins. On the other hand, there is LOXO's larotrectinib, which selectively inhibits just the three TRK proteins. Both entrectinib and larotrectinib can also be used in the treatment of primary brain tumors or patients with brain metastases. One piece of information that LOXO highlights is the availability of larotrectinib in a liquid formulation. This allows pediatric patients to easily be treated. It is unclear as of current time if there are ways to alternatively give entrectinib for pediatric patients, such as a liquid formulation.
LOXO has filed an NDA for larotrectinib with the FDA and was accepted with a PDUFA date of November 26th, 2018 under priority review. LOXO's press release indicates the indication filed for is the treatment of adult and pediatric patients with locally advanced or metastatic solid tumors harboring an NTRK gene fusion. LOXO, through Bayer (OTCPK:BAYZF), has also submitted an MAA to the EMA in August of 2018. Entrectinib has received Breakthrough Therapy designation from the FDA, PRIME designation from the EMA, and Sakigake designation by the Japanese health authorities. Larotrectinib was also awarded Breakthrough Therapy designation but has not received PRIME or Sakigake designation. These designations help expedite the timeline for achieving approval under their respective governing bodies.
ESMO 2018 Update – Larotrectinib Efficacy
At the ESMO 2018 Congress, LOXO updated us on the results of their supplementary dataset of patients. Initially, 55 patients were studied between the three combined trials mentioned above. Each of these three trials was expanded to include more patients, with an additional 67 patients added between the three studies. The exact breakdown of these trials is presented in Figure 2. All patients in these studies had tumors harboring NTRK gene fusions. At the time of data cutoff, 54 of the 67 patients in the supplementary dataset were evaluable for efficacy. As these trials are evaluating tumors with NTRK fusions, there are many different types cancers treated, ranging from breast, colon, pancreas, to melanoma and soft tissue sarcomas. What is striking when looking at the data is how similar the primary and supplementary dataset are with regard to responses. A the response rate defined as the percent of patients whose cancer shrinks or disappears after treatment. The overall response rate (ORR) is a combination of partial responses (PR) and complete responses (CR). In the results presented by LOXO, a PR was defined as a tumor size reduction of 30% or more. A CR is the disappearance of all signs of cancer in response to treatment. The ORR, PR, and CR rates are presented in Figure 3, and are nearly identical between the primary and supplementary dataset. This replicability helps validate the initial efficacy data that was submitted to the FDA for approval.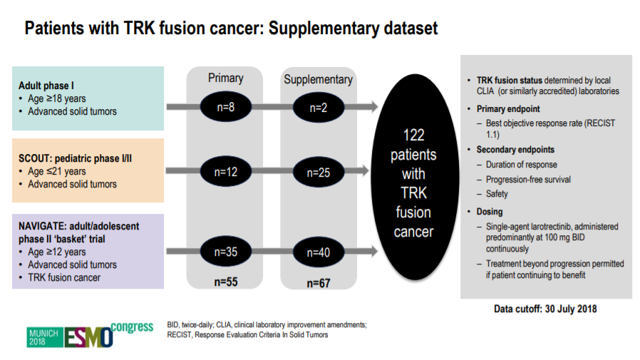 Figure 2. Trial design (from ESMO 2018 presentation)
In addition to providing data on the supplementary data set, LOXO also updated the duration of response, how long the tumor size reduction lasts, for the primary dataset. At a median follow-up of 17.6 months, the median duration of response has not been reached yet. At the time of data cutoff, 88% of responses were ongoing at 6 months after response start and 75% of responses were ongoing at 12 months after response start, meaning the tumor size reductions were maintained for an extended period of time.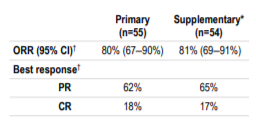 Figure 3. Response rates of primary and supplementary datasets (from ESMO 2018 presentation)
ESMO 2018 Update – Entrectinib Efficacy
Roche's data on entrectinib comes from an integrated analysis of three trials: the pivotal phase II STARTRK-2, phase I STARTRK-1 and phase I ALKA-372-001. While these trials enrolled patients with other gene alterations such as ROS1 or ALK, as entrectinib inhibits these proteins too, the data presented at ESMO is only for patients with NTRK fusions. In these patients, the ORR was 57.4%. Furthermore, in patients with a response, the median duration of response was 10.4 months. In other words, 10.4 months is the timepoint when 50% of the responses were ongoing and 50% of patients had progressed.
Adverse Events and Tolerability
Regarding safety and tolerability of larotrectinib, the results of all patients treated were presented (Figure 4). Treatment-Related Adverse Events (OTC:TRAE) resulted in dose reductions in 9% of patients with NTRK fusions. Furthermore, only 1 patient discontinued larotrectinib due to an adverse event. The majority of adverse events for entrectinib have been Grade 1-2 and reversible. TRAE at the recommended Phase 2 dose results for entrectinib are as follows: only 3% adverse events have lead to discontinuation from study treatment, 9% were serious adverse events, 19% lead to dose reduction, and 32% lead to dose interruption. No Grade 4 events occurred in >1% of patients and no Grade 5 TRAEs were reported. Grades of adverse events do not correlate with specific events, but rather are used to "score" the severity of an event, with the higher number be more severe. Grade 3 adverse events would include severe or disabling events that require invasive treatments. Grade 4 events would be life-threatening events that require urgent intervention, and Grade 5 adverse events would be death related to an adverse event. An example would be an infection, a mild infection may be bothersome, but only require a non-invasive treatment , and may be considered Grade 2. Only the other hand, a extensive infection could lead to sepsis and even death, which would result in a higher grade of adverse event. Both larotrectinib and entrectinib appear to have very favorable safety and tolerability profiles, with no large differences between the two compounds being identifiable with data presented thus far.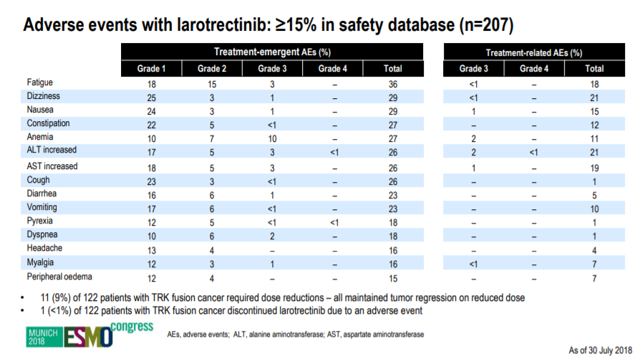 Figure 4. Adverse events of larotrectinib (from ESMO 2018 presentation)
LOXO's Collaborations
LOXO has signed an agreement with Bayer in November of 2017 to develop and commercialize larotrectinib and LOXO-195, a next generation TRK inhibitor. This collaboration specifies that LOXO will lead global development activities and will be responsible for regulatory activities in the United States. Bayer, will lead regulatory activities outside the United States and global commercial activities. Under the terms of this agreement, Bayer will pay LOXO a $400 million non-refundable upfront payment. LOXO is also eligible to receive up to $450 million in milestone payments related to regulatory approvals and first commercial sale events in different major markets for larotrectinib. LOXO is also entitled to an additional $200 million in milestones related to regulatory approvals and first commercial sale events in different major markets for the next-generation TRK inhibitor LOXO-195. There is also the opportunity for LOXO to earn a $25 million milestone payment if certain net sale thresholds are met in the United States.
Bayer and LOXO are splitting the global costs of development incurred after January 1st, 2018 50/50. Both LOXO and Bayer will co-promote larotrectinib and LOXO-195 in the United States, commercial costs and any profits from sales will be split 50/50 between the two companies. LOXO retain the ability to opt out of the US co-promotion, upon such decision, LOXO would be entitled to a royalty in the low thirty percentage range.
Larotrectinib, LOXO-195, and a third compound LOXO-292, were licensed from Array Biopharma (ARRY) in 2013. Under the terms of this agreement, LOXO could be required to pay Array up to $223 million in milestones related larotrectinib and LOXO-195 each. LOXO notes that most of these milestones are tied to the achievement of commercial milestones. In addition to these milestone responsibilities, LOXO is required to pay Array mid-single digit royalties on worldwide net sales of larotrectinib, LOXO-195, and LOXO-292.
All information regarding collaborations was from LOXO's second quarter of 2018 10-Q filing available from: Financials & Filings.
LOXO's Fundamentals
LOXO ended the second quarter of 2018 with $706.4 in cash, cash equivalents, and investments. In the second quarter, LOXO reported $51.2 million in collaboration revenue recognized from the $400 million upfront payment from their collaboration with Bayer less $8.6 million of co-promotion costs for larotrectinib for a net revenue of $42.6 million. Through the end of the second quarter of 2018, LOXO has recognized $94.1 million of the $400 million upfront payment from Bayer. Expenses incurred in the second quarter included $41.6 million in research and development expenses, $15.7 million in general and administrative expenses, and $5.8 million in research and development-related stock-based compensation. Net loss for the second quarter was $11.7 million. Looking at Non-GAAP numbers, the non-GAAP new loss for the second quarter was $50.6 million.
Summary
It appears the 2018 ESMO Congress update for larotrectinib was a great success for LOXO. The supplementary dataset was nearly identical to the impressive initial primary dataset. This replicability resonates with those in the medical field and regulators. Furthermore, the paradigm shift in treatment to basing therapy on biomarkers as opposed to tumor type places LOXO in the envious position to have the second drug approved by the FDA under this "tumor-agnostic" approach, with the PDUFA date of November 26th is looming near. If approved, larotrectinib will benefit patients with NTRK fusion irrespective of tumor type and irrespective of age. While profits will be shared with Bayer, LOXO is getting Bayer's commercialization expertise, which can prove to be invaluable considering this will be LOXO's first drug on the market. Furthermore, based on the data available, it would appear larotrectinib has a response advantage over the competition entrectinib in patients with NTRK fusions (ORR 81% versus 57.4%). Additionally, the duration of responses also appears to favor larotrectinib over entrectinib. Given the presented superior ORR and duration of response, similar side effect profile, and being first to the market, I envision LOXO capturing and maintaining a strong hold on the NTRK fusion market for the foreseeable future. While LOXO will have to pay some milestones and royalties to Array, the balance sheet of LOXO is strong, with over $700 million in cash, and the development costs of larotrectinib and LOXO-195 being split with Bayer helping to limit expenses. Larotrectinib is the main lead compound of LOXO, but LOXO also has several additional compounds in the pipeline ready to step into the spotlight, which will be the topic of future pieces.
Editor's Note: This article discusses one or more securities that do not trade on a major U.S. exchange. Please be aware of the risks associated with these stocks.