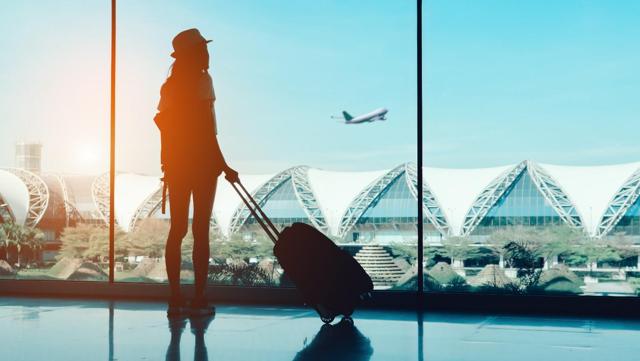 The travel industry has changed significantly in the past decade. Around the world, people have moved from the going to a physical travel agency to using website and applications. This has led to the introduction of Online Travel Agencies (OTA) and home sharing services like Airbnb (AIRB). Recent estimates show that the industry will reach $1.022 trillion in 2022. This will represent an 11% Compounded Annual Growth Rate (OTCPK:CAGR).
Growth in this industry is mostly because of the increased competition in the airline and hospitality industries coupled with the expanding middle class, the ease of comparing prices, and the need for convenience. Most of this growth will come from Asia which is seeing a sharp increase in the middle class. In fact, a report by IATA found that of the four fastest growing regions in terms of airline passengers, four of them will be from Asia.
In the past few years, there have been talks about the hospitality industry being disrupted by upstarts like AIRB. However, recent data suggest that this is not the case. In fact, a report by Hotel Management found that hotels had the highest occupancy rate in 2017. I believe this trend will continue as vacation rental companies continue to become a niche industry.
The table below shows the estimated growth of bookings in the industry.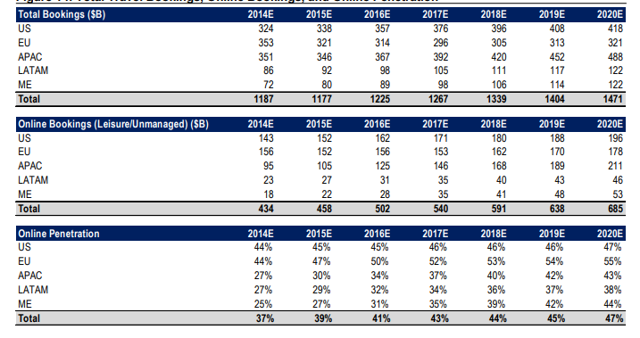 Source: Credit Suisse
Therefore, with the OTA industry set to grow, this article will explore three of the most important companies in the industry. It will assess their performance, their track record, and what you need to know before you invest in one or all of them.
These companies are: Booking Holdings Group (BKNG), Expedia (EXPE), and TripAdvisor (TRIP).
The table below shows the brands ran by these companies.
| | | |
| --- | --- | --- |
| Booking Holdings | Expedia | TripAdvisor |
| | Expedia | TripAdvisor |
| Priceline | | Bokun |
| Kayak | HomeAway | Air Fare Watchdog |
| Agoda | Travelocity | CityMaps |
| Rental Cars | Trivago | Flipkey |
| OpenTable | Wotif | Gate Guru |
| | Car Rentals | HouseTrip |
| | SilverRail | Oyster |
| | Expedia Group Lodging Partner Services | OneTime |
| | Expedia Cruiseship Centers | Vacation Home Rentals |
| | Egencia | Smarter Travel |
| | Orbitz | Seat Guru |
| | Travelocity | |
| | Expedia Local Expert | |
| | Classic Vacations | |
| | Hotwire | |
Source: Booking, Expedia, and TripAdvisor
If you are new to these companies, it is important to note that. First, TripAdvisor was part of Expedia Group until 2011 when it was listed in a spinoff. The two companies continue to be partners. They also have a similar ownership structure with Liberty Group owning significant stakes in the two companies.
In addition, BKNG has invested in Ctrip (CTRP), the biggest OTC company in China. While EXPE and TRIP have not invested in Ctrip, they have all partnered with it in some products.
Finally, in 2016, EXPE concluded its spinoff of Trivago (TRVG), another OTA company. While the stock price of TRVG has fallen significantly, EXPE remains its biggest shareholder with a 60% stake.
Business Strategy
While these companies operate in the same industry, they approach it in different strategies. For a long time, TRIP was only a hotel review platform generating most of its revenue from display ads. Today, it generates most of its revenue from click and display based ads. When a user searches for a hotel, it crawls the web for the best deals. When a user clicks a hotel, they are taken to an OTA like Booking.com. The OTA in turn pays TRIP for the offer. Other than hotel revenue, the company's other segment is non-hotel and includes services like restaurants, vacation rentals, and attractions.
Booking derives most of its revenues from Booking.com, a platform it acquired in 2005. The company derives its revenues from commissions from hotels and rental cars, transaction gross profit on a merchant basis and customer processing fees, advertisements, restaurant reservations, and damage excess waiver fees. As a result, the company has one reportable segment.
Expedia uses a different model from Booking Holdings and Tripadvisors. It reports its earnings in four segments: Core OTA, Trivago, HomeAaway, and Egencia. The Core OTA is the biggest segment representing almost 80% of the total revenue. In these segments, the company uses the Merchant Model, Agency Model, and the Advertisement Model. In the Merchant model, the company facilitates the bookings of hotels, airlines, cars and destinations and act as the merchant of record while in the agency model, it facilitates travel bookings and acts as the agent of the transaction.
As a result of these models, the performance of these companies differ greatly, which is further baked into their valuations.
For example, in the TTM, the revenues of Expedia, Booking, and TripAdvisor was $10.67 billion, $13.7 billion, and $1.57 billion respectively. However, the three firms generated differing margins as shown below.
| | | | |
| --- | --- | --- | --- |
| | Expedia | Booking | TripAdvisor |
| EBITDA Margin (TTM) | 13.59% | 41.20% | 7.39% |
| Operating Margin (TTM) | 5.69% | 36.78% | 14.77 |
Source: YCharts
Investors have rewarded Booking with a market capitalization of more than $87 billion while a similarly-sized Expedia has a market valuation of more than $18 billion. The reason for the higher margins by Booking is its preference of the Agency Model while Expedia's business model is largely based on the Merchant Model. As a result, hotels love Booking because it creates a win-win proposition while many hotels using Expedia have left feeling ripped off.
In addition, investors trust the Booking's strategy of focusing on a small group of brands. As shown above, Bookings has six brands while EXPE and TRIP have 16 and 20 brands respectively.
Performance
The table below compares the stock performance of the three companies in the past few years.
| | | | |
| --- | --- | --- | --- |
| | YTD | 1-Year | 3-Years |
| Expedia | 0.65% | -19.17% | -5.36% |
| Booking | 6.49% | -4.34% | 38.45% |
| TripAdvisor | 36% | 16.85% | -43% |
Source: YCharts
In 2014, the stock of TRIP reached an all-time high of $109. It then experienced a sharp decline that saw it reach a low of $30 in November last year. The declines were mostly because investors were cautious about its new business model and the loss of market share. This year, the company has been the best performer in the sector, gaining by 36% as investors start to believe in the company's direction. This is mostly because of the company's increasing user traffic and valuable data that makes the pay-per-click model effective.
Expedia has been a weak performer among the three companies. This year, it has gained by just 0.65% and in the past one year, it has lost almost 20% of its value. These declines are attributed to a number of factors. First, it has developed a strong track record of missing its EPS numbers. Apart from the last quarter, it has missed analysts EPS estimates for all quarters since Q3'16. In addition, it lost its CEO - Dara Khosrowshahi- to Uber (UBER). It has also seen its bookings numbers decrease. Most importantly, it has continued to see declining margins, revenue, and EPS growth.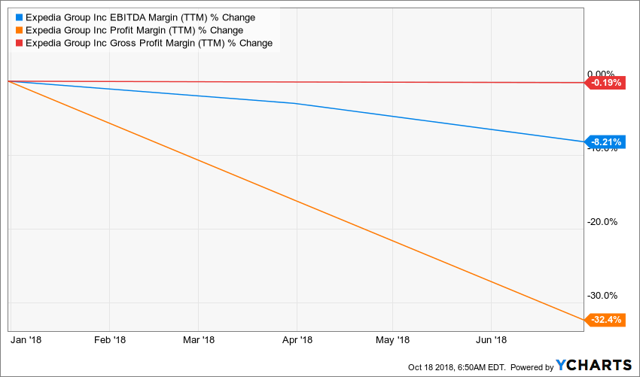 In the past five years, Booking's stock has grown from $1080 to a high of $2190, which it reached this year. It has since seen some declines. In the past three months, it has declined by more than 8% mostly because of the weak guidance from the management. However, the company has continued to improve on its margins as shown below.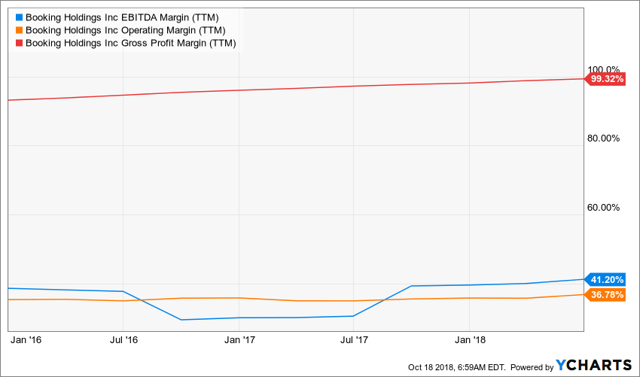 It has also had an exciting track record of revenue and earnings beat.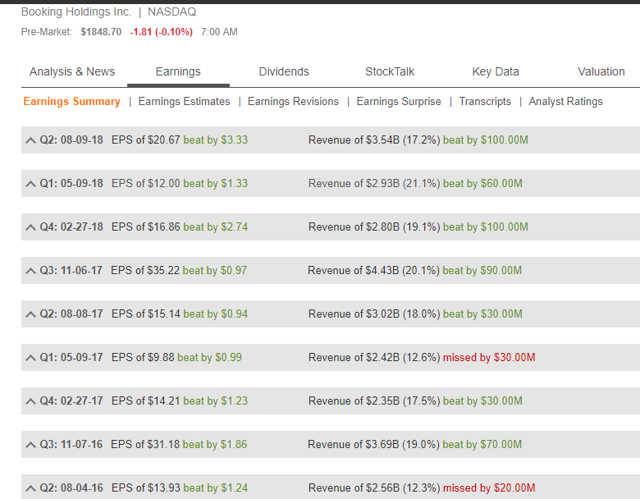 Conclusion: Buy Booking and TripAdvisor, Ignore Expedia
If you want to invest in the OTA industry, I would recommend that you invest in Booking Holdings and TripAdvisor, while ignoring Expedia.
TripAdvisor
Unlike Booking and Expedia, TripAdvisor is a much smaller company with annual revenues of $1.5 billion in 2017 and estimated revenues of more than $1.65 billion in 2018. This revenue has grown from $313 million in 2010. It has a market capitalization of $6.17 billion
In the past few years, the company has faced a number of challenges that have hurt its topline and bottomline. One of the biggest problems is the movement from desktop to mobile. While some companies like Google (GOOG) and Facebook (FB) have managed to boost their income from mobile, TRIP has struggled to do so.
The company has also faced the challenge of pricing in its Instant Booking service. This is a service that allows its visitors to book hotels from its partners with the biggest being Priceline and Expedia. In 2017, this service helped improve the revenues in the click-based advertising business. However, these gains were offset by the decrease in revenue per hotel user. Further, Priceline and Expedia account for more than 40% of these revenues, they have a better pricing advantage. Early this year, Priceline announced that it was reducing the amount it pays for leads from the site. Expedia too could follow this trend.
To solve these problems, the company has launched new products especially in the non-hotel segment. Apart from the Instant Booking feature, it has moved to attractions, restaurants, and vacation rentals. In the 2015, 2016, and 2017, the non-hotel segment accounted for 15%, 20%, and 23%. I believe that this segment will continue to grow.
However, investing in these new services has led to a boost in sales and marketing expenses, which has affected its margins. In 2015, the company spent $692 million in sales and marketing. This was 46.4% of revenue. In 2017, the sales and marketing costs grew to $849 million or 54.4% of revenue. This was part of the reason why the operating margin has continued to decline.
Regardless of all the problems, I would recommend that investors have an underweight position in TRIP for four reasons. First, TRIP is a well-known brand with more than 456 million monthly users. These users will likely continue to grow especially in the emerging markets where a larger population of people has more disposable income.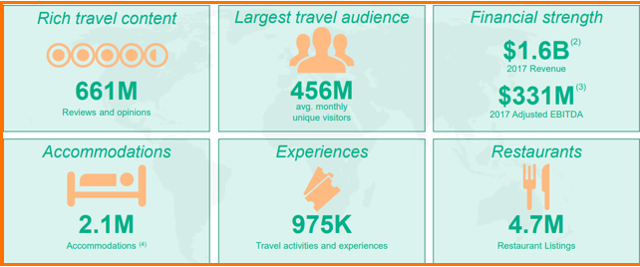 Source: TripAdvisor
Second, the company has more than 661 million reviews of hotels from around the world. This data is very valuable especially in an age where people are first doing their research online before travelling. While other OTA companies have incorporated reviews in their platforms, TRIP is the market leader in user-generated reviews.
Third, the company's non-hotel segment could continue to grow. On this issue, a recent analysis by Barron's argued that:
We expect that by 2022 revenue would increase about 2.5 times while adjusted Ebitda margins will reach 40% to 50% level (about $450 million adjusted Ebitda). The entire enterprise value of TripAdvisor is less than $4.4 billion today. We do not think that 2022 will be the year in which the growth story will end since the non-hotel businesses will be able to grow for many years beyond that; the moats of those businesses are already strong, and they will get even stronger in a few years as their networks grow.
Finally, the company has more room to improve its margins. In 2014, its operating margin was 27%. This declined to 15% and 11% in 2015 and 2016 respectively. In 2017, it declined to 7% mostly because of the television advertisements, one-time tax adjustment, and increased SEM costs. While it will take time before the margins come back to the historic levels, the company's business model gives it more room to improve the margins.
Booking
Booking online is a larger company than TRIP and EXPE. It is a relatively simple company made up of excellent and well-known brands like Kayak and Booking.com. The company primarily uses an agency model where it charges hotels a commission for every booking. This differs from the merchant model used by Expedia which requires a payment system and a customer service support. This simple model allows Booking to have better margins than its peers.
I believe that the recent declines in the BKNG is overstated by the market. The sell-off has largely been contributed by the slow growth and the recent lowered guidance. I would there recommend the stock as a buy in the current prices for several reasons.
First, it has the best margins in the OTA space as described above. Second, it has made exciting investments that expose it to the Asian market. This market is the biggest travelling market in the world. Some of its recent investment include: Didi, CTrip, eLong, ezTravel, and Meituan.
Third, BKNG has a better balance sheet than EXPE. In the latest financials, Bookings has total assets of more than $25 billion. It has more than $7.33 billion in cash and short term investments while its short and long-term debt stands at about $8.78 billion. This means that the company is at a better position to improve growth through acquisitions. It also means that the company can reduce its share count through buybacks. The chart below shows its diluted share count in the past ten years.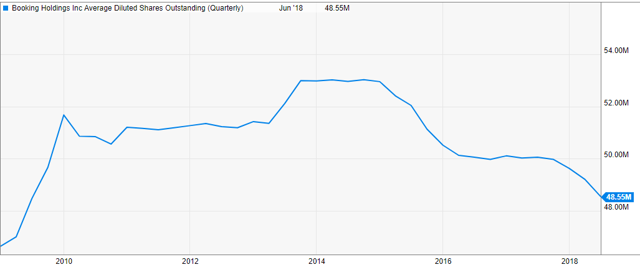 Compare this to that of Expedia.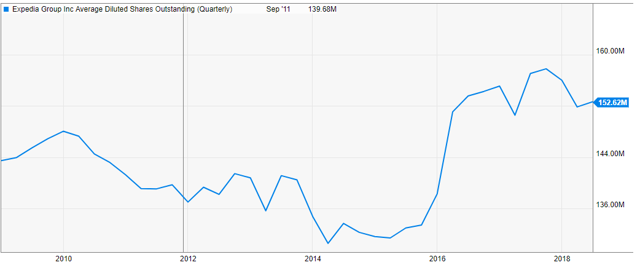 Fourth, BKNG is an attractive cash flow machine. While the revenue growth has slowed, the company has continued to boost its cash flow from operations. As shown below, this number has increased from $2 billion in 2014 to $4.67 billion in 2018 as shown below. The chart compares the cash flow numbers of Expedia and Booking.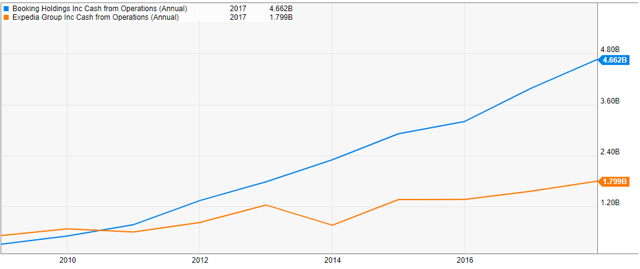 Fifth, Booking is also reasonably valued. At the current valuation, investors are paying 17X this year's earnings. This is the lowest forward multiple since January 2017. Its EV to cash flow has fallen from 25% in 2014 to the current 18% as shown below.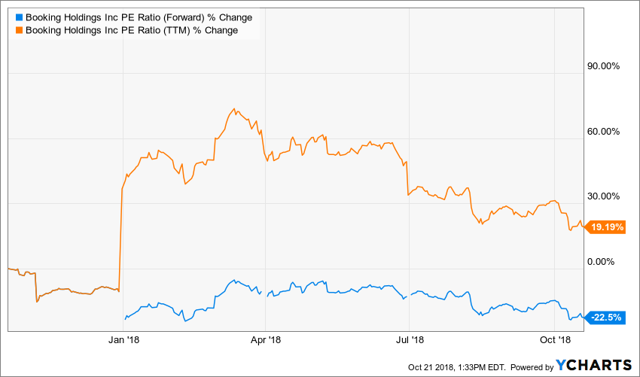 Conclusion
The OTA industry has continued to grow as more people move to online platforms to research and book their trips. Expedia, Booking, and TripAdvisor are leading the pack although relatively new entrants like GOOG and AirBnB. This industry will continue to grow. For the reasons explained above, I would recommend being overweight Booking, underweight TripAdvisor, and avoiding Expedia.
Disclosure: I am/we are long TRIP, BKNG.
I wrote this article myself, and it expresses my own opinions. I am not receiving compensation for it (other than from Seeking Alpha). I have no business relationship with any company whose stock is mentioned in this article.