Ian's Million Fund "IMF" is a real-money portfolio that I've written about monthly since January 2016 here at Seeking Alpha. The portfolio is a largely buy-and-hold group of ~100 stocks. Each month, I buy 10-25 of the most compelling stocks available at then-current prices, deploying $1,000 of my capital plus accumulated dividends. If things go according to plan, this portfolio, began when I was 27, will hit one million dollars in equity in 2041 at age 52. I intend it to serve as a model for other younger investors.
I made the IMF purchases this month on October 5th. At the time, markets had started to sell off and prices seemed favorable. With hindsight, I could have gotten more bang for my buck waiting a few weeks on these purchases. In any case, many of these stocks have dropped significantly more since then, so plenty of bargains abound.
I'll be making November's purchases at the start of the month if prices remain near today's levels as there is great value in some of these stocks today. Anyway, here are October's buys. I didn't manage to purchase September's stocks in September, so I combined the two months here, plus capital raised from the recent sale of Boston Beer (SAM).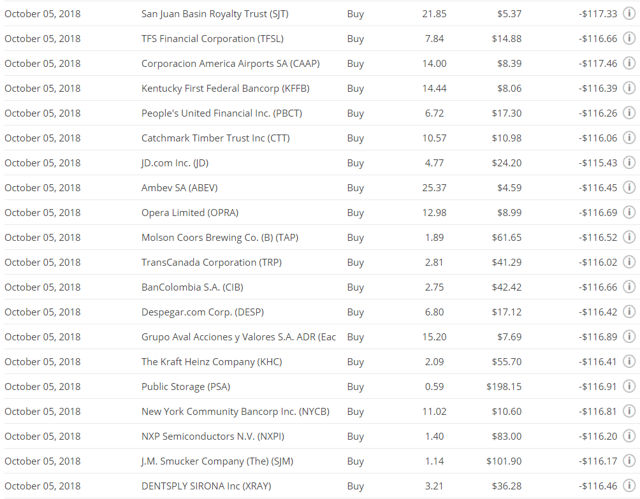 Let's start off with community and regional banks, where prices have suddenly gotten rather interesting. Amazingly, TFS Financial (TFSL) is back under $15. That puts the yield for this sleepy midwestern bank up to 6.8% after its recent massive dividend hike from 17c to 25c per quarter. I'm not aware of any cheaper bank stock on a major U.S. exchange - it's selling at under 10x earnings, less than half of book value, and paying a nearly 7% dividend while also buying back its stock (once you adjust for the phantom MHC shares). Long-term holders of this should end up extremely happy.
TFS Financial, at this price, is much more attractive than Kentucky First Federal (KFFB). However, the IMF is about building a diversified portfolio and buying the 15-20 most attractive stocks each month. So I'll continue adding to KFFB stock above a 5% dividend yield as another MHC play in the same vein as TFS Financial, even though TFSL has much more explosive upside of the two at this juncture.
Next up, People's United Financial (PBCT). People's United Financial is another in the group of very conservative Northeastern banks that pay reliable dividends but doesn't grow much. In other words, yes, it is quite similar in profile to New York Community Bancorp (NYCB) (and yes, I added to that one again this month as well. If you have hard feelings toward NYCB, definitely steer clear of this one too.)
For my community and regional banking basket, however, I like this sort of name. A four percent dividend that increases annually (albeit fractionally) with minimal downside risk isn't a bad proposition. Here's PBCT's performance during the Great Financial Crisis - you'd hardly know it was a bank. During the country's worst banking crisis in 75 years, in fact, its only major volatility was a big spike following the government's bank short selling ban in mid-2008: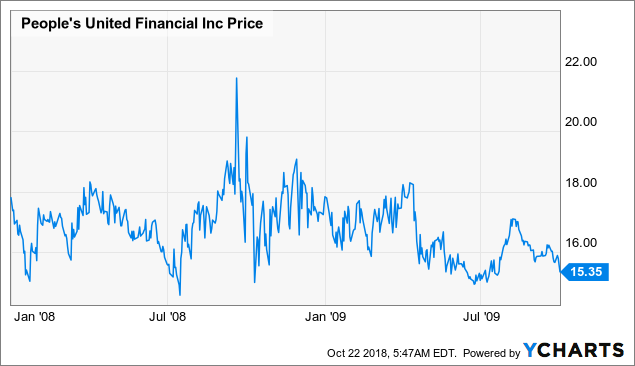 Since the financial crisis, PBCT stock has done very little. And that is partly by design. Management is extremely conservative. They mostly make low-risk mortgages that will hold up even in the worst of times but don't offer that high a return on equity either. In a raging bull market such as what we have now, nobody wants to own a stock like PBCT. You could have thrown a dart at a list of banks and outperformed this pretty dramatically over the past few years.
When markets tank again - however - this sort of bank that has a rock-solid balance sheet and huge market share in wealthy states such as Connecticut will be appealing again. I wouldn't make PBCT a big position under any circumstances - at least not near today's price. The bank is so conservative that it's never going to put up huge returns. But as a small part of a broader portfolio, a greater than 4% yielder with minimal downside risk can help smooth returns and make it easier to ride out bear markets. Again, this bank is similar in profile to NYCB (without the merger drama); don't expect huge near-term returns.
That said, it's at 11x forward earnings, and probably should be closer to 14-15x so perhaps the stock goes back to $20, but I wouldn't count on more in the near term. At 52-week lows and having given all the post-Trump rally, it meets my standards for being a reasonable quasi fixed income sort of holding, however. Again, I stay nearly 100% invested in the market, regardless of how much it has rallied. I hate holding cash. I'd rather own some sleepy stock like PBCT that produces 6-8% total annual compounded returns than cash which pays much less. But everyone's investment profile, goals, and preferences are different.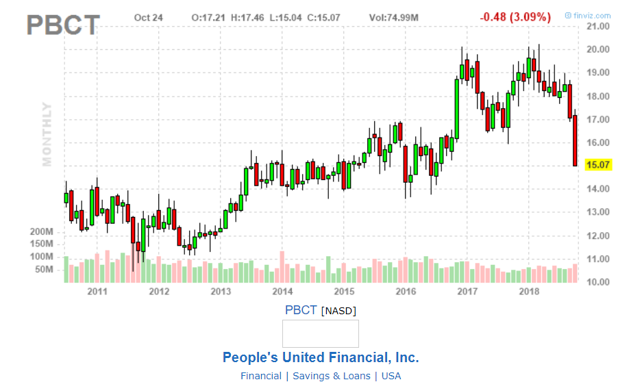 Moving to REITs, Catchmark Timber (CTT), I'm picking up some lumber this month. Interestingly, the timber REIT sector didn't go up much when timber prices soared following the hurricanes last year, but now that timber prices have returned to normal levels, the timber REITs are all plunging to 52-week lows. That's all fine and well, and can perhaps be blamed on rising interest rates more generally.
Regardless, we can now get a more than 5% yield off a very low risk category of REIT (trees involve much less human execution risk than offices or shopping centers). When people ask about tail risk events like massive inflation in a worried tone, I think back to stocks like CTT in my portfolio. By building a broadly diversified set of holdings, you'll own stuff that thrives regardless of whatever ways the monetary and geopolitical winds may blow.
Sticking with REITs, I added to Public Storage (PSA) again this month, as interest rate concerns have it back around the $200 mark, returning the yield to the 4% level. For a best in its class REIT and one of the few A-debt rated REITs in the country, that's a solid deal. PSA, in particular, given its unique funding structure via a mountain of fixed-rate preferred stocks, is largely immune to higher interest rates, giving it a massive competitive edge against peers. While the 4% yield may not look amazing given the rising interest rate environment, it's worth remembering that PSA stock is also one of the best capital gains producing REITs around - on top of this sort of price appreciation, a 4% dividend kicker is most appreciated (chart does not include dividends!):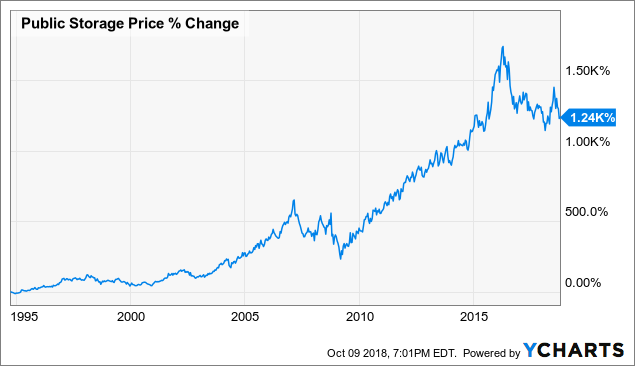 JD.com (JD) needs little introduction, and really no further explanation for why it is here. If Liu isn't forced out of the company, we're going to get a big bounce here as soon as the China-U.S. trade situation simmers down a notch. Ultimately, I still see this (again, as long as Liu stays) as worth $50+ today. China stocks are on sale in general, and this one in particular is at fire sale prices - 0.55x price/sales for a fast growing internet retailer is crazy.
Opera (OPRA) I discussed in a recent subscriber Weekend Digest. The share price continues to tumble, probably in part to the dark halo surrounding anything relating to internet stocks with a China connection at the moment. Given the company's profitability and strong growth rate, I'm not concerned, and will wait for earnings to decide on whether to add to the position further.
Ambev (ABEV) is another solid buy this month. The $75 billion market cap Americas behemoth brewer has plunged this year on Brazilian concerns. However, with the recent election results, the worst may be over (as far as sentiment goes) for that country at least in the intermediate term. Throw in its strong secondary markets in places such as Canada, and Ambev is more diversified than you may realize. The company executes a strong dividend policy, and management is highly skilled. And, it's a beer business; beer historically trounces the market. Easy decision to add to the position near 52-week lows.
Sticking with beer, Molson Coors (TAP) is also at the 52-week lows. This despite the company reaffirming its 2018 guidance, suggesting a dividend hike is coming next year, and continuing to gain market share for key brands. TAP stock was cheap before, and it's still cheap now. I'll only add that the recent coverage I've seen would indicate this is a pure North American play. That sells Molson Coors wells short of its full global reach which includes the UK's #1 beer: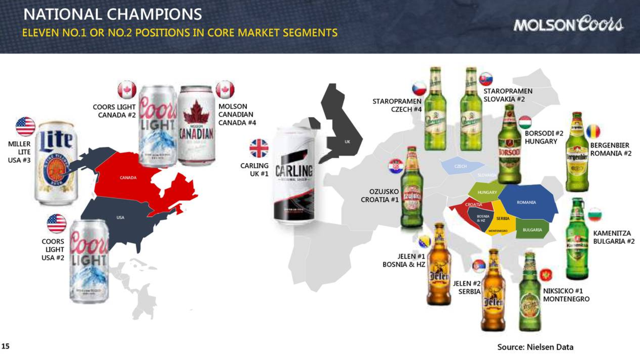 In other beaten-down consumer staples, I added to the positions in both Kraft Heinz (KHC) and Smuckers (SJM). I see both of these as reasonable value propositions at these prices, but there is absolutely no reason to chase them when their stock prices rally. These are slow (or no) growth investments, where the dividend, plus share buyback will provide the majority of returns. I see rising investor interest in these stocks after they bounce off the lows, but that's a mistake. You want to buy at 52-week lows when people are capitulation selling.
With a slow growth company, entry price is of pivotal importance, since there simply isn't enough earnings growth to bail you out if you overpay for the stock. That said, the yields and PE ratios of these are quite attractive at current prices. They won't be home run performers, but they are a nice conservative yield component of a portfolio that also has plenty of "growthier" holdings.
Speaking of growthier holdings, accumulated dividends were reinvested into Hormel Foods (HRL) this month, like usual. Nothing new to report, other than that Hormel is now the largest position in the IMF constituting almost 5% of the portfolio. The IMF will continue grabbing any last shares on offer under $40, as this should be going to $50 within a few quarters.
Corporacion America Airports (CAAP) continues to report reasonably strong passenger traffic numbers, despite the dour economic situations in both Argentina and Brazil at the moment.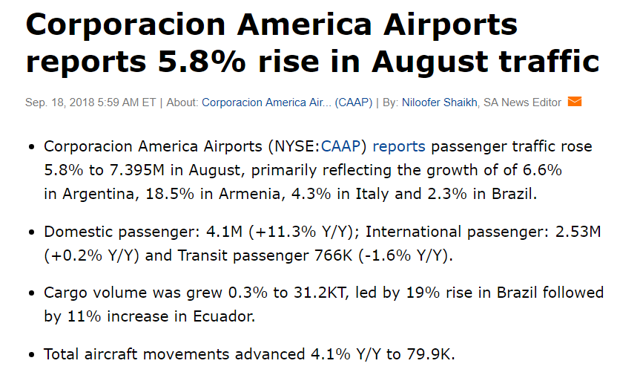 To be certain, these numbers aren't nearly as good as the consistent double-digit growth rates that we are seeing out of the Mexican airport operators, by contrast. Then again, the Mexican airports aren't down 50% year-to-date either. So I'm willing to cut them a little slack for the somewhat slower passenger growth. As it is, their slowest market at the moment, Brazil, may get a major boost. That country's presidential election showed the hard right-winger winning the first round vote by a wide margin.
Unless something changes, Brazil will be getting an extremely pro-business government with a broad mandate to make sweeping changes; something that should help Brazil's economy in general, and travel companies such as Despegar(DESP), which I also added to this month, and CAAP in particular.
Sticking with South America, Colombia remains stuck between two opposing forces. Its own economic numbers continue to perk up as the new pro-business government has taken power and set off a surge in business and consumer confidence. Rising oil prices also promise to flood more dollars into the economy.
However, the problems suffered by Argentina, Brazil, and non-Latin American emerging markets including Turkey have foreign investors fleeing the whole asset class. As a result, Colombian stocks (and its currency) are gyrating back and forth, trying to see whether its internal positive data or the negative emerging market headwinds will carry the day. While the Colombian Peso has held its ground in a year when EM currencies have slumped, the Colombian banks have started selling off lately. As a result, I added to Bancolombia (CIB) and Grupo Aval (AVAL) again.
In other international names, Transcanada (TRP) remains cheap and offers one of the most attractive dividends in the energy space. I don't have much to add on this one, so I'll note that Morningstar has a $56 price target on it and rates it a 5-star stock at $39 or below. Out of Morningstar's entire coverage universe (925 stocks) they currently rate 35 (4% of everything they cover) as 5-star holdings. (Also found in their tiny 5-star stock universe, the currently despised JD.com)
The other energy name for the month is San Juan Basin Royalty (SJT). The trust plunged from the $6 range to as low as $4.70 following them skipping a dividend payment due to higher reinvestment costs in their wells.
Then we learned that the field operator, Hilcorp, apparently miscalculated SJT's share of capital expenditures for well construction and will refund them in our future dividend payments. The dividend is back on a monthly basis, and the share price has recovered quickly. Given the finicky income-only goggles that many SJT stockowners wear, there will be many such buying opportunities over the years whenever a monthly dividend payment or two comes up short of expectations. For now the share price should settle back around $6 or higher at current natural gas prices.
Our other new position this month is NXP Semiconductor (NXPI). Here was my recent commentary - and now it's even cheaper:
NXP Semiconductor (NXPI) wasn't still supposed to be a public company. Qualcomm (QCOM) famously offered $110/share for the company several years ago, setting off a firestorm. On the one hand, investors said the offer was way too low and practically stole the company. And on the other, the anti-trust concerns, particularly out of China, weighed on the deal.

Due to the low offer price, Qualcomm was later forced to raise its offer pretty dramatically to $127 share. Obviously, the deal failed as it still never received final approval from China, and likely souring relations with China caused Qualcomm to have second thoughts. Regardless, Qualcomm tried to pay $110, was forced up to $127, and the stock is now at $84 and trades at 10x forward earnings:

In the ensuing time, semiconductor stocks, as a sector, have performed well, making NXPI's underperformance even more striking. I'm not pounding the table on NXPI here in large part because I'm not an expert in semis. While I assume Qualcomm was well-founded in its $127 bid, perhaps something has changed under the surface. That said, 10x earnings and a price 35% below what Qualcomm thought it was worth in February is most interesting. I don't own enough tech stocks in the IMF, so I'm always on the lookout to pick up quality at a sizable discount to what other experts thought it was worth recently.
And in that same article, I discussed our final stock addition of the month:
Dentsply Sirona (XRAY) - I was waiting for a sub-$40 to do anything more than start a token position in the IMF. Well, here we are at $36.

Their last earnings report left much to be desired, notably that the Sirona acquisition is continuing to not playing out as hoped, competition in imaging is more than expected, and there is ongoing margin pressure. At some point, the stock will have been punished enough for all this though; XRAY's prior core business pre-merger in endodontics, orthodontics, and implants remains strong and holds more of a moat.

With the stock at 6-year lows, this is a nice one to pick up as a long-term demographic play as emerging market consumers get access to a wide range of dentistry services for the first time while aging retirees in the developed world will need more care as well. The media loves telling you about demographic "inevitable" stock stories when they are trading at all-time highs. Somehow, they go totally silent on the subject when the stocks are on sale - XRAY is now back to ~18x earnings adjusting for the one-off losses related to the merger. In a few years will this be back to 25x growing earnings as the media starts hyping up medical device makers again? It wouldn't surprise me.
Disclosure: I am/we are long all the stocks in the table. I wrote this article myself, and it expresses my own opinions. I am not receiving compensation for it (other than from Seeking Alpha). I have no business relationship with any company whose stock is mentioned in this article.