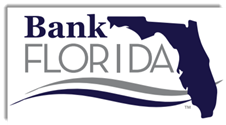 Quick Take
BankFlorida (BFL) intends to raise $65 million in an IPO of its common stock, according to a preliminary offering circular.
The firm is a state-chartered community bank that provides financial services in the Palm Beach Gardens, Florida area, and has plans to expand to Jupiter in the near future.
BFL is operating in an evolving interest rate and lending environment which may complicate its expansion plans; however, changing conditions may paradoxically provide its experienced management team with greater opportunities to acquire other banks or branches from less well-managed banks.
Company & Business
Palm Beach Garden, Florida-based BankFlorida was founded originally as FirstCity Bank of Commerce.
Management has been recently replaced by the former management team of Atlantic Coast Financial [ACFC] and is now headed by CEO John Stephens.
The executive team led a turnaround of Atlantic Coast by resolving a number of outstanding regulatory orders from the Federal Reserve and the OCC.
BankFlorida is currently operating under a Bank Secrecy Act [BSA] consent order relating to deficiencies in the bank's BSA and AML (Anti-Money Laundering) compliance program.
Markets & Growth Plans
Florida is an extremely large deposit market, and management considers its primary market area to be the Palm Beach, Broward, and Martin counties.
The firm has recently purchased a property in Jupiter, Florida with the intention of opening its first branch at that location.
In addition, BFL intends to expand into other large markets in Florida but has no intention of expanding into either Miami-Dade or Monroe counties.
Management also has plans to grow through strategic acquisitions of either branches or whole banks as it believes that further consolidation of community banks is likely.
The graphic below shows the sharp reduction of commercial banks headquartered in Florida: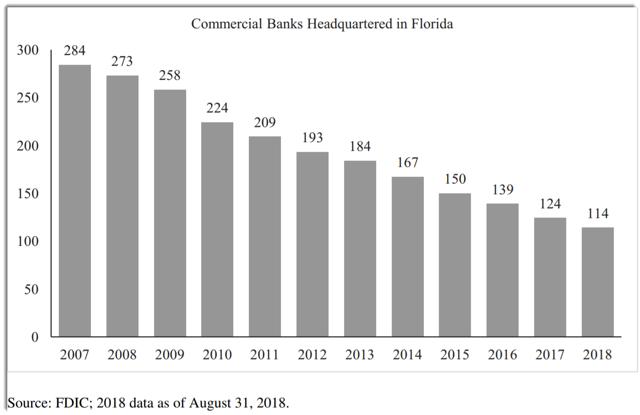 (Source: FDIC, BFL Offering Circular)
For its target markets, BFL counts 3.5 million residents and cites a Bloomberg analysis of 2016 census data that reports Palm Beach as having the 'second-highest level of passive income (a measure of wealth) of any metropolitan district in the United States.
Financial Performance
BFL's recent financial results can be summarized as follows:
Growing net interest margin after provision for loan losses
Slightly dropping net interest margin
Negligible net charge-offs to average loans
Below are the company's financial results for the past two years (Audited PCAOB):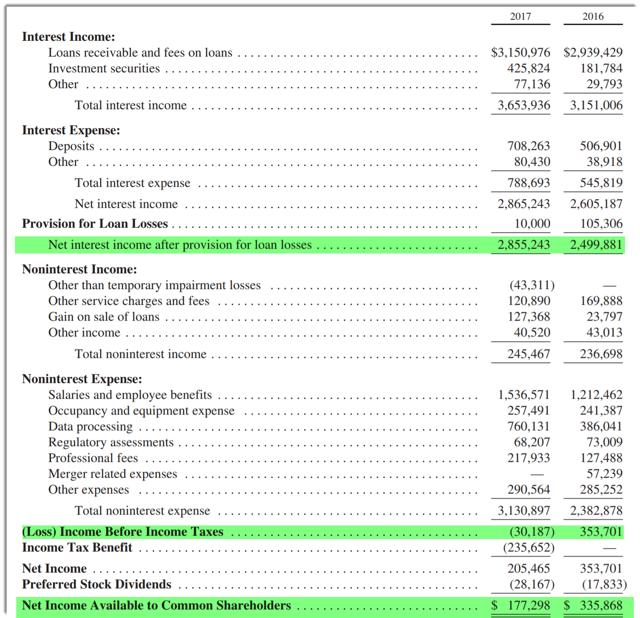 (Source: BFL Offering Circular)
Net Interest Income After Provision For Loan Losses
1H 2018: $1.4 million, 6.6% increase vs. prior
2017: $2.9 million, 14.2% increase vs. prior
2016: $2.5 million
Net Interest Margin
1H 2018: 3.3%
2017: 3.4%
2016: 3.56%
Net Charge-Offs To Average Loans
1H 2018: (0.25%)
2017: 0.02%
2016: 0.00%
As of June 30, 2018, the company had $7.3 million in cash and $5.3 million in total borrowings.
IPO Details
BFL intends to sell 6.2 million shares of common stock at a midpoint price of $10.50 per share to raise $65.1 million in gross proceeds from an IPO.
Assuming a successful IPO, the company's enterprise value at IPO would approximate $79 million, excluding the effects of underwriter over-allotment options.
Management says it will use the net proceeds from the IPO as follows:
We intend to use the proceeds from this offering to support our organic growth and for other general corporate purposes.
Management's presentation of the company roadshow is available here.
Listed bookrunners of the IPO are B. Riley FBR and Hovde Group, LLC.
Valuation Metrics
Below is a table of relevant capitalization and valuation figures for the company:
| | |
| --- | --- |
| Measure [TTM] | Amount |
| Market Capitalization at IPO | $74,910,665 |
| Enterprise Value | $13,000,000 |
| Price/Sales | 25.44 |
| EV / Revenue | 4.42 |
| EV / EBITDA | -75.50 |
| Earnings Per Share | -$0.03 |
| Total Debt To Equity | 9.31 |
| Float To Outstanding Shares Ratio | 86.90% |
| Proposed IPO Midpoint Price per Share | $10.50 |
(Source: Company Prospectus, IPO Renaissance, and IPO Edge)
As a reference, BFL's clearest public comparable would be Ameris Bancorp (ABCB), which acquired senior management's previous community bank. The comparison is inexact, but provides context; below is a comparison of their primary valuation metrics:
| | | | |
| --- | --- | --- | --- |
| Metric | Ameris (ABCB) | BankFlorida (BFL) | Variance |
| Price/Sales | 4.13 | 25.44 | 516.1% |
| EV / Revenue | 4.80 | 4.42 | -8.0% |
| EV / EBITDA | 155.09 | -75.50 | -148.7% |
| Earnings Per Share | 2.05 | -$0.03 | -101.6% |
(Source:Seeking Alpha,IPO Edge, and finbox.io)
Conclusions
BFL is primarily a vehicle for the seasoned senior management team from Atlantic Coast Financial with which to replicate its success.
The team intends to use the IPO capital for both organic growth as well as potential acquisitions within its primary markets as well as others within the state of Florida.
Those markets are paradoxically growing via demographic changes while the number of community banks has been sharply reduced in the aftermath of the financial crisis of 2008-2009.
Management intends to step into that dynamic marketplace to take advantage of growth opportunities outside the Miami and Florida Keys areas.
It's a playbook that I have seen repeatedly with community banks going public in the last 12 - 18 months. They see the consolidation opportunities and require capital to execute.
These firms tend to be low-risk combined with reasonable return opportunities for investors.
A complicating factor will be the evolving interest rate and lending environments in the several quarters ahead.
However, I believe this management team is extremely experienced and I have my doubts about a continued rising rate trajectory, at least through 2019.
Given that, BFL's prospects appear strong, which when coupled with a capable management team and a solid balance sheet and loan book, lead me to favor the IPO.
Expected IPO Pricing Date: Week starting October 29, 2018.
An enhanced version of this article on my Seeking Alpha Marketplace research service IPO Edge includes:
Commentary
Opinion on the IPO
Members of IPO Edge get the latest IPO research, news, market trends and industry analysis. Get started with a free trial.
Disclosure: I/we have no positions in any stocks mentioned, and no plans to initiate any positions within the next 72 hours.
I wrote this article myself, and it expresses my own opinions. I am not receiving compensation for it (other than from Seeking Alpha). I have no business relationship with any company whose stock is mentioned in this article.