[Update (Nov. 7, 2018): a reader (see comments) correctly pointed out that Benevir milestones for European approval were overstated in my valuation. The negative impact in the NAV of such correction is roughly 2$ share; in any case, the long thesis remains intact with a (conservative) target price of $10].
HC2 (NYSEMKT:HCHC) is an investment holding company founded in 2014 by Philip Falcone. The stock has been a favorite of savvy investors (such as Christopher Mittleman) for a long time, but its price has gone nowhere over the last 3 years. However, a string of news (that were expected by some investors) announced last Monday will unlock the value of the stock, and it should rerate the stock significantly higher, closing the very wide gap to NAV at which the stock is currently trading now. Given the recent news, it would not be surprising at all if the share price reaches $10 in short order, or roughly double the current share price. In other words, I think the stock provides a very attractive risk/reward proposition at these levels.
The coverage of HC2 in Seeking Alpha has been zero over the last three years (and only one sell-side analyst covers the stock), which speaks of the lack of enthusiasm from many investors for the company. After several years of building up the different businesses but no share appreciation for HC2's shareholders (together with the complexity of the organization structure and the difficulty of following all Falcone's transactions), many investors have thrown in the towel, but as I have just said, recent news may become the needed catalyst for the shares.
I will briefly go through the different businesses owned by the holding company, the recent news and its importance for the prospects of the company and finally I will lay out the sum-of-the parts valuation for the company.
Brief description of the businesses
HC2 is made up of a set of businesses ranging from construction to insurance. Due to the nature of the news, this article plans to be timely and thus it will be short, assuming some prior knowledge of the company from the readers. However, the company has not been covered for a while here in Seeking Alpha (see here for the latest piece on the name), so I will share my notes about the different businesses (I would also encourage readers to read the quarterly conference calls and regulatory filings, which in HC2's case cover in great detail the dynamics and history of each business; the IR department is also extremely accessible). The main businesses, in order of importance, are:
DBM Global (92.5% stake): it fabricates and erects structural steel for commercial and industrial construction projects, such as high and low-rise buildings and office complexes, hotels and casinos, convention centers, sports arenas and hospitals. It has been ranked as a top structural steel fabricator since 2009. Some historical projects/ customers: An NFL Stadium, Apple, Google, Facebook. HC2 acquired DBM global in 2014 and since then, thanks to acquisitions and restructuring efforts, has increased backlog from $400M to $656M and adjusted EBITDA by 90%. They have recently acquired GrayWolf Industrial for $135M, a substantial acquisition given DBM's scale (details of the transaction has not been disclosed yet, but it will be probably be finance with debt at the subsidiary, DBM, level).
Global Marine (72.5% stake): HC2 acquired Global Marine in 2014. It is an offshore company dedicated to subsea services for the telecommunications, O&G and (since recently) the offshore wind sector. As a historical anecdote, Global Marine is a pioneer enterprise, laying out the first subsea cable in 1860, and since then it has installed 300k km. of cable, which according to management represents almost a quarter of all the seabed fiber optic cable currently. It has two JVs (49% stake) with Huawei Technologies and China Telecom. A significant part of the revenues is under long-term contracts, and since HC2's acquisition, Global Marine has successfully renewed its main long-term telecom maintenance contracts.
Pansend Life Sciences (different stakes): this division comprises a diverse set of healthcare solutions in early stages (think of it as a venture capital). Until some months ago, this division only reported losses, but since Benevir's sale (an oncological drug in which HC2 invested $8M in 2014 for a 76% stake) to Janssen Pharmaceutical for $1bn it is clear that there is a lot of value in Pansend waiting to be unlocked. Other companies in which HC2 has a stake are MediBeacon (50% stake), R2 Dermatology (74% stake) and Genovel Orthopedics (80% stake). See the news section below for MediBeacon's recent developments.
Continental Insurance (100% stake): A platform formed in 2015 to invest in long-term care portfolio of assets. This niche of the insurance market has been beleaguered over the last few years because of wrong statistical assumptions made when this market began (three decades ago). As far as I can glean from conference calls, Falcone's plan for this business is threefold: i) having a float to invest, ii) buying policies at a step discount from players who want to exit the market, and iii) seeking regulatory increases for the premiums of the policies (a movement also sought after by competitors in the space). Continental Insurance has recently completed the acquisition of Humana, enlarging significantly the importance of the insurance business for HC2.
Broadcasting Holdings (100% stake): the most recent business in the HC2 group but growing rapidly. So far HC2 has spent almost $100M to grow the business through acquisitions (as of August they had 164 operational stations and 400 silent licenses and construction permits) and now the business covers approximately 60% of the US population. It is too early to say what Falcone's plans are for this division, but he intends the business to be cash-flow neutral in 2019.
Telecommunications (PTGI), Energy (ANG) and other (games): these are subsidiaries that represent a small chunk of the NAV of the company, so I will not cover them here (readers have some financial details of these businesses in the valuation table laid out below).
Summing up, HC2 is basically comprised of two different kind of businesses: those that currently generate cash that can be upstreamed to the holding company in order to cover SG&A and interest payments (basically DBM Global and Global Marine) and those that are either currently being built and more acquisitions are expected (such as the broadcasting division or the insurance unit) or don't generate any cash but have a strong optionality component (Pansend Life Sciences).
It is worth remembering that Philip Falcone is a savvy investor with longer time horizons than most other investors, so some of his ideas take time to materialize. This is the case with the insurance unit devoted to the long-term care market, a market that has been beleaguered by wrong statistical assumptions made several decades back, but policies that Falcone is buying now at heavy discounts. It is also the case with the recently formed broadcasting subsidiary, which can be thought of as a spectrum play. In some of these cases, a valuation is hard to come by, and Falcone is the best assurance that most of them will play out (bet on the jockey).
Recent News and Catalysts
Last Monday the company announced three independent news: one about Global Marine, one about Pansend and the final one about HC2's long awaited refinancing of its capital structure:
HC2 to explore strategic alternatives for Global Marine Subsidiary: I was expecting a divestment of DBM Global, given i) the cyclicality of the business and ii) Falcone has produced a nice turnaround for the business and I thought the investment thesis had already played out. However, some days ago HC2 announced the acquisition of GrayWolf Industrial for $135M (no financials disclosed), so it is clear that HC2's management teams still believes in the future of the business. Instead, the recent news says that the business to be divested will be Global Marine, one of the cash-flow powerhouses in HC2 right now. Given the recurring nature of the business and its dominant position in the sector, I calculate that HC2 should grab between $250M-300M for the 72.5% stake of Global Marine (around 8.5x the mid-point guidance EBITDA of $47.5M for 2018).
Medibeacon granted breakthrough device status from FDA: the news represents a big upside for the company, given that it will accelerate the MediBeacon process to reach commercial stage. Falcone commented in the last call that "[s]o it's a clear example of the value inherent in the Pansend platform, platform with several other companies we hope to demonstrate value creation over the coming months and in the coming months, including MediBeacon and R2 both of which remain in discussions with strategic partners", and he made similar remarks about Benevir before selling it to Janssen. According to the press release, the potential market for MediBeacon is huge: "kidney disease is a hidden epidemic, affecting more than 850 million people worldwide". This figure does not take into account the potential of MediBeacon for inroads into the larger intestinal market and also the (smaller) ocular market.
Launch of $535M senior secured notes: given the very large coupon of the current 11% notes, many investors have been disappointed in the past due to the delays of the company refinancing them. However, the notes were callable at step premiums to par, and the management team has wisely been waiting to call the notes at par (which will happen in December). Recently, it has been more economical for HC2 to raise the capital needed to grow the business at the subsidiary level (as in the case of the broadcasting division and GrayWolf). We will see the new pricing of the notes, but if they finally come around 7-8% they would represent substantial savings for the company ($15M-20M annually), which for a company with a current market cap of $238M represents substantial savings.
Valuation
I have conducted a sum-of-the-parts valuation for HC2. The numbers are updated as of the end of 2Q'18, and I have not performed any valuation for the recently acquired construction business GrayWolf Industrial, due to the lack of disclosures regarding to the multiples paid in the acquisition. As always, SoTP valuations have some drawbacks, such as: i) uncertainty about value realization, ii) lack of disclosure to correctly value many subsidiaries and iii) under the bear and the best scenarios, you end up piling up pessimistic and optimistic, one on top of the other, so the NAV is distorted. Here I will take the base case scenario as a target price, but if one wants to be pessimistic/optimistic I would apply a 25% discount/premium to the base scenario in order to get the desired (bear/bull) number.
Some comments to the valuation:
DBM Global: the only closest competitor I was able to find is ADF Group, a smaller company with poorer EBITDA margins and a more stretched balance sheet (see ADF's latest presentation for recent financials and implied valuations), trading at a multiple of 12.5x EV/EBITDA (investors are likely pricing here a turnaround of the business). For the base case, I have taken a normalized EBITDA for DBM (ex-GrayWolf) of $55M and a multiple of 8x, which I think is reasonable for a cash-generating business with a diversified base of clients (for the EBITDA of the last couple of years, see p.13 of the latest August presentation).
Global Marine: 8.5x EBITDA guided for 2018 (see p.6 of the latest August presentation). Closest comps are Oceaneering (which is more oriented to the oil sector, trading at 15x EV/EBITDA) and less so Subsea 7 (6x EV/EBITDA). I think that given the recurrent nature of Global Marine's revenues a conservative mid-point multiple of 8.5x is warranted.
Continental Insurance: Humana acquisition was not reflected in 2Q'18, so we will have to wait until 3Q'18 for the complete set of accounts. I have taken the expected statutory capital ($195M, see the news) and applied a multiple of 0.5x (LTCI comparables such as Genworth have been trading at heavy discounts to book value, but I have assumed a higher multiple given the discounts embedded in the portfolios bought by HC2 and the prospects for rising premiums).
Pansend: historical cost for the different businesses (MediBeacon, R2 and Genovel). For Benevir, I have assigned different probabilities to the different milestones.
Broadcasting: investment cost up to date.
ANG: replacement cost of building a station (between $1M and $1.5M).
Corporate expenses: a multiple of 5X on the 1H'18 annualized expenses.
I arrive at a valuation of $15 per share, without taking into account the quality of the management team. For the bear case, then, a target price of $10-12 would be warranted. Actually, given the recent news discussed above, it would not be surprising at all if the share price reaches $10 in short order.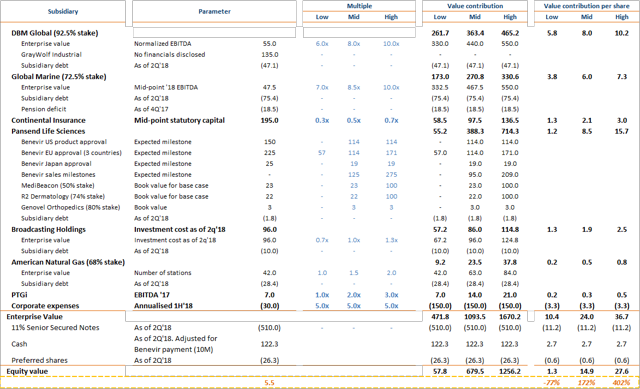 Source: Company filings and own elaboration.
Risks & Catalysts
Downside risks:
If the company does not deleverage after the Global Marine sale (conducting a big acquisition that is not accretive, for instance), HC2 will remain a high leveraged company and being its main cash-generating business (DBM) a highly cyclical one.
The sale of Global Marine may not be completed or may not be achieved at attractive multiples (unlikely, given Falcone's financial acumen and not being forced to sell the business right away).
The refinancing of the notes may not be completed at attractive terms (bondholders may argue that the debt sitting at the HoldCo level is not going to be reduced vs. the notes already outstanding).
Additional deals that take time to deliver and delay the unlocking of value (which for some investors can be considered a positive, given Falcone's track-record).
Upside catalysts:
Additional milestones in Benevir are achieved.
MediBeacon is monetized.
Share repurchases.
GrayWolf proves to be highly accretive to the DBM business.
Conclusion
After several years of building up the different businesses and no share appreciation for HC2's shareholders, I think that finally the time has come to reap the harvest. The recent long-awaited news about financial restructuring is coming together with i) simplification of the corporate structure, divesting Global Marine (though additional acquisitions by Falcone cannot be ruled out) and ii) realization of value of subsidiaries (MediBeacon) that are carried at cost but that provide great optionality.
A final remark: the company has announced a $535M offering to restructure the old notes ($510M), but it is also planning to sell Global Marine. Ruling out additional acquisitions or the desire of having spare cash in the balance sheet (which is a very legitimate desire in a holding company), these amounts suggest that HC2 may be planning to conduct share repurchases, which at these levels would be highly accretive. Just assuming $20M for share repurchases (which could be enlarged if some Benevir milestone is achieved in the near term) at these prices it would represent a 7% of the outstanding shares of the company. Therefore, we do not rule out another shareholder value maximization transaction by Falcone in the near term.
Disclosure: I am/we are long HCHC.
I wrote this article myself, and it expresses my own opinions. I am not receiving compensation for it (other than from Seeking Alpha). I have no business relationship with any company whose stock is mentioned in this article.