Investors have been focusing on retail coffee giant Starbucks (NASDAQ:SBUX) recently, as the company aims to fuel further growth in its domestic and Chinese markets.
Seattle-based Starbucks said it has been strategically targeting its long-term growth markets – China and the U.S. – after a disappointing third quarter in its fiscal 2018 year.
The company earned US$0.61 per share in the latest quarter, up 30% year on year, but its operating margin shrunk by 190bps, while its income fell 1% after shutting 64 stores in its Americas segment.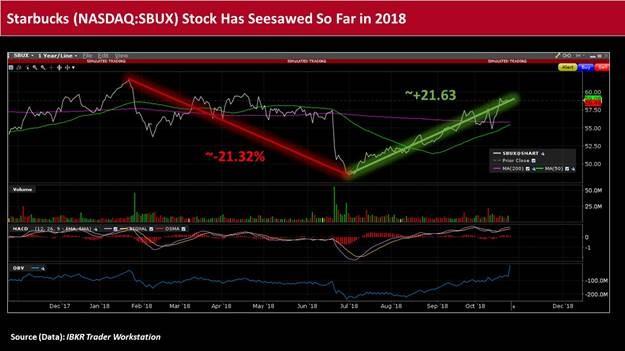 Overall, Starbucks' consolidated net revenues grew 11% over Q3 FY17 to US$6.3bn, driven in part by incremental intake from its ownership change in East China, favorable foreign currency translation, as well as 1% growth in global comparable store sales.
Against this backdrop, Bill Ackman, activist investor and founder and CEO of hedge fund Pershing Square Capital Management, as well as Swiss food producer Nestlé (SWX:NESN, OTCPK:NSRGY), have each taken a gamble on Starbucks' growth potential.
Ackman recently poured about US$900m into Starbucks on a bet that the iconic coffee shop chain's stock will more than double over the next three years, while Chinese growth becomes increasingly important to the firm's value.
Coffee business in China set to surge
According to analysts at Fitch Solutions, the "westernization of diets and demand for premium product offerings" are primarily driving Chinese consumers' growing appetite for coffee and the increase in coffee sales in the country. International coffee chains such as Starbucks and Costa Coffee will continue "aggressive" expansion in China to exploit growth opportunities, they said.
Fitch Solutions thinks China – the second largest global coffee market behind the U.S. – will see an increase of 15.8% in coffee sales in 2018 and average 13.1% annually between 2018 and 2022.
Coffee-related deals have generally been on the upswing recently, highlighted by tech giant Tencent's (OTCPK:TCEHY) alliance with start-up Luckin Coffee, as well as Alibaba's (NYSE:BABA) food delivery arm Ele.me's tie-up with Starbucks in Beijing and Shanghai.
Starbucks CEO Kevin Johnson said Starbucks is "by design, in a phase of growth in China that is primarily driven by new store expansion. We also acknowledge the need to move faster to enable delivery in China, and we are committed to piloting delivery this fall in two key cities, Beijing and Shanghai, with the intent to expand from there."
Ramping-up presence
Starbucks has an aggressive agenda to expand its footprint across China.
Belinda Wong, CEO of Starbucks China, said the company remains on track to add 600 net new stores per year and to achieve its goal of 6,000 stores in 230 cities across Mainland China by the end of fiscal 2022. She added that "Starbucks continues to invest in China for the long term."
Shares of Starbucks have risen more than 21.6% from their 52-week low set in late June, offsetting the roughly 21.3% in losses incurred since late January.
Ackman observed that Starbucks' stock has fallen 6% over the last three years. Including dividends, shareholders have earned a 0% total return, despite EPS growth of about 50%. However, the firm has generated an annualized total shareholder return of 26% over the last ten years, twice the return of the S&P 500 over the same period.
Ackman said he expects that "China will grow nearly twice as fast as Starbucks' overall earnings and represent an increasingly larger percentage of the company's earnings."
Meanwhile, Starbucks is also eyeing domestic growth, in-line with Statista's expectations that the U.S. coffee market is poised to grow at an annual compound rate of 3.1% from 2018 to 2021.
The Nestlé connection
Starbucks aims to capitalize on branding opportunities through its global coffee alliance with Nestlé, which paid US$7.15bn to Starbucks in large part to help boost its brand across North America.
The deal comes as the Swiss food giant has recently met with pricing challenges, amid deflationary pressures in Europe and Brazil.
Nestlé CEO Mark Schneider said that "in addition to the retail side of it, there's also a significant opportunity in out-of-home, in what we call Nestlé Professional, since the Starbucks brand is a very recognized global brand, this will play extremely well."
On a share repurchase tear
Starbucks has been very active recently with selling debt to buy back shares.
The company said it repurchased 17.1 million shares of common stock in Q3 FY18, with roughly 107 million shares remaining available for purchase under current authorizations.
In August, Starbucks sold US$3bn of senior notes in three parts, with the intent to use sale proceeds for general corporate purposes, including the repurchase of its common stock, business expansion, payment of cash dividends or the financing of possible acquisitions.
Moody's Investors Service assigned an investment-grade 'Baa1' credit rating on the issuance, with a negative outlook.
Moody's analyst William Fahy said the rating reflects Starbucks' "global brand strength, dominant position in the U.S. specialty coffee segment, global diversification" and "significant" scale. He added, however, that "the material increase in Starbuck's fixed shareholder return target will result in significantly higher debt levels and weaker credit metrics at a time of operating challenges."
For the trailing twelve-month period ending April 1, 2018, debt to EBITDA was about 2.2x, but Moody's expects this level to increase to over 2.8x – driven by its new shareholder return target.
Bond yields fluctuate with U.S. interest rate risk
Starbucks' US$3bn, three-part note sale had met with decent demand, having tightened by 15bps to 20bps across the deal's pricing evolution.
While each of the company's tranches (3.8% notes due August 2025, 4.0% debt due November 2028 and 4.5% bonds maturing November 2048) has generally widened against the backdrop of rising U.S. interest rates, they have narrowed somewhat amid more recent volatility and safe-haven purchases of U.S. Treasuries.
To date since Starbucks issued its US$3bn notes in early August, yields on 7-year and 10-year U.S. Treasury notes and 30-year U.S. government bonds have risen around 13bps, 16.5bps and 22bps, respectively.
Earnings radar
Starbucks is set to release its Q4 FY2018 earnings on Thursday, November 1. The market generally anticipates the company will announce US$0.60 EPS compared to US$0.55 EPS in the same year-ago quarter.
In its Q3 guidance, the company's management said it expects FY18 global comparable store sales growth to be just below the 3-5% targeted range, with Q4 to come in at the lower end of the 3-5% range.
Starbucks also said it continues to anticipate consolidated revenue growth in the high-single digits after accounting for its East China acquisition and other streamline-driven activities.
The firm thinks it will earn between US$3.26-US$3.28 EPS for FY18.
Starbucks' stock was trading up around 0.31% intraday Wednesday to roughly US$59.00. It has a market cap of around US$79.5bn.
Note: This material was originally published on IBKR Traders' Insight on October 24, 2018.
The analysis in this material is provided for information only and is not and should not be construed as an offer to sell or the solicitation of an offer to buy any security. To the extent that this material discusses general market activity, industry or sector trends or other broad-based economic or political conditions, it should not be construed as research or investment advice. To the extent that it includes references to specific securities, commodities, currencies, or other instruments, those references do not constitute a recommendation by IB to buy, sell or hold such investments. This material does not and is not intended to take into account the particular financial conditions, investment objectives or requirements of individual customers. Before acting on this material, you should consider whether it is suitable for your particular circumstances and, as necessary, seek professional advice.
Disclosure: I/we have no positions in any stocks mentioned, and no plans to initiate any positions within the next 72 hours. Business relationship disclosure: I am receiving compensation from my employer to produce this material.
Editor's Note: This article discusses one or more securities that do not trade on a major U.S. exchange. Please be aware of the risks associated with these stocks.