Editor's note: Seeking Alpha is proud to welcome Gogy Tdk as a new contributor. It's easy to become a Seeking Alpha contributor and earn money for your best investment ideas. Active contributors also get free access to the SA PRO archive. Click here to find out more »
Description
CSG Systems International, Inc. was founded by Neal Hansen in 1982 and is one of the world's largest and most established business support solutions ("BSS") providers. Its key focus is primarily serving the global communications industry, and some of the most well-known customers are Comcast, Dish and Charter. CSG was recognized as a leader in a 2017 Gartner magic quadrant for Integrated Revenue and Customer Management among Communications Service Providers, what showcases its excellent market position.
I personally like to buy stocks, that have a leading position in their market segment as they usually enhance great value to its shareholders. One such example is stock OKTA so far this year. I believe that the company has enormous growth prospects as its management has outlined in the latest earnings call several key initiatives, aimed at creating long-term shareholders value.
Q2 2018 EARNINGS
Total revenues for the second quarter of 2018 were $213.0 million, an 11% increase when compared to revenues of $192.7 million for the second quarter of 2017. Cloud solutions revenues continued to grow and were $187.4 million, and managed services offerings revenues were $13.3 million compared to $157.9 million and $15.9 million for the second quarter of 2017.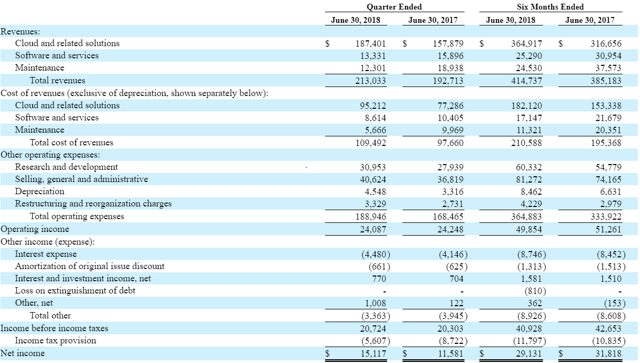 Source: sec.gov
The Y-o-Y increase in revenues can be primarily attributed to the acquisition of Business Ink on February 28, 2018, which generated approximately $16 million of revenue for the second quarter of 2018.
President and CEO Bret Griess said during the Q2 earnings call: "We delivered another solid quarter demonstrating the progress that we are making on our strategic initiatives aimed at driving revenue growth and profits. We grew our Ascendon, managed services and total revenues by double digits. We expanded our footprint in the telecom and financial services verticals, helping to diversify our revenue streams. And importantly, we continue to get broader and deeper within our clients' businesses."
He is also confident about financial strength of its business, that allows to consistently return capital back to shareholders through dividends and share buybacks and by making further smart investments to grow its business.
Management has also updated the full year guidance to include the previous 10 months of acquired operations and increased its 2018 revenue guidance by $50 million to a new range $845-865 million, which represents 7%-10% growth YoY. Management also expects that Business Ink acquisition is expected to be about $0.05 accretive to 2018 non-GAAP EPS, what makes our 2018 non-GAAP EPS range is now $2.81 to $2.93, or growth up to 12% to 17% YoY. Following the acquisition, non-GAAP adjusted EBITDA is increased by $8 million to $190-$196 million and operating cash flows to $130-$150 million.
During the latest earnings call, the company announced key initiatives aimed at creating long-term shareholder value. Driving revenue growth at or above the industry rate, monetizing existing customer base with proven cloud and SaaS-based solutions and investing in their platforms and go-to-market strategies to enter new markets like IoT and smart cities. The company plans to achieve these goals by scaling its digital services opportunities, by consolidating multiple payment solutions onto the Ascendon platform with centralized eWallet capabilities.
The Ascendon platform
It is SaaS based cloud platform that was launched in 2015. It is currently deployed in some of the world's leading media and entertainment companies and. With Ascendon, organizations can offer new digital services immediately, and it can also help them reduce operational expenses, by for instance digitizing front and back offices.
The company has reported during Q2 earnings call, that revenue from Ascendon SaaS-based cloud platform continue to grow in double digits year over year, but without reported numbers. The Ascendon platform is also being recognized by companies like Amazon Web Services and number of clients and customers grow, and CSGS gets paid on a per sub, per month basis or a revenue share percentage.
The Ascendon platform will also play the key role for their IoT market penetration. IoT market has a huge monetization potential as It's predicted there will be 20-30 billion connected devices worldwide by 2020. Any new connected devices bring significant new opportunities for device manufacturers and network operators to generate new revenue or drive efficiencies. According to Forbes article in 2017, IoT market can attain up to 30% CAGR growth between 2016 -2020, with huge growth potential in B2B IoT segments. I believe CSGS is positioned well and has a huge potential to take a pile of this double-digit growing market and drive its cloud services revenue growth by the Ascendon platform. That is the reason why it makes it a great buy, as Wall Street hasn't fully priced potential of its cloud services revenue growth in IoT market
M&A activities
The company is scaling its business by strategic investments for long-term growth by investing in R&D and M&A, and has proven itself by making smart acquisitions so far. They have been pretty inactive for last several years, and last significant acquisitions were VoluBill on December 4, 2013 and Ascade on July 16, 2012 for $19 million in cash.
This year they started being active again in M&A deals and on February 28, 2018, it has acquired Business Ink, a leading provider of business communications for little over one-time historical revenue or $70 million in Cash. The CEO stated in press release, that he is very excited over positive synergies of the deal as it allows company to increase its revenues, by diversifying into new markets like the home security, transportation, healthcare, utilities and government segments.
I firmly believe, this acquisition will help reaching growth initiatives of the management as both companies have similar business models with strong recurring revenues and profitable operations built upon long-term client relationships. The purchase will be highly accretive to CSG International. The Company reported record first quarter revenues of $202 million, an increase of 5% YoY, with 2% coming from solid organic growth of 2% and the rest coming from the acquisition of Business Ink.
On September 14, 2018 the board has determined that they have the balance sheet and cash to make acquisitions that strengthen its leadership position in the revenue management and payments industry. It also has a solid balance sheet with $186M of cash and $353M of long-term debt as of Q2 2018. This is really important factor, as they have enough cash on hand, so they can use it to focus on driving long-term shareholder value, which I find a key trigger to buy a stock.
On October 2, 2018 company announced another acquisition of Forte Payment Systems, a leading provider of advanced payment solutions. This acquisition further advances their-expanding portfolio of public cloud offerings, and strengthen its leadership in revenue management and payments industry.
I expect further acquisitionsinto cloud services segment, and next earnings release on November 7,2018, will display whether this year's acquisitions resulted in a higher sales growth, especially in cloud related services or by lower operating expenses.
SUMMARY
I find CSGS Systems Inc., undervalued Small Cap Tech stock, with strong business metrics and huge upside potential by making smart acquisitions and growing its cloud related services. Inorganic growth by smart acquisitions together with revenue growth from the Ascendon platform are some of the key buying catalysts. The Ascendon platform has a huge potential of a further product integration and monetization on its platform, helping the Company expanding its market reach in different segments like IoT market. CEO Bret Griess is confident on making long-term value for its shareholders and I personally trust his expertise that he can make it happen.
I would hold this stock over the next 3-5 years and wait for key catalysts to play out. They only key downside risk might be losing of its key customers, for instance Comcast or Dish Networks overnight, what would really have a harmful impact on its business.
---
Disclosure: I/we have no positions in any stocks mentioned, and no plans to initiate any positions within the next 72 hours. I wrote this article myself, and it expresses my own opinions. I am not receiving compensation for it (other than from Seeking Alpha). I have no business relationship with any company whose stock is mentioned in this article.