Market action has been quite volatile in recent weeks, and the SPDR S&P 500 ETF (SPY) is now trading below its 200-day moving average, which is generally considered a key indicator about the direction of the long-term trend in stock prices.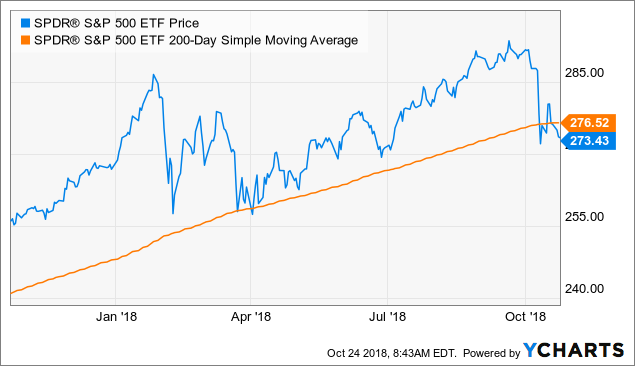 Small U.S. stocks are now materially below their 200-day moving average, as reflected by the iShares Russell 2000 ETF (IWM).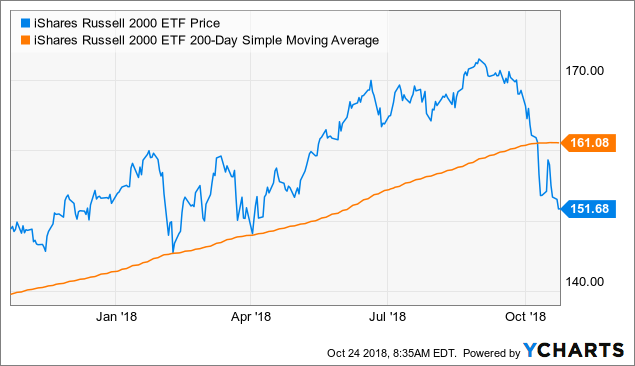 Looking at global stocks, the situation is even worse. The Vanguard FTSE Emerging Markets ETF (NYSEARCA:VWO) is way below its 200-day moving average.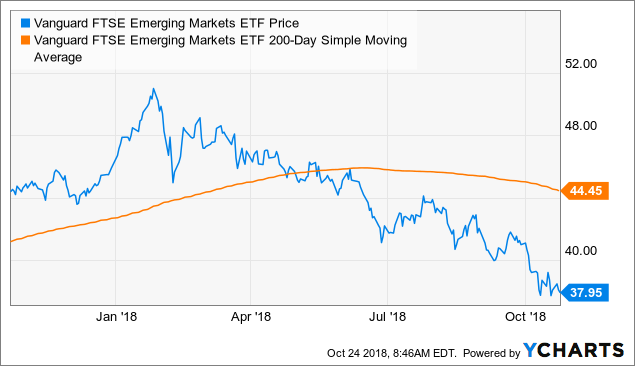 The same goes for the iShares MSCI EAFE ETF (EFA).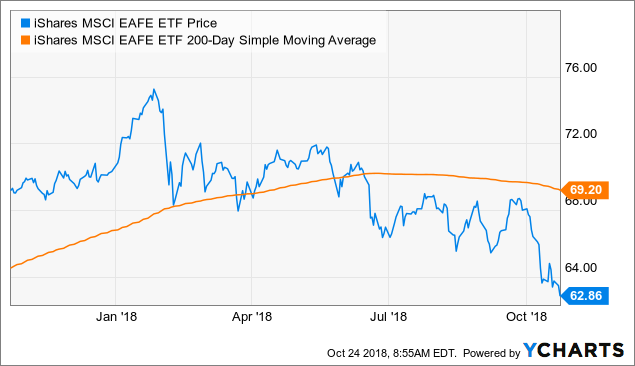 It's not just that the 200-day moving average is an important level from a technical perspective. The statistical evidence shows that markets produce both lower returns and higher downside risks when stocks are trading below such a trend indicator.
The chart below is from an extraordinary research paper by Mebane Faber entitled, "A Quantitative Approach To Tactical Asset Allocation". The chart compares the performance of a global asset class portfolio (GTAA) that buys only asset classes above the 10-month moving average (roughly 200 days) versus a buy-and-hold portfolio with those same asset classes.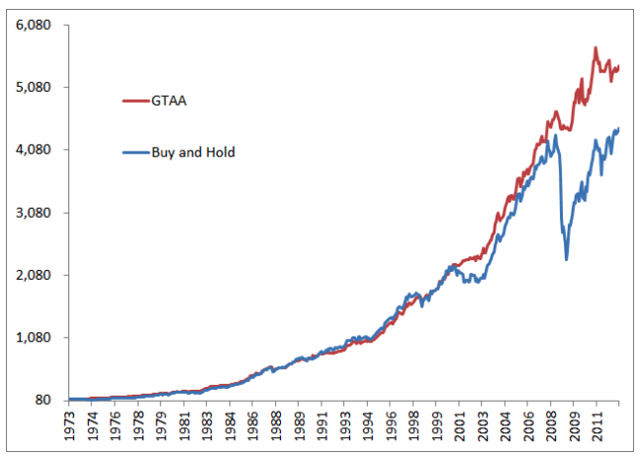 Source: A Quantitative Approach to Tactical Asset Allocation
According to this data, a trend-following strategy would have produced a compounded annual return of 10.48% versus 9.92% for the buy-and-hold portfolio between 1973 and 2012.
Returns are marginally higher for the trend-following system, but the big game changer is the reduction in downside risk. The maximum drawdown for the buy-and-hold portfolio was a breathtaking 46%, while the trend-following portfolio had a much more manageable maximum drawdown of 9.54% during such period.
This is a key consideration to keep in mind. Volatility tends to be considerably higher when the markets are trading below their 200-day moving average. The risk of a massive drawdown is materially increased in the current market environment.
High Valuations Mean Lower Returns And Higher Risk
Valuation is not a market-timing tool, since markets can remain relatively cheap or expensive for several years. However, valuation levels have a huge and consistent impact on subsequent returns over the long term.
The chart below from a research paper by StarCapital shows the relationship between the CAPE ratio and subsequent returns over periods of 10 and 15 years in different countries. An image is worth a thousand words, and there is a clear and inverse relationship between valuation and returns.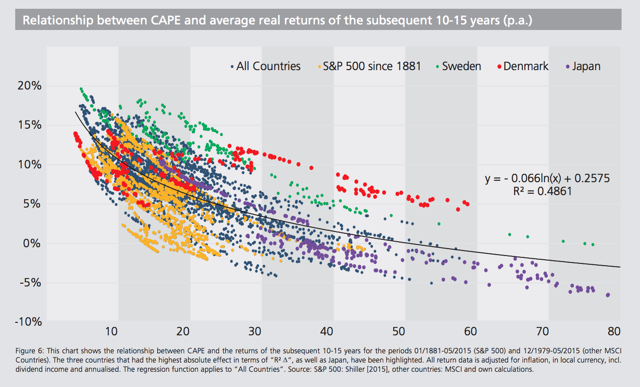 Source: StarCapital
Perhaps even more important, higher valuations also mean higher downside risk. The higher the CAPE ratio, the bigger the maximum drawdown over periods of 3 years and 15 years.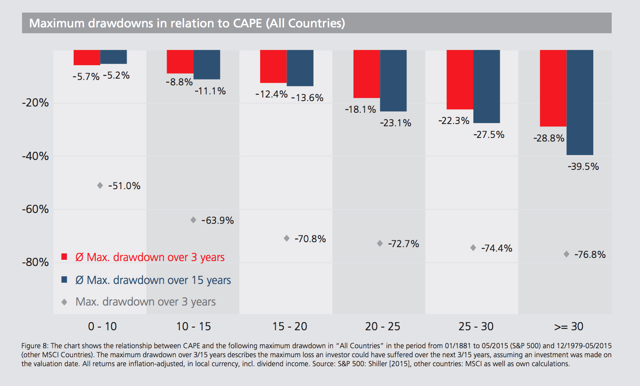 Source: StarCapital
The table shows the current valuation levels for different markets considering both the CAPE ratio and the price to book value ratio and what kinds of returns you can expect from these valuation levels going forward.
Based on these numbers, the U.S. stock market is far more expensive than other markets around the world, and investors in U.S. stocks can expect an anemic annual return of 2.7% per year in the long term.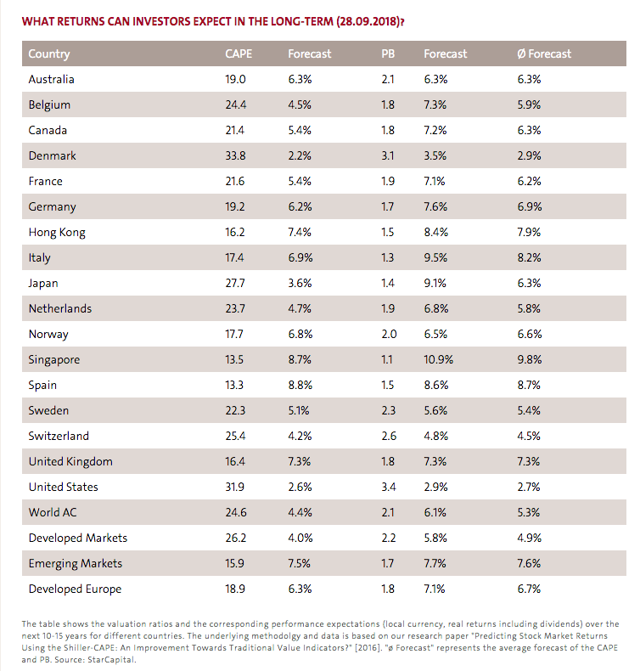 Source: StarCapital
U.S. stocks also look quite expensive from a historical perspective. The chart below from Advisors Perspective shows the average of four different valuation ratios and how these ratios have evolved over time. Only during the tech bubble valuation levels have been higher than they are now for U.S. stocks.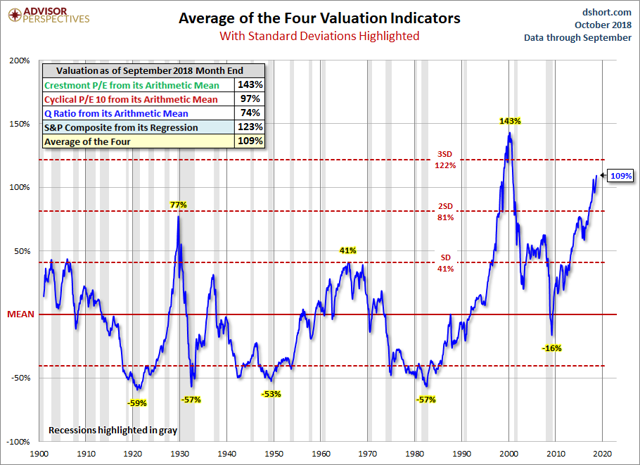 Source: Advisor Perspectives
In a nutshell, higher valuation levels imply a lower potential for returns and higher downside risk over the long term. None of this means that stocks need to necessarily go through a deep bear market, but the risk vs. reward trade-off in U.S. stocks is not particularly attractive at current price levels.
Combining Trend Following And Relative Strength
The following quantitative system is available in real time for members in my research service: The Data Driven Investor. It basically rotates among different ETFs based on a combination of trend following and relative strength, and it can be a remarkably effective tool to evaluate market conditions from a broad perspective.
The system can only buy ETFs that are above the 200-day moving average, and among the ones that are in a long-term uptrend, it picks the ones with the highest returns over 3 and 6 months.
The ETFs considered are:
SPDR S&P 500 for big stocks in the U.S.
iShares Russell 2000 ETF for small U.S. stocks.
iShares MSCI EAFE ETF for international stocks in developed markets.
iShares MSCI Emerging Markets ETF (EEM) for international stocks in emerging markets.
Invesco DB Commodity Index Tracking ETF (DBC) for a basket of commodities.
SPDR Gold Trust ETF (GLD) for gold.
Vanguard Real Estate ETF (VNQ) for REITs.
iShares 20+ Year Treasury Bond ETF (TLT) for long-term Treasury bonds.
iShares 1-3 Year Treasury Bond ETF (SHY) for short-term Treasury bonds.
From 2007 to 2017, the system gained a cumulative 325.2%, more than double the 136.5% generated by a buy-and-hold strategy in the SPDR S&P 500. More importantly, the maximum drawdown for the system is around 14% versus more than 55% for a buy-and-hold position in the ETF that tracks the S&P 500 index.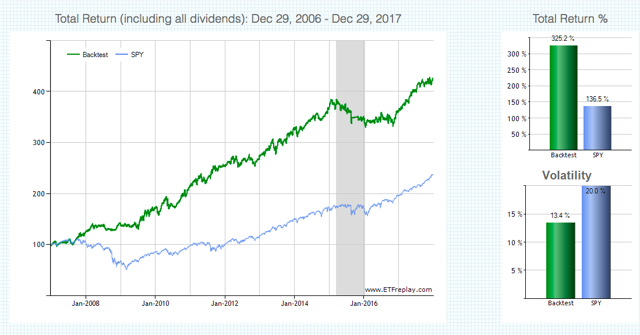 Source: ETFreplay

Stock markets in the U.S. and abroad, as well as bonds, REITs, and commodities are currently trading below their 200-day moving averages, so the system is recommending a 100% cash portfolio as of the time of this writing.
It's not about black or white; there are many shades of grey to consider. Going 100% to cash is clearly too extreme for long-term investors, but the point remains that caution and reduced risk levels are a smart approach in the current environment.
Cash Is A Position Too
U.S. stocks are now officially in a downtrend based on the 200-day moving average. From a statistical perspective, this means a higher downside risk and lower potential returns. Valuations are also expensive, which also means a higher downside risk and smaller returns in the long term.
In the current market environment, it makes a lot of sense to reduce portfolio risk by holding lots of cash and even hedging your stock positions with inverse ETFs to reduce market exposure.
That's exactly what I'm doing with my own money. Only holding the most promising stocks with superior potential in the long term, while also owning lots of cash and reducing market exposure with inverse ETFs.
A well-protected portfolio allows you to sleep better at night, and it also provides the dry powder to capitalize on buying opportunities in the future. There are always plenty of opportunities to make money when the market environment is more favorable, but you need to have enough cash to profit from such opportunities.
The way I see it, capital protection is priority number one for investors, and this is a critical consideration in the current scenario.
Members in The Data Driven Investor have access to quantitative systems to protect the portfolio in bear markets and optimize returns over the long term. Subscribers also get to know in real time when I make a buy or sell decision for my personal portfolio. Free trial available now in this link.
Disclosure: I/we have no positions in any stocks mentioned, and no plans to initiate any positions within the next 72 hours.
I wrote this article myself, and it expresses my own opinions. I am not receiving compensation for it (other than from Seeking Alpha). I have no business relationship with any company whose stock is mentioned in this article.