The MoneyByRamey.com Portfolio Update
Hello and welcome to the October 2018 edition of my dividend portfolio update. For live tracking, you can find my portfolio here. The goal of these articles are to keep you involved on my journey to living off passive income and to inspire you on your own path. For me, the golden mark is $50,000/yr. in dividend income. I am a long ways from the dream but getting closer each day.
The Portfolio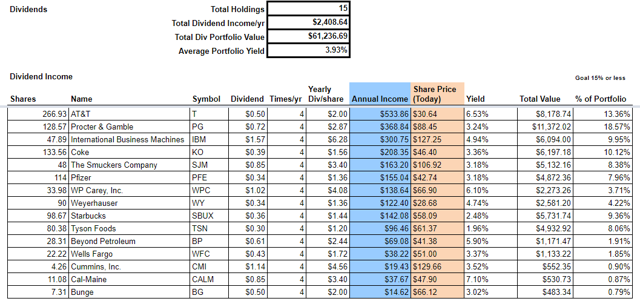 Portfolio Analysis via Ranking of Income Generation
AT&T (T)
AT&T comes in the highest annual income in my portfolio and that is not by mistake. I have been targeting buying up shares as I believe it is a solid communications company with a high-yield that will turn itself around. I was just reading an article today stating it had 160 million subscribers and if it was being ranked via world population, it would be the 9th largest populated 'country' in the world. It's reach is far and wide in many sectors, the most promising being mobile devices.
With that being said, it is not without risk. I also consider T to be the highest risk stock in my portfolio. While AT&T has been relatively flat lined with share price, it did show some interesting upward momentum a few months back with the positive ruling in the DOJ case.
Despite this, concerns abound over its $190B debt load from the Time Warner acquisition and how it pays that down. Long story, I believe it gets the debt paid down in a satisfactory manner, spins off a few divisions for more cash (can you say CNN?), and continues to maintain solid cash flow while paying a 6%+ dividend yield. Long T.
Investment Outlook: Because this stock is near the self imposed limit of 15% exposure, I do not anticipate adding anymore AT&T into my portfolio at this time.
Procter & Gamble (PG)
PG has been the surprise stock from me within the past month or so. It had a great earnings quarter in which it seems to be turning a ship around and being able to combat losing market share with raising its prices.
PG is a great legacy stock to own; I get an extra boost anytime I buy its products, namely Tide, Crest, Old Spice, or Dawn dish detergent as I know I am supporting my own dividend. As an owner in the company, this makes me feel all warm and fuzzy inside :-)
However, I do see the pressures that PG is facing, especially If we head into a recessionary environment. I can see many families bucking the higher price name brands and going with the lower-priced store branded products instead. For the time being it is a risk that I'm willing to take.
Investment Outlook: At 18% of my total portfolio, I do not anticipate adding any more PG to my portfolio at this time.
International Business Machines (IBM)
With regards to IBM, I have learned a lesson I should have already known; never bet against Warren Buffett. Since he exited IBM during early 2018, the stock has been on a decline. While cash flows remain positive, it makes me wonder how much of that is based on legacy technology that is being outdated and obsolete. Will IBM one day be the Sears of technology companies?
IBM has been the one large dog in my portfolio and while I am not ready to sell at this time, I am fully conscious that this position may need to be exited if growth in new technologies does not come to fruition. If this dividend is ever cut, it is time for me to get out. I remain hopeful with IBM's dive into blockchain, but I am wondering if they are attracting the right talent to roll it out in the marketplace? There was a recent article about releasing blockchain technology in the food safety sector, and I am hopeful that they can build on that for continued growth. Artificial Intelligence is also a sector where I hope to see IBM continue to build and hopefully dominate.
Investment Outlook: IBM is currently on a personal short leash and I do not anticipate any more of the stock to my portfolio. I will continue to have it on DRIP and watch the quarterly reports to gauge progress.
Coke (KO)
I have added a position in Coke last few months. Originally I did some due diligence on them back in July but I did not like where the company was going. It seemed as though KO was stalling out with soda sales. Since then I have been very impressed with their diversification, especially with the Costa acquisition. Though it is yet to be seen where Costa fits in the overall Coke picture, their foray into various product line, including their exploration of the cannabis sector, is where the company needs to be.
Long-term, I think the Coke brand will always be strong, but I could see this company transitional where Coke becomes somewhat of a holding company name, from which they diversify into all sorts of different beverage products. Though I do not believe soda sales will ever fade away, I could see the company actively growing its other brands above the Coke product. I know that is almost sacrilege to say, but I feel like worth where consumer health trends are dictating the growth strategy. So long as Coke continues to diversify while maintaining its soda presence, the future is bright.
Investment Outlook: For now, I am a hold on Coke and do not plan to acquire any more shares as this time.
The JM Smucker Company (SJM)
Smuckers is a very recent addition to the MoneyByRamey.com portfolio. I was somewhat hesitant to buy into this stock as there were some things that I did not initially like about the stock such as their recent streak of poor acquisitions and high level of intangible assets, for which the consideration of impairment charges is high. However, once I made the decision to pull the trigger and invest, I am willing to see it through.
My main argument for adding Smuckers was to increase my holdings in the food sector, which I believe is currently undervalued. Smuckers has some strong brand recognition such as Jif, Crisco, Hungry Jack, etc. SJM is also making some inroads into the organics sector as well with its truRoots brand.
Investment Outlook: Thus far I am satisfied with this dividend purchase, but I am not interested in buying more stock at the current price levels. For me to buy any more Smuckers, would have to be a decline in stock price to make it more attractive. I would also like to see organic growth above and beyond M&A growth.
PFizer (PFE)
This was an October 2018 addition to my dividend portfolio and I have been very satisfied with the purchase. This stock combines a the elements of what I am looking for a solid dividend payer. This is because PFE has a decent yield at 3.12% and their stock price is adequately priced that the share accumulation I would receive via DRIP will build very quickly.
The risks inherent in purchasing this stock is in any new healthcare mandates that come out adversely affecting drug companies and the healthcare industry in general. I do believe there will still be a trend towards figuring out how to lower healthcare costs and that a national Healthcare System could look to be set up in the US which would not be good for a company like Pfizer. But I have faith that this company will be able to figure things out; citizens of the world will always want to stay healthy and maximize their days on this earth. Pfizer can help them do that.
Investment Outlook: I am not ruling out adding more of this company in my portfolio at this present time. With the stock only making up 8% of my current portfolio, there is room to grow if I feel like it is a good entry point.
WP Carey, Inc. (WPC)
WP Carey has been a good investment that's far which has helped increase my exposure to the retail and commercial real estate sector. Overall I believe that WPC is well-capitalized and I am in a holding pattern on this investment.
I do have concerns in the commerical real estate REIT sector, especially with the rise in online retail and work-from-home capabilities of many employees.
Investment Outlook: I don't expect to add anymore to my portfolio at this present time as I have concern in the overall retail space versus online sales.
Weyerhaeuser (WY)
I have been watching Weyerhaeuser for some time now. I believe that they have been priced too high for me to consider an investment, but being that they are off of one year highs, I recently initiated a position during mid-October. I personally like that this gives me increased exposure to the construction and building industry which my portfolio was somewhat lacking. The fact that WY has a renewable resource is also appealing.
I am cognizant that they are highly exposed to the cyclical housing market and that lumber prices have been in a free-fall, but for the time being everything looks to be going well and the entry point is at a level where I am satisfied buying into a solid company.
Investment Outlook: I do not expect to add anymore to this position at this present time. A slump in lumber prices could continue to adversely affect this stock, so I would like to see how the next few reports come in.
Starbucks (SBUX)
Starbucks has been a gem of my portfolio, being one of the companies that has had the most gains in the shortest amount of time. I entered this position right after Starbucks had the issue with the customer bathrooms as well as Howard Schultz announcing he was going to be stepping down as chairman. Though the stock took quite a beating from those announcements, it has benefited from Bill Ackman and Pershing Square coming in as an active investor looking to trim fat and clean house.
A nice dividend increase in August 2018 from $0.30 to $0.36 dividend per share has been a nice boost as well. In general, I am bullish on future prospects in the coffee industry as a whole and I believe Starbucks is well positioned to continue serving the world's needs in the sector.
One concern is an uptick in closing of stores, but I believe this might be a positive development due to over-saturation in certain market zones.
Investment Outlook: I do not plan adding any more SBUX in my portfolio at this present time as the valuation point is increasing.
Tyson (TSN)
Coming from the commodity trading industry, I was excited to add such a food powerhouse into my portfolio, if only for the fact that I used to work with them on a daily basis. Before initiating this position, I analyzed my portfolio and realized I needed more food related companies.
I further justified this mentality as I saw that food and ag companies are undervalued at this point in time. I also do not see the demand for food going away anytime soon, so being able to purchase a solid company at an attractive price was appealing.
Tyson was hit hard with the news of the Chinese tariff wars which has been depressing its overall stock price. This is obviously something that to watch, but as a long-term value investor with no control over macro events, I figured it is as good time as any to get into this stock and hold for the long term.
Investment Outlook: Since Tyson's yield is below 2% at this point, I do not anticipate adding more of the stock to my portfolio at this time but rather and in a hold position for now. If the price continues to fall, this could change my thesis.
Beyond Petroleum (BP)
BP is near and dear to my heart as it was one of the first dividend Investments that I have ever made. You can see that the total cash entry point is quite lower than some of my more recent forays into the investment world. I was certainly not as confident in my investing strategy during the beginning years.
As it stands, I have been loving the uptick oil prices from a purely investing perspective. Oil stocks are a good short and medium-term play, perhaps the next 20 to 50 years. Beyond that I am not sure that the world will keep depending on oil as it has been in the past few decades.
Therefore, even though many oil stocks seem to be good dividend players right now, I am not investing in capital into this sector. Instead, I am looking for potential renewable resources plays should they present themselves.
Investment Outlook: BP is a hold for me with an eye towards selling if adverse conditions present themselves in the oil industry.
Wells Fargo (WFC)
WFC is the only truly financial-based holding in my dividend portfolio. I bought into the stock after the account scandal was revealed in 2016 and I have seen the stock appreciate very nicely, then fall back near the previous levels of entry point. My investment has been about break-even (not taking into account dividend repurchases).
I do believe that Wells Fargo has good potential growth prospects into the future, but I am closely monitoring the trends towards online banking away from traditional banking. I am also following cryptocurrency technologies as though it is not fully adopted yet, blockchain-based currency will be the wave of the future.
Investment Outlook: I am currently in a hold mode regarding WFC and we'll be watching their stock for pertinent developments. I did like the recent dividend increase from $0.39 to $0.43 per share.
Cummins (CMI)
Cummins has been a great investment, and it is again one of the early dividend plays that I made. Right now the stock has been down in thus far in 2018, from a high of $192.50 in January 2018 to $130.90 as of this writing. Much of the drop off in share price is due to concerns over the Chinese tariff wars.
Since I am a "buy and hold forever" value investor, the decrease in share price does not concern me but rather excites me as I will have a chance to own more of this great company at a good entry point. Also appealing is that at current levels, the stock is yielding a 3.46% dividend, which is an ideal dividend yield.
Investment Outlook: I may add additional shares of CMI to my portfolio, especially if the stock keeps falling. At only .91% of my total portfolio, there is room to grow in this sector.
Cal-Maine (CALM)
I initiated a small investment in Cal-Maine a few years ago mainly due to fantastic financials. The company continues to be well capitalized, which is why I continue to hold the stock. The only concerning piece for me as a dividend investor is that the dividend payment has been very erratic. The company did declare a $0.35 dividend in August 2018 after paying its last dividend in April 2016.
Investment Outlook: Though I feel comfortable holding this stock, I do not feel comfortable adding more of it to my portfolio at this time. I am in a hold position at the moment.
Bunge (BG)
This stock has done well for itself on news of potential M&A activity. But beyond that, the stock has been somewhat of a dud. When Glencore flirted with the idea of buying Bunge, the stock hit a shade above $80. While this was exciting to see, nothing came to fruition, and Bunge is currently dealing with successive years of bumper crops in the Ag industry, which has depressed prices.
Investment Outlook: I would be open to buying more BG if the price is appealing. Though I haven't added any more of this stock to my portfolio yet, it is on my radar screen as a potential investment opportunity.
Summary
My dividend income is now $2,408.64 per year. I like seeing the gradual increase in this amount. The historical data only goes back to March 2018 this year, but I will be keeping track of this metric to be able to demonstrate how the income portfolio is trending.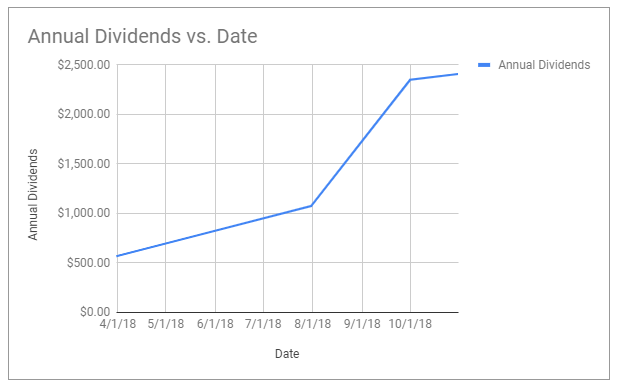 I hope you enjoyed my first dividend portfolio update! Let me know if you have any feedback or would like to see anything different. As always, comment below and let's get a conversation going!
Disclosure: I am/we are long BP, BG, PFE, SJM, T, PG, IBM, KO, WPC, WY, SBUX, TSN, WFC, CMI, CALM.
I wrote this article myself, and it expresses my own opinions. I am not receiving compensation for it (other than from Seeking Alpha). I have no business relationship with any company whose stock is mentioned in this article.