I'm a father of three beautiful children who are 13, 11 and 6. They all contribute with household chores. My little one, Caleb, is in charge of serving glasses of water for supper (I know, not the best idea). While this kid is amazing, he sometimes pours too much water or dad's glass slip through his little hands and it drops on the floor. Do you know how it feels like when this happens? This is the exact same feeling of watching my favorite stocks going down for absolutely no reason; it hurts.
Today, I'm discussing three buy opportunities that all show double-digit dividend growth this year… but are down double digits over the past 30 days!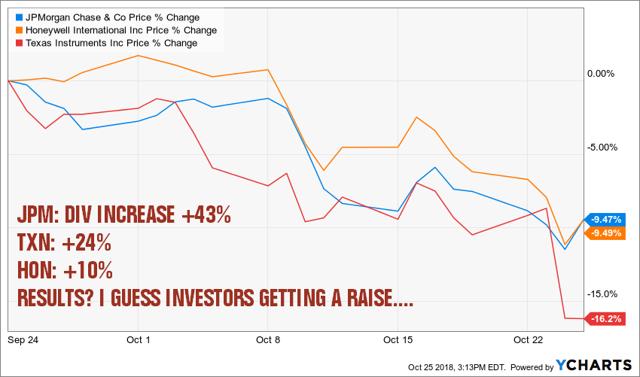 Source: YCharts
JPMorgan (JPM) is a solid option if you are looking for a bank
JPMorgan Chase currently benefits from a solid ground to continue its expansion in the upcoming years. The U.S. economy is healthy, consumers can afford to pay off their debts, and interest income is naturally rising as the Fed hikes rates on a more consistent basis. JPM shows a great balance between a core business based on classic banking activities and growth vectors such as wealth management and investment banking.
JPM posted a strong quarter, beating both EPS and revenue estimates. Consumer and community banking net income jumped 53% to $3.4B from a year ago: average core loans up 7% with average deposits up 5%. CCB credit card sales volume up 11%, and merchant processing volume up 12%. Corporate and investment bank net income rose 18% to $3.2B.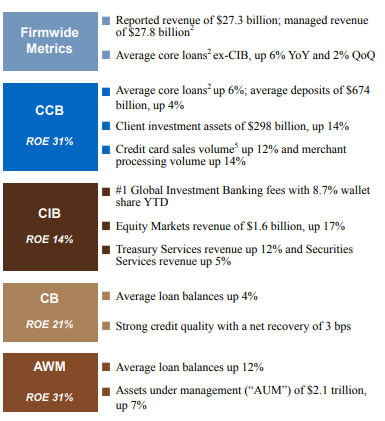 Source: JPM quarterly update
What I admire most about JPM is its versatility. The bank generates about 50% of its income from interest. With interest rates rising, revenue will increase naturally. JPM is large enough to avoid major fluctuations after a couple of charge-offs as Bank OZK (NASDAQ:OZK) suffered last week. The other 50% of its revenue is coming from other activities such as investment banking and wealth management. The firm now manages over $2.1 trillion for its clients. For comparison, BlackRock (BLK) is the largest asset manager with slightly over $6T in assets under management.
Throughout its various business units, JPM always finds a way to grow its revenue. Lately, all segments were aligned toward the same direction. Don't let a few scared investors fool you, and grab some shares now that this dividend payer offers you a 3% yield.
Honeywell (HON) is spinning off everything until there is only the core business left
An investment in HON is first and foremost an investment in a very strong dividend growth company. It benefits from a strong U.S. income base and is able to use its cash flow to seek growth in other markets where it continues to develop its infrastructure. HON is expected to boost its dividend payment significantly in the next 5 years. Therefore, the dividend yield based on the cost of purchase will hit over 3% in a short period. HON's increasing margin will lead to additional profits and an increase in stock price. This is the perfect combination of strong dividend growth and stock price growth potential. HON will provide both to investors.
The company posted a good quarter, showing 7% organic growth. Sales by segment: Aerospace +10%; Home and Building Technologies +2%; Performance Materials and Technologies +3%; and Safety and Productivity Solutions +11%. After spinning off Garrett Motion (GTX), HON is about to spin off another division with Resideo Technologies (REZI). Resideo will be a leading global provider of critical, residential comfort and security solutions, and a leading global wholesale distributor of security and low voltage products. Management will keep the focus on its core businesses while unlocking value for shareholders.
Management is quite an optimist about the future, as its CEO mentioned:
This has been an exciting year for Honeywell. The portfolio changes we announced at this time last year are nearly complete, and we recently announced the acquisition of Transnorm, a leading provider of warehouse automation solutions with a large and growing installed base and an attractive aftermarket. We are well positioned to deliver strong results in 2019 and are committed to delivering outstanding returns for our shareowners over the long term.
There seems to be an overall rut around the industrial sector (you can check my top dividend paying stocks list for this sector). HON is only one of many victims in this sector. The company celebrated its 9th double-digit dividend increase since 2010: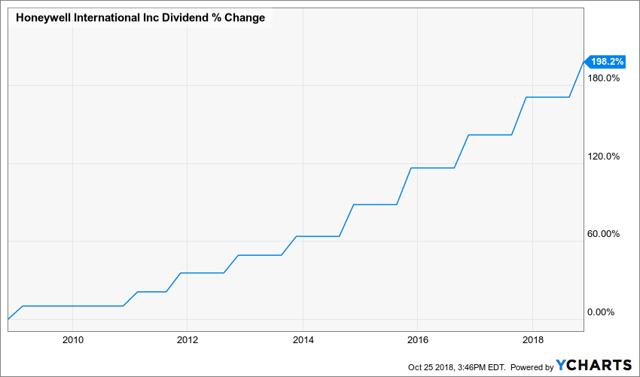 Source: YCharts
I used the dividend discount model with smaller dividend growth rate than what we have experienced in the past 10 years. With a dividend growth rate of 9% and 6.5%, I get a fair value of $172. Buying HON under $150 is definitely a good deal:
Input Descriptions for 15-Cell Matrix

INPUTS

Enter Recent Annual Dividend Payment:

$3.28

Enter Expected Dividend Growth Rate Years 1-10:

9.00%

Enter Expected Terminal Dividend Growth Rate:

6.50%

Enter Discount Rate:

9.00%

Discount Rate (Horizontal)

Margin of Safety

8.00%

9.00%

10.00%

20% Premium

$347.86

$207.03

$146.76

10% Premium

$318.87

$189.78

$134.53

Intrinsic Value

$289.88

$172.53

$122.30

10% Discount

$260.89

$155.28

$110.07

20% Discount

$231.91

$138.02

$97.84
Please read the Dividend Discount Model limitations to fully understand my calculations.
Texas Instruments (TXN) rewards shareholders with a 24% increase, and the market drops the stock on the floor
TXN is my favorite pick among this short list since management just rewarded us with a 24% dividend increase, but the market was heavily disappointed by modest revenue growth of 3.6% last quarter. The problem is that TXN has surfed on strong demand for its processor coming from the industrial and automotive industries. Demand has softened recently forcing management to reduce its Q4 guidance. The market panicked and shares tumbled by 8% on the earnings release date. That's what we call overreacting I guess.
TXN has the size ($89 billion in market cap) to benefit from the economy of scale and stay ahead of the competition. While there isn't much revenue growth over the past five years, the company's future looks bright. TXN benefits from a fragmented market by purchasing many manufacturers at a low price and consolidating its position in the analog chip business. With the rise of the Internet of Things, its chips will have the possibility of use in various other industries in the future. The company is also investing massively in R&D and its marketing sales team. It enables TXN to get more clients as its sales team is out in the field to push revenue to the next level.
TXN is a dividend achiever with 14 consecutive years of dividend increases. Considering the latest dividend increase, TXN has boosted its payout by 156% over the past five years only: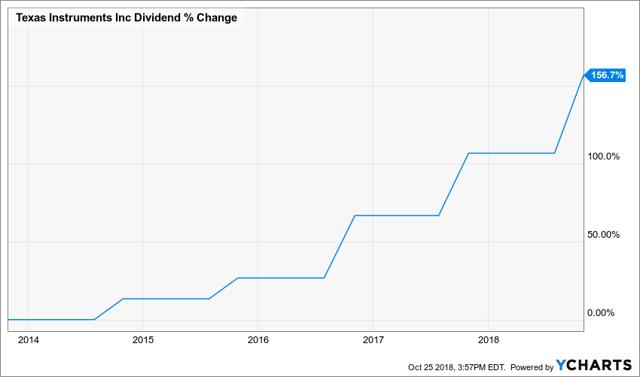 Source: YCharts
This was a strong statement made by the management. As TXN's payout ratio is around 50%, the company can afford increasing its payout with high-single- to double-digit numbers for several years ahead. As share value melted, TXN is now offering a 2.70% yield (as of October 25th). The company hasn't offered such generous yield since February 2016.
Final Thought
As the market goes up and down, there are several buying opportunities emerging. We are definitely not into "correction territories" yet, and more drops may arise. I personally prefer to invest my money as soon as I can in order to enjoy those juicy dividend payments.
When my son spills water on the counter right before dinner, I always tell myself that helping him getting autonomous is a long-term process. Sometimes, the market spills value on the floor and it's up to us to clean it and pick up the remaining pieces. Investing is also a long-term process.
Seriously, if you made it this far, it's because you liked what you read. Don't be a stranger; leave a comment and tell me what you think! I'm asking you one more thing; click on the "follow" button (it's orange, you can't miss it!) and you will get notified each time I write a great piece like this one.
Disclosure: I do hold HON, JPM, and TXN in my DividendStocksRock portfolios.
Additional disclosure: The opinions and the strategies of the author are not intended to ever be a recommendation to buy or sell a security. The strategy the author uses has worked for him and it is for you to decide if it could benefit your financial future. Please remember to do your own research and know your risk tolerance.
Many investors focus on dividend yield or dividend history. I respectfully think they're making a mistake. While both metrics are important, aiming at companies that have and show the ability to continue raising their dividend by high single-digit to double-digit numbers will make your portfolio outperform others. When a company pushes its dividend so fast, it's because it is also growing their revenues and earnings. Isn't this the fundamental of investing - finding strong companies that will grow in the future? If you are looking for a great combination of dividend and growth, check out my picks at Dividend Growth Rocks.
Disclosure: I am/we are long JPM, TXN, HON. I wrote this article myself, and it expresses my own opinions. I am not receiving compensation for it (other than from Seeking Alpha). I have no business relationship with any company whose stock is mentioned in this article.