Editor's note: Seeking Alpha is proud to welcome WMA, LLC as a new contributor. It's easy to become a Seeking Alpha contributor and earn money for your best investment ideas. Active contributors also get free access to the SA PRO archive. Click here to find out more »
Investment Thesis
Natural Resources companies, in particular, those in the energy sector, are arriving at their sweet spot in the business cycle. Rising inflation pressures (positive for commodity prices) and massive under-investment in the Natural Resources sector this cycle (built-in margin of safety) make commodity stocks an excellent inflation hedge in one of the few non-bubble equity asset classes.
The Commodity Super Cycle
Mark Twain is often credited for a version of the saying, "History doesn't always repeat itself, but it often rhymes," and regardless of who said it, it's a phrase we love here because it's representative of how we analyze markets.
Most investors are aware that the Commodities stocks are the only major equity asset class that has not participated in the U.S. equity market bubble from 2014 until present. Even after rallying off of 2016 lows, Metals & Mining stocks remain -50% to -60% below 2011 highs while Oil Exploration & Production stocks are on average -50% below 2014 highs. This contrasts sharply with bubble sectors, such as Technology +82% above 2014 highs, or Consumer Discretionary, +64% above 2014 highs.
In late 2015/early 2016, with crude oil prices sinking below $30/barrel, fears of bankruptcies rippled through investors' minds. The question was not IF but WHEN the wave of bankruptcies would start in Oil & Gas, Mining, & other Natural Resource sectors. Portfolio managers and individual investors scrambled to dump their Commodities & Natural Resource stocks after one of the longest bear markets in history. In the market financial jargon, we term this behavior "capitulation".
There are very few markets in history that have been as extreme as the current one: Buy Technology, win big; buy Resources, lose big. This type of market will not last forever. Benjamin Graham famously said, "In the short-run, the market is a voting machine, but in the long-run it is a weighing machine". Indeed, while the market is voting for FANG stocks in the short-run, we firmly believe, like Ben Graham, that in the long-run valuations are what matter. And over 200+ years of stock market history confirms that markets inevitably revert back to the mean. This time is not different. No matter what the current narrative recited by Wall Street folks.
The next section outlines how we analyze the commodity space today, in 2018. The following two sections demonstrate graphically the opportunity for investors in commodities today. The fourth section below explains our investment approach for taking advantage of the opportunity present in Natural Resources stocks.
Our Arguments For Investing In Commodities Today
Our motivation for investing in Natural Resource stocks today revolves essentially around three arguments:
Energy/Basic Materials stocks are the traditional end-of-cycle winners in a stock market cycle. Commodities and Natural Resource stocks allow you to hedge your investments against inflation. Natural Resource stocks offer, by far, the most attractive valuations among all equity classes.
On our first point, stock market cycles never play out in exactly the same manner over time, as evoked in our opening Mark Twain quote. However, sector rotation does tend to follow the same patterns, as all economic cycles run from low inflation/low interest rates early in the cycle to high inflation/high interest rates at the end of the cycle. After nine years of bull market and economic expansion, we believe that the end of the cycle is not far off. Early cycle performers, including Tech and Retail, will begin to underperform, giving way to traditional late cycle out-performers.
The chart below demonstrates the typical business cycle.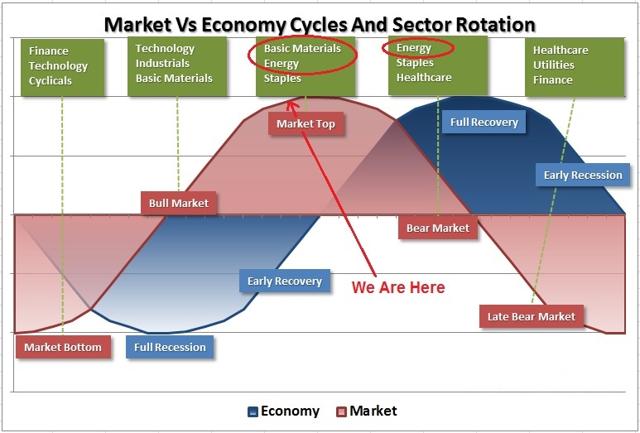 Source: streettalklive.com
Our second argument is based on the reality that central bank money printing and holding interest rates below the market equilibrium level for several years will have dire consequences for inflation. Inflation has been "masked" within the economy as most of the excess liquidity provided by the Federal Reserve found its way into the stock market (the only viable investment with bonds offering negative real rates for much of this cycle). Indeed, inflation has been present if your inflation barometer is the Dow Jones Industrial Average.
Unfortunately, only 30% of American households have investments in the stock market. The Dow Jones Industrial Average inflation has not been felt by most of the population. As the business cycle progresses and higher short-term interest rates begin to bite, money leaving Wall Street will spillover to Main Street. With the economy now at full employment (unemployment rate at 3.9%, wage gains at +2.9% y/y) and Trump fiscal stimulus kicking in, the spillover of liquidity provided by the Federal Reserve since 2009 into the economy will be the straw that breaks the back of this inflation camel. We do not believe that the Federal Reserve can absorb the excess liquidity in the economy quickly enough (via accelerated rate hikes) to check inflation. Herein lies the attractiveness of small/mid-cap Natural Resources companies as a hedge against this very real inflation risk that the market is not yet discounting. Investors have abandoned assets which protect against inflation. We believe that this will prove to be a mistake as inflation will become a significant concern for markets in the near future.
Our final point is simply the valuation argument. Little capital has moved into Natural Resource stocks this economic cycle relative to the index stocks, as illustrated by the first figure below. Distorted interest rates, money printing, and low inflation in the real economy have all contributed to major divergence in valuations among different equity classes. Investor interest in Natural Resource stocks is at record lows.

Source: WMA, Bloomberg
The next figure below is revealing of the valuation divergences with the S&P 500. The Shiller P/E (or cyclically adjusted price-to-earnings ratio, or CAPE) is a useful standard of comparison for valuations. It is defined as price divided by the average of ten years of earnings, adjusted for inflation. The Shiller P/E is used to assess likely future returns from equities over timescales of 10 to 20 years, with higher than average CAPE values implying lower than average long-term annual average returns. What we find striking is the spread between traditional P/E and Shiller P/E. Today, Energy is trading -7.3x BELOW its regular P/E. By comparison, Technology is 5.1x ABOVE its regular P/E and the entire S&P 500 is 8.1x ABOVE its regular P/E. If the Shiller P/E has any merit, Energy is offering the most attractive likely future returns.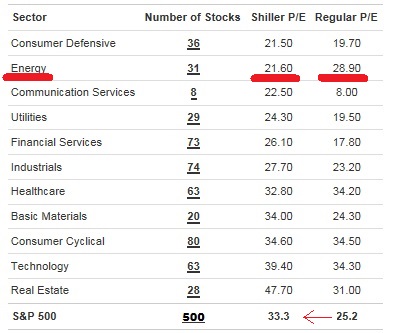 Source: WMA, Bloomberg
This figure is just to illustrate the divergences within the stocks in the S&P 500. We firmly believe the real attractiveness in valuations is not in energy and materials index stocks, bid up by the index investing craze, but rather in the small- and mid-cap Natural Resources companies neglected over this recent stock market cycle.
How attractive valued is the Energy sector? The next chart looking at earnings growth speaks volumes. Is the market just ignoring the earnings growth that has returned to the Energy sector?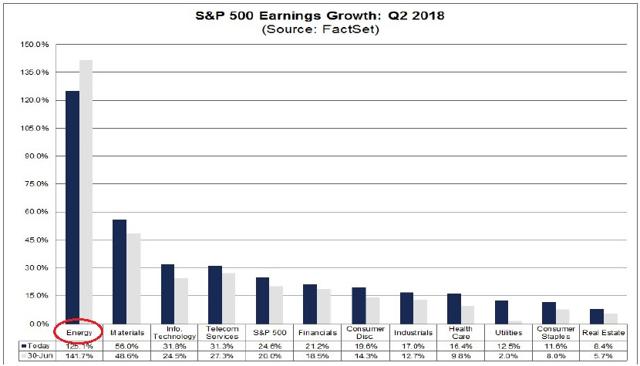 Source: FactSet
So, the question readers must be asking is "why are Energy companies not being bought up?" We see a couple of reasons:
The very low weight of energy sector in the benchmark indexes, as shown above. With everyone and his brother doing the passive index investing approach, very little of index money is coming into energy. The Tech mania. Growth at any price has worked for so long, no manager wants to risk taking on Value companies. Value managers have gone out of business, leaving fewer habitual investors to put a bid under Energy stocks. Value has been out of favor for a long time this cycle, but value will once again be looked upon as an important metric in stock selection.
In sum, our valuation argument is that of a return to the mean trade.
Hard Asset Prices On The Upswing…
Commodity Index prices rallied after the Financial Crisis only to top out in 2011, stagnate for a couple years, before collapsing in 2014. Numerous factors weighed on commodity prices, notably the cycle bottom on the Dollar Index in 2011 and subsequent +42% rally in the Greenback. Screwy monetary policies, which distorted global interest rates, and anticipations of a faster-moving Federal Reserve relative to foreign central banks, explain much of the weakness in commodity prices during this economic expansion.
Hard asset prices to a large extent and Natural Resource company stocks to a lesser extent are weakly correlated with risk assets, as represented by the S&P 500. As such, astute asset allocators seek to over/under-weight broad market equities or commodities according to where we are in the cycle. Our chart below shows the Gold Sachs Commodity Index relative to the S&P 500. We put on a 5-Year rolling moving average, the approximate duration of past commodity cycles. Setting the +50% and -50% as the upper and lower bounds, we get an excellent vision of the relative commodity/stock cycle.
When the curve is above +50%, stocks are relatively cheap and commodities are relatively expensive. Imagine buying the S&P 500 on the spikes higher in the curve below: 1981, 1991, 2003, 2009.
When the curve is below -50%, commodities are relatively cheap and stocks are relatively expensive. Imagine buying Commodities on the spikes down in the curve below: 1986, 1998, or… 2016.
Readers should get the message.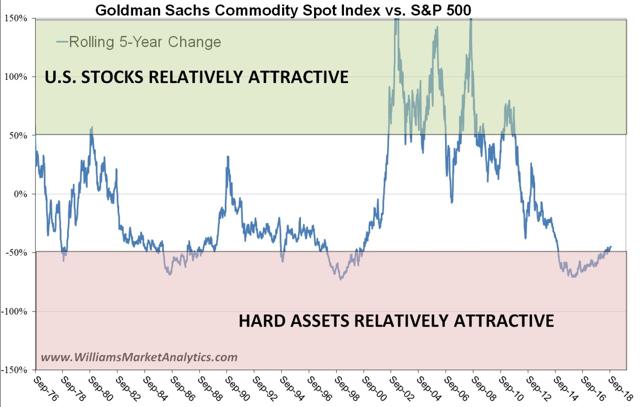 Source: WMA, Bloomberg
…Yet Commodity Stocks Slow To React
While Commodity price has likely bottomed relative to the S&P 500, investors have been slow to rotate out of Tech and Retail stocks and into Resource stocks. The next chart shows the S&P North America Natural Resource Sector (commodity stocks) relative to the S&P 500. Friends, commodity stocks, on a relative basis, are AT CYCLE LOWS. And this despite the start of the new Super Cycle in hard asset prices shown above.
It is interesting to note that last cycle, when the S&P 500 topped out in October 2007, commodity stocks continued to rally until July 2008, at which point the S&P 500 had already fallen -22%! On a relative basis, commodity stocks held on until 2011, when the commodity bear market began.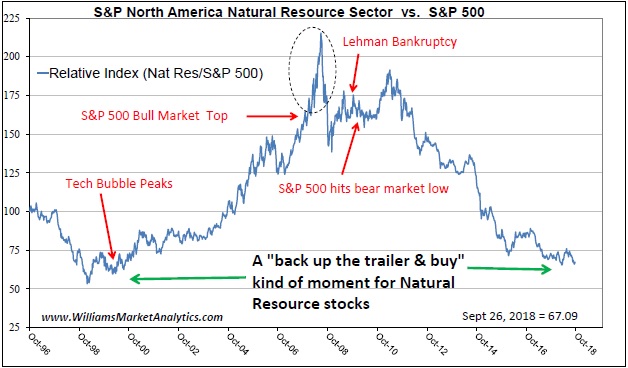 Source: WMA, Bloomberg
Actionable Take-Away
In a momentum market, attempting to invest in Value stocks has been an exercise in frustration. However as the economic cycle wears on, a rotation from Growth to Value will naturally play out. We recommend that investors carve out a selection of Resource companies within their equity portfolios, all the while maintaining favorite Tech stocks, if desired.
Adopting our investment methodology, an investor should diversify between "growth" Energy stocks and "value" Energy stocks. More important than considering the company's line of business today (Exploration & Production vs. Oil Services vs. Integrated Oil vs. Frackers), we believe investors should distinguish potential candidates by their current fundamental situation. In our Natural Resources portfolio, we are balancing "growth" names (strong forecasted year-on-year sales and year-on-year EPS; positive EPS and Sales revisions; and a reasonable PEG ratio) with "value" names (low forward P/E, low Enterprise Value/EBITDA, and low Price/Book relative to company history). As an example of our investment decision-making process, the following screenshot from our website demonstrates how we distinguish a good growth company from a good value company. British Petroleum (BP) qualifies as a good value company within the Energy space due to its high P/E (69.2 percentile), high Valuation (90.2 percentile) and high Market Value-to-EBITDA (76.2 percentile). Meanwhile, EOG Resources (EOG) qualifies as a good growth stock due to its high sector growth score (93.3 percentile), solid revisions numbers, and attractive price relative to the company growth rate (89.2 percentile). Of course, we also consider balance sheet data and profitability as well (scores not shown in image below).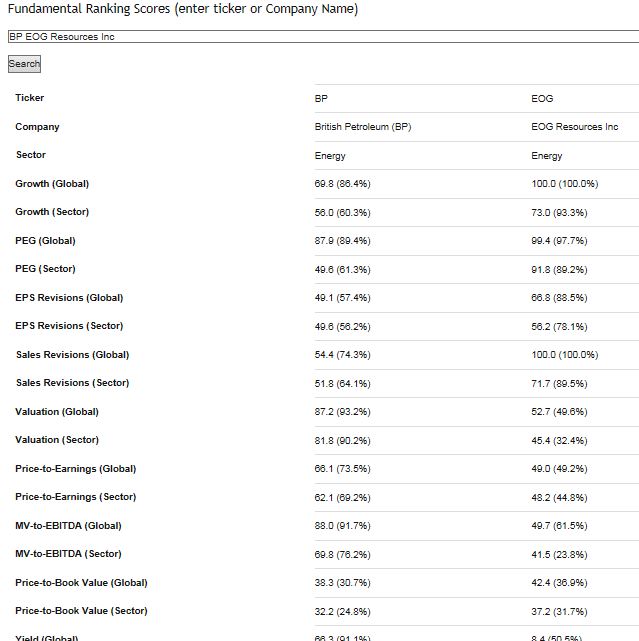 Source: WMA Stock Screener
As the market will likely begin transitioning from Growth to Value, it is important not to neglect Value, even if out-of-favor companies may remain a short-term drag on portfolio performance.
Conclusion
Being lonely with your investment decisions takes courage. Joining the crowd is reassuring and easy. However, the crowd does not earn outsized investment returns over the long haul. What should investors be afraid of today? What decision takes more courage, at the risk of under-performing in the short-run? Buying inexpensive oil or mining stock near cycle lows? Or buying a fully-valued (and them some) FANG technology stocks at cycle highs?
We don't have a crystal ball, but today's market environment seems to rhyme with 1929, the 1970s, and 1990/2000. These were all excellent times to rotate from broad market equities into commodities. Even if readers wish to hold on to their Momentum stocks, we encourage you to complement your portfolio by diversifying into Natural Resource stocks. Low correlations between Natural Resource companies and the broad equity market will help your portfolio survive when inflation returns in force and/or the over-bought equities index products revert down to their means.
Disclosure: I/we have no positions in any stocks mentioned, and no plans to initiate any positions within the next 72 hours.
I wrote this article myself, and it expresses my own opinions. I am not receiving compensation for it (other than from Seeking Alpha). I have no business relationship with any company whose stock is mentioned in this article.