Purpose
The purpose of this post is to provide hard data about bank stocks at a time when bank stock prices have been on a free fall. In this post I will overview 31 years of bank stock price performance and compare the recent decline in bank stock prices to prior big drops. I will also address current bank performance, including credit quality metrics, 3Q earnings compared to analyst estimates, and current and forward P/E ratios compared to history. Finally, I will disclose what I am doing with bank stocks at this time.
Bank Stocks Down -14% Past 90 Days
Chart 1 shows that big bank stocks are down -14% over the past 90 days compared to the S&P 500's decline of -5.8%.
Chart 1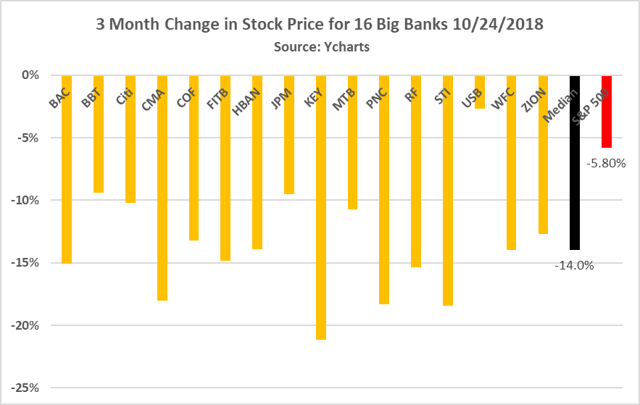 The -14% Drop is 7th Worst 90 Day Period Since 1987
Chart 2 shows the median change in big bank stock prices for every calendar quarter since 1987. The recent decline of -14% compares to an average quarterly change in stock price of +2.5% for the 126 quarters since 1987.
Chart 2 also highlights the nine quarters when bank stock prices dropped by more than -10%. Each decline is associated with unique systemic risks. In the 1980s concerns centered on bank failures (nearly 3,000 banks and S&Ls failed). In the 1990s concerns centered on international risks.
Since the Great Panic of 2008-09, bank investors have seen three calendar quarters end with double-digit declines in stock prices. In 2011 bank investors worried that the Obama Administration's public policy of forcing banks to pay multi-billion fines could see no end. In late 2015 and into 2016, investors feared a slowing global economy would trigger deflation; at the time, most banks' stock prices suffered, especially those with oil and gas exposure.
Chart 2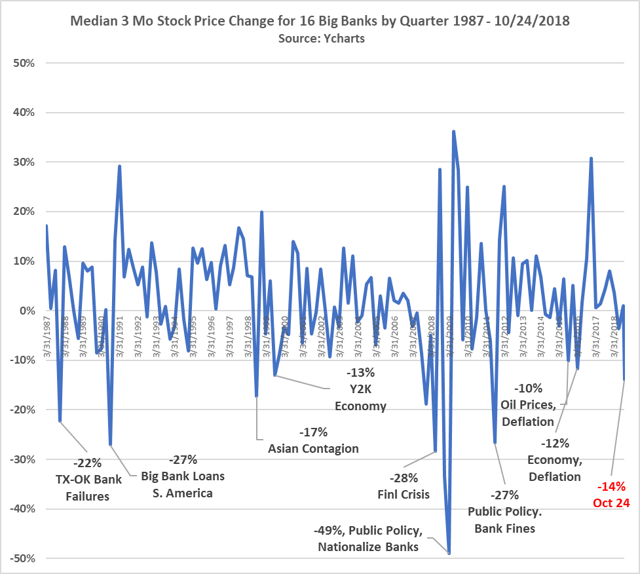 3Q Earnings Beat Estimates
So, what is driving the big drop in bank stock prices today?
The answer is not clear. While there are swirling concerns about geopolitical drivers, national politics, and rising interest rates, there is virtually zero evidence in bank financials that the industry faces an easily identified risk as witnessed in the past when bank stocks tanked.
To that point, 3Q bank earnings across the board are strong. Chart 3 shows that 15 of the 16 big banks beat analyst earnings estimates for the quarter. The only bank that did not, Wells Fargo (WFC), announced even more stock buybacks on top of the massive buyback announced after the Stress Tests results were made public in June.
My examination of 3Q earnings for 80 publicly traded banks reveals that 72% beat estimates. That's certainly impressive.
Moreover, as regular readers of my posts know, my favorite metric for bank investing is quarterly Provision Expense (annualized) as percentage of Assets. On this metric banks look great.
Based on my review of earnings reports of the 80 banks, I am estimating that the industry's Provision/Asset ratio for 3Q annualized will decline slightly from the excellent number reported by the FDIC for 2Q 2018. On top of that fact, few bank CEOs expressed credit concerns during the quarterly calls with analysts so far this quarter.
Chart 3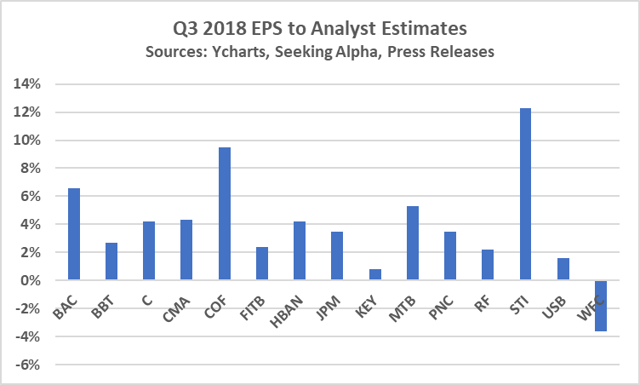 Bank Lending Too Sluggish?
Perhaps the concern is that bank lending is not growing fast enough to suit investors. Be careful for what you ask. As I document in my 2016 book, "Investing in Banks" (RMA), banks get in trouble when just the opposite happens. Historically, bank investors are punished severely when bank lending grows more than 2 or 3 times faster than GDP. That's not the case today. I estimate loan growth of 3.5% for the quarter ending September 30 compared to GDP growth of 3-4%. I have no problem with bank lending growing in line with GDP.
Forward Earnings Estimates Solid
Perhaps the reason bank stock prices have fallen so far is because analysts think earnings are going to tank in 2019 or because analysts have concluded that bank valuations are too high relative to future earnings. But, that's not the case either. Check out chart 4 which shows today's Forward P/Es to the average P/Es for the industry since 1987.
Chart 4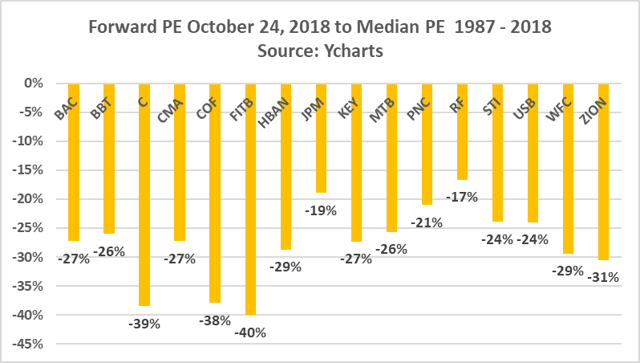 In case you are like me and are skeptical about bank analyst estimates, you may find the next chart of interest. Chart 5 annualizes the 3Q earnings as a multiple of each bank's closing stock price on October 24. These numbers give further evidence that bank stock prices appear reasonable.
Chart 5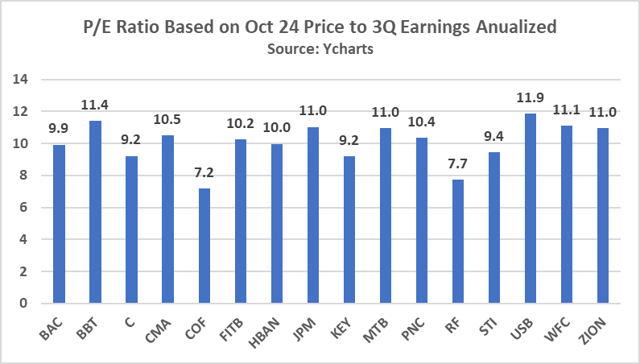 Bank Stocks Look Attractive at Today's Prices
Contrary to the sell-off, banks look attractive. Here are a few thoughts about some specific banks.
Good News: Banks Are Buying Back Cheaper Shares
The upside of the big drop in bank stock prices is that banks today can buy back more shares at lower prices than they originally thought they could in late June when the Federal Reserve approved share buybacks. This is incredibly good news to bank investors as a shrinking share count could offset slow loan growth. See my July 4, 2018 Seeking Alpha post which analyzed buybacks and identified six banks likely to benefit most in the coming year from buybacks.
What Am I Missing? What Can Go Wrong?
As a former bank risk manager, I keep asking myself what am I missing? What can go wrong?
Are we today in a position like we were in February 2016 and June 2016 when intrepid buyers of beaten down bank stocks picked up bank stocks at bargain basement prices? One way you'll know for sure is if you see bank insiders buying shares over the next few days. That's what happened in 2016.
As I've pointed out before, I pay extra attention to insider buys by CEOs and CFOs. They tend to be the most informed insiders. Over the past few days there has been a small spike in insider buying. Three banks that I follow are worth noting:
The CEO of Texas Capital (TCBI) picked up 3,000 shares at $67.59 on October 19. Source: www.openinsider.com. Price $64.29 October 25. He now owns 91,000 shares.
The CEO of ServisFirst (SFBS) picked up 250 shares at $35.34 on October 23. While 250 is not much, this adds to the CEO's current holding of 1.05 million shares. Source www.openinsider.com. Price October 25: $35.50.
Perhaps the most impressive recent bank insider buy is from the CEO of Wisconsin-based Associated Banc (ASB) who purchased $4.75 million in ASB preferred shares at $25 a share on September 21. Source: www.openinsider.com
The recent double-digit drop in price for most banks should trigger insider buying if my premise is correct about forward bank earnings. Be sure to monitor the Open Insider website over the next few weeks to see if any bank insiders make big purchases.
If you see any insiders selling at today's prices, beware. It's worth noting that the CFO of USBank (USB) sold 15,524 shares at $52.91 on October 19-20. That's not a positive sign.
My chief worry with bank investing long term is always credit quality. History proves repeatedly that banks get in trouble by growing too fast, and to grow fast, banks almost always take outsized credit risk. Eventually the bank's appetite for growth/risk is punished as the economy slows.
Readers of the Financial Times read a brief article today highlighting an interview with former Federal Reserve Board chair, Janet Yellen. While the full interview with her will not be published until October 26th, today's FT provided a sneak peek into her concern about growing risks associated with leveraged lending.
Investors in banks as well as bank loan funds will want to keep an eye on leveraged lending. When the former Fed chair expresses concern about credit risk contagion, investors best pay heed. While some big banks have modest exposure to leveraged lending, the majority of banks steer clear of this kind of lending.
In late 2015 and early 2016 Federal bank regulators (wisely in my view) cracked down hard on banks with increasing leveraged lending exposure. As a result, most banks got the message. In recent years, much of this lending has been done by private equity funds. Apparently Yellen believes there is contagion risk associated with the aggressive leveraged lending done in recent years. Her interview in the FT is must reading.
Retail and institutional investors participate in leverage lending through floating rate loan funds like the $10 billion Eaton Vance Floating Rate Advantage Bank Loan Fund (EIFAX). Chart 6 is interesting as it compares the change in price of EIFAX to four big bank stocks. Floating rate loan funds like EIFAX have not exhibited any distress, but should they begin to, investors will want to consider Yellen's concern for contagion.
Chart 6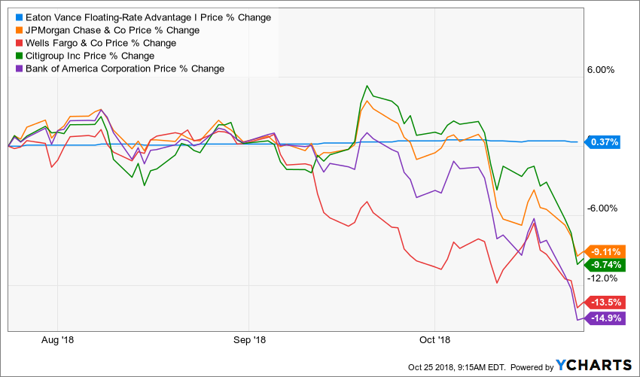 Another risk getting headlines of late is related to rising interest rates. As I discussed in considerable detail in the first two posts I wrote for Seeking Alpha, most big banks avoid taking interest rate risk. They position their balance sheets to be interest rate neutral. And that's good. Investors do not want banks betting on interest rates.
In fairness, let's be clear, rising rates certainly hurt some banks. These banks have clear markers: High loan to deposit ratios, heavy exposure to home mortgage lending, significant dependence on brokered deposits, and high and increasing funding costs.
None of the big banks fit this description. A moderate rise in rates is a manageable risk from a net interest margin perspective for the industry.
The big challenge rising rates bring to banks is credit quality. The Fed engineers rates upward in order to slow the economy to avoid pernicious inflation. As rates rise, banks get ever closer to a turn in the economy. When the economy turns, marginal borrowers can be hurt.
That's why I prefer to invest in banks with a proven history of successful lending "through the cycle." Fortunately, in recent quarters more and more bank CEOs, especially of the larger banks, are talking about their commitment to quality lending through the cycle. In other words, they claim to be ready for a slowdown.
Time will tell.
One other risk is worth noting. In my first book about banking, "Broke: America's Banking System" (RMA, 2013), I offer a forward view of the banking industry in 2020. In chapter 16 I contend that "in 2020, the greatest threat to the health of the banking system will be government debt and deficits."
My view has not changed. Banks will not do well in an world where unchecked government spending and debt bring inflation and rising interest rates. While that risk remains dormant today, it is brewing and eventually will be recognized. When it is, banks share prices will suffer meaningfully. But for now, the risk, like government deficits, is a can kicked down the road.
Be alert, however. This risk is real. Whether it will be realized in 2019 or 2020 or after, no one knows.
Closing Thoughts
The -14% drop in stock prices does not seem to be associated with a single catalyst driving the decline.
The decline comes at a time of broad market worries and uncertainties. Likely the uncertainty hurts bank stocks more than the general market for two reasons.
First, banks are a leveraged play on the economy, so it stands to reason, that deteriorating economic factors hurt bank stocks more than most non-banks.
Second, bank investors have long memories. The decline of -50%+ ten years ago burned a lot of investors. Long memories and a history of high volatility caution bank investors. It's hard to blame them for running to the exits when bank stock prices go south.
That said, there is absolutely no immediate evidence that credit quality is in trouble or on the brink of trouble. My research shows that the current Provision Expense ratio to be lower than any of the prior quarters when bank stock prices dropped by greater than -10%.
I am reducing my exposure to equities by a few percentage points by selling a few non-bank holdings. Some of the proceeds from those sales have been used to increase positions in my favored bank stocks, most notably, Huntington and Cullen/Frost (CFR). Should bank stocks continue to fall, absent a clear explanation, I will use liquidity to increase positions in favored banks.
As always, I am keeping a close eye on bank insider buying and selling. Should I see any selling among CEOs/CFOs in any of bank holdings, likely I will sell down my positions in concert with their action. On the other hand, I will likely be a buyer should informed insiders take positions in favored banks.
Disclosure: I am/we are long CFR, JPM, HBAN, EIFAX, BLK.
I wrote this article myself, and it expresses my own opinions. I am not receiving compensation for it (other than from Seeking Alpha). I have no business relationship with any company whose stock is mentioned in this article.
Additional disclosure: I have no current business relationship with any company mentioned in this post. However, I have in the past been paid to discuss banking trends with management/directors of one or more of the banks, but not during the past 12 months.