Earlier this month, I wrote up a bearish article on Home Depot (HD) suggesting that comparable sales year over year from here on out would be lower than normal and that the market may not yet be pricing that in.
The article was specific to retail sales in the building materials, garden equipment and supplies dealers sector where the sales have flattened more so month over month for the past 11 months and are now about to show little to no gains in year-over-year sales.
The advanced retail sales estimate for September were up just 1.47% year over year. Last September, retail sales for the sector were up 11.80% from the previous year. So a marked slowdown in year-over-year sales.
I wanted to step back and take a wider look at the entire residential sector to better gauge the state of the industry.
From what I have observed, it appears a larger slowdown that could take years to work through is on the way.
Entire Residential Sector
Anyone who's ever lived in a house knows full well, things depreciate and break down. New roof, new pipes, new furnace, a new kitchen or bath, another coat of paint, you get the idea. It takes a lot of work and a lot resources, money, time and energy to upkeep a home.
This depreciation and investment is recorded in the aggregate for the US economy.
Every year, we invest in our housing and stores like Home Depot, Lowe's (LOW), Sherwin Williams (SHW) for example, get our dollars that contribute to the investment we make in our homes.
At the same time, every day we use and abuse our homes, they depreciate. Even if we don't use them, they still depreciate. So important to appreciate.
This chart below shows the fixed investment and the consumption or depreciation of the capital investments.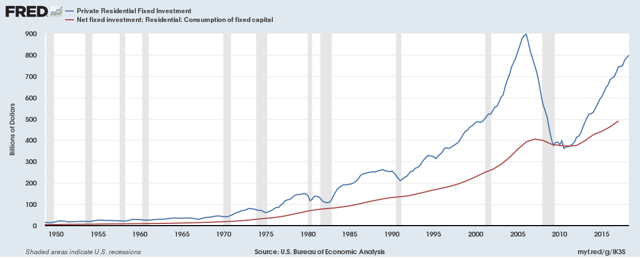 Every year, we invest more than we consume. This is what makes our living standards increase. Out homes are certainly larger than they used to be and likely have more appliances too.
The caveat of bigger homes is greater depreciation and more upkeep is required. More resources that is.
Using the same chart, I'm going to show the year-over-year percent change that will show us something also important.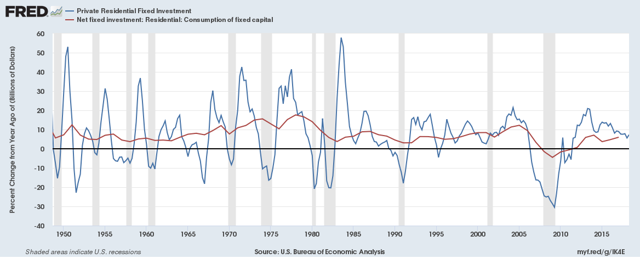 What this chart shows is that the investment component is substantially more volatile than the consumption. It's very cyclical.
Thus, it's not abnormal to see investment spending decline at a fast clip and even decline for multiple years at a time before the business cycle comes back up again.
Fixed Investment: Residential To GDP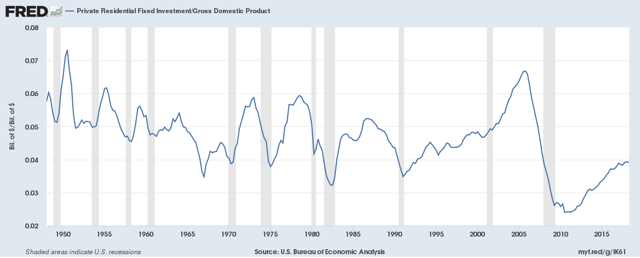 This chart shows the gross private residential fixed investment as a percent of GDP. This too is very cyclical and we've been moving higher for the past 7+ years.
Here we're looking at the year-over- year percent change of this relationship between residential fixed investment and GDP.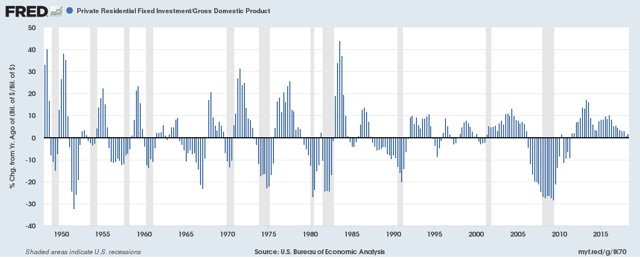 Simply observing this chart, we can see that there is a likelihood of another multiyear period simply where the rate of change in residential fixed investment is slower than the overall GDP.
Net Fixed Investment
Every American should be a little concerned about the state of housing. While house prices are high, the level of investment going into them has been declining.
The "Net" fixed investment is the difference between the investment and the depreciation.
This is best appreciated as a percent of GDP. This chart goes back all the way to 1929!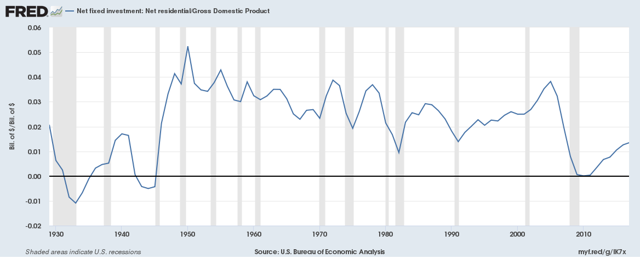 Both during the depths of the great depression and again during WWII, did America see a time when we consumed more of our housing than we invested in it? It happens.
Post WWII, the so-called, Greatest Generation, came home from the war and built all the housing that still mostly sits today.
In 2009 and 2010, net domestic investment was near zero.
Things like this happened over the course of just 5 years in places like Detroit, where tremendous pain was felt with the collapse in the auto industry in that city.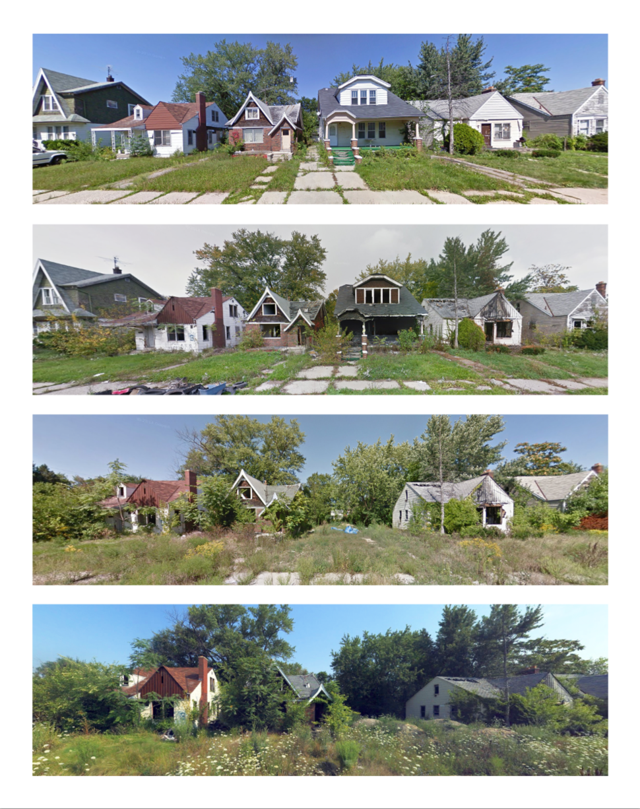 Source: Huffington Post/Photo Credit: Alex Alsup
Per the article of the source for this photo: Only one person lived on this block of Hazelridge Street in 2014. The block is shown in September 2009, October 2011, September 2013 and August 2014 images from Google and Bing.
Reasons For Slowdown In Residential Investment
Higher interest rates are a factor that could very well be affecting appetite for home buying and investing in ones home.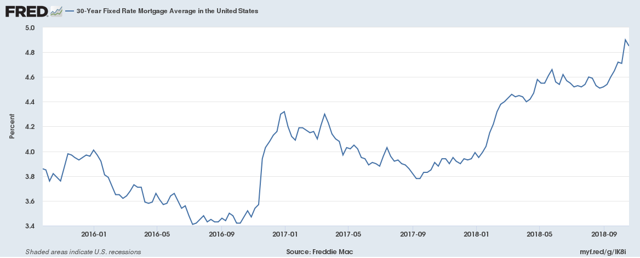 The average 30-year fixed mortgage rate reached 4.90% earlier this month.
New home sales are down 13.2% in September year over year. There is a clear downtrend in new home sales.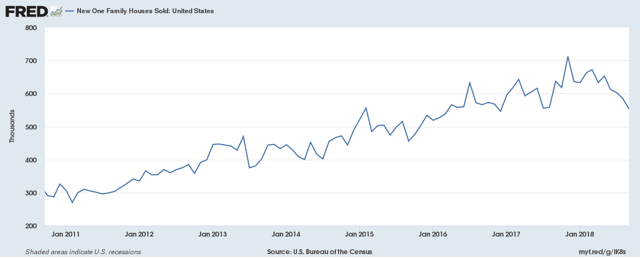 Politics and the political uncertainty could also be affecting people's confidence to invest in property. This goes for taxes as well. How States are going to respond to pension problems and the own local fiscal situations. Same goes for the Federal level as well. Capping the tax deduction on Federal income taxes from state property taxes is another factor creating uncertainty.
It takes a lot of work to fix and upkeep a house. Will to do the work is another factor that should be considered. No place for the loafer.
Signs Of Slowdown
Lumber prices have collapsed. Good, because I need to be buying some pressure-treated wood for a deck I'm trying to build.
The lumber price collapse could be telling us something.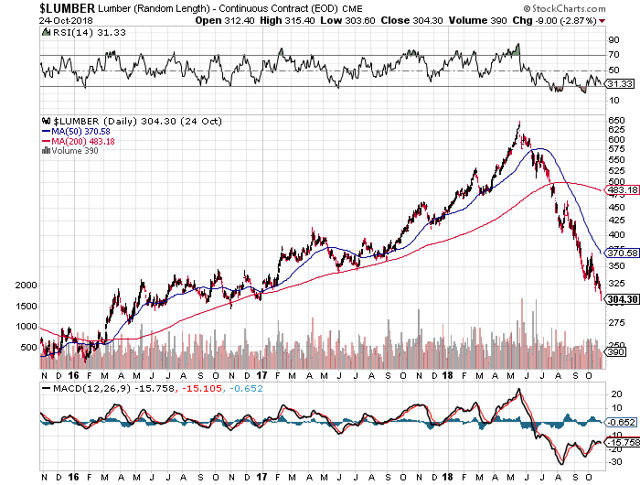 This alone is likely going to be a contributing factor to a potential slowdown in year-over-year sales at Home Depot and Lowe's and the building materials sector as a whole.
4 Stocks To Watch
There are many stocks in this sector that could very well be affected by a cyclical downturn in residential investment.
I'll show just 4. Home improvement retailers Home Depot and Lowe's, Paint store and supplier, Sherwin Williams and homebuilder Toll Brothers (TOL).
Home Depot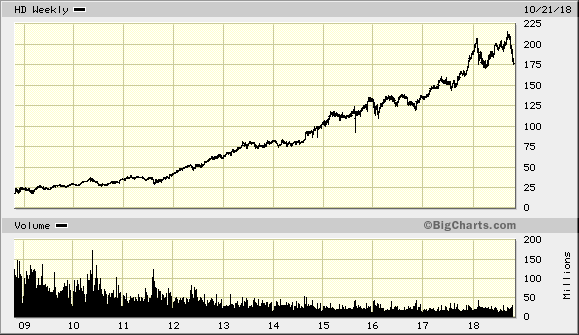 Lowe's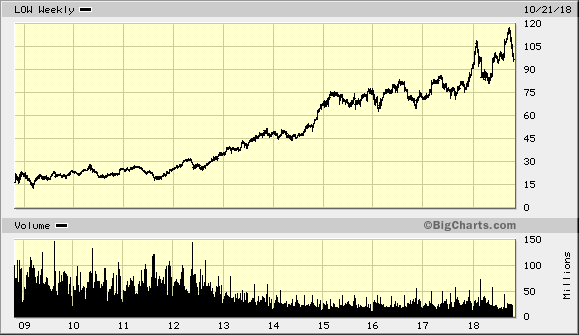 Sherwin Williams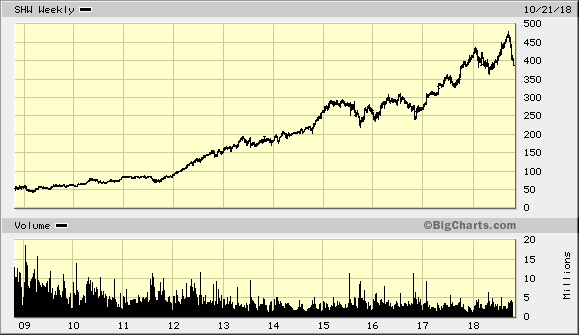 Toll Brothers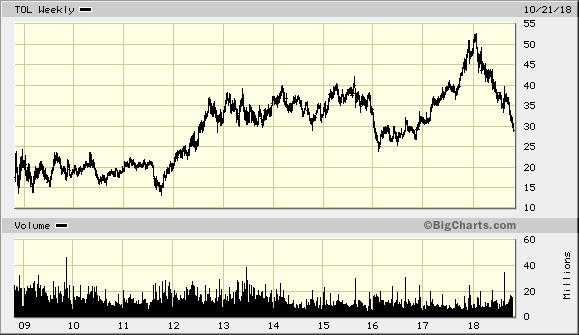 Most of the stocks in this sector have already seen strong pullbacks.
Conclusion
The recovery in residential fixed investment was good and it lasted nearly 8 years. This recovery however seems to be getting tired and that may well be as good as it gets.
Like many times before, the rate of change in residential fixed investment may now become slower than the rate of change in GDP. This will imply a slowdown in growth than what we saw in previous year during the recovery.
I don't believe the markets are pricing this in at current prices.
Disclosure: I/we have no positions in any stocks mentioned, and no plans to initiate any positions within the next 72 hours. I wrote this article myself, and it expresses my own opinions. I am not receiving compensation for it (other than from Seeking Alpha). I have no business relationship with any company whose stock is mentioned in this article.