Introduction
By and large, the quarterly GDP report is like a minute examination in the rearview mirror. It tells you in great detail where we've been, but with several important exceptions, which I'll discuss below, little about where we are going.
In the "where we've been" department, real GDP grew at a 3.5% annualized rate in the third quarter. Real personal consumption expenditures, which are the most important single component, grew at 1.0%: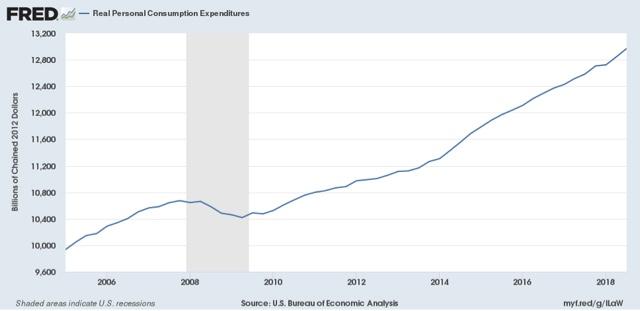 Also important, particularly in light of business' "front-running" Trump's tariffs, changes in private inventory accumulation added 2.1% to real GDP: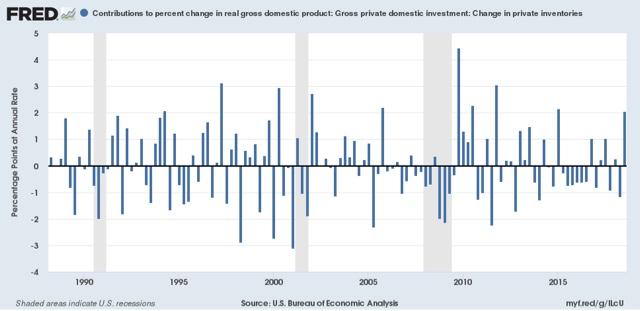 This puts Q3 in the top 10% of all quarters over the last 30 years in which inventory accumulation contributed the most to GDP.
So much for the rearview mirror. But as usual, my attention is focused not on where we "are," or more properly, recently "were," than where we "will be" in the months and quarters ahead.
Mixed signals from housing and business income
There are two leading components of the GDP report: Real private residential investment and corporate profits. Because the latter will not be released until the first revision of the report one month from now, I make use of proprietors' income as a more timely if less reliable placeholder.
The upshot is that the forward looking components of the GDP report give mixed signals.
Private residential fixed investment, whether measured nominally (blue) or in real terms (red), declined slightly: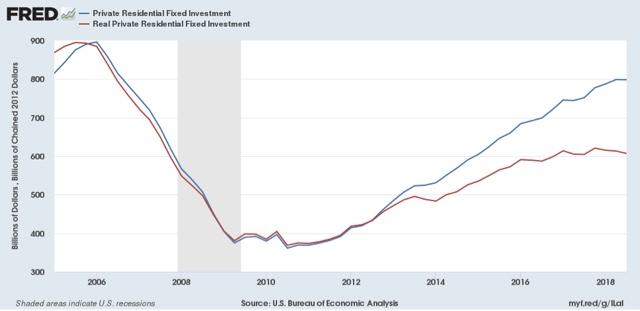 More importantly, according to Prof. Edward Leamer, private residential fixed investment (measured nominally) has in the past typically peaked about seven quarters before the onset of a recession. In real terms it has usually peaked even a little sooner.
Unsurprisingly given the above, whether measured nominally (blue) or in real terms (red), it declined in the third quarter as a share of GDP: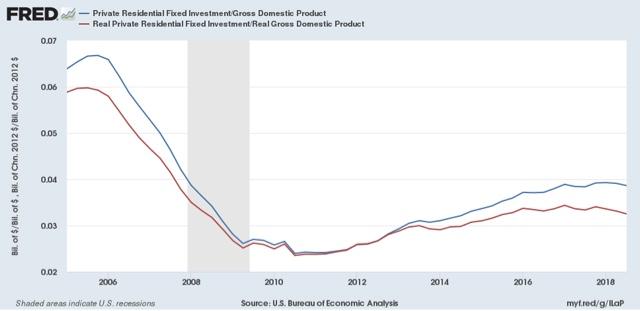 Nominally this is the first, very slight (-0.8%) decline. In real terms it has not made a new high since six quarters ago. Needless to say, in nominal terms it's nowhere near signaling a recession yet. But if Q2 was the peak for this metric, then the average period for the onset of the next recession would be Q1 2020.
On the other hand, proprietors' income rose about 0.8% nominally in the third quarter. The below graph compares it with the less timely but more accurate corporate profits: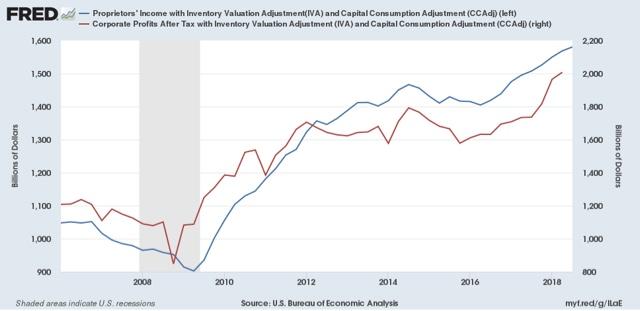 In short: one long leading indicator declined, the other rose.
Conclusion
To reiterate what I said six months ago in response to Q1 GDP, while the economy is very likely to continue to grow through 2018, together this most recent data suggests a more questionable picture heading in 2019. Since then I have pointed out repeatedly that there are many signals suggesting a slowdown in 2019, just as those signals did in 1984, 1994, and 1996.
There's nothing in this morning's good Q3 GDP report that causes me to change that view. Almost all of the long leading indicators except for credit conditions and corporate profits have continued to weaken, and there is now pervasive evidence that the important component of housing has tipped over to negative.
Disclosure: I/we have no positions in any stocks mentioned, and no plans to initiate any positions within the next 72 hours.
I wrote this article myself, and it expresses my own opinions. I am not receiving compensation for it (other than from Seeking Alpha). I have no business relationship with any company whose stock is mentioned in this article.