In a challenging environment for industrials, we see specific areas that could catch the tailwind of a growing trend.
Globally, the industrial sector is facing a number of headwinds - elevated valuations, a slowing in leading indicators, and weakening demand from China and Europe. The Global Allocation Fund holds an underweight to the sector as a whole; however, despite these obstacles, we see value in specific segments that stand to benefit from the growth of the world's middle class.
At $40 trillion per year, spending by the middle class accounts for two-thirds of all spending globally and one-third of global gross domestic product. Despite overall moderating global growth, the middle class is expected to continue to grow strongly, with 2% of the world's population joining the middle class annually. Universally, as a person's disposable income increases, they tend to spend more on luxury items such as travel.
Global passenger air traffic has been growing steadily and creates opportunities for airlines operating in specific areas of both the emerging markets and the developed world. Notably, within Brazil, passenger traffic is expected to grow at a 10% compounded annual growth rate through the next several years. The Asia-Pacific region is expected to be the source of more than half of the world's new passengers over the next two decades.
Airline stocks are not the only beneficiaries of this travel growth trend. As more planes take flight, the jet engines that power them are needed in greater quantities, and their increased use leads to more frequent and intensive servicing, driving higher revenues for jet engine manufacturers, which carry high margins.
In the BlackRock Global Allocation Fund (MUTF:MALOX), we seek out companies with particularly compelling prospects for capitalizing on this global trend. For example, we hold exposure to companies in Japan that can benefit from the rapid growth of inbound visitors from China. Outbound travel from Japan is also increasing due to income growth and high corporate profits driving increased business travel. The fund's exposure to Japanese rail companies is focused on the rising prominence of commercialized train stations that have been built up to be fully-integrated service centers with small-scale shopping malls.
Visitor traffic to Japan on the rise
Annual visitors to Japan have tripled over the last decade, creating opportunities for Japanese air and rail companies.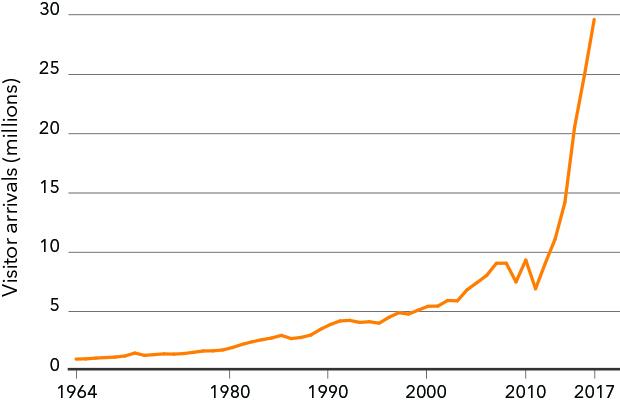 Source: Japan National Tourism Organization, December 2017.
© 2018 BlackRock, Inc. All rights reserved.
*Source: BlackRock, Bloomberg. As of 9/30/18. Volatility represented by annualized standard deviation of monthly returns for Institutional shares, all other share classes will vary, from first month-end after inception (2/28/89). Standard deviation for the fund: 9.50% and for global stocks: 14.91%. Performance based on annualized returns since fund inception. Annualized returns for the fund (institutional shares): 9.69% and for global stocks: 7.50%. Past performance is no guarantee of future results. Global stocks represented by the FTSE World Index.
†Source: Morningstar. The Fund has one of the longest "Manager Tenure" as defined by Morningstar among funds in Morningstar's World Allocation category.
Investing involves risk, including possible loss of principal.
The opinions expressed are those of the fund's portfolio management team expressed as of September 30, 2018, and may change as subsequent conditions vary. Information and opinions are derived from proprietary and non-proprietary sources deemed by BlackRock to be reliable, are not necessarily all-inclusive and are not guaranteed as to accuracy. There is no guarantee that any of these views will come to pass. Reliance upon information in this material is at the sole discretion of the reader. Percent of net assets figures represent the Fund's exposure based on the economic value of securities adjusted for futures, options, swaps and convertible bonds.
Stock values fluctuate in price so the value of your investment can go down depending on market conditions.
International investing involves risks, including risks related to foreign currency, limited liquidity, less government regulation and the possibility of substantial volatility due to adverse political, economic or other developments. These risks often are heightened for investments in emerging/ developing markets or in concentrations of single countries.
Fixed income risks include interest-rate and credit risk. Typically, when interest rates rise, there is a corresponding decline in bond values. Credit risk refers to the possibility that the bond issuer will not be able to make principal and interest payments.
Non-investment-grade debt securities (high-yield/junk bonds) may be subject to greater market fluctuations, risk of default or loss of income and principal than higher-rated securities.
Asset allocation and diversification may not protect against market risk, loss of principal or volatility of returns.
Short-selling entails special risks. If the fund makes short sales in securities that increase in value, the fund will lose value. Any loss on short positions may or may not be offset by investing short-sale proceeds in other investments.
The funds may use derivatives to hedge its investments or to seek to enhance returns. Derivatives entail risks relating to liquidity, leverage and credit that may reduce returns and increase volatility.
Carefully consider the Funds' investment objectives, risk factors, and charges and expenses before investing. This and other information can be found in the Funds' prospectuses or, if available, the summary prospectuses which may be obtained visiting the iShares ETF and BlackRock Mutual Fund prospectus pages. Read the prospectus carefully before investing.
©2018 BlackRock, Inc. All rights reserved. BLACKROCK, BLACKROCK SOLUTIONS, BUILD ON BLACKROCK, ALADDIN, iSHARES, iBONDS, iRETIRE, LIFEPATH, SO WHAT DO I DO WITH MY MONEY, INVESTING FOR A NEW WORLD, BUILT FOR THESE TIMES, Target Date Explorer the iShares Core Graphic, CoRI and the CoRI logo are registered and unregistered trademarks of BlackRock, Inc., or its subsidiaries in the United States and elsewhere. All other marks are the property of their respective owners.
USR1018U-634095-1965423
This post originally appeared on the BlackRock Blog.