Elevated trade protectionism marks the greatest downside risk to the global expansion and is a prime driver of heightened macro uncertainty. The U.S. trade conflict with China is at the heart of higher trade tensions. We find that trade tensions have likely served as a drag on risk assets, even though it is unclear if the measures taken so far have hurt global trade activity much. This leaves the global economy in an uneasy equilibrium. Yet amid the uncertainty, the BlackRock G7 Growth GPS points to upside risks relative to the consensus. A major escalation of trade tensions or signs that prolonged tensions are hurting confidence would make us negative on the growth outlook.
Highlights
Many model-based estimates of trade actions so far suggest the direct impact of tariffs on trade activity should be modest. Yet many of these simulations do not account for deeply integrated global value chains - and these value chains can greatly magnify the negative effects of trade actions. A sharp fall in private sector confidence, along with modestly tightening financial conditions outside the U.S., could also further damage activity and risk assets.
Growth in the volume of global trade has slowed this year, but it is not clear that tariffs are the main driver. Our new daily trade "nowcast" points to global trade expanding at a steady but subdued 2% annual pace in the near term - softer since last year but on par with global GDP growth.
We find some signs that the heightened macro uncertainty sparked by U.S. trade policy is likely holding back equities and may be a key factor in this year's emerging market (EM) volatility. We find this lingering "uncertainty effect" weighing on risk assets as trade conflict headlines still dominate the news.
We would become wary on the global growth outlook if there were a significant increase in tariffs and other trade barriers or if confidence were being hit. On the flip side, any easing of trade tensions - particularly between the U.S. and China - could boost risk assets and some EM currencies. Still, we see these tensions as a part of a broader strategic standoff between the U.S. and China that will likely persist.
Snapshot
Trade tensions are here to stay. To get a live read on how trade dynamics are evolving in the face of protectionism, we have developed a real-time nowcast of trade growth. Trade growth has slumped from last year's remarkable pace of around 5%, but in our view it is not clear that trade tensions are the main culprit. Our nowcast suggests that trade should grow at an annualised pace of 2% over the next few months, a subdued level given the strength of global growth. For the past few months, the reported data were trailing our nowcast but have now rebounded. Trade growth at a 2% pace for the remainder of 2018 would result in a full-year growth rate of around 3.5%. That's just below the IMF's October 2018 forecast for this year and next - but in line with global GDP growth and better than recent PMI data on export orders have suggested.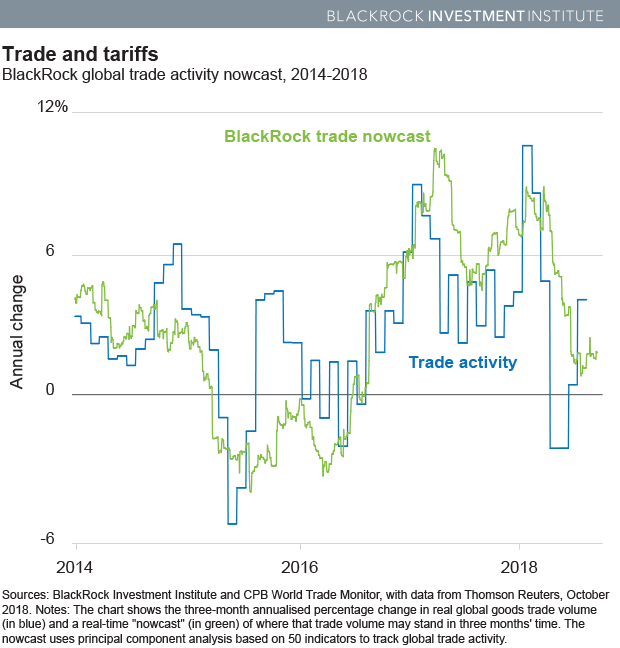 © 2018 BlackRock, Inc. All rights reserved.
This material is prepared by BlackRock and is not intended to be relied upon as a forecast, research or investment advice, and is not a recommendation, offer or solicitation to buy or sell any securities or to adopt any investment strategy. The opinions expressed are as of October 2018 and may change as subsequent conditions vary. The information and opinions contained in this material are derived from proprietary and nonproprietary sources deemed by BlackRock to be reliable, are not necessarily all inclusive and are not guaranteed as to accuracy. As such, no warranty of accuracy or reliability is given and no responsibility arising in any other way for errors and omissions (including responsibility to any person by reason of negligence) is accepted by BlackRock, its officers, employees or agents. This material may contain 'forward looking' information that is not purely historical in nature. Such information may include, among other things, projections and forecasts. There is no guarantee that any forecasts made will come to pass. Reliance upon information in this material is at the sole discretion of the reader.
In the U.S., this material is for public distribution. In the EU issued by BlackRock Investment Management (UK) Limited (authorised and regulated by the Financial Conduct Authority). Registered office: 12 Throgmorton Avenue, London, EC2N 2DL. Registered in England No. 2020394. Tel: 020 7743 3000. For your protection, telephone calls are usually recorded. BlackRock is a trading name of BlackRock Investment Management (UK) Limited. This material is for distribution to Professional Clients (as defined by the FCA Rules) and Qualified Investors and should not be relied upon by any other persons. For qualified investors in Switzerland, this material shall be exclusively made available to, and directed at, qualified investors as defined in the Swiss Collective Investment Schemes Act of 23 June 2006, as amended. Issued in the Netherlands by the Amsterdam branch office of BlackRock Investment Management (UK) Limited: Amstelplein 1, 1096 HA Amsterdam, Tel: 020 - 549 5200. In South Africa, please be advised that BlackRock Investment Management (UK) Limited is an authorised Financial Services provider with the South African Financial Services Board, FSP No. 43288. In Dubai: This information can be distributed in and from the Dubai International Financial Centre (DIFC) by BlackRock Advisors (UK) Limited ‒ Dubai Branch which is regulated by the Dubai Financial Services Authority ("DFSA") and is only directed at 'Professional Clients' and no other person should rely upon the information contained within it. Neither the DFSA or any other authority or regulator located in the GCC or MENA region has approved this information. This information and associated materials have been provided for your exclusive use. This document is not intended for distribution to, or use by, any person or entity in any jurisdiction or country where such distribution would be unlawful under the securities laws of such. Any distribution, by whatever means, of this document and related material to persons other than those referred to above is strictly prohibited. For investors in Israel: BlackRock Investment Management (UK) Limited is not licensed under Israel's Regulation of Investment Advice, Investment Marketing and Portfolio Management Law, 5755-1995 (the "Advice Law"), nor does it carry insurance thereunder. In Singapore, this is issued by BlackRock (Singapore) Limited (Co. registration no. 200010143N). In Hong Kong, this material is issued by BlackRock Asset Management North Asia Limited and has not been reviewed by the Securities and Futures Commission of Hong Kong. In Korea, this material is for Professional Investors only. In Taiwan, independently operated by BlackRock Investment Management (Taiwan) Limited. Address: 28/F, No. 95, Tun Hwa South Road, Section 2, Taipei 106, Taiwan. Tel: (02)23261600. In Japan, this is issued by BlackRock Japan. Co., Ltd. (Financial Instruments Business Operator: The Kanto Regional Financial Bureau. License No375, Association Memberships: Japan Investment Advisers Association, the Investment Trusts Association, Japan, Japan Securities Dealers Association, Type II Financial Instruments Firms Association.) For Professional Investors only (Professional Investor is defined in Financial Instruments and Exchange Act) and for information or educational purposes only, and does not constitute investment advice or an offer or solicitation to purchase or sells in any securities or any investment strategies. In Australia, issued by BlackRock Investment Management (Australia) Limited ABN 13 006 165 975, AFSL 230 523 (BIMAL). This material is not a securities recommendation or an offer or solicitation with respect to the purchase or sale of any securities in any jurisdiction. The material provides general information only and does not take into account your individual objectives, financial situation, needs or circumstances. BIMAL, its officers, employees and agents believe that the information in this material and the sources on which it is based (which may be sourced from third parties) are correct as at the date of publication. While every care has been taken in the preparation of this material, no warranty of accuracy or reliability is given and no responsibility for the information is accepted by BIMAL, its officers, employees or agents. No guarantee as to the repayment of capital or the performance of any product or rate of return referred to in this material is made by BIMAL or any entity in the BlackRock group of companies. In China, this material may not be distributed to individuals resident in the People's Republic of China ("PRC," for such purposes, excluding Hong Kong, Macau and Taiwan) or entities registered in the PRC unless such parties have received all the required PRC government approvals to participate in any investment or receive any investment advisory or investment management services. For other APAC countries, this material is issued for Institutional Investors only (or professional/sophisticated/qualified investors, as such term may apply in local jurisdictions) and does not constitute investment advice or an offer or solicitation to purchase or sell in any securities, BlackRock funds or any investment strategy nor shall any securities be offered or sold to any person in any jurisdiction in which an offer, solicitation, purchase or sale would be unlawful under the securities laws of such jurisdiction. In Canada, this material is intended for permitted clients only. In Latin America and Iberia, this material is for educational purposes only and does not constitute investment advice nor an offer or solicitation to sell or a solicitation of an offer to buy any shares of any fund (nor shall any such shares be offered or sold to any person) in any jurisdiction in which an offer, solicitation, purchase or sale would be unlawful under the securities law of that jurisdiction. If any funds are mentioned or inferred to in this material, it is possible that some or all of the funds have not been registered with the securities regulator of Brazil, Chile, Colombia, Mexico, Panama, Peru, Portugal, Spain, Uruguay or any other securities regulator in any Latin American country and thus might not be publicly offered within any such country. The securities regulators of such countries have not confirmed the accuracy of any information contained herein. The information provided here is neither tax nor legal advice. Investors should speak to their tax professional for specific information regarding their tax situation. Investment involves risk including possible loss of principal. International investing involves risks, including risks related to foreign currency, limited liquidity, less government regulation, and the possibility of substantial volatility due to adverse political, economic or other developments. These risks are often heightened for investments in emerging/developing markets or smaller capital markets.
©2018 BlackRock, Inc. All Rights Reserved. BLACKROCK is a registered trademark of BlackRock, Inc. All other trademarks are those of their respective owners.
BII1018U/E-626020-1938700
This post originally appeared on the BlackRock Blog.