In this article, we examine the significant weekly order flow and market structure developments driving Energy Select Sector SPDR ETF's (NYSEARCA:XLE) price action.
21-26 October 2018:
This week's auction saw failure of last week's unsecured low, 71.47s, as aggressive sell-side continuation developed to 65.38s, within spring 2018's key demand cluster.
This week's auction saw sell-side breakdown early week as last week's unsecured low, 71.47s, failed as expected. Initiative selling entered, 71.61s-71.53s, driving price aggressively lower through mid-week, achieving a stopping point, 66.15s, in Wednesday's auction. Sellers trapped amidst buying interest, developing micro-balance, 66.15s-67.67s, into Friday.
A minor probe lower of the stopping point developed to 65.38s ahead Friday's NY close, up ticking slightly before settling at 66.48s.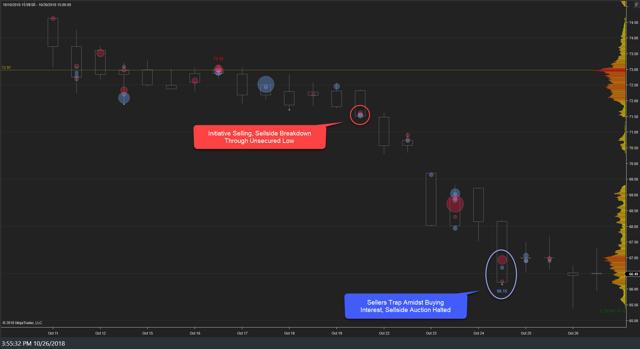 NinjaTrader
This week's auction saw price discovery lower through last week's unsecured low into key demand from spring 2018. The market response in this area will be key to the larger context. Failure within this cluster would likely result in sell-side continuation to test 2017 support, 61.78s. Buy-side defense within this cluster will likely result in eventual rotation back to 2018 supply overhead, 78s-79.42s.
Looking ahead, following this week's aggressive sell-side auction into key demand, balance development may ensue as the market digests the recent long liquidation. From a structural perspective, the highest probability path following the sell-side auction is for balance development. Failure of the current stopping point low, 65.38s, would result in continued sell-side activity.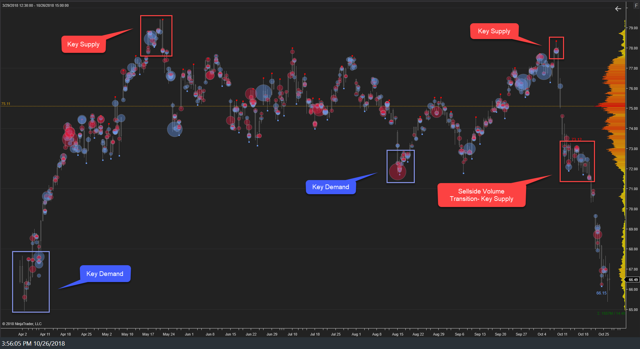 NinjaTrader
It is worth noting that sentiment based on the S&P Energy Sector Bullish Percent Index reflects an aggressive decline in bullish sentiment. From a sentiment perspective, the market is entering an area of bearish extreme now. Asymmetric opportunity develops when the market exhibits extreme bullish or bearish sentiment with structural confirmation. Given these empirical facts within the context of a seasonally weak period from April- October and the structural developments that occurred this week, caution would be advised at the current demand cluster as a momentum low has likely developed ahead of a structural price low.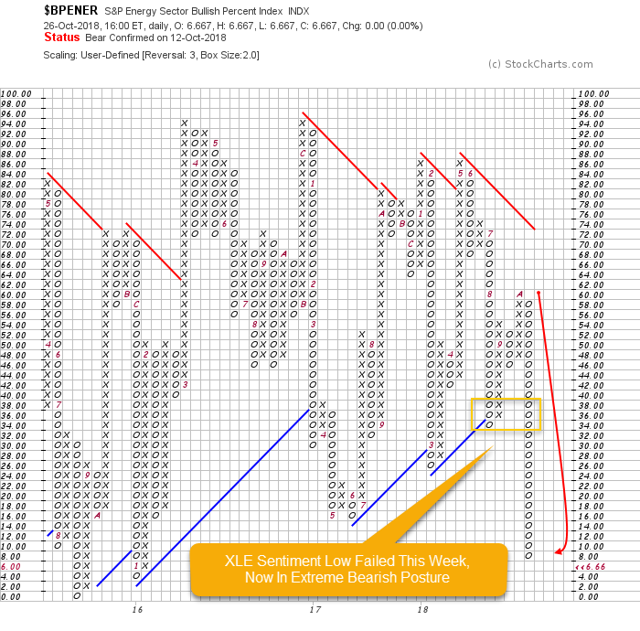 StockCharts
The market structure, order flow, and sentiment posture will provide the empirical evidence needed to observe where asymmetric opportunity resides.
Disclosure: I/we have no positions in any stocks mentioned, and no plans to initiate any positions within the next 72 hours.
I wrote this article myself, and it expresses my own opinions. I am not receiving compensation for it (other than from Seeking Alpha). I have no business relationship with any company whose stock is mentioned in this article.