Yesterday I had a chance to speak with Kenny Polcari on my podcast about the recent market volatility, his thoughts about the upcoming midterm election's effect on markets - and how he likes his martini after work.
Polcari has been on the NYSE trading floor for 38 years now, making him almost as much of an icon as the exchange itself. In my most recent podcast with him, I wanted to get his take on several things:
1. The recent bout of volatility the market has had over the last two weeks
2. Whether or not high frequency trading is exacerbating moves
3. Whether or not he thought another 2008 scenario was possible
4. Whether or not he thought hyperinflation was a possibility
5. Whether or not he thought the federal reserve will continue to hike interest rates.
Polcari talked to me about why he believed that the Federal Reserve needed to continue hiking interest rates regardless of the volatility in the markets. He also explained to me that he believed that one day we would have an inflation print that would "be a runaway number".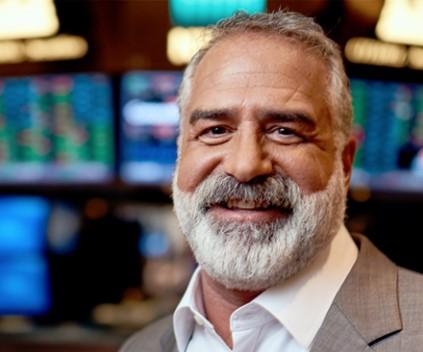 In addition to this, he told me about why he believes the Dow could drop 1000 points in a day if Democrats win both the Senate and the House during midterm elections. He prognosticated that they will only win the House and that the market will stay relatively stagnant. He predicts that if Republicans win the house, the market could rally hard.
Speaking to Kenny is always an exciting endeavor and I'm happy to present my podcast with him here.
(Warning: Some explicit language)
Kenny Polcari graduated from Boston University, School of Management in 1983 with a B.S. / B.A. degree: concentration finance. He came to Wall Street as a summer intern on the New York Stock Exchange during the summers of '80, '81, '82 and upon graduation moved from Boston, Mass. to New York City where he began his career on the trading floor.
He became a member of the New York Stock Exchange in August, 1985 and is currently a Managing Director at O'Neil Securities, Inc. and represents the interests of institutional asset managers that need to access global equity markets. Earlier in his career, Kenny served as managing director at Icap Corps, LLC, and prior to that was senior vice president, member New York Stock Exchange and division manager with Salomon Brothers directing their NYSE Division during the heady bull market of the 1990's.
His 30 years of experience has taken him from the birth of the greatest bull market, to the crash of '87, the roaring '90's, the .com implosion, decimalization, 9/11, Regulation NMS, the merger between the NYSE / ARCA, then NYSE/Euronext, automation, HFT, and fragmentation.
To subscribe to future podcasts, you can use this link to go through Podbean or this link to subscribe on the Apple iTunes store. You can also subscribe to them on YouTube.
All content created and owned by Quoth the Raven Research, LLC. All podcast content is subject to this disclaimer.
Disclosure: I/we have no positions in any stocks mentioned, and no plans to initiate any positions within the next 72 hours. I wrote this article myself, and it expresses my own opinions. I am not receiving compensation for it (other than from Seeking Alpha). I have no business relationship with any company whose stock is mentioned in this article.