Things got out of hand this week all over the equity markets. Recent relative strength of midstream/MLPs vs. broader equity markets failed this week, although month-to-date midstream (AMNA -7.3%) remains ahead of the S&P 500 (-8.8%) and well ahead of the rest of the energy sector (XLE -12.2%).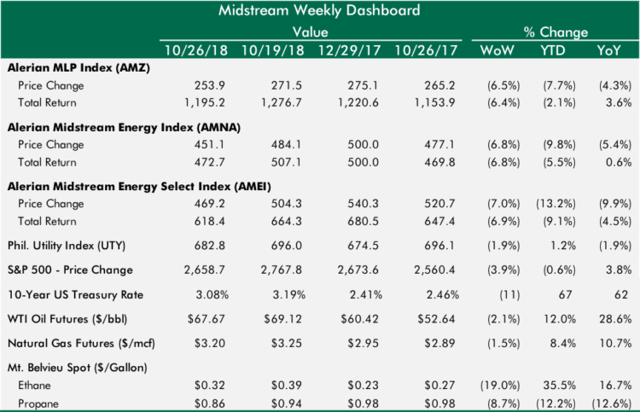 For the MLP index, the 6.4% negative week was the worst week since February 2016 and the 8th worst week since 2010. Wednesday was the worst day for MLPs since March. The MLP Index has dropped 12% since early August and now has a negative total return for the year. The Index closed the week at its lowest level since May 2nd. Even with all that carnage, MLPs outperformed U.S. midstream corporations, which fared worst this week vs. MLPs and Canadian midstream.
Models Help People
Tension is escalating across the markets, and investor nerves are wearing thin. The deterioration in market sentiment reminds me of the gas fight scene in the film Zoolander, about uber successful male model Derek Zoolander. Early in the film, Derek is in a funk, and his male model roommates cheer him up by going out for orange mocha frappuccinos in their open-air Jeep. They are having a blast, so much fun that while filling up at a gas station, they start spraying each other with gas. Then one of them lights a cigarette and they all die in the resulting explosion (except Derek).
I'm not saying the recent market and midstream selloff is like the fiery death of 3 idiot male models, but the swings in emotion and the sudden escalation feel similar for midstream investors. Midstream was down early in the year, cheered up briefly in the summer, and is back down in the dumps again.
Shoulder Season
This weekend, circumstances were such that I was in charge of my three kids all day Saturday, with the caveat that I needed to have them off the property. That was a pretty large challenge given the Nor'easter that plowed through the region this morning bringing 12 hours of steady rain. We ended up heading to the Poconos to check on our little cabin in the woods for no real reason.
The Poconos are active in the summer, with lakes and state parks attracting crowds, and in the winter ski season. But in the shoulder season of October through December, it's a ghost town. It must be similar in beach towns all up and down the East Coast. Traveling during this shoulder season can be a way to find great bargains.
Midstream is in the midst of its own shoulder season, exacerbated by the election cycle (especially for Colorado-exposed names). Fund flows are hard to come by for midstream this time of year. For MLPs, investors would rather hold off on K-1 exposure by waiting until January. Institutional allocations tend to be implemented in a fresh new year, or at least not immediately ahead of an election.
For those of us locals who stick around the midstream space year round, there are some real values in the market available right now. Midstream companies will have their opportunity over the next few weeks to highlight and confirm that value.
Poll Question Recap
Last week we ran a poll on the "Mutts of Midstream", or underperforming large-cap midstream companies that have executed on catalysts and continue to underperform. The question was: out of ENB, ET, KMI, and WMB, which one will perform best over the next 12 months? We had strong voter turnout, and in a landslide, the top choice was ET at 53% of votes, with KMI (21%), WMB (14%) and ENB (12%) way off the pace.
Stock action went nearly in reverse of the voting, with ENB performing best, followed by KMI and WMB, with ET bringing up the rear with a 9.4% decline.
Winners & Losers
There were a few winners in the MLP group this week, unlike the other two areas of midstream this week. SMLP traded up 15% over the first two days of the week, before bouncing around the rest of the week. There was no news driving the price spike, but there was a positive article on Seeking Alpha that some pointed to as the reason for the gain, even though it was mostly just a reiteration of management commentary.
The rest of the top 5 all announced distributions this week, which may have contributed to the positive moves. GMLP's cut was seen as a potential preview of the market's reaction to a potential BPL cut. On the downside, ANDX's sponsors talked down ANDX's unit price by indicating the distribution policy is under review. ENLK did not react well to its roll-up announcement.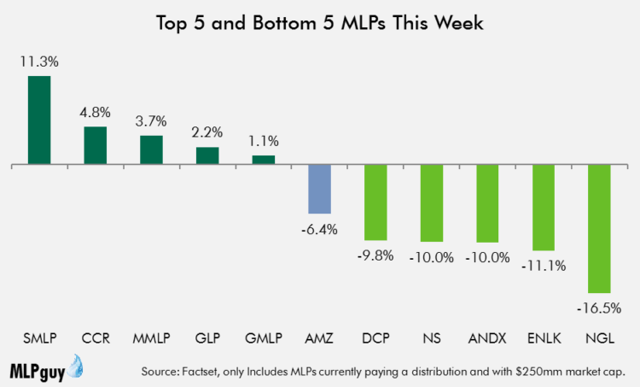 ANDX's collapse was a continuation from last week. There should be a floor on its price, given the likelihood that MPLX will make an offer to simplify the MLP family at some point, but for now the market is content to run away from ANDX and play right into the hands of MPC management by making such a transaction increasingly accretive for MPLX.
On the YTD leaderboard, each of the 5 biggest losers this year are down more than 30%. In the top 5, CCR climbed a few spots into second place, while GLP replaced CQP in the number 5 spot.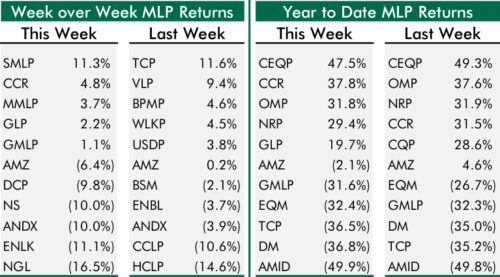 General Partners & Midstream Corporations
The chart below is pretty staggering. Each one in the group was down more than 5% this week. ENLC was crushed on simplification and some hints of softer 2019 growth outlook. SEMG, AMGP and TRGP were bludgeoned on no news outside of weaker commodity prices. EQGP was hammered on poor reported results from its sponsor (which was down 30%+ this week). TGE was the best performer, but didn't trade very well either.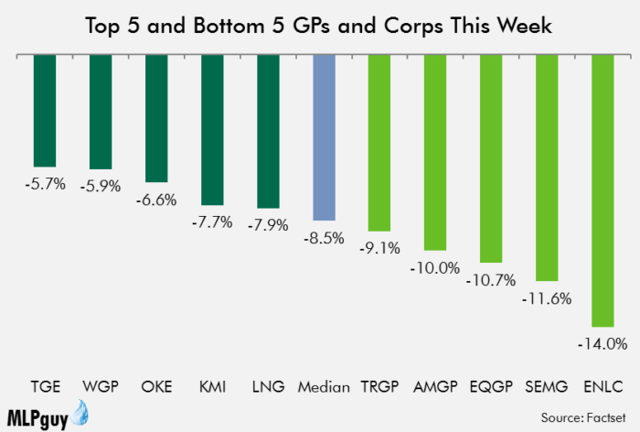 On the YTD leaderboard, no change to the constituents or order of the biggest winners or losers, but the entire sheet shifted lower, with the worst performers down 30%+ and the best performers at 10%+.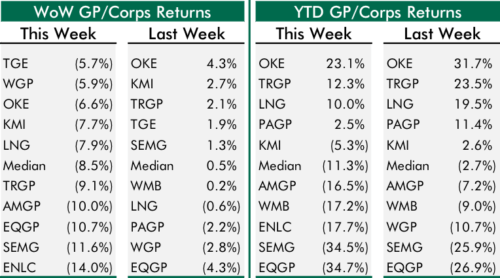 Canadian Midstream Corporations
For a second straight week, Canada outperformed the rest of midstream, even though all of them were negative. This year has been brutal for Canadian midstream, and the rest of the market is playing catch up. The largest players, Enbridge and TransCanada (NYSE:TRP) under-performed, while smaller, Canadian-focused players Keyera (OTC:KEYUF), Pembina (NYSE:PBA) and Inter Pipeline (OTCPK:IPPLF) outperformed.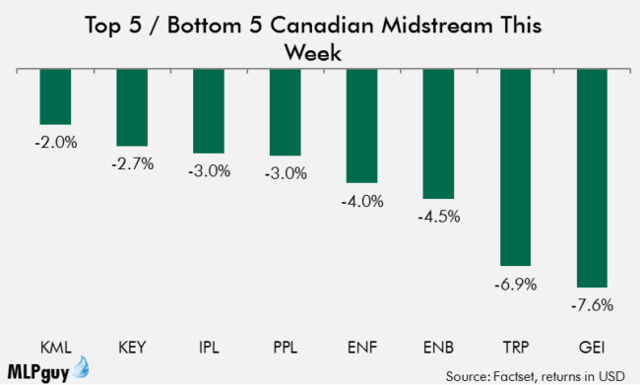 GEI gave back some of its recent gains, but still leads the group by a wide margin. TRP extended its lead on the losing end of things, approaching a 20% negative total return.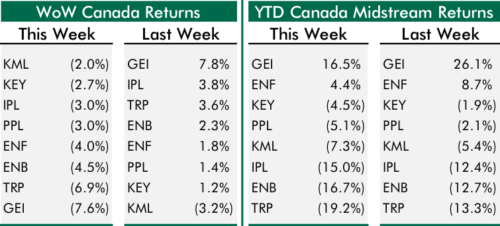 News of the (Midstream) World
Two more IDR simplifications this week, but in a twist relative to recent simplifications, both traded poorly. Next week, EQM takes another step towards eventual potential simplification by first getting more complex. In between all that structural noise, a major pipeline being built from Permian to the coast announced increased initial capacity and an MLP announced an acquisition from a private equity firm (in a reversal of the trend we've seen lately with private equity firms buying assets from MLPs). Earnings next week will drive the bus, potentially with additional growth project announcements.

Capital Markets
Growth Projects / M&A
EnLink Midstream announced the rollup of EnLink Midstream Partners (press release)

ENLK unitholders will receive 1.15 units of ENLC per ENLK unit owned, representing a 1.1% premium to prior day close

Pro forma company will retain the name EnLink Midstream (ENLC)

ENLC's IDRs in ENLK will be eliminated

ENLC expects low double digit DCF/unit growth through 2021, coverage of 1.3-1.5x
Enable Midstream (NYSE:ENBL) announced acquisition of private midstream company, Velocity Holdings, for $442mm (press release)

Velocity is an integrated crude oil and condensate gathering and transportation company in the Anadarko Basin

ENBL also announced expansion of its crude oil and water gathering system in the Williston Basin

The combination of the acquisition and the development capital is expected to reflect a 13x 2019 EBITDA, working down to below 10x by 2020

Velocity's system is comprised of 150 miles of pipeline with 225,000 bpd of capacity along with over 400,000 barrels of owned and leased storage and 26 truck bays
Hi-Crush Partners (NYSE:HCLP) announced the buyout of general partner for 11mm newly issued units for total consideration of $96.3mm based on the prior day's close (press release)

Transaction eliminates IDRs

HCLP also declared a quarterly cash distribution of $0.225, a 70% cut compared to previous quarterly cash distribution of $0.75, after increasing its distribution 223% the prior quarter
Phillips 66 Partners (NYSE:PSXP) increased capacity of the Gray Oak Pipeline to 900,000 bpd from 800,000 bpd supported by customer commitments (press release)

Gray Oak provides crude oil transportation from the Permian and Eagle Ford to Corpus Christi
Other
Neil Chatterjee was appointed FERC chairman by President Trump after Kevin McIntyre stepped down due to health concerns (E&E News)

McIntyre to remain a commissioner
The board of EQT approved the previously announced spin-off of Equitrans Midstream Corp. (ETRN) (press release)

Equitrans will begin regular trading on the NYSE on November 13, but will trade on a when issued basis starting next week

EQT will retain 19.9% of the outstanding common stock of ETRN

EQT shareholders will receive a distribution of 0.80 shares of ETRN common stock for every share of EQT owned

ETRN will own the GP interest and a 91.3% LP interest in EQGP Holdings, which owns the GP interest, all of the IDRs, and 17.9% LP interest in EQM Midstream Partners

ETRN will also own a 12.7% LP interest in EQM
Distribution Announcements
37 distribution announcements this week. A couple of them had large stock price implications, including ANDX holding flat with some vague commentary, and HCLP cutting distribution 70% after the 223% distribution increase last quarter.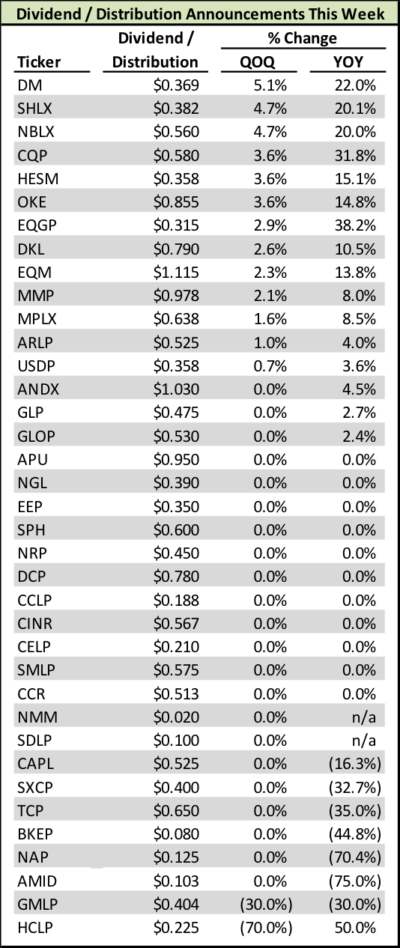 Editor's Note: This article discusses one or more securities that do not trade on a major U.S. exchange. Please be aware of the risks associated with these stocks.