2018 YTD Chart: +45.32%
Cumulative return with 1-Week holding period.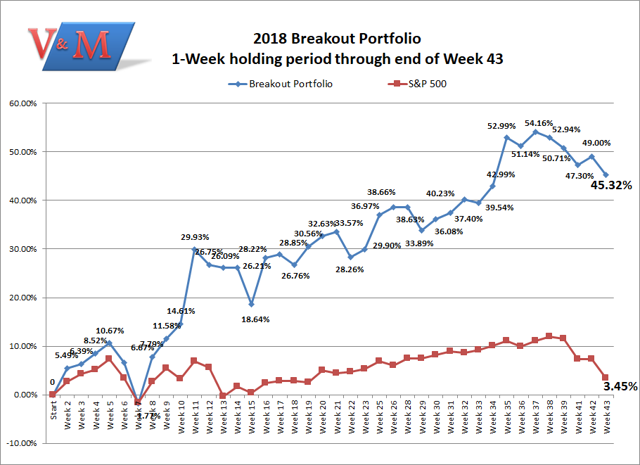 Breakout Forecast Selections for Week 44:
The Momentum Gauge conditions continue to worsen over the past several weeks since Week 39. The positive momentum gauge is now down to 4 this week from a value of 65 at the end of Week 39 and a value of 7 for the past Week 43. These declines have signaled very profitable hedge positions in (TVIX) and (FNGD) detailed in the hedge section below.
In Week 34 of last year, the positive momentum gauge set its all time highest score of 120 since the momentum gauge has been put to use. The all time low for the positive momentum gauge reached 1 during this past Week 43.
The negative momentum score has reached new record highs ending the week at 118 up from 91 at the end of the prior week. A new record high during the past week of 121 for the negative momentum gauge has altered the maximum value of the gauge chart again this week.
Last week's report: Week 44 Breakout Forecast: Short-Term Picks To Give You An Edge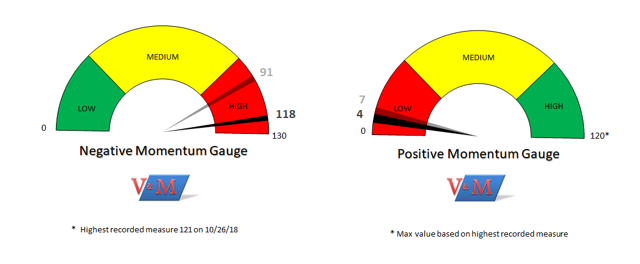 My momentum gauges are based on the count of the momentum stocks screened as either positive accelerating or negative accelerating stocks based on my research algorithm. The combination of the two different types of momentum categories screened by segments 2 and 6 of my algorithm may help validate the quality of the overall market momentum strength.
The reliability we are seeing of the Momentum Gauges indicates that implementing a purchasing rule to not add momentum stocks during red zone conditions will greatly enhance your positive returns for the year. Currently I am measuring all weekly performance regardless of adverse momentum signals to assess the strength of the selection models.
Hedge Activity
I have been documenting the increasing signs of market deterioration and breakout conditions for inverse hedge trades from October 4th with two forthcoming articles:
Monitoring The Market Tipping Point
8 Warning Signals Of Deteriorating Market Conditions
Readers are cautioned to keep an eye on the profitable (TVIX) 2x VIX volatility bull fund early breakout since October 3rd and several significant down legs we have experienced so far.
Additionally the ongoing FANG (FB AAPL AMZN NFLX GOOGL) Bull Fund (FNGU) deterioration and breakout conditions of the inverse bear fund (FNGD) are continuing to generate substantial gains in these volatile conditions.
Use caution going into Week 44 as all indicators show we could see more downside. I will provide more discussion and detail on the broad market conditions as events unfold.
Total Return Chart: +86.51%
The Total Return Chart reflects total return of all stocks in the weekly portfolio. The S&P 500 has gained +16.43% over the same period.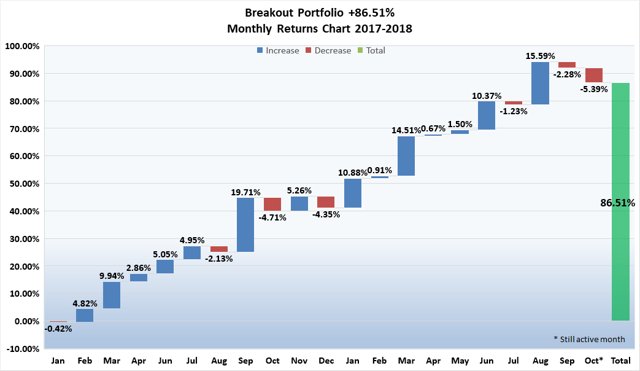 Last Week 43, NII Holdings (NIHD) was the best performer with a gain of +7.30% and Turkcell Iletisim Hizmetleri (TKC) gained 5.96%. This week I have selected 8 breakout stocks from the following sectors: 3 technology, 2 healthcare and 3 services.
The two sample selections of positive momentum stocks for this week include:
Arcos Dorados Holdings (ARCO) - Services / Restaurants
DHT Holdings (DHT) - Services / Shipping
Caution: These stocks are not necessarily recommended for long term buy/hold unless you are comfortable with very large price swings. These are the most volatile selections I offer from among all the different Value & Momentum portfolios.
1. Strong momentum events usually last from one to three weeks and may encounter some substantial decline before returning again to positive gains.
2. Proposed entry points for each of the selected stocks are as close to the highlighted prices in yellow on the charts at market open.
3. Buying Breakout Stocks during Red conditions measured on the Momentum Gauges greatly increases risk of loss. Red conditions are the best times to hedge exposure.
Breakout Stock Selections for Week 44
Sample #1: Arcos Dorados Holdings (ARCO) - Services / Restaurants

Price Target: 8.50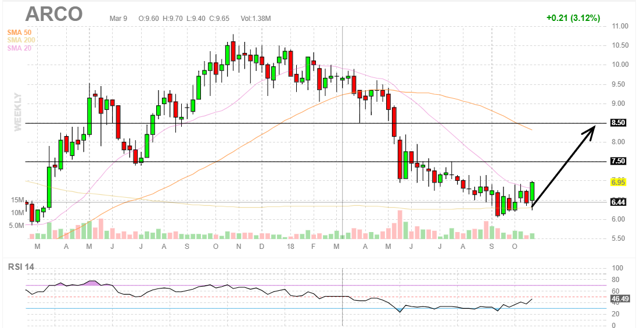 Arcos Dorados Holdings Inc. operates as a franchisee of McDonald's restaurants. It has the exclusive right to own, operate, and grant franchises of McDonald's restaurants in 20 countries and territories in Latin America and the Caribbean, including Argentina, Aruba, Brazil, Chile, Colombia, Costa Rica, Curacao, Ecuador, French Guiana, Guadeloupe, Martinique, Mexico, Panama, Peru, Puerto Rico, Trinidad and Tobago, Uruguay, the United States Virgin Islands of St. Croix and St. Thomas, and Venezuela.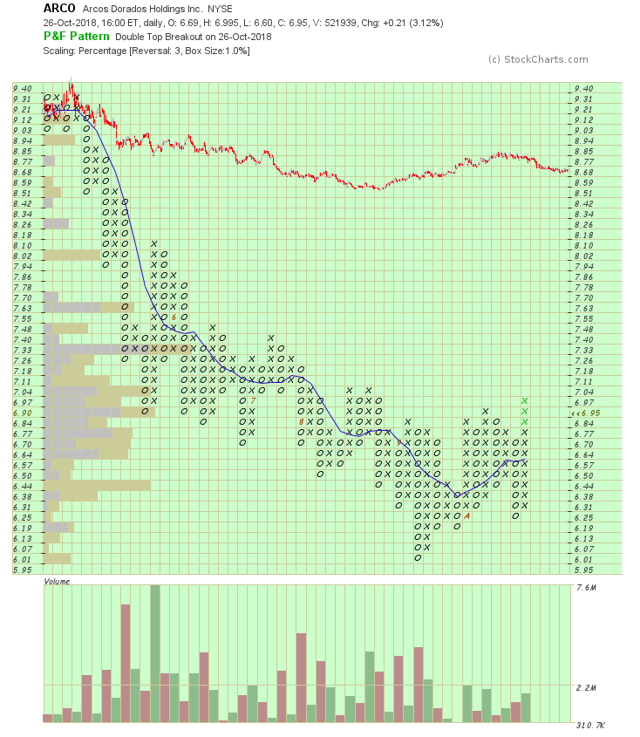 Sample #2: DHT Holdings (DHT) - Services / Shipping
Price Target: 6.50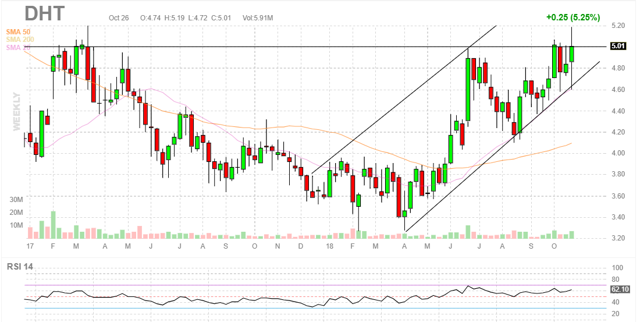 DHT Holdings, Inc., through its subsidiaries, owns and operates crude oil tankers primarily in Oslo, Norway and Singapore.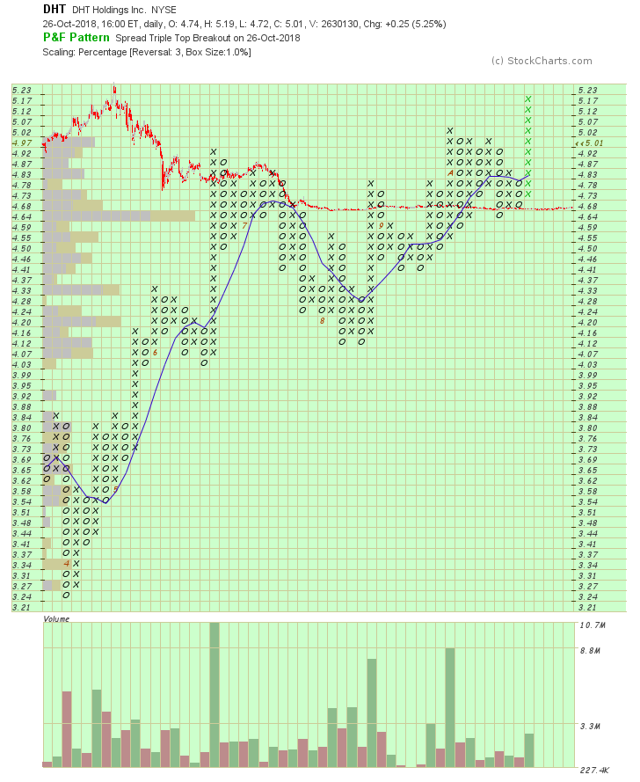 Note: all breakout stocks are selected based on my algorithm to increase the frequency of 10% gains within a very short period of time. Price targets are estimated through an unrelated technical charting process for those who are looking for estimated exit points, however it is possible the momentum in these selections may move well beyond the initial target.
Top BO Gainers last four weeks:
Cambium Learning Group (ABCD) +19.07%, GOL Linhas Aereas Inteligentes S.A. (GOL) +37.76%, Farmmi Inc. (FAMI) +13.06%, NII Holdings, Inc. (NIHD) +7.30%, and Turkcell Iletisim Hizmetleri A.S. (TKC) +5.96%.
Click the "Follow" button at the top of the page to enjoy free updates and select real-time alerts if you want timely updates on the latest stocks and portfolios I offer that are outperforming the S&P 500 in each of their respective time periods.
Be sure to check out my many other free articles here.
To subscribe to Value and Momentum Breakouts, click on the link here.
I think these breakout stocks will serve you well in Week 44 and beyond. I hope you all do well with these stocks and always diversify to minimize some of the market risks.
All the very best and have a great week of trading!
JD Henning, PhD, MBA, CFE, CAMS
Disclosure: I am/we are long TVIX.
I wrote this article myself, and it expresses my own opinions. I am not receiving compensation for it (other than from Seeking Alpha). I have no business relationship with any company whose stock is mentioned in this article.
Editor's Note: This article covers one or more microcap stocks. Please be aware of the risks associated with these stocks.