When we put up this chart in March, and suggested Technology stocks were due to die a painful death, at least in relative terms, we were given many reasons why this time is different.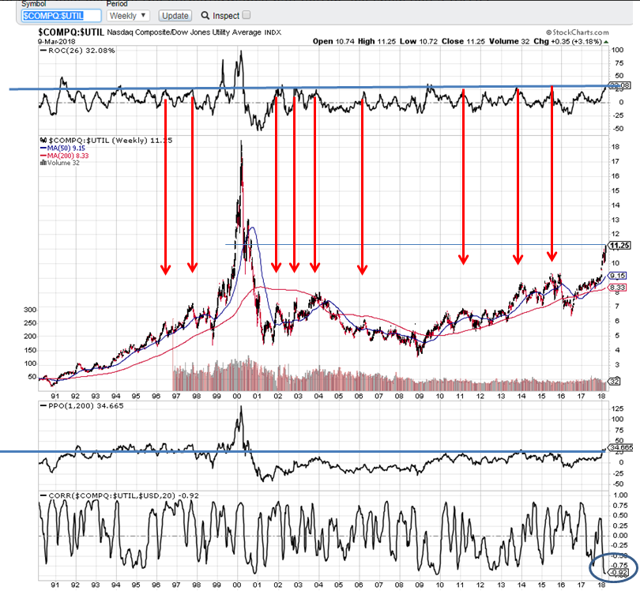 Source: The End Of Tech (for Now)
This time was not different.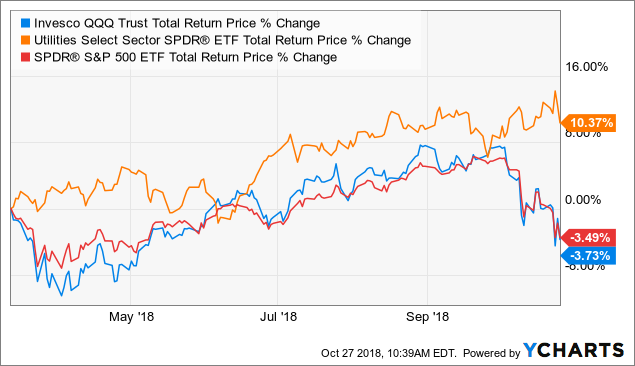 We have seen Utilities as represented by Utilities Select Sector SPDR ETF (XLU) deliver a strong outperformance versus S&P 500 ETF (SPY) and Invesco QQQ Trust (QQQ).
Why the selloff in technology
Coming into March of this year, technology was about as expensive as it had ever gotten relative to every other defensive sector. This was clouded (pun intended) by high expectations for future growth and high cyclically mean-reverting margins. Both these made investors think that technology was cheap. But for us the gauge always was the market cap of technology versus the market.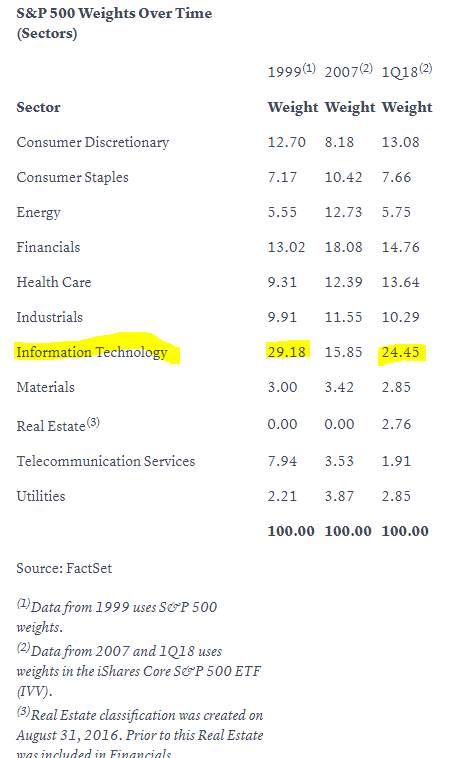 High market capitalization was a red flag and investors always tend to exhibit recency bias near tops. That combined with extreme complacency meant that stocks that deliver even great numbers, are destined to be pummelled.
What Amazon (AMZN) can teach us
AMZN is the poster child for the bubble in technology. At its recent peak, AMZN's market capitalization reached a rather stunning $960 billion.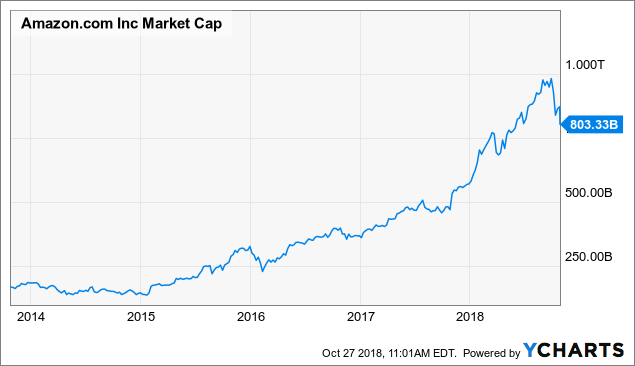 We knew a lot of this forecasted growth even at the end of 2016. Was there a reason for the stock to triple in about 18 months? We don't believe so. In fact AMZN's bubble was so big that its mere entry into the pharmacy space, wiped out billions from Walgreens (WBA) and CVS healthcare corporation's (CVS) market capitalizations. Those who used that "top-ringing" indicator to sell AMZN and buy WBA, did really well.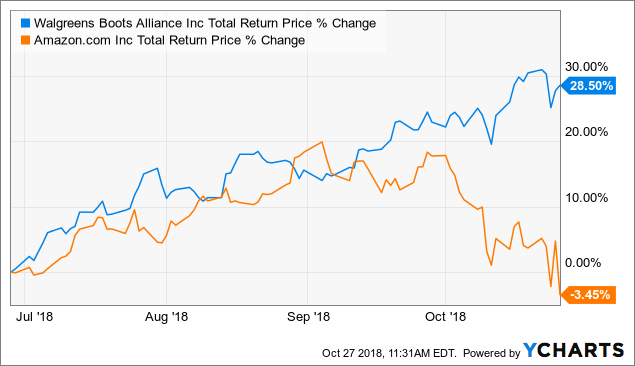 AMZN did report rather exceptional profit numbers this quarter, however more than half of that came from Amazon Web Services (AWS). Investors are very dangerously extrapolating that to persist. If we are correct, AWS becomes a commodity like business with very slim margins over time and a lot of this profit just simply evaporates.
AMZN's large numbers and improving e-commerce prospects for some of its competitors like Walmart Inc. (WMT) means that further revenue growth will be harder to come by. That coupled with large wage increases and peaking AWS margins may mean that AMZN will have a tough time justifying its market capitalization. If we assume 3% net margins overall, like WMT (we are discounting current AWS margins here, and that is our call), and we assume a 15X steady state price to earnings ratio, AMZN's sales will have to go up 10 fold to justify the current market capitalization. Good luck with that.

Source: Author's estimates and calculations
Why we ended our highest alpha trade
We have called to avoid technology like the bubonic plague here, here and here. The sector was ripe with exuberance where just a few months back people were ready to bid a chronic money losing operator like Advanced Micro Devices (AMD) to 6X price to sales, just because they liked the new CEO. However, all those high flyers have been taken out to the back and shot. Technology sentiment has gone full 180 degrees in the space of a few months. We are also entering the favorable time of the year where we see a high probability of a market rebound coupled with some sold-off technology names being bought as "bargains". Hence early Friday morning, we got religion and ended our highest alpha trade.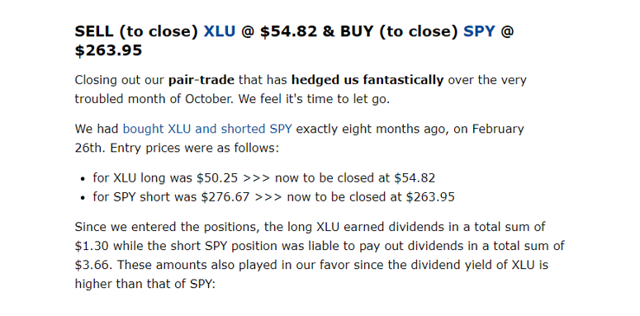 Source: October 26, Wheel Of Fortune Alert
This produced a rather strong 15% total return while the general market was down 4% in that time frame. That is an exceptional 19% "alpha" and we don't want the year end counter rally stealing any of it from us. We are also relatively bullish on one technology name and if we can start finding some of these names attractive, we think the sentiment and valuations must have gotten a little stretched, at least in the short term. While this may not be the exact top for this trade, it is close enough for us.
Conclusion
Even if technology stocks are due to go higher, over the next 5-10 years they will still underperform the broader indices (yes even from these levels). However, as Taylor Swift so aptly put it "I can make the bad guys good for a weekend." We too believe that the longer term trend will not be a straight line but a zig-zag that will present trading opportunities on both sides.
For more analysis such as this, along with real-time alerts on income stocks on both sides of the border along with recommendations for country music listening, please consider subscribing to our marketplace service, Wheel of Fortune.
Disclaimer: Please note that this is not financial advice. It may seem like it, sound like it, but surprisingly, it is not. Investors are expected to do their own due diligence and consult with a professional who knows their objectives and constraints.
Seeking Alpha has changed its policies. Previously, "following" someone required a ritualistic commitment and an offering of not less than 4 oxen or 3 breeding horses. Now, all it takes is one click! If you enjoyed this article, please scroll up and click on the "Follow" button next to my name to not miss my future articles. If you did not like this article, please read it again, change your mind and then click on the "Follow" button next to my name to not miss my future articles.
Disclosure: I am/we are long WBA. I wrote this article myself, and it expresses my own opinions. I am not receiving compensation for it (other than from Seeking Alpha). I have no business relationship with any company whose stock is mentioned in this article.
Additional disclosure: We are short the $80 calls on WBA.