The markets have been very volatile lately and we have seen a significant pullback this month. I know that many of you are feeling anxious about the recent market volatility. I understand it completely. It is very difficult to have a down day, and we have had several days of panic selling this month so far.
On Friday, almost all the financial news media started flashing that the "S&P 500 index is now officially in correction territory." The media likes to flash negative news, and this is one of them too. The definition of a market correction is usually a pullback of 10% to 20% from the most recent highs (closing price).
The S&P 500 index reached its all-time highs on September 20, 2018 when it closed at the 2931 level. On Friday, it closed at the 2659 level - or down 9.3% in a period of less than 40 days. So we are still in a market pullback, but not officially in a "market correction" as the news suggests.
In this report, I will explain the difference between "market corrections" and "bear markets", and share my views on the current state of equities, including the best course of action for long-term investors.
First, Let Us Look At Some definitions
Definitions of "Market Correction" and "Bear Market"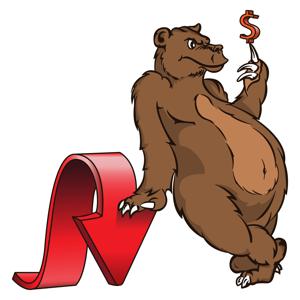 Market correction: is defined as a drop of at least 10% or more for an index or stock from its recent high.
Bear market: is defined as a 20% or more decline in stock prices.
So officially we are not in a "market correction" yet as per its definition.
Quick statistics about market corrections and bear markets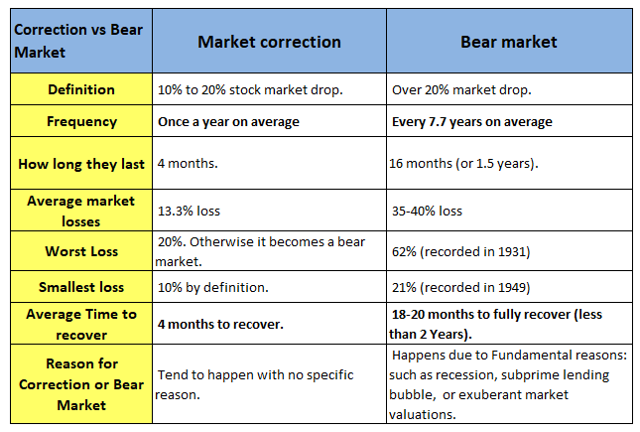 Source: High Dividend Opportunities
Some Things To Know About Market Corrections
Stock market corrections happen often (about once a year).
They tend to happen for no specific reasons.
Market corrections rarely last long (about 4 months on average). They also take another 4 months to recover. So after a period of 8 months from the start of the correction period, stocks fully recover.
Corrections mostly happen when small stocks significantly lag large-cap stocks.
They should only matter for short-term traders, and not long-term investors.
In most market corrections, there is a sharp V shaped recovery, with very little bottom-building or retracing.
Stock market correction is often a great time to pick up high-quality companies at an attractive valuation.
When Did The Last Market Correction Happen?
The last market correction we had was in December 2015 and ended in February 2016, lasting less than 3 months. The markets fully recovered and made back all their losses (a full recovery) in May 2016, or in less than five months after the correction has started. That means a full recovery and the indexes were all back up to the levels they were before the correction has started. This is a very short period of time for those who are invested for the long term, and even immaterial.
More about Market Corrections
Note that there has been officially 5 market corrections for the S&P 500 index since the bear market of 2009 (or 7 corrections if we count the 9.8% and 9.9% drops). That is on average once a year, as we can note from the chart below.
Note also that none of these market corrections have resulted in bear markets.
So What Is Behind the Current Pullback?
There are many reasons behind the current pullback which we have explained in a recent report. In my opinion, the biggest reasons for this selloff are:
Profit-Taking and Stop-Losses: The pullback was triggered by some investors taking profits, while others having "stop losses" in place that created a wave of selling.
VIX Volatility Bets: The selling was accentuated by VIX Volatility Bets. Some investors are greedy, and when the markets look very bullish, they decide to short the VIX volatility indexes to make a quick buck. Of course, when we see market turbulence, volatility spikes, and those who are short the VIX get ripped to shreds. Data from the Commodity Futures Trading Commission indicates recently that investors have been once again shorting VIX futures to the greatest degree since January 2018. Those shorting the VIX have been trying to cover their positions once again, and this has added to the recent market declines.
High-Frequency Algorithms: High-frequency trading algorithms (or automated computer trading programs) have become a big problem lately. These computers can generate million of trades per second to take advantage of market movements, and they tend to exaggerate market movements either to the upside or to the downside.
The emerging market drama and an uncertain political climate: Adding to the anxiety is what is being portrayed about the state of the emerging markets, and the current political climate in the United States just before the mid-term elections.
Are We Going To See A Bear Market?
During the past 70 years, there have been 8 bear markets. Statistically, they occur about once every 7.7 years and last on average 19 months, or roughly about 1.5 years, as shown in the table below: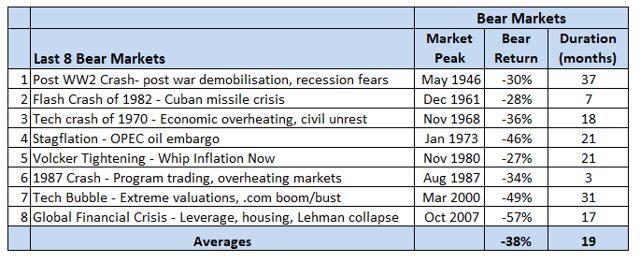 Source: High Dividend Opportunities and BusinessInsider.
Bear Markets do not happen often, and they usually happen due to fundamental macroeconomic problems, which include:
An economic recession in the United States, or in another major global economy such as Europe or China.
An asset bubble, such as a stock price bubble or real estate price bubble.
Technology stock speculations and technology stock bubbles.
Aggressive interest rate hikes, whereby bond yields become so high that it is more profitable for investors to buy bonds instead of stocks.
Spike in commodity prices, which impacts economic growth. Example, spike in oil prices, wheat, corn, steel and other metals' prices. The reasons is that rising commodity prices usually result in increased inflation pressures and slows down the economy.
Note: Bear Markets in the distant past used to last for a longer time. The Federal Reserve has been more active in the past 30 years to contain any bear markets. Therefore the bear markets' pullbacks and subsequent recoveries over the last 30 years have lasted shorter than in the past, and we have adjusted our figures as such.
The table below summarizes the specific reasons of why past bear markets have occurred: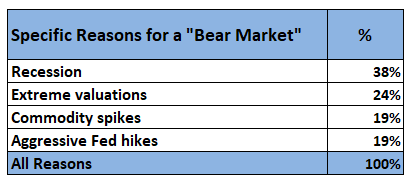 Source: High Dividend Opportunities
It is worth to note that none of these specific reasons that have historically caused a "bear market" are available into today's macro economic environment.
So trying to predict a bear market just based on statistical occurrences (or once every 7.7 years) does not make much sense. Here, we should look for specific reasons. Therefore the fact is that theoretically, we can remain in a secular bull market for a very long time (much longer than the average 7.7 years) provided that the reasons for a "bear market" to happen are not there.
Since the historical reasons that have triggered a "bear market" in the past are not present today, it is our opinion that a "bear market" scenario today or over the next 12 months is highly unlikely.
This is why we remind investors that keeping the macro economic outlook in check represents more than 50% of the due diligence required for successful investing.
Are We Going To See A Market Correction?
Again, market corrections are defined as a 10% to 20% market pullback, and they tend to happen for no particular reason. So yes, it is possible to see a market correction. Here fundamental analysis does not mean much.
The most important thing to note is that the major indexes are still holding well, and have not broken the major uptrend lines yet (which are the 20-month moving averages). But we can't dismiss the terrible price action lately, so we have to watch and wait.
However, if we break below these lines, then we may see accelerated selling with the possibility that equities can pull back by another 3% and up to 10% from here. I am watching very closely the 20-month average support for the S&P 500 index of 2625. Note that a temporary dip below 2625 is also not a trigger point for a market correction. We have to see a clear confirmation that we have gone below this level.
Therefore so far, we are still in a market uptrend, and a market correction may or may not happen. We believe that it is too early to take any action and we will discuss later what our options are in case we get into a market correction.
What To Do In Case Of A Market Correction?
Again, market corrections do not last a long time. They usually only last on average 4 months, and we tend to see a full recovery after another 4 months. This pullback started about 1 month ago, so if it continues, we have probably another 3 months to go. If history repeats itself, in another 7 months, we should be back where we were before this pullback has started, or around the 2932 level for the S&P 500 Index. That is assuming we hit a correction, and that is not for sure yet!
So here are several options that long-term investors can choose from based on their individual objectives and risk tolerance.
Weather the storm: Since corrections do not last long, and they tend to recover fairly quickly, waiting until the storm passes is a perfectly acceptable option. At High Dividend Opportunities, we invest only in high-yield stocks. There is a great advantage in investing in high-dividend stocks: We collect high yields until the markets readjust and we do not have to worry about short-term volatility.
Raise cash and buy lower: This is more tricky, especially that we are in an environment that is very favorable to equities, and it is difficult to pinpoint how severe the market correction will get. It is even more tricky because market corrections are usually followed by a swift recovery (a V shape recovery), so there could be some missed opportunities. Still, in case the market correction is confirmed, investors may sell their riskier positions and attempt to buy them back at lower prices, thus capturing not only a lower price, but even higher dividend yields.
Hedge with Inverse ETFs: A third option is hedging with inverse ETFs . The ProShares Short S&P 500 ETF (SH) is an inverse ETF which moves up 1% for each 1% loss in the S&P 500 index, and can be used as a hedge. Another one is the Direxion Daily S&P 500 Bear 3X ETF (SPXS), also an inverse ETF which moves up by 3% for each 1% loss in the S&P 500 index. Due to the leveraged nature of SPXS (3 times leveraged), a 10% position provides a 30% protection to the overall portfolio. Note that this kind of hedging carries some risks, and only experienced investors should consider it.
Still, I believe that investors should not panic. It is only a word of caution, and I believe that investors are best served by holding on to their investments, especially for those who are long-term investors. Selling now may result in unnecessary losses.
Despite all of the above, we remain optimistic, and here is why:
Why We Remain Optimistic
Fundamentals remain solid: As we can read from the paragraph above, none of the reasons behind the current pullback relate to fundamental macro-economic weaknesses, and therefore the chances of a large market pullback are low. The U.S. economy is booming and performing at its best in decades, interest rates remain around their historical lowest levels, and corporate earnings growth is around all-time highs and still accelerating.
Not everyone is spooked out of the market. Many of the recent down days have been on very light trading volume. That means that there are relatively few investors who are moving the market right now. What this can also mean is that the major players could be taking advantage of low volume and picking up the stop losses that we referred to above. It is very possible that they are taking advantage and buying.
Strong Corporate Earnings: The earnings results we are seeing today are still some of the strongest I have witnessed in my lifetime. According to analysts, the S&P 500 companies should post 19.5% annual earnings growth and 7.4% annual sales growth for the 3rd quarter.
Small Business Optimism is at All-Time highs: Continued growth and a strong economy have small business optimism reaching post-recession highs. I tend to put a lot of weight into small business sentiment because it is one of the best indicators of how the U.S. economy is faring. The key theme of the 2018 Small Business Growth Index is that strong business growth has driven small business optimism to its highest point in survey history, with men leading optimism for the first time - and we know that men tend to be generally the most pessimistic of the two genders!
Elections Uncertainties: Currently, mid-term elections have got many investors worried. In just a few weeks, Americans will head to the polls for these elections. No matter who wins, this whole process will be over with, and life should get back to normal. A big uncertainty will be out of the way. Remember that historically, the performance of equities has had little to do with which party is in power, and more to do with the economic situation. The U.S. economy will continue to be in a very good shape after the elections.
November and December are great for Equities: While October has been tough for the stock market, the months of November and December are usually some of the best months for equities. During the last two months of the year pension funding and annual bonuses and gift giving increases. These fund inflows tend to lift equities across the board. As a result, November and December are typically two of the strongest months for the stock market. I expect that this year will be no different.
Bottom Line
It's hard when the prices are falling like this but in these situations patience is required. The long-term outlook for stocks remain overwhelmingly constructive. Even if we hit a correction, the odds are that it will not last very long. Let us have a look at what the last correction of (2015-2016) brought through this chart: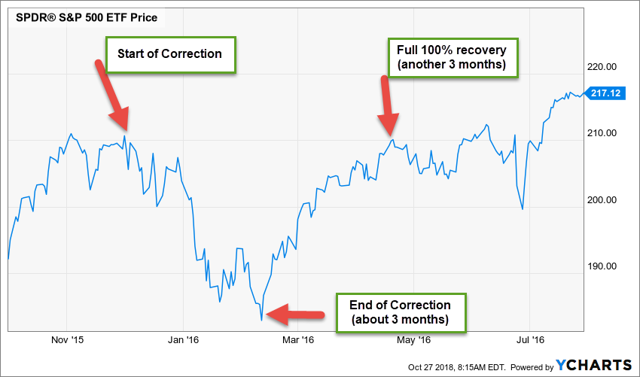 As we can see from the chart above, the market correction only lasted less than 3 months with a full recovery (100% recovery) following another 3 months. So in less than 6 months, the prices were back to where they started up with, and this gave way to the BIGGEST bull market rally seen in many years. Should we be correct, this bull market is likely to see a very fast and strong recovery which should give way to new market highs.
The bottom line is that the best approach is to wait and see. I believe it is best to remain fully invested. To sell now and prematurely may result in unnecessary losses. Again, riding this storm is a viable option as recession risks are very low, and chances of a bear market are also slim. At 'High Dividend Opportunities' we continuously keep our members posted for the best course of action and the best opportunities in the high-yield space.
Author's note: If you enjoyed this article and wish to receive updates on our latest research, click "Follow" next to my name at the top of this article.

About High Dividend Opportunities
We are the largest community of income investors and retirees with over 1600 members. We provide a comprehensive service, ranked #1, dedicated to high-yield securities trading at attractive valuations - with an overall target yield of 9-10%. Subscription includes:
A managed portfolio of stocks currently yielding 10.0%.
A "Dividend Tracker" which lets you know exactly when to expect your next dividend.
A "Portfolio Tracker" to track your dividend holdings, income, and allocation by sector. For video, click here.
If you are looking for the most profitable high-dividend ideas, you have come to the right place. For a 2-week free trial, please click here.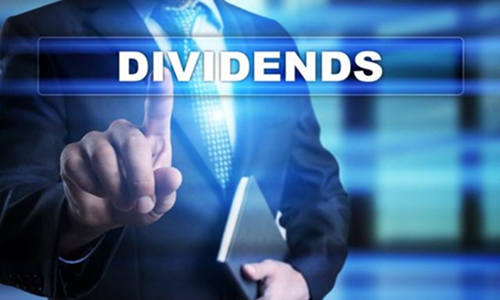 Disclosure: I/we have no positions in any stocks mentioned, and no plans to initiate any positions within the next 72 hours.
I wrote this article myself, and it expresses my own opinions. I am not receiving compensation for it (other than from Seeking Alpha). I have no business relationship with any company whose stock is mentioned in this article.
Additional disclosure: I am long the "High Dividend Opportunities" Core Portfolio, REML, + LRET + LADR + EPR + IRM + GLP+ GLP-PA, RLJ-PA