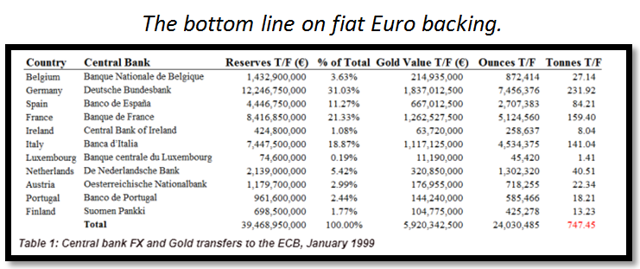 (Source: Bullionstar)
National and supranational crises are all in a day's work for the ECB since GFC. Whilst these crises clearly present obstacles to the Eurozone Project, the ECB is currently trying to play down the fact that they also directly impact its plans to normalize monetary policy. The ECB's audience has, however, made the connection.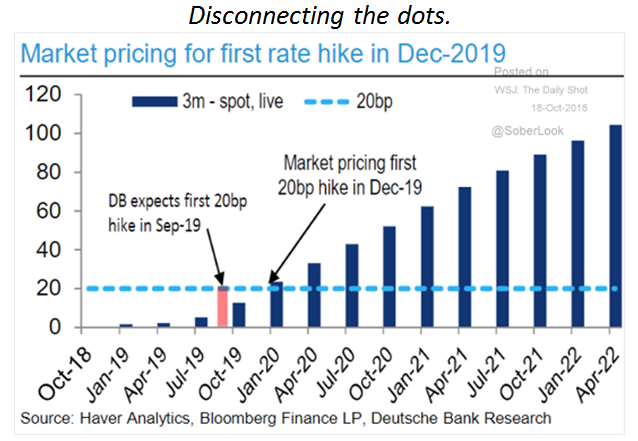 The disconnect, between ECB guidance and audience perception, is widening at a critical time for the Eurozone and the global economy. The ECB Executive Board is, however, moving faster than the Governing Council, to get everyone back on the same page.
Faced with the Go/No-Go choice, to end QE this year and raise interest rates next year, the Governing Council is still saying Go. The centrality of credible commitment of the ECB, to follow through with its normalization guidance, is becoming strained to say the least. The global headwinds and the Eurozone economic slowdown are well known hurdles. The political headwinds are new and are still being understood and discounted. In addition, significant legal obstacles to deeper economic integration have been highlighted by a precedent in Spain.

(Source: ECB)
The ECB itself is doing much of the undermining of its own credibility of commitment. An example of this comes in a working paper laughingly entitled "(UN)conventional policy and the effective lower bound". The paper finds that "the alternative option (from ZIRP/NIRP) to cut interest rates more deeply and avoid deploying unconventional measures (QE) is sub-optimal, as it would induce unnecessarily large changes in savers' intertemporal consumption patterns".
The authors seem to have missed the inescapable fact that the Eurozone is already in a state of ZIRP/NIRP which has induced necessarily large changes in savers' intertemporal consumption patterns. The possibility of achieving a normal term structure of interest rates has already been kicked down the road into late 2019, by the rising probability that these unconventional measures will remain in place till then. A conventional interest rate cushion of any magnitude is thus already rendered redundant by the extended unconventional status quo. All this is occurring just as another economic slowdown, requiring a further expanded unconventional stimulus is required. The paper should just be entitled Why the ECB can never exit unconventional monetary policy, since it is basically arguing for this case.
The risks identified in the last report, that will cause the ECB to become "very gradual", were promulgated reading between and along the lines of the recently released minutes of the last Governing Council meeting. Despite these risks, the ECB still adheres faithfully to its normalization guidance. There are, however, some signs from some Governing Council members that they would like to have a little extra flexibility to deal with the unfolding risks.
The last report also observed the ECB's determination to press on, with its pre-commitment to normalize monetary policy, in the face of rising Eurozone and global macro risks. This pre-commitment was reiterated recently, by ECB Vice President Luis de Guindos, in his indirect signal for indebted nations to start building up counter-buffers in preparation for the next economic slowdown. His inference is that the ECB will not be providing a monetary policy crutch for much longer. Despite his acceptance in principle that QE is ending, de Guindos put a word in for his fellow countrymen who are increasingly at risk from a slowing Eurozone and global economy. By his estimation, Spanish growth may already have peaked.
Compared to de Guindos, Governing Council member Klaas Knot is positively chomping at the bit, as is the case in Northern Europe with the exceptions of France and Germany. His recent exuberance prompted him to suggest that the pace of interest rate hiking may actually accelerate next year, despite all the cautious guidance to date from his colleagues. Apparently, inflation has been running above the ECB's definition of price stability, so that there is no time like the present to begin raising interest rates. Knot soon pulled in his horns, however, as global equity markets collapsed with the prospect of Fed interest rate hikes and trade wars. His tempered enthusiasm now pushes back his baseline, to a point in 2019 where a discussion and relevant guidance about interest rate hikes should begin.
Completing the support for the swift normalization process from the ECB's Executive Board, member Yves Mersch outlined his view. He does not expect the current threats preventing the Eurozone economy from continuing to grow. Bottom line, the normalization is still on as far as the Executive Board is concerned. As we shall see later, however, the Executive Board may have just blinked.
ECB President Mario Draghi, as always, definitively framed perceptions in a conclusive synopsis of monetary policy for Mr Market. In Draghi's opinion, the data so far continues to vindicate the strategy of ending QE this year. This vindication, however, comes with a growing but, in the form of rising headwinds. One may assume that the normalization is still on, but subject to data and events going forward.
Providing a global summation for Mr Market at the Bali IMF summit, Draghi then cunningly instructed him on how to discount the global normalization process. Making Mr Market second-guess his own discounting mechanism, Draghi opined that the biggest risk out there is the Taper Tantrum process itself. If said process is too rapid and too violent, then it will beget its own headwind that will effectively terminate the central banks' raising of interest rates. If Mr Market is therefore "very gradual" with his price discovery, then the ECB can also be "very gradual" with its normalization. As always, Draghi is the consummate Jesuit with his persuasive guidance tautology that has a habit of becoming a self-fulfilling prophecy which only adds to his perceived persuasive powers.
ECB Chief Economist Peter Praet tried his hand at Draghi's verbal tautology, with the same motivation as his leader. According to Praet, the ECB's guidance and balance sheet operations to date are consistent with a durable return to inflation target. He then proceeded to paint a very Japanese picture of life in the Eurozone of the immediate future in relation to monetary policy.
The aging of Europe could permanently constrain monetary policy, leading to longer recessions and weaker recoveries in Praet's view. Backing this grey future out into the present implies a structurally lower neutral rate of interest. It also implies an inability of QE to stimulate economic growth and/or boost inflation. There is therefore little point in the ECB pressing ahead with monetary policy expansion. On the other hand, a significant tightening of monetary policy is also out of the question. It therefore falls on politicians and Eurozone individuals to take control of their economic fate. Such intentions and capabilities to stand on their own feet are distinctly lacking today, however, as politicians play the popularity game by writing cheques for the people that can never be honored by taxpayers.
The last report suggested that, despite the strong rhetoric about normalizing, the ECB would be "very gradual" about following through with interest rate increases because of the strengthening Eurozone and global economic headwinds. Ardo Hansson has become the first Governing Council member to break with the Hawkish pack. He does not oppose their view of raising interest rates in 2019, but would rather put off all discussion and communication about it until nearer the time. Clearly he sees utility and option value in the flexibility derived by not pre-committing to the size and timing of interest rate hikes in advance. This intrinsic value will rise as the headwinds blow stronger and the data softens.
Hansson may be joined shortly by his fellow Baltic Governing Council member Vitas Vasiliauskas. Speaking at the IMF's recent global doom and gloom roadshow in Bali, Vasiliauskas identified rising protectionism as the greatest threat in the global economy. Pushback against an accelerated interest rate increasing timetable is being led by Governing Council member Francois Villeroy de Galhau. Villeroy is an adherent to the old timetable for gradual normalization and an interest rate increase in the second half of 2019. In reaction to the Northern European accelerators, he has now handicapped the first interest rate increase discussion circa September 2019. For now, he advises that the ECB should not rush to follow the Fed higher with interest rates in the near-term. Rather it should remain aloof, taper its reinvestment process and then consider raising interest rates in Q4/2019.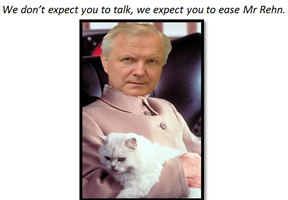 (Source: Seeking Alpha)
Governing Council member Olli Rehn's procrastination became a focal interest of the last report because he allegedly is ECB Presidential material when Draghi finally steps down. The procrastination has developed a less than subtle Dovish tone of late. He thinks that the Phillips Curve is alive yet comatose at present. The patient may revive over time albeit slowly.
Rehn characterized the recent Eurozone inflation data as "disappointing". Since core inflation remains approximately one per cent, he still believes that monetary policy should be accommodative. He then rather cryptically fast forwarded to the next economic slowdown, even before the ECB has normalized.
This quantum leap was accompanied with the disclaimer that it is reasonable to assume unconventional monetary policy will be the key policy tool to deal with said next slowdown. He then suggested that the first interest rate hike by the ECB will come in Q4/2019 "if" the current rate of economic progress is maintained. It should be noted that there is a distinct lack of economic progress currently, and the headwinds from Brexit and trade wars are getting stronger. It's therefore a big "if" on Rehn's conditionality for an interest rate hike in Q4/2019. Evidently, he does not really see much scope for the building of a conventional monetary policy cushion with interest rate hikes before the slowdown ensues.
Bundesbank President Jens Weidmann's guidance was also noted in the last report as a barometer of the weakness facing the German economy in the future, after its solid recovery thus far this year. He continued to paint it black for the cameras at the Bali IMF gathering. His new spin on the normalization is particularly enlightening.
Weidmann sees the global central bank normalization process as a much smaller part of a much larger and more important global economy normalization. This larger normalization creates conditions of capital markets weakness and sub-par real economic growth. Framed, by this larger global normalization straight jacket, one can only the view the potential for significant tightening of ECB monetary policy as small.
Weidmann is also particularly concerned that the current global trade situation is causing greater pressure upon the global normalization downwave. Weidmann's view is in fact not too dissimilar from that of the great procrastinator Rehn. Maybe he is deliberately talking things down to improve his remote chances of beating Rehn to succeed Draghi.
Weidmann's pessimistic view is also confirmed by Germany Inc itself. The first sotto voce guidance came from Holger Bingmann, the head of the BGA trade association. The BGA just revised lower its export growth expectations for 2018 from 5% to 3.5% on the back of Brexit and global trade fears. More ominously the BGA is even more pessimistic for 2019. This ominous premonition was reiterated by the German Chambers of Commerce (DIHK). The DIHK similarly lowered its growth forecasts this year from an already humbler level of 2.2% to 1.8%. The forecast for 2019 was an even more humble 1.7%. Weighing in after the recent disappointing Ifo data, chief economist Klaus Wohlrabe intimated that it is now a foregone conclusion that the economy will miss his previous 1.7% growth forecast for this year. Trade wars and Brexit are the main risks for him.
Weidmann's dissonant tones resonate strongly with the political and economic dissonance within Germany itself. If the recent Bavarian elections are a good guide, the old consensual grand coalition theme of the past is under threat from increased polarization of a very German kind. This polarization pits the Greens against the AfD. Germany's economic model, predicated on running trade surpluses, is also under threat globally from President Trump and within the Europe from Brexit and the Peripheral Populists. Commerce Secretary Ross' recent acerbic rebuke of his European counterpart, for dragging her heels in trade negotiations, suggests that the German manufacturing sector will soon face the full threat of President Trump's tariff agenda. The first engagement of the two sides' negotiators was frosty and unproductive. German leadership within the Eurozone is thus anything but certain. Looking at the travails of Macron, French leadership is unlikely to replace it either. The Eurozone is thus itself becoming economically and politically rudderless.
The strong EU and ECB rebuttal of Italian attempts to bend deficit rules was noted in the last report. Having failed at this attempt, Italy has defaulted to the taboo of crass nationalism to subvert the EU rules. Alluding to this descent, Italian European Affairs minister Paulo Savona confidently predicted that Mario Draghi will "do whatever it takes" to prevent Italian yield spreads blowing out further. Savona's error in failing to frame his opinion in Eurozone terms only highlighted the fact that Draghi is too close to the action.
This latest Italian digression effectively ties the ECB's hands against doing anything, to prevent Italian yield spreads blowing out, until Draghi has been replaced. Draghi carefully aligned his position with the EU, when he recently addressed the latest EU finance leaders' summit. Noting that Italy's widening yield spread is a risk for all Eurozone nations, rather than Italy in isolation, he nudged perceptions closer to a unifying solution for his successor. The Bank of Italy then provided a further nudge, by reporting that the Italian economy is stalling. There is now open talk about an imminent recession in Italy.
The rise in Italian yields is now being passed on to consumers and business alike. The economic reaction to this headwind is clear, the political reaction less so. It will be interesting to see if this strengthens or weakens the Populist political resolve to face down Brussels. Thus far Brussels and the ECB are being blamed for the problem, but it is early days in this war of attrition.
Responding to Italy, ECB Executive Board member Sabine Lautenschlaeger warned that the central bank will not help fiscally "irresponsible" countries. She links this enabling of fiscal irresponsibility to the wider stability risk of monetary policy that is kept too easy for too long. This is, however, not the same thing as saying that the ECB will not help the EU if it decides to become fiscally "irresponsible" by bailing out "irresponsible" countries once they have gone over the Stability Pact fiscal cliff. Deeper fiscal integration, by way of bailouts, thus remains a wide open path to be explored. It could even be triggered by rising interest rates, which would be a win for Lautenschlaeger and a win for Draghi.
The closer proximity of France to "Frexit" from Core was also noted in the last report. Evidently, this is preying upon the minds of French policy makers. Team Macron is set to undergo a reshuffle. Coincident with this re-invigoration, the Bank of France has revised its GDP forecasts, to signal a completely unexpected rebound in French GDP. By sounding positive, French policy makers hope to frame the perceptions and behavior of the people to create a self-fulfilling prophecy.
The fabricated French optimism stands in stark contrast to that of the German central bank. Bundesbank Vice President Claudia Buch forecast that a global economic slowdown is now the most likely outcome on her console. She also lamented that this means that most of the global economy will go into the recession, without any economic reforms having taken place or counter-cyclical buffers built up. Rumor also has it that the German finance ministry will lower its growth forecasts going forward, whilst leaving its inflation forecasts unchanged.
Mario Draghi's positioning of the current Italian-EU budget standoff as a catalyst to nudge deeper fiscal and economic integration was noted to be making progress in the last report. To avoid being compromised, Draghi has come down very strongly on the side of the European Union. He articulated his hardening of attitude by berating his fellow countrymen for their constant questioning of the Euro. The latest update also shows how the ECB would like to position this liquidity event.
Apparently the Greek bailout model will be used as a template. ECB sources leaked that first the EU must bail out Italy. This would then allow the ECB to purchase Italian debt, since it then notionally has an EU credit risk guarantee. If this model is to be applied, then Italy will be pushed over the edge into default. Whilst ugly as it may seem, the method in the madness also drives a stake through the heart of the Populists. They will be thrown out as incompetent, to then be replaced by a Europhile technocracy.
Commission Vice President Jyrki Katainen provided further confirmation to the Italian-Greek bailout redux thesis. He warned that Italy risks causing Eurozone contagion, unless it submits a revised budget plan for EU approval. If Italy submits a plan which the EU approves, this is de facto deeper integration, since by default the EU will be forced to backstop any Italian budget that it accepts. If Italy does submit a revised plan, then it gets nudged into Greek-style purgatory and deeper integration comes via a bailout. The ECB can thus buy more EU underwritten Italian debt.
As Italian austerity fatigue hits new all-time highs, Spain is showing a stronger propensity to follow this peripheral diverging trend. Prime Minister Sanchez is evaluating all the permutations of alliances, to get parliamentary approval for a fiscal stimulus that would test the patience of Brussels. He uses the tactics of daring his would-be partners not to vote for a fiscal expansionary budget. Faced with growing Populism and animosity towards Brussels, can any Spanish politician refuse some fiscal expansion? Sanchez already has his man on the inside of the ECB Senor de Guindos onside. Having flagged that the Spanish economy is softening, de Guindos has allowed Sanchez to position the budget as a counter-cyclical stimulus.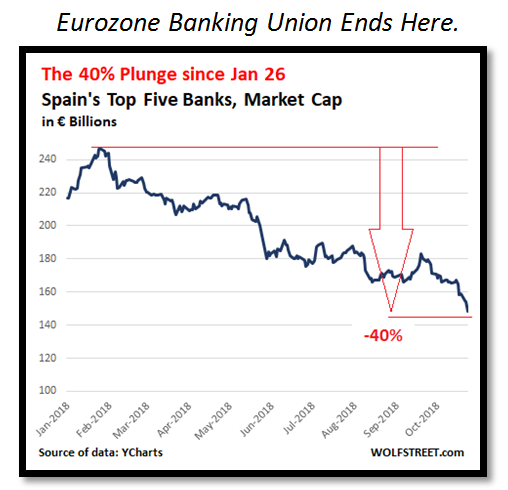 (Source: Wolf Street)
There is also an element of political partisanship appearing in the legal system of Spain, which threatens to throw the fragile banking system into deeper crisis. The supreme court ruled that banks rather than mortgage borrowers must now pay mortgage tax. It is not clear if this law will apply retrospectively, thus increasing the fiscal liability on the banking system. New mortgage credit has been effectively frozen. Spanish banks will also become less able and willing to extend non-mortgage credit.
From a foreign perspective, non-Spanish lenders will be disinclined to extend credit in Spain since its capricious legal system may punish them. Neither will foreign investors be attracted to investing in Spanish banks or other forms of private credit creating institutions. The issue of deeper Eurozone banking integration and economic union has thus effectively stalled at the Spanish border. Lawyers will be opining on the subject for all other Eurozone countries in due course. It is becoming clear, however, that legal and constitutional barriers to deeper Eurozone integration will occur in the future, unless a common Eurozone legal code can be written and adopted by each national government. Such an undertaking from all nations could take forever, or at least longer than the Q4/2019 anticipated ECB rate hikes.
Making up the Unholy Trinity of Southern European fiscal policy, Portugal's Socialist government put forward its austerity-fatigued 2019 budget. The proposed budget will lower taxes, raise pay for government workers, increase state pensions, increase jobs and lower energy and public transport prices. As with Italy and Spain, the fuzzy math of the job creation and hence hypothecated future tax revenues, resulting from deficit financed fiscal expansion, will allegedly keep Portugal's finances in line with its commitments to the EU. The numbers look great on paper and the assumptions look impractical. The EU may try and buy into it for solidarity and expansion's sake, but Northern European taxpayers won't entertain it.
When faced with domestic political survival, Southern European politicians have abandoned any semblance of adherence to EU budget discipline. They have returned to the policies of old that are anathema to Northern European tax payers, and at least 51% of British voters who do not wish to finance the Southern European Socialist dolce vita anymore. The only route to deeper economic and political integration currently available is therefore via the painful bailout route suggested above. It would be impossible to finance and enable such bailouts with higher interest rates from the ECB.
The question is whether an acceptable price can be agreed, between the bailers and bailed, which maintains the integrity of the Eurozone beyond the bailouts. The behaviour of 51% of Britons and Northern Populists currently suggests otherwise. Without the ability to devalue, Southern Europeans must take a cut in living standards or Northern Europeans must finance their continued relative affluence. Said cut in living standards has already provoked them to push their deficits beyond Eurozone sustainability levels. In the past, the ECB has simply intervened with its balance sheet and enabled the Eurozone to avoid answering its existential questions. This time around, the ECB alleges that it is not going to play the great enabler again. Just the risk to its balance sheet, from Eurozone exits and defaults, suggests otherwise however.
So far, no Eurozone member government has touched upon the issue of its contribution to Eurozone's Gold reserves at the ECB. The moment that one does, the issue of Eurozone survival really becomes moot. If bailouts are to ensue, the pledge of this Gold versus a bailout would be a key issue.
Europeans have a historical habit of falling out over fixed exchange rates and Gold. With the IMF effectively banned from Eurozone meddling by the EU, the opportunity for an objective referee to such arguments also seems remote. Exchanging one's Euros for the ECB's Gold would then become a catalyst for the breaking of the Eurozone's attempt at Bretton Woods II. Gold has appreciated in value dramatically since it was transferred to the ECB by each Eurozone nation in 1999. Its value to Populists and would-be creditors may be much greater than the notional value of the sovereign debt of some nations on the ECB's balance sheet. Italy for example has a significant reserve of Gold at the ECB and a significantly larger sovereign debt liability to the Eurozone's central bank. These kinds of numbers will appeal to a true Populist. Notably no alleged Italian Populist has done the math in the public domain so far. By the bullion yardstick, current Populists and their threat to the Euro are therefore fake news. They are just gaming the situation and have no sincere intention to break the Eurozone and undermine the Euro at present.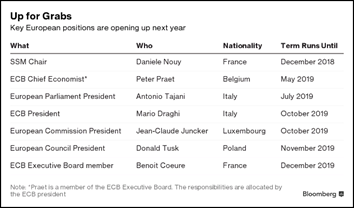 One suspects that the real squabbles will break out in a domino fashion, as the revolving positions in the Eurozone policy making executive come up for renewal between now and the end of December 2019. The Italian Deputy Prime Minister has already hinted that he would like to replace European Commission President Juncker. Whilst this shows that the Italian Populists have no intention of quitting the Eurozone, it also shows that they wish to increase their influence. With a faltering domestic economy, it is hard to see the German's accepting a reduced grip on the levers of policy making. Everything is literally up for grabs next year. Against such a backdrop, a normalization of monetary policy and interest rate hikes from the ECB would seem overly confident.
So far under Draghi, the ECB has been able to frame loose monetary policy as "doing whatever it takes" to save the Eurozone. The Euro has therefore rallied when the ECB has eased. Going forward, the ECB may have to decide about "doing whatever it takes to save the value of the Euro". This will involve raising interest rates. Peripheral economies, threatened by higher Euro interest rates, will be faced with higher interest rates in their own currencies should they leave. It may thus be less painful to remain in the Eurozone and let the ECB do its very gradual normalization. The average Populist voter in the Periphery does not understand this unfortunately, so the lesson may have to be learned the hard way through a bailout.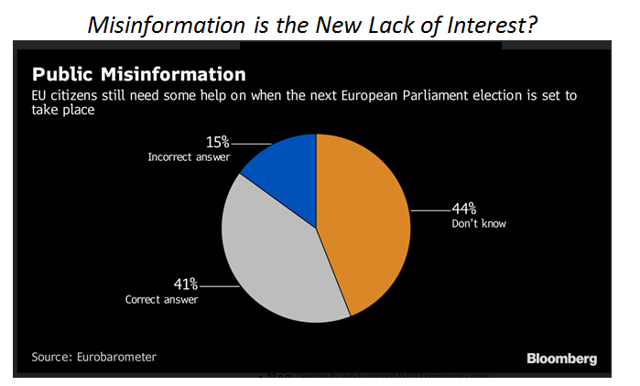 According to Bloomberg, the Eurozone's lumpenproletariat is largely unaware of the electoral musical chairs ahead. This ignorance provides scope for both the Populists and the Eurozone status quo to work a classic deal behind closed doors to prevent national democratic voting processes from spoiling their plans to maintain their respective political franchises. A Hard Brexit may, however, wake European voters up from their slumbers to focus on real economic issues of who benefits and who pays.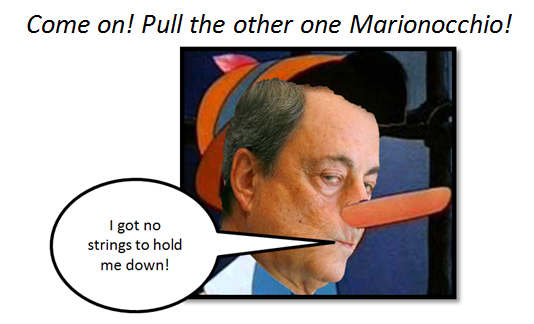 (Source: Seeking Alpha)
After the recent ECB Governing Council decision, to leave monetary policy unchanged, Draghi was forced to acknowledge the unavoidable evidence of economic softness creeping into the Eurozone. He tried to look through this soft patch and drag Mr Market's focus of attention with him. Allegedly the softness is temporary and momentum will pick up again in due course.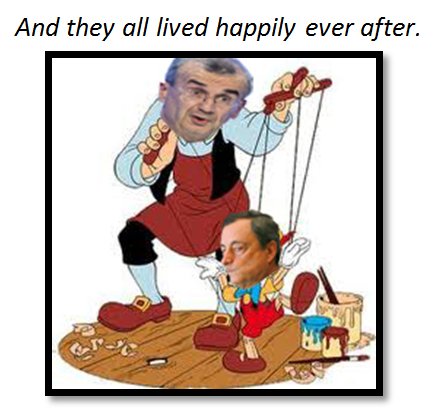 ECB Governing Council member Francois Villeroy de Galhau had the dubious honor of being part of Draghi's fictional presentation of the case for normalization. Un-coincidentally, recent French economic data has shown relative strength, so he is less compromised by his own national data set. Villeroy chose to frame perceptions in terms of future expectations, rather than current conditions, thus avoiding getting trapped by conflicting data. He was, however, talking about the Eurozone in general, so his commentary is less than credible since the Eurozone economy is weakening.
The ECB's commitment to normalize monetary policy has been clearly demonstrated at the latest Governing Council meeting. The credibility of this commitment remains suspect, in view of the economic slowdown and growing global headwinds. Reflecting this dilemma, Executive Board member Benoit Coeure recently suggested that his colleagues on the Governing Council adjust their guidance to suit the changing situation going forward. This option will allow them to avoid the embarrassment of pre-committing without delivering. It also affords them greater flexibility. In the hands of a skilled orator like Mario Draghi, it even affords the ability to U-Turn. A great pity he will be retiring next year therefore.
Disclosure: I/we have no positions in any stocks mentioned, and no plans to initiate any positions within the next 72 hours. I wrote this article myself, and it expresses my own opinions. I am not receiving compensation for it (other than from Seeking Alpha). I have no business relationship with any company whose stock is mentioned in this article.