Last week we witnessed the worst monthly decline in stocks since the 2008 financial crisis. In just one month time, all of the 2018 gains in the stock market were wiped out. If you were paying attention, you would have noticed that the smart money had already left the market since the beginning of 2018 (see chart below of Zerohedge). In this article, I will go over the many reasons why the U.S. in particular will suffer a bear market in stocks.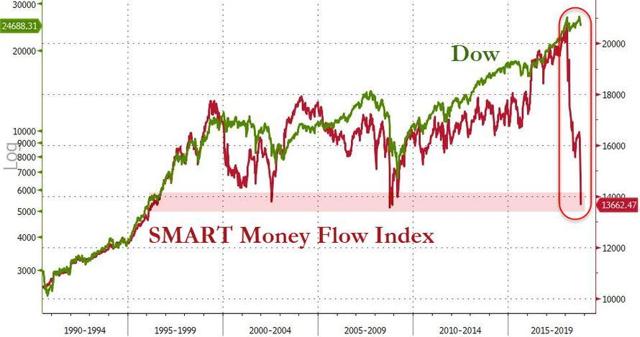 1) Valuations
The U.S. stock market is the most expensive in the world at this moment, with P/E ratios around 16 (see chart below of Yardeni). If you still want to get into stocks, I would recommend you to buy the cheaper emerging market stocks, which are trading around a P/E of 10.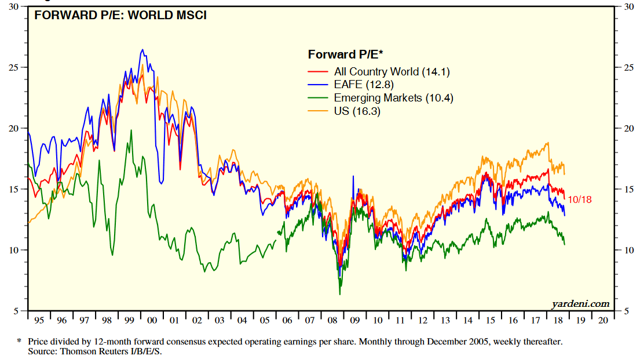 The Buffett indicator is also flashing red with a total market capitalization vs. GDP of 150% (see chart below of Gurufocus). Any ratio above 115% indicates that the stock market is significantly overvalued.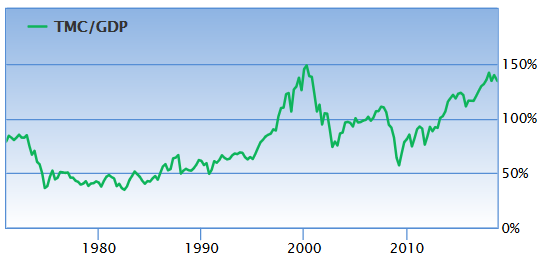 2) Federal Reserve Policy
The Federal Reserve is decreasing its balance sheet of treasuries and mortgage backed securities by $50 billion a month, which is also known as Quantitative Tightening. It won't be able to sell these securities (because it would make the Federal Reserve insolvent), but it is going to let them mature (see chart below from J.P. Morgan).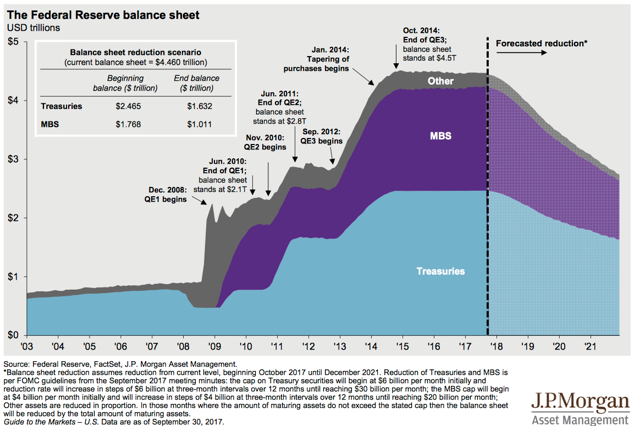 This unwinding of the balance sheet will continue until at least the end of 2020 as simulated by the New York Fed in the following chart. Remittances to the Treasury will hit a low of $40 billion per year and this will put a tremendous pressure on the government's fiscal position.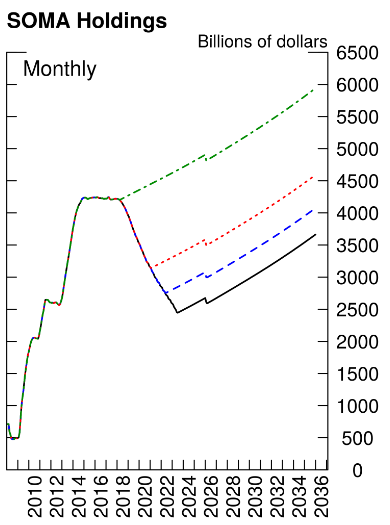 Moreover, due to the Federal Reserve's QT, we can see that global QE is turning negative. This means that we are actually taking money out of the system instead of printing money in the system (see chart below from BofA Merrill Lynch). Such events tend to coincide with stocks going down because stock prices are correlated to the central bank balance sheets.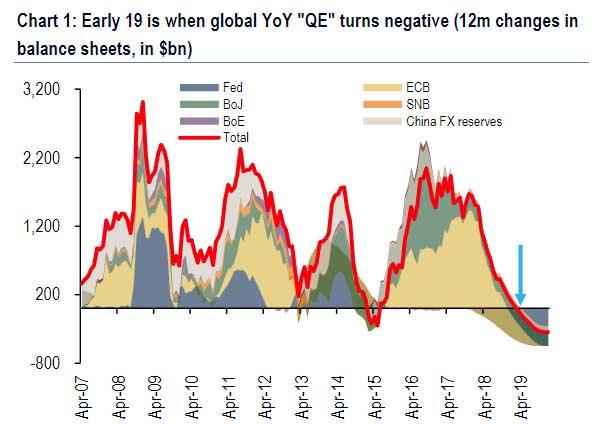 3) Interest Rates
As the Federal Reserve unwinds its balance sheet and adds to the supply of treasuries and mortgage backed securities on the market, interest rates must go up (see chart from FRED). This is especially the case in a market where foreign buyers like Russia and China are reluctant to increase their holdings in U.S. treasuries.

Today, the 10 year treasury yield is trading above 3% and historically, that is an inflection point for P/E ratios. When interest rates go higher, the stock valuations need to go down with a lower P/E ratio. The reason for this is because at higher treasury yields, it would be more profitable to invest in treasuries at higher yields of 4-5% than in stocks which only have a dividend yield of around 2-3% (see chart below from Correlationeconomics).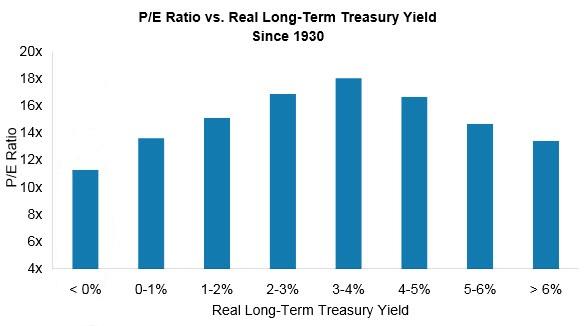 4) Housing Market
As interest rates go up, so will also the adjustable mortgage rates and fixed mortgage rates go up.


This will put pressure on the housing market. The following chart of Zerohedge shows how the homebuilder stocks are already plunging as lumber prices forecast a decline in the housing market. Delinquencies will be going up with higher interest rates on Adjustable-Rate Mortgages (ARMs) and fixed mortgage rates won't get refinanced anymore.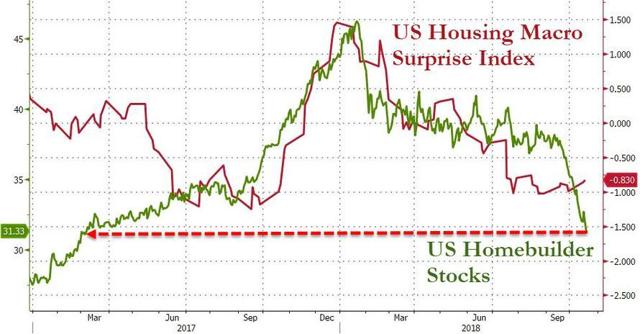 I believe that when the housing market implodes next year, the unemployment rate will start to go up. The following chart from FRED shows how the housing starts are a leading indicator for the unemployment rate with a 1-year delay. You can see that the housing starts are topping out right now, so the unemployment rate should be going up starting in 2020 (if the housing market keeps deteriorating).

5) Tariffs
Trump imposed tariffs in June 2018 to decrease its trade deficit with China and it seems that the U.S. is not winning this war. To clearly say you are winning a trade war, you are supposed to improve your balance of trade. This is not happening. The chart below from Zerohedge shows us that the U.S. trade deficit with China is widening at an alarming pace. The trade war will intensify from January 2019 onwards when the U.S. is starting to impose a 25% tariff on Chinese products.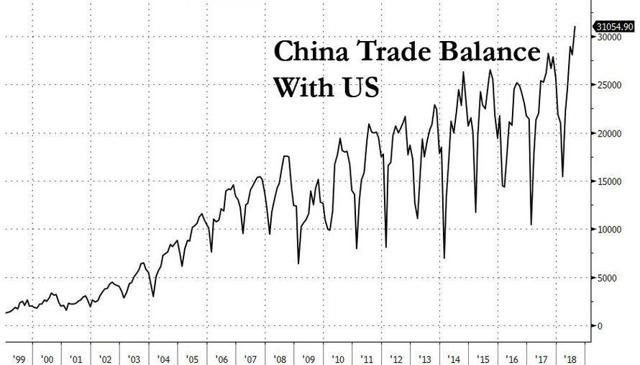 Overall, the U.S. trade deficit is hitting new highs at $76 billion in September (see chart below from FRED). Each time the trade deficit increases, a recession will follow (see shaded areas below). On top of that, the current account and budget deficits are skyrocketing as well. This is also why I believe the U.S. dollar will be weakening going forward.

More evidence of this can be found in the COFER numbers, which show the currency composition of foreign exchange reserves. Since Trump became president, the U.S. dollar has lost some strength as a reserve currency (currently at 62%). This is an indication that many countries are starting to move away from using the U.S. dollar. So we are losing a trade war and on top of that the currency will be weakening as foreign countries try to move away from the U.S. dollar.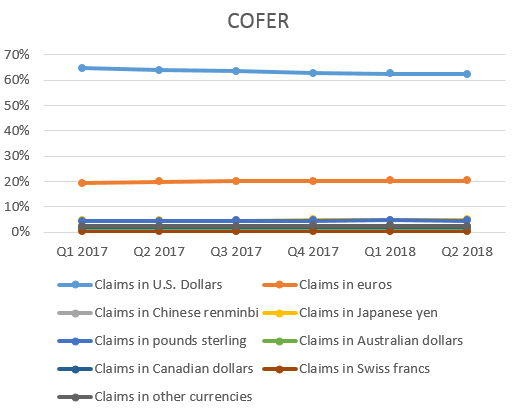 6) Buybacks
Last but not least, the Trump tax incentives (corporate tax slashed from 35% to 21%) have led to a partial repatriation of cash that was sitting overseas (total of $2.6 trillion was sitting overseas). That cash has been used to buy back stocks and has artificially boosted earnings (see chart below from Investorplace). With the repatriation of this cash more than halfway through, the buybacks will also wind down going into 2019. This will put additional pressure on the stock market.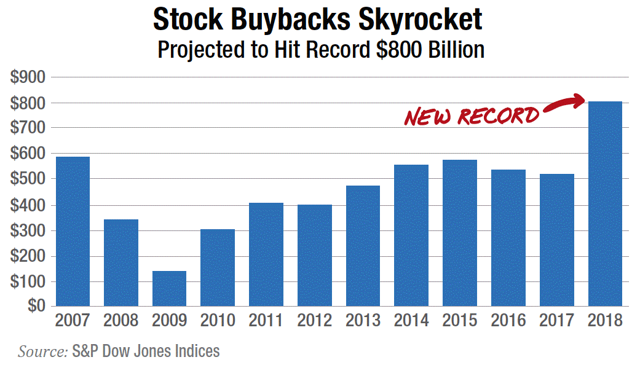 Conclusion
The stock market witnessed a very bad month in October 2018, and I have given several reasons why this has occurred. The warning signs can be seen in stock valuations, interest rates, the bond market, the housing market, the deteriorating balance of trade and this trend change was all initiated by the Quantitative Tightening of the Federal Reserve at the end of 2017. I don't know if this is the big one or not, but I sure won't stick around to find out. I suggest that investors do their own due diligence and make up their own conclusions.
Disclosure: I/we have no positions in any stocks mentioned, and no plans to initiate any positions within the next 72 hours.
I wrote this article myself, and it expresses my own opinions. I am not receiving compensation for it (other than from Seeking Alpha). I have no business relationship with any company whose stock is mentioned in this article.