There are many interesting relationships among global equities, commodities and currencies, one of which is the positive correlation between the Canadian dollar and oil prices. When oil prices move up, the Canadian dollar tends to do well. When oil prices drop, the Canadian dollar tends to suffer.
In this short article, I conclude that oil prices are set to rise in the near term, which will be positive for the Canadian dollar, while the U.S. dollar is likely to exhibit short-term weakness, thus overall providing a strong (negative) headwind for USD/CAD.
CAD vs. WTI Crude Oil Prices
Below is a chart showing the positive correlation between the Canadian dollar and WTI oil prices (daily price chart). To represent the Canadian dollar I have used CAD/USD (or in other words, the value of a Canadian dollar in United States dollars).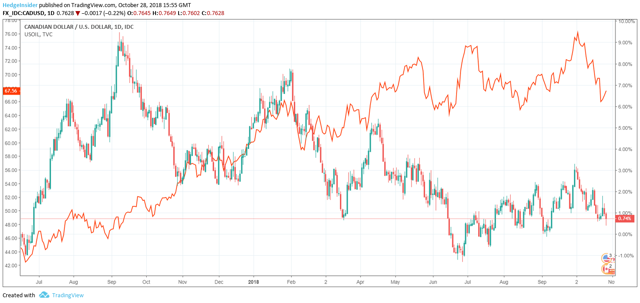 (Chart image was created by the author using TradingView.com charting tools. The same applies for all other charts published hereafter.)
While the positive correlation is not perfect, there is a clear relationship between oil price strength and Canadian dollar strength (with usually over 70% correlation strength). This is basically because Canada earns much of its U.S. dollars through the sale of energy-related goods, to both the United States and the rest of the world. The significance of Canada's oil industry has supported the strong, positive oil-CAD correlation over many years.
Therefore, if WTI crude prices are set to rise, the Canadian dollar is likely to rise against the U.S. dollar.
WTI Crude Oil Prices
In the chart below, I have drawn a simple trend line along the bottom of each local minimum since November 2017 (using a longer-term daily chart). Here we see that while oil prices have recently dropped, they have simply dropped back to a level that fits the long-term bullish trend.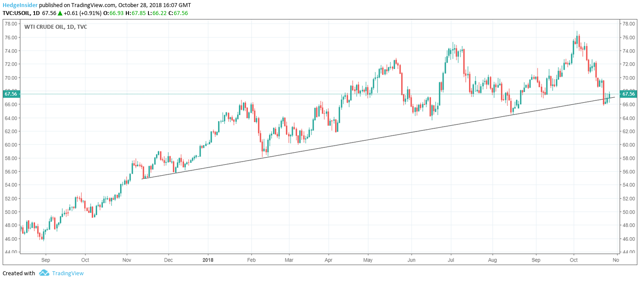 To avoid over-fitting, I have fit the graph from the local minimum in mid-November 2017 through to the local minimum in mid-August 2018. Therefore, while we recently did drop below the trendline, the trend still appears to hold as oil prices have quickly shown strength to close back above the trendline.
I believe larger buyers have been accumulating at these levels. Notice that the local minimums are rising, while so are the local maximums at the top of the chart. It is likely that we see WTI oil prices above $75 before 2019. I am not making a call as to whether they will remain above those levels, but if the trend continues to hold (as it appears to be), it is likely that we at least see WTI crude prices in the $76 region in the next two or three months.
But what is more relevant is that, since we are still near a local minimum based on this longer-term trend, we are more likely to see a pronounced rise as WTI crude prices attempt to "catch up" to the previous local maximum (which can be seen at around $76 at the beginning of October 2018 per the chart above).
In other words, like the rises following previous local minimums, there is a reasonably strong probability that a short-term oil price surge occurs. This would likely support the Canadian dollar (vs. U.S. dollar). However, the U.S. dollar has been strong recently: will the U.S. dollar accommodate a stronger Canadian dollar, or is the U.S. dollar "too bullish" to allow such strength?
U.S. Dollar Approaching Long-term Resistance
We can use the U.S. dollar index (often referred to as USDX or DXY) to identify short and long-term areas of support and resistance.
I use these terms "support" and "resistance" only to avoid confusion; what these levels really represent are areas where institutional order flow strengthens or weakens, respectively. Currencies rise with positive order flow, and fall when order flow drops off. The chart below shows the U.S. dollar index approaching a difficult level on the weekly chart.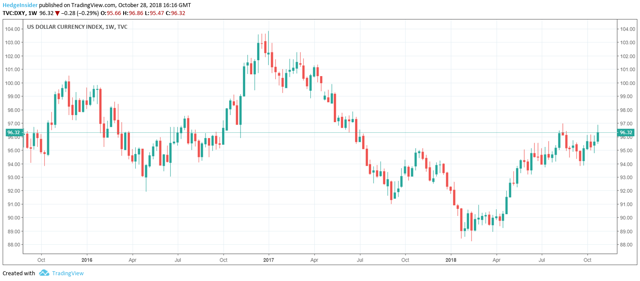 This level is so clear that I did not even have to draw a line: the previous closing level of 96.32 (for the previous week which commenced October 22, 2018) exactly matches the opening price for the bearish week that commenced August 13, 2018.
Notice also the tall wicks on the candlestick chart above in those two most relevant weeks: prices attempted to achieve higher ground, but failed. What I see here is a strong possibility for a pullback or minor correction (even if short term) in the U.S. dollar, as soon as next week (commencing October 29, 2018). If this were to occur, our USD/CAD short thesis would look even stronger.
USD/CAD Price
The chart below shows the daily chart for USD/CAD with trendlines added on top of local maximums, and below local minimums. The bearish channel is clear, and it appears that imminent downside is due. This idea can be further supported by the long wicks on the candlesticks during the last week (which as noted before commenced October 22, 2018).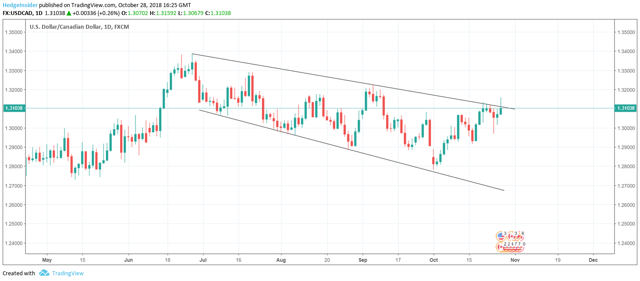 Once again, to avoid "over-fitting" I used the most relevant local maximum before the most recent one. As we can see, just as we saw WTI crude breach its long-term "local minimum trend" (briefly), so did USD/CAD breach the local maximum trendline (see top line indicated in the chart above).
Due to the positive correlation between oil prices and the Canadian dollar, it is likely that the brief oil price breach of the trendline caused this the USD/CAD breach. However, in both cases I view this as a "head-fake", and possibly an attempt to hit sell-stop orders on WTI crude oil, and/or buy-stop orders on USD/CAD, to achieve greater liquidity for larger players who are in fact setting orders in the opposite direction.
Canadian Dollar Index
The Canadian dollar index, or CXY, can be analyzed also: my chart below shows the weekly chart for CXY, just as I showed DXY (the U.S. dollar index) on the weekly chart previously.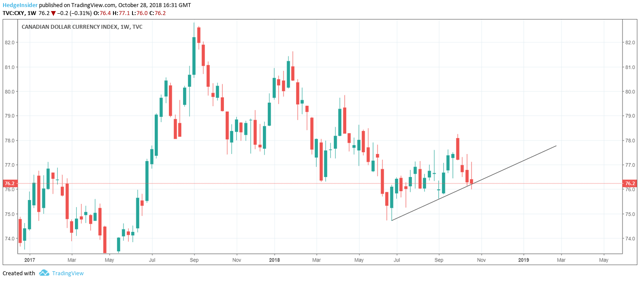 Once again we can see a short-term breach (in this case to the downside), but with a clear attempt to correct the breach intraweek. There is of course no guarantee as to whether the Canadian dollar index continues its bullish trend. However, the recent bearishness is once again likely due to the pullback in crude prices.
If/when crude prices rebound, the Canadian dollar is likely to enjoy a strong (positive) tailwind into next week, and potentially the coming weeks.
If you are interested in investing in the Canadian dollar, one option is to use the Invesco CurrencyShares Canadian Dollar Trust ETF (FXC). The FXC ETF follows the Canadian dollar index (known as CXY). However, instead of buying shares in the FXC exchanged-traded fund directly, you might also consider buying out-of-the-money call options on FXC to take advantage of the potential bullish thesis that I have outlined herein.
Disclosure: I/we have no positions in any stocks mentioned, and no plans to initiate any positions within the next 72 hours.
I wrote this article myself, and it expresses my own opinions. I am not receiving compensation for it (other than from Seeking Alpha). I have no business relationship with any company whose stock is mentioned in this article.
Additional disclosure: I am currently short USD/CAD.