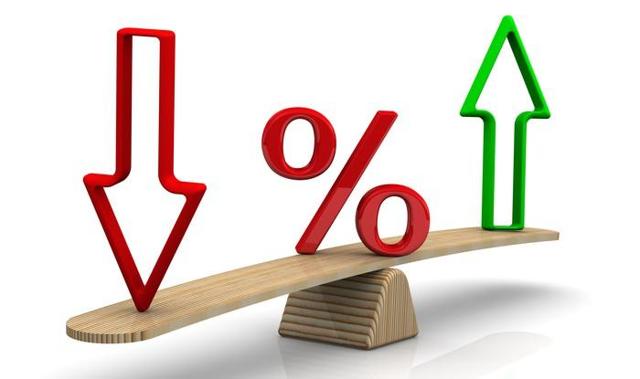 Background
"The interest rate is the gravity to stock valuations," Warren Buffett often quoted when responding to how to predict stock prices. While the statement is almost useless for investors to make future returns as no one can really predict the interest rate, it does reflect what happened in the US stock market for the past couple of weeks.
A Federal Reserve turned hawkish and a Treasury Department keeping bond markets well supplied have carried yields to their highest levels in seven years. In the meantime, S&P 500 (SPY) (SPLG) (IVV) (VOO) was down about 10% from its all-time high established late last month.
There are various negative factors related to a rising interest rate affecting the stock market. On the one hand, a rate-hiking environment could derail growth, making it more expensive for consumers to borrow while raising debt costs for companies. On the other hand (and what is more dominant), riskier stocks just appear more expensive compared to a higher yield (that just acts as the "gravity") offered by risk-less or even risk-free bonds.
In my opinion, the "gravity" effect is healthy for the market and something long-term investors should applaud for, while the slowdown in growth and rising borrowing costs should raise flags for shareholders in stocks that are sensitive to economic conditions with high leverages but weak durable competitive advantages.
The Strategy
To optimize the portfolio return anticipating more rate hikes, we implement the following screener based on the generic factor-based algorithm ranking stock qualities.
High current ratios (i.e., good liquidity);
Low debt-to-equity ratios (i.e., good solvency);
Reasonable interest coverages and/or low debt-to-EBITDA ratios (i.e., enough profit to cover borrowing costs);
Consistently superior returns on capital (e.g., ROIC, ROE, ROA, ROTE) to imply durable competitive advantages driven by efficient capital allocations;
Consistently high margins (e.g., gross, operating, FCF margins) to imply durable competitive advantages driven by bargain powers and/or low-cost productions;
Reasonable valuations in terms of price multiples and FCF yields to have margins of safety in light of more attractive fixed-income investing alternatives;
Business models that generate repeatable and predictable transactions;
Businesses providing necessary services or products for customers even during their tough budget-cutting times.
As you may already notice, the stocks favored by the above criteria should have the characteristics of strong balance sheets, wide moats, and insensitiveness to economic conditions. Below list some examples:
Novo Nordisk (NVO)
Being the industry leader to tackle diabetes globally, Novo Nordisk owns patents on multiple medicines, which control almost one-third of the total diabetes care market.
The company currently possesses a sizable amount of cash and almost no debt on the balance sheet, leaving investors with no worry about increasing borrowing costs.
Regardless of the consistently high returns on capital (i.e., 28%~81% over the past decade) generated by the business, the stock is trading at a relative discount to its historical averages of price multiples (see below).

Source: Morningstar; data as of 10/25/2018.
The healthcare sector is a good candidate for defensive play as consumers have little room to cut spending on services/products, like drugs provided by Novo Nordisk.
Ross Stores (ROST)
Ross is the largest off-price apparel and home fashion chain in the U.S. with over 1,600 stores through the Dress for Less and dd's DISCOUNTS brands. It enjoys consistent long-term growth in sales and EPS in both healthy and challenging retail and macroeconomic environments.
Over recent years, the company has improved its current ratio and debt/equity (see below).

Source: Morningstar; data as of 10/25/2018.
The price multiples are slightly higher than their historical averages (see below). But this kind of valuation should be more than fair for a business earning over a 50% return on equity and requiring less than 5% out of annual sales for CapEx.

Source: Morningstar; data as of 10/25/2018.
In case of spending cuts, treasure hunting visits to stores like Dress for Less should make more sense for consumers than visits to other retailers, providing a downside protection from rate hikes on spenders. Also, the unique off-price model is something that e-commerce competitors would have difficulties disrupting.
TJX Companies (TJX)
The TJX Companies is the leading off-price retailer of apparel and home fashions in the U.S. and worldwide.
Like Ross Stores, TJX is another leading niche retailer that is Amazon-proof. The business has generated an astonishing 61% return on equity and 42% return on invested capital over the trailing 12 months with double quarter-over-quarter double-digit growth in revenue, operating income, and EPS.
The company has a reasonable amount of debt (15% of the total balance sheet) that could be easily paid down by its cash reserve (20% of the total balance sheet) whenever needed.
TJX is trading at a slight premium to its historical level in terms of P/E, P/B, P/S, P/CF (see below), but offers a better dividend yield (1.3%) at the moment than its previous 5-year average (1.2%).

Source: Morningstar; data as of 10/25/2018.
PetMed Express (PETS)
PetMed Express is an online pharmacy that sells prescription and non-prescription pet medication and nutritional supplements.
Pet care is another category that consumers are unwilling to cut spending on even when their budget is tight. Researches even show that people are more likely to cut spending on their own food or even their children's than they are to save money on pet food. Additionally, in the developed world, pets are considered one of the family members. In the meantime, people are having fewer children, but our caring instinct remains. Many of us fulfill it with our pets.
As America's largest pet pharmacy, PetMed Express enjoys consistently high returns on capital (i.e., 19%~36% over the past decade) with no debt and plenty of cash on the balance sheet.

Source: Morningstar; data as of 10/25/2018.
The share is trading at attractive valuations in my view (see above): 15.1 P/E, 2.2 P/S, 13.5 P/CF. Investors also receive an over 3% dividend yield at this price level.
Gilead Sciences (GILD)
Regardless of the economy, patients with critical illnesses, such as HIV/AIDS, can't afford to stop receiving treatments. For example, there are over a million HIV-positive people in the U.S. and almost 40 million in total globally (and the numbers continue to grow). With proper drugs, they can live longer, and the earlier they receive treatment, the better. As a global leading player in this field, Gilead Sciences is grabbing a big share of the expanding market for HIV/AIDS drugs and would continue doing so even in the case of consumer spending cuts. Gilead Science has also been working to widen its focus to cover other critical illnesses, such as liver diseases, hematology/oncology, cardiovascular, and inflammation/respiratory diseases.
The stock is a turnaround play in my view, which I do not recommend investors do a lot of. However, Gilead Sciences does possess great cash generation/reserves with prudence in M&A spending. For the past 12 months, the business produced 36 cents FCF on every dollar of sales, with 40% of assets in cash (or cash equivalents) on the balance sheet as of the latest quarter. 1.2x debt/equity is a bit high here but should be easily covered by the cash-rich business.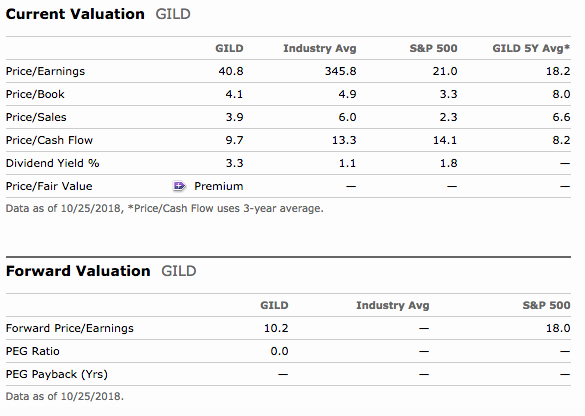 Source: Morningstar; data as of 10/25/2018.
GILD is trading at a discount to its historical averages in P/B, P/S, P/CF (see above). Although the TTM P/E of 40.8 is nothing interesting, the Wall Street consensus estimates the forward P/E to be around 10x, which should be attractive enough in case growths pick up at Gilead Sciences.
The downside risk is, however, that the margins (gross, operating, FCF, EBT) and asset turnover are still trending down.
Amgen (AMGN)
As a leading biotech company, Amgen discovers, develops, manufactures and delivers various human therapeutics. This is another healthcare stock with a wide moat, proven growth capability, high profitability, and demonstrated the willingness of delivering returns to its shareholders (AMGN increased its dividend per share 8x for the past six years).
This is another healthcare franchise earning superior free cash flow on revenue (i.e., 29%~46% margins over the past decade) with plenty of cash reserve (43% of the total balance sheet that could pay down all the debt if needed) on the book. The business has consistently high margins (i.e., 80%+ gross margin, 40%+ operating margin), indicating a durable competitive advantage by pricing power and economies of scale.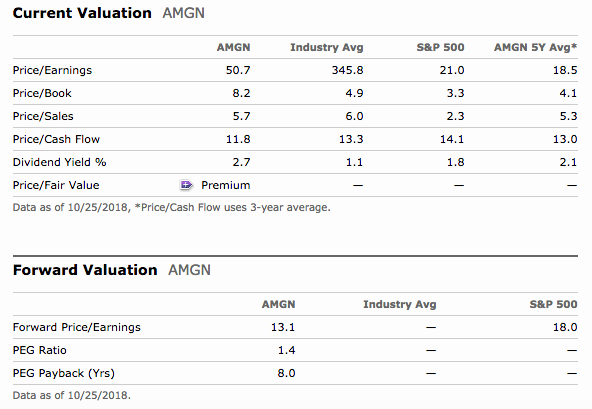 Source: Morningstar; data as of 10/25/2018.
AMGN is trading at 50.7x price-to-current-earning at the moment and 13.1x price-to-future-earning per the Wall Street consensus (see above). P/B, P/S, P/CF, and dividend yield are indicating a fair valuation of the stock at this level.
Summary
In theory, stocks do suffer when interest rate rises. However, I believe long-term investors should embrace any sell-off due to the valuation concerns of high bond yields. Meanwhile, companies with a healthy balance sheet and a wide moat would particularly stand out as high-quality targets for equity investing in a rate-hiking environment. As you may have already noticed, we find the above high-quality stocks all in the healthcare and nice retailer spaces.
Disclosure: I am/we are long MOST OF THE STOCKS MENTIONED ABOVE. I wrote this article myself, and it expresses my own opinions. I am not receiving compensation for it (other than from Seeking Alpha). I have no business relationship with any company whose stock is mentioned in this article.