The biggest headline for the world's capital market this year is the escalating trade war between the world's two biggest economies - the United States and China. For investors, it is imperative to accurately gauge the most probable duration and depth of the trade war and the two governments' likely strategies in response to the impact of the trade war because these factors will greatly influence the business outlooks of companies with particular traits or within certain industries in these two countries. For the U.S., fellow contributor Heisenberg offered great insights for its possible courses of actions under the leadership of president Trump in his article published last month.
For China, we feel that most people around the world probably still miscalculate the country's determination of winning the trade war and possible courses of actions by a fairly large extent. This misjudgment may lead investors to take imprudent investment decisions on Chinese stocks. Based on information and data we gathered in China and our deep knowledge and understanding of Chinese culture and political environment, we believe that the Chinese government is absolutely determined to fight the trade war to the end and to defend the country's right to grow and make lives better for its people. Two policy changes announced by China's top leaders last month in response to the trade war served as evidences of the country's strong resolution. Investors should be aware of these two policy changes because they significantly boosted some companies' prospects for the next several years and created good event-driven investment opportunities.
First, China is pushing on all cylinders for technological innovations and upgrades. President Xi announced that the country is going to "rely more on itself for development" and "cut its dependence on foreign technologies". The National Development and Reform Commission (NDRC), China's state planner, also said that the government "will promote the digital transformation of traditional employment sectors and encourage more workers to switch to jobs in the new digital economy". In fact, China's acceleration of domestic technological innovations and developments has been going on for months since Trump's first announcement of raising tariffs. According to a report from Xinhua news, the country's top news portal, from January to August of this year, new investments in technologies surged 70% over the same period in 2017.
Secondly, China's SEC announced a dramatic change in its stance on M&As deals (we apologize to our readers for not being able to find an English version of this news). In the past, China's SEC was very strict on approving merger and acquisition plans submitted by its publicly traded companies. The approval rate was low, and the review process for an M&A deal usually took a very long time to complete. Now, in an attempt to support the country's upgrades of technologies and shore up the strengths of Chinese companies against foreign competition, the government now welcomes M&A plans submitted by its public companies. The vice president Liu He, SEC and stock exchanges all stressed the government's determination on supporting M&As during news conferences over the weekend. A report titled, "SEC and Shanghai and Shenzhen stock exchanges made announcements to support public companies' M&A proposals" published on Sina Finance site can be read here (again, we apologize to our readers for not being able to find an English version of this news).
In the following sections, we will go over four Chinese stocks that we believe will reap big gains from aforementioned policy changes.
Tencent Holding Limited ("Tencent") (OTCPK:TCEHY)
As the biggest comprehensive online service provider in China and the biggest competitor of the country's leading e-retailer Alibaba (NYSE: BABA), Tencent stands to gain the most from the new policies. Alibaba is still the most followed Chinese company and touted by most analysts and investment experts as undervalued (such as by fellow SA contributor Michael Wiggins in his recent article). If Alibaba is undervalued (which we do not disagree) and regarded as a good deal to investors now, Tencent is even more undervalued and presents an even better investment. Commanding China's two biggest chat platforms WeChat and QQ and the country's biggest e-payment system WeChat Pay (WeChat Pay has a bigger user base than Alibaba's Ali Pay as of today), Tencent has big growth potential under its current business footprint. That big growth potential will become even bigger if the Chinese government allows the company to acquire new technologies and/or expand its business foray quickly through mergers and acquisitions.
For instance, Tencent has long been eyeing the traditional banking system, which the government was reluctant to let e-commerce companies touch in the past. If the company can gobble up one of the country's top ten banks, it can integrate its digital payment network with a traditional banking network. Such integration will create opportunities of enormous cross-sales and expansion of customer bases and service subscriptions for Tencent due to cost cuttings, all-in-one service offerings, and other synergies.
The company can also accelerate the adaptations and revenue realizations of some new technologies in which it has been trying to expand its footprint into such as intelligent risk-prevention systems, cloud computing, AI, robotics and quantum computing. The last four were included in the company's recent announcement of first restructuring in six years. The date of Tencent's announcement closely followed president Xi's announcement of national independence in technologies. This is not a coincidence; the Internet giant likely made the decision after knowing that it had the backing of the central government and top leaders who would support its efforts in upgrading key technologies that align with the country's interests.
The stock's sloppy performance this year is mostly collateral damage of the free fall in the entire sector of Chinese stocks due to the market's sour sentiment toward the sector induced by the trade war. Going beyond short term, we don't see much risk in the company's business and the stock's potential for appreciation because the company's brand name is so strong and service offerings are so irreplaceable for Chinese consumers. Therefore, the company's existing trend of revenue growth is unlikely to be affected in any significant way even if the U.S. imposes very serious punitive actions on China in the future. Tencent's online payment platform has expanded very quickly and has gained considerable ground on its biggest rival, Alibaba's online payment platform Alipay. Meanwhile, Tencent has kept a commanding leadership position in the market of mobile chatting, and that monopolized leadership position is almost impossible to be challenged.
According to the information on Yahoo Finance, Tencent's stock is trading at a forward Price/Earning ratio of about 21 and Price/Sales ratio of 7.4 as of October 26, 2018. Analysts are currently expecting Tencent to grow its top line by 31% and bottom line by 38% year over year in 2019. For a company with such a high growth rate and new upside catalysts discussed above, its current valuation is cheap for long-term or value investors.
JD.com Inc. (NASDAQ: JD)
JD, the second biggest online retailer in China, has seen its stock price cut in half since mid-June. The chart below shows a screenshot of the stock's 6-month price trend on Yahoo Finance as of October 26, 2018.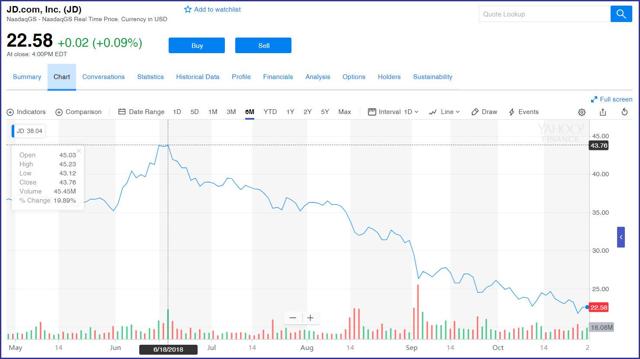 The main reason behind the collapse is the legal trouble that the company's CEO Mr. Qiang Dong Liu has gotten himself into lately. In our reply to a reader's comment on September 8, we said that the alleged rape investigation was very serious and created material uncertainty and risk to the company and the stock. Although our assessment at that time still holds true today, at current dirt cheap valuation level (Price/Sales ratio of just 0.52) and a market capitalization that is less than 1/11th of its main rival Alibaba (which enjoys a Price/Sales ratio of almost 9), Jingdong is a solid value plus growth play for mid- to long-term investors now. According to the information on Yahoo Finance, analysts are currently estimating the company to grow its top line by 24% and bottom line by whopping 130% year over year in 2019. For a company with such a high growth rate and low valuation multiples, its stock is a steal for long-term or value investors at current price level.
In addition to its dirt-cheap valuation multiples based on current business status, the company stands to gain additional catalysts for its growth engine under the government's new policies.
To begin with, lately Jingdong has devoted huge amounts of capital and other resources in hot new software technologies such as A.I. and blockchain, technologies in which China is eagerly seeking independence and loves to see quick advancements and achievements from its domestic enterprises in the near future. Thus, the Chinese government likely will give Jingdong's endeavors funding support and other types of support such as giving the company's products and services preferences over foreign companies' offerings in government procurements. In addition, should the company choose to boost the speed of its technology development and/or expansion of market share in new technologies through M&As, the company's buyout offers on smaller tech companies such as The9 Limited (see later section about this company) will likely receive fast approvals from the Chinese SEC.
In addition, Jingdong itself is a perfect acquisition target for its main domestic rivals such as Alibaba and main international rivals such as Amazon (NASDAQ:AMZN), which is also ranked third or fourth in the online retailing market in China. By law of monopoly, both Alibaba and Amazon stand to gain tremendous amounts of market share and pricing power from swallowing Jingdong. Both companies can absorb Jingdong's systems and operations with ease since their businesses and Jingdong's are literally identical. Mr. Liu's damage from the legal trouble and therefore probably lessening of his tight control on the company may result in a management team that is much more venerable to hostile takeovers and more inclined to accept a buyout or merger deal from a larger rival. Alibaba's appetite of external expansion is evident in its acquisition deals in recent years, the last being its acquisition of a significant interest in one of Russia's biggest Internet companies. As the U.S. and European countries have made it harder for Chinese firms to acquire their companies, over the next several years, Alibaba may be forced to look inside its home country for M&A opportunities and thus should be greatly interested in acquiring Jingdong.
NetEase, Inc. (NASDAQ: NTES)
NetEase, a company that we covered in our article "Best Chinese Stocks to Invest for 2018" published in April, has weathered the storm of U.S.-China trade war and the collapse of Chinese gaming companies' stocks over the past five months very well. The stock has only dropped by 13% in the period; in comparison, Alibaba's stock has dropped 28% in the same period. The following screenshot of the price chart on Yahoo Finance comparing NetEase's 5-month trend and Alibaba's speaks for itself.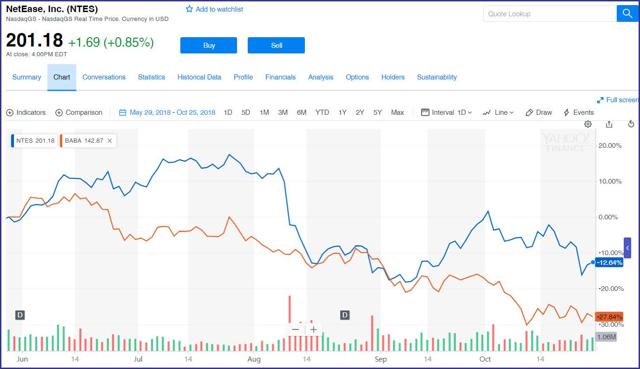 The main reason of the stock's strength, as we see, lies on its uniquely positioned gaming and e-commerce services. The CFO talked about these businesses in NetEase's last financial report. Its e-commerce business is particularly well-positioned and stands to benefit greatly under the government's new policies. In addition to be filled with advanced software technologies that China is pursuing, NetEase's e-commerce sites also fit perfectly into the country's renewed and raised effort to ban counterfeit products sold on the Internet and protect intellectual properties due partly to outside pressures from its major trading partners and partly to its own cause of promoting more innovations and inventions domestically. Therefore, the Chinese government will support NetEase's efforts to acquire other e-commerce companies that have lower technological capabilities to detect and remove counterfeit products. Smaller specialized e-retailers such as Pinduoduo Inc. (NASDAQ: PDD) and Dang Dang are great targets for NetEase to acquire and reap material synergies from cost cutting and cross-selling.
Even for NetEase's online gaming business, the company can realize gains from the government's new policies. When it comes to gaming, NetEase has a big ambition to expand overseas and has had some success in this area lately. Now backed by the country's support for M&As, NetEase can expand its gaming business at a much faster speed by quickly acquiring gaming companies in the U.S., Japan, and other countries/regions.
We offered detailed valuation for NetEase in an article published in April. According to information on Yahoo Finance, Netease's stock is trading at a forward Price/Earning ratio of only 20 and Price/Sales ratio of only 3 as of October 26, 2018. Analysts are currently estimating the company to grow its top line by 24% and bottom line by 22% year over year in 2019. NetEase's current valuation multiples are at their lowest levels in the company's history, making the stock extremely appealing considering its new-found opportunities for growth under the country's new policies. Surely, the company's core business of online gaming is facing some temporarily headwinds amid the Chinese government's temporary suspension of issuing new licenses for games as it is restructuring agencies responsible for the industry and trying to find new ways to stop sexual and overly violent content from appearing in PC and mobile games. However, we believe that these setbacks are only temporary and that business environment should go back to normal by early next year the latest. Therefore, in our view, the reward-to-risk ratio of NetEase's stock is still very appealing to long-term and value-focused investors.
The9 Limited (NASDAQ: NCTY) ("The9")
The9 Limited, a company with businesses covering web, mobile, and TV games, mobile applications, training for application developers, blockchain technologies and products, and cryptocurrencies, is a Chinese small cap that may benefit greatly from the government's new policy shift. The company's top competencies are artificial intelligence, machine learning, and advanced and complicated algorithms used in encryptions. These are fields in which China is very eager to be completely self-dependent and become the world's leader. Moreover, China is also very eager to promote the usage of its currency RMB and make it the top standard currency for global trading. One new and critically important strategic move for a currency to be the de-facto global trading currency is to anchor the value of the currency to one cryptocurrency in order to guarantee the underlying value of the currency and facilitate the exchange between the currency and an underlying asset that has a limited amount of supply (the supply of a cryptocurrency is limited due to constraint set by mathematical algorithms) and can be freely traded all over the world. The importance of this new strategy is evidenced by the British government's pegging of the pound to a new cryptocurrency called LBXPeg this year.
For China, there are three main advantages of using The9's cryptocurrency as the peg cryptocurrency of its RMB. First, The9's cryptocurrency PLTX is relatively new and has not been tied to any other currencies. Thus, RMB can enjoy the advantage of being PLTX's first and exclusively pegged real currency. Secondly, The9's exchange is located in Hong Kong, the freest financial market in China, which can facilitate the free trading of the cryptocurrency with all currencies in the world. Finally, since the exchange is located in the place that China has political control over, the country can be assured that its main cryptocurrency and its exchange won't be used by other countries to pose threats to its national security during conflicts or wars. For all these reasons, we see a high possibility of the Chinese government's funding and technical support for the company over the next several years and facilitation of any M&A deals between The9 and other Chinese companies in order to help The9 grow quickly. In fact, the government's fondness for the company's expansion is already manifested in the government's approvals of The9's recent mergers with Leading Choice Holdings Limited and Plutux Limited, two providers of cutting-edge blockchain and cryptocurrency technologies. We will not be surprised to see an M&A deal between The9 and a major Chinese bank or technology company in the near future. If such a deal is indeed announced, the Chinese government will probably not intervene and will give a quick nod for the parties involved to move forward.
According to the information on Yahoo Finance, The9's stock is trading at a Price/Sales ratio of only 4 as of October 26, 2018. Although the company is still not making net profits yet due primarily to extremely high ratios of R&D expense to revenue and sales expense to revenue, we still like the stock's current reward-to-risk ratio because the company is still at a young age and is currently laying foundations for various PC and online businesses. These businesses can grow by tens or even hundreds of folds over the next few years and have very high profit margins when their scales break certain basic thresholds. What The9 is going through is similar to what Amazon and Google (NASDAQ:GOOG) (NASDAQ:GOOGL) were going through in their early years. Of course, for such a small cap and young company, current shareholders face some odds of loss (let's say 5% to 10% odds) should future outcome of business executions or market conditions turn out to be very unfavorable. Such risk is unavoidable in order for an investor to enjoy a high potential gain when the company is able to successfully execute its business plan. While it is not unthinkable for current stockholders of The9 to see their investment grow by tens of folds within a couple years, it is not likely that stockholders of Alibaba, Tencent, or even NetEase will enjoy such a high return in the same time frame. In fact, shareholders of The9's stock already witnessed a pop from about $1.5 to over $8 several days ago when one of its co-founders announced taking a huge new stake in the company, following the CEO's announcement of similar feat last month (CEO Zhu Jun is the other of the company's two co-founders). Any time when we see both co-founders of a small high-tech company taking huge amounts of new shares in the company, we view that as a very bullish sign and a strong evidence of the company's bright business outlook.
Final thoughts
It should be noted that the stocks of the Chinese Internet companies discussed in this article all face somewhat higher-than-average macro and micro risks. Unfortunately, the trade war between the U.S. and China will continue to pose threats to Chinese and global economies and put some otherwise not present pressures on Chinese stocks and Internet stocks all over the world. Even the stocks of Americans' beloved and globally famous tech giants, "FANG" (Facebook (NASDAQ:FB), Apple (NASDAQ:AAPL), Netflix (NASDAQ:NFLX), and Google), have been hit by the storm lately. It is extremely difficult to estimate and time the exact bottom of the Chinese high-tech Internet stocks discussed in this article. However, each of these four stocks have extremely low valuation multiples and high growth potential in spite of the presence of the trade war. The growth potentials have become even bigger under China's new policies of technological independence, and we believe that at their current valuation levels, the investment risks are well measured and controlled. As a long-term and value-focused investor, we'd be happy to increase our stakes in these companies right now as we are satisfied by their current reward-to-risk ratios.
Disclosure: I am/we are long NTES, NCTY.
I wrote this article myself, and it expresses my own opinions. I am not receiving compensation for it (other than from Seeking Alpha). I have no business relationship with any company whose stock is mentioned in this article.
Additional disclosure: Disclaimer: The opinions of the author are not recommendations to buy or sell any security. Please remember to do your own research prior to making any investment decisions, as well as knowing your own unique goals and tolerance for risk. We may initiate positions in TCEHY or JD in the near future.
Editor's Note: This article covers one or more microcap stocks. Please be aware of the risks associated with these stocks.