There is a time to hold hard assets and there is a time to hold soft assets. Hard assets are investments with intrinsic value such as gold, silver, oil, and copper - in other words, as Dennis Gartman likes to say "things which if you dropped them on your foot, would hurt." Soft assets are those in the form of money or easily convertible into money - they are saleable though not material or physical - shares of stocks are considered soft assets.
The important question for investors is: when to hold which assets and for how long?
One simple and, at least over the last 20 years, reliable way to ascertain which asset class will outperform the other over a long time period is to follow the Gold Bullion (GLD) to Dow Jones Industrial Average (DIA) Ratio (GOLD:DJIA). I have charted this ratio over its 48-week EMA over a 20-year period. What does the chart show us?
When the GOLD:DJIA ratio value is above its 48-week EMA it is more profitable to hold hard assets such as Gold.
When the GOLD:DJIA ratio value is below its 48-week EMA it is more profitable to hold soft assets such as equities.
Hard Asset Bull Market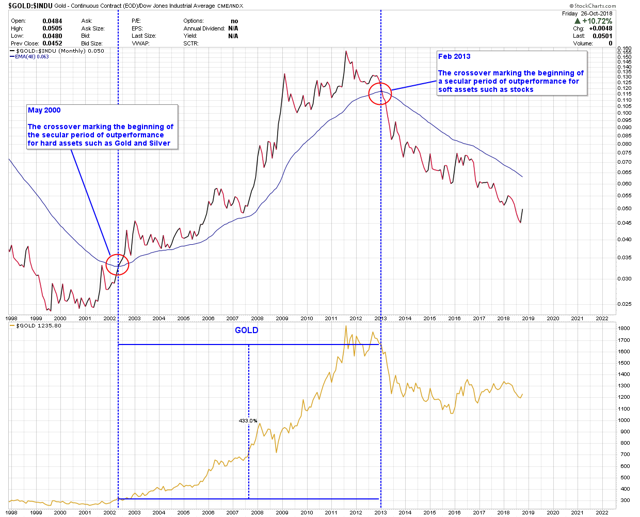 The chart above shows that a secular period of outperformance for hard assets commenced in May 2002 when the GOLD:DJIA Ratio closed above its 48-week EMA - it stayed above the 48-week EMA for over 10 years. During this period Gold Bullion climbed 433.00%.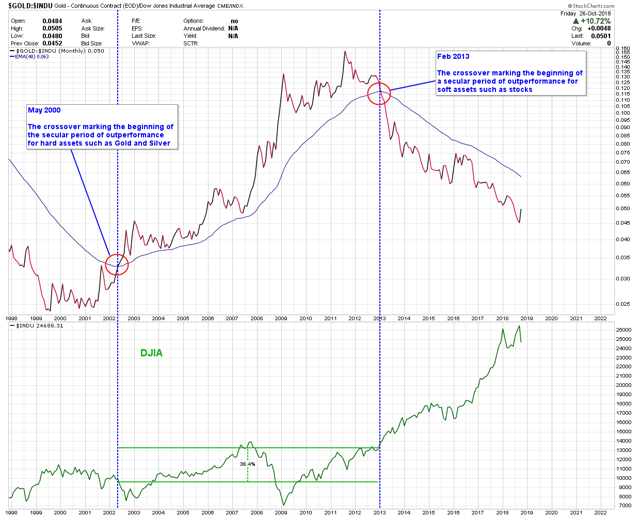 In comparison, over the same period the Dow Jones Industrial Average (DIA) was up only 38.40%.
So, from May 2002 to February 2013 we were in a secular bull market for hard assets.
But something significant occurred in February 2013.
At the end of February 2013 the GOLD:DJIA Ratio closed below its 48-week moving average, signalling the beginning of a secular bull market for soft assets such as equities.
Let's compare the returns on Gold and the SP500 since February 2013.
Soft Asset Bull Market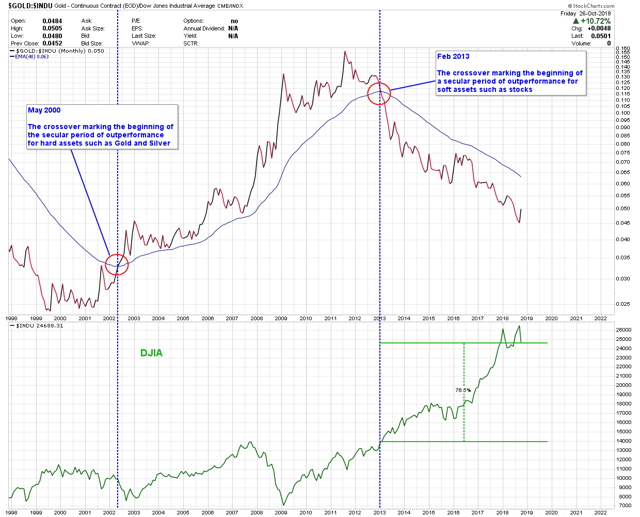 From the end of February 2013 to the end of October 2018 the DJIA is up 76.50%.
Over that same time period Gold is down 25.40%.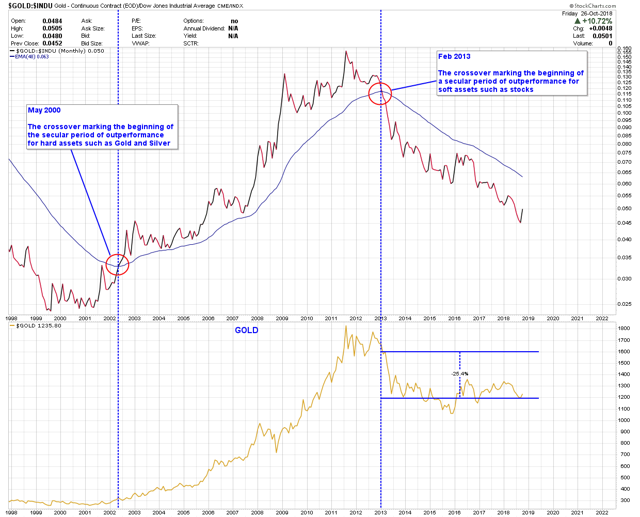 What About That 200-Day Moving Average?
This month the Dow Jones dipped below its 200 MA. Many market observers view this as a bearish signal for the future direction of the markets. It certainly is a bearish sign for market sentiment whenever a major index dips below its 200 MA (the SP500 and the Nasdaq are also below their 200 MA). But is it a signal that a significant decline in equities is how about to occur?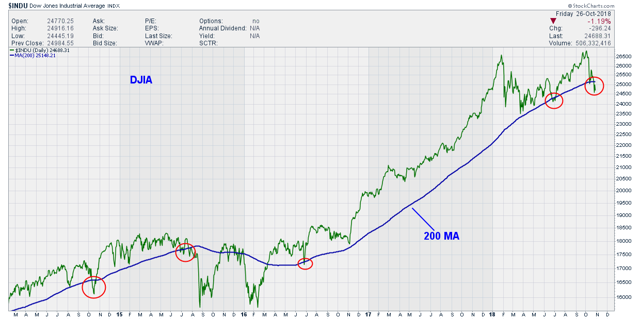 Above is the daily chart for the Dow Jones going back to 2014 - since 2014 there have been four occasions when the Dow dipped below its 200 MA. After only one of those occasions (July 2015) did we see a significant decline in the index - the other three were false bearish signals, and the index quickly recovered and started moving higher again.
I'm not saying that we should ignore the current dip below the 200 MA and be complacent about it - caution is warranted - market sentiment is bearish - investors are anxious - but does this signal the end of the secular bull market in equities? I don't think so. The market is simply digesting a few uncertainties at the moment:
Have corporate profits peaked?
Is US GDP decelerating?
Is the US Fed raising rates too quickly?
Is the US housing market is a secular downturn?
Uncertainties cause equity markets to fall. When the uncertainties are resolved, markets either continue to fall or reverse to the upside.
From what the GOLD:DJIA ratio is telling me, we are going to reverse to the upside from here. Why? The secular trend is still bullish for equities. The market will tell us when the secular bull run for equities is over when the GOLD:DJIA ratio crosses above its 48-week EMA. Until that happens, markets will continue to bounce back from sell-offs like the one that we're experiencing right now.
Conclusion
Since 1877 the average length of a bullish secular trend for equities has lasted 12 years - so if the current secular bull market began in Feb 2013, it could possibly last until 2025.
The last bullish secular run for hard assets lasted just over ten years - but we are only five years into this new bullish secular trend for soft assets.
Although it is impossible to know exactly how long a secular trend will last, it appears that this ratio provides us with a very useful tool to help guide us:
As long as the GOLD:DJIA Ratio remains below its 48-week EMA it will be more profitable to remain invested in soft assets such as equities.
And if history is any guide, this current sell-off in the markets is just a correction and not long-term bearish reversal. This secular bull run for equities is alive and well.
Disclosure: I/we have no positions in any stocks mentioned, and no plans to initiate any positions within the next 72 hours. I wrote this article myself, and it expresses my own opinions. I am not receiving compensation for it (other than from Seeking Alpha). I have no business relationship with any company whose stock is mentioned in this article.