There is a battle ongoing between Mattel (NASDAQ:MAT) and VTech/LeapFrog (OTCPK:VTKLF).
Mattel has now for many months, if not years, been seen as a failing company where the choices were either to be acquired by a competitor such as Hasbro (NASDAQ:HAS) or to become totally irrelevant. The fact that a slew of CEOs came and went over the past few years did not help things particularly since the last one, Margo Georgiadis, lasted a mere 14 months at the job. However, there are now clear signs that Mattel has a third choice - to turn around and grow again. The earnings call a few days ago and the underlying numbers support this view. The problem with Mattel had never been its people or its brands. Both are world class. The real issue has been the strategy that directed both. Barbie is a very good example of what a change in direction can bring - Barbie had lost market share every month since 2011 until the company fundamentally changed its strategy for the brand early last year and returned it to growth.
Fisher Price is in a similar situation. This is a brand that has had a very rough time for a great many years and which still today faces sales and market share declines. However, there are signs that a new strategy implemented two years ago is about to turn this brand around as well.
Until recently, the learning aisle at the major U.S. retailers was reserved for two companies - VTech and LeapFrog. They were fierce competitors focused on providing mainly electronic learning hardware - consoles and tablets - for children in their preschool children, maintaining that their products gave the little guys a leg up once they entered the intellectually challenging first grade at big-boy (or big-girl) school. This claim was used to justify the premium prices commanded by the two companies, but it was never definitively proven that this consumer benefit was in fact real.
LeapFrog started this then new technology back in 1994 and VTech, a provider of mainly telephone products, followed suit with its VSmile range four years later. They battled tooth and nail for market share and shelf space, but LeapFrog lost out and was finally acquired by VTech in 2016.
Apart from being a very cheap acquisition, LeapFrog as part of VTech provided the company with what was clearly a monopoly. There was nobody around that could challenge them. Some had tried but all without any success. The learning aisle at the major retailers - Toys "R" Us, Walmart (NYSE:WMT) and Target (NYSE:TGT) - was theirs! Or so they thought.
What they forgot was that retailers loath monopolies and the VTech/LeapFrog monopoly was no exception. The national buyers at these mass retailers quietly reached out to a number of companies with one simple message: "If you develop products that we can put into the learning aisle, we shall make room for you there".
You really do not have to tell a toy company much more than that before they get going. Several did, and this shows up on the shelves in the learning aisle at the three (now two) major brick-and-mortar toy retailers. Here is a shelf space comparison between April 2016 when the VTech/LeapFrog merger was announced and in September 2018: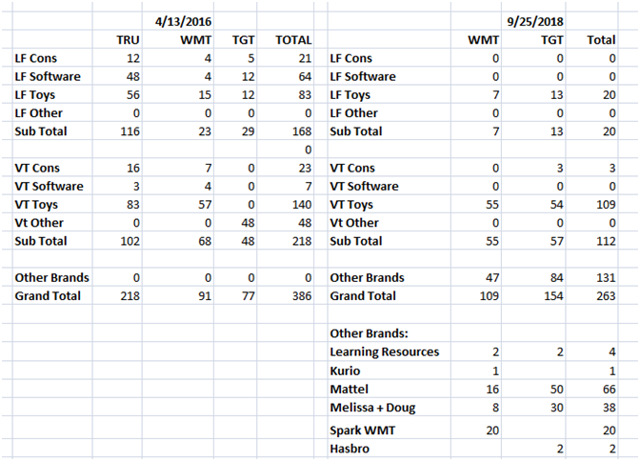 Source: Klosters Retailer Panel
On April 13, 2016, the "Other Brands" had zero shelf space. On September 25, 2018, they had captured 50%. After the demise of Toys "R" Us, both Target and Walmart beefed up the shelf space devoted to learning products, but again this benefited the "Other Brands". VTech and LeapFrog in fact lost space at both compared to what they had before the merger.
Mattel took the cake with its two major learning ranges - Laugh&Learn and Think&Learn. The second successful entrant was Melissa & Doug with its mainly wooden learning toys for the very young. Walmart came out with its own brand as well - Spark Toys.
(Incidentally, whilst this information will undoubtedly be redundant for most of my readers, the editors of Seeking Alpha insist that I explain how I get the data for the Klosters Retailer Panel quoted at the bottom of each of the three charts. The Klosters Retailer Panel is based on information provided by two source points. One is my proprietary U.S. retailer panel consisting of ten individual stores - one Walmart, one Target, one Barnes & Noble (NYSE:BKS), one J.C. Penney (NYSE:JCP), one Kohl's (NYSE:KSS), one CVS (NYSE:CVS), one Walgreens (NASDAQ:WBA) and three Learning Express specialty stores. I will not provide any further identification given the confidential nature of the relationships. The second are national buyers at thirty major retailers in seventeen countries as identified in the third chart of this article. Again in this instance, no further identification will be provided).
This is how sales in the U.S. developed as a result: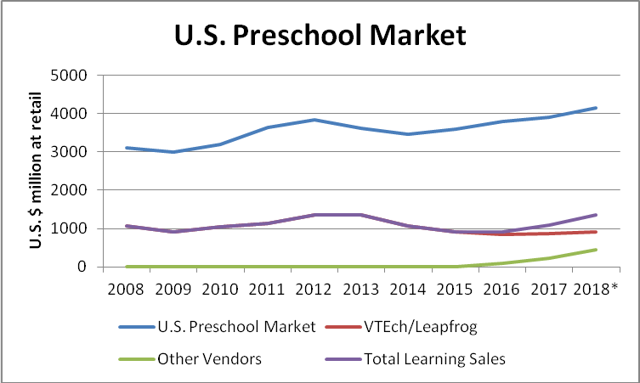 Source: Klosters Retailer Panel
We are seeing similar developments internationally. The learning market outside the U.S. is very significant - today estimated at about $8 billion. Over the past few years, it has grown at about three times that of the toy market overall or about 12% per year. This is likely to further accelerate given the recent relaxation of the one-child policy in China.
Just as in the U.S., both Mattel and Melissa & Doug are making headway against VTech/LeapFrog internationally. One way of measuring their performance is to determine whether any of their IPs places in the top five positions of a given category at a major retailer. There is a clear correlation between this metric and a company's market share at that retailer. In the case of the learning category, it is what the retailers call "Educational Toys".
This is how the position of the major contenders is around the globe as measured by this metric:
Territory

VTech/LF

weight

Mattel

weight

Melissa + Doug

Weight

U.S. - Target, Walmart, J.C. Penney, Kohl's and Amazon (NASDAQ:AMZN), TRU Canada, Amazon Canada, Amazon Mexico

September 30, 2018

May 31, 2018

18

53

21

10

18

3

Europe - TRU Germany, Amazon Germany

Amazon UK, ASDA UK, TRU France, Amazon France, TRU Spain, Amazon Spain,

Amazon Italy and IPS Italy

September 30, 2018

May 31, 2018

13

66

16

4

5

0

Asia Pacific - Amazon China, TRU Hong Kong, Amazon India, Flipkart India, Amazon Japan, Big W Australia, Big Retailer New Zealand, TRU South Africa, TakeALot South Africa, Carrefour Brazil, RI Happy Brazil, Alkosto, Colombia

September 30, 2018

May 31, 2018

9

44

18

3

5

12
Source: Klosters Retailer Panel
There are a number of other companies that are making rapid progress against VTech/LeapFrog - 4M, Learning Resource, Elenco, Educational Insights, etc. - but these are typically smaller and very locally-oriented companies. They usually do not have global reach - at least up to now - but they would make excellent acquisition targets for companies that do have that reach.
What the weight comparison between May and September 2018 suggests is that VTech/LeapFrog has lost massively and this is mainly to Mattel. Melissa & Doug did well in North America and Europe but had a setback in Asia mainly due to advances made by smaller local companies.
All this suggests a very major development for Mattel's Fisher Price strategy. What we are seeing is a pivot from its traditional strategy - toys for play for the entire preschool age - to one which now focuses on two groups, the below-two year olds and the families focused on educating their little guys. The reason for targeting the former group is that these kids are much less exposed to and distracted by smart phones and tablets and hence are a more stable consumer universe. The latter group is the one where Mattel saw an opening and moved to exploit it aggressively. The fact that this latter group is also representing a very rapidly growing market place does not hurt either.
More fundamentally, it also signals a shift in overall company strategy for Mattel. Until recently, its approach had been to let its products find their own consumer demographic and to then focus promotional and advertising efforts on it. In the case of Fisher Price, Mattel now identifies promising consumer group sub-segments, creates products tailored to these, and to then bring all its marketing muscle into play to ensure that these products win out over the competition that is already there.
Whilst Mattel still faces an uphill struggle to regain its former strength, these and other changes in the strategies the company has begun to employ suggest that the worst is over provided that the company maintains stability in its top ranks and stays the course in the direction of its new strategies.
Disclosure: I/we have no positions in any stocks mentioned, and no plans to initiate any positions within the next 72 hours. I wrote this article myself, and it expresses my own opinions. I am not receiving compensation for it (other than from Seeking Alpha). I have no business relationship with any company whose stock is mentioned in this article.
Editor's Note: This article discusses one or more securities that do not trade on a major U.S. exchange. Please be aware of the risks associated with these stocks.