Global markets (VTI, VOO, VEA, EFA) have lost another $2T in market-cap over the past week rout, as investors reacted heavily to multiple high-profile 3Q results misses - e.g. Amazon (AMZN) and Alphabet/Google (GOOG, GOOGL) - as well as fairly tepid batch of global macro data.
As a matter of fact, investors are selling the shares of firms that hit quarterly earnings expectations at the highest rate since 2011, a sign of concern over how long the good times can last for American corporations.
Since the January highs, global stocks lost nearly $15T in value, equal to the combined GDP of the Eurozone (VGK, EZU, HEDJ, FEZ) and the UK (EWU)!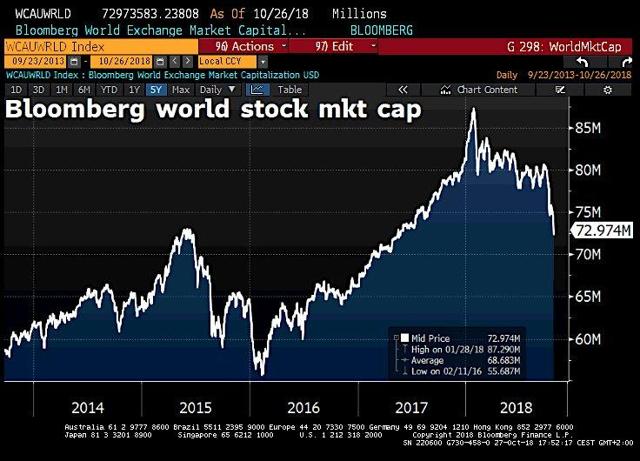 In red October alone, global equities have lost almost $8T in market-cap, the worst sell-off (of a single month) since 2008!
Bear in mind, though, that the total market-cap has increased by ~50% since the financial crisis so one can claim that it's easier to see such a huge amount evaporating from the market than it was in 2008.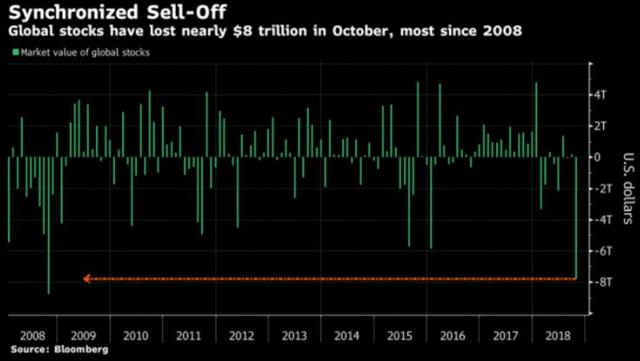 Early indicators show that economic conditions continue to weaken in China (FXI, MCHI), particularly among small private firms, adding to the already very poor economic sentiment.
On the other hand, China's money supply growth looks set to accelerate on the back of a lower required reserve ratio for banks, supporting GDP growth.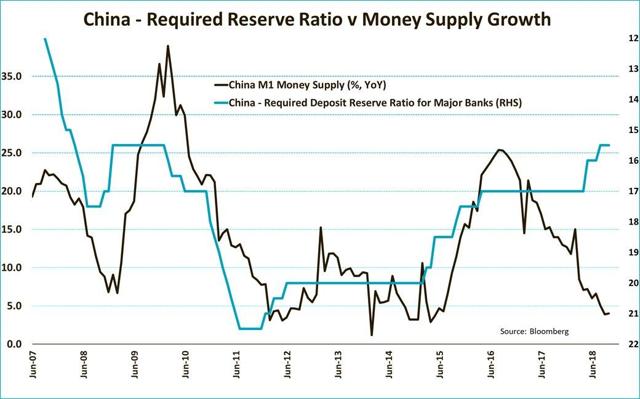 According to Goldman Sachs (GS), financial conditions have tightened further along with the tumbling markets, suggesting a dimming outlook for the US economy.
Investors are wondering when the Fed put will come back into play. Some are betting that the worst monthly performance since 2009 for US stocks (SPY, DIA, QQQ, IWM) will be enough.
Spooked by the recent collapse, traders are now factoring in fewer than two Fed rate hikes next year, compared with the three increases that policy members project.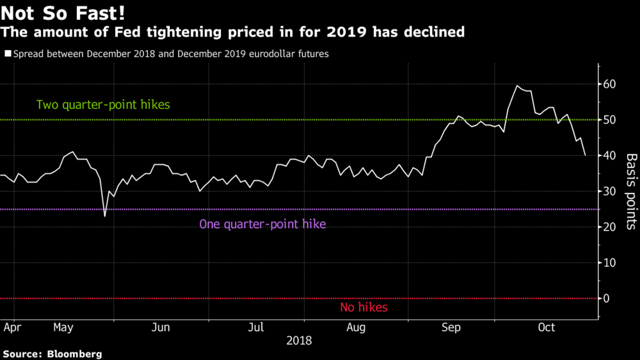 Thing is, there seems to be no hiding place for investors to escape from the recent market rout. Even junk bonds (HYG, JNK, AWF, BKLN) - that were surprisingly trading in a very relaxed manner until very recently - have come under ugly selling pressure this month.
The BBG Barclays Global High Yield Index is down about 2% in October alone. In case you're wondering, that's a lot for a debt-related index.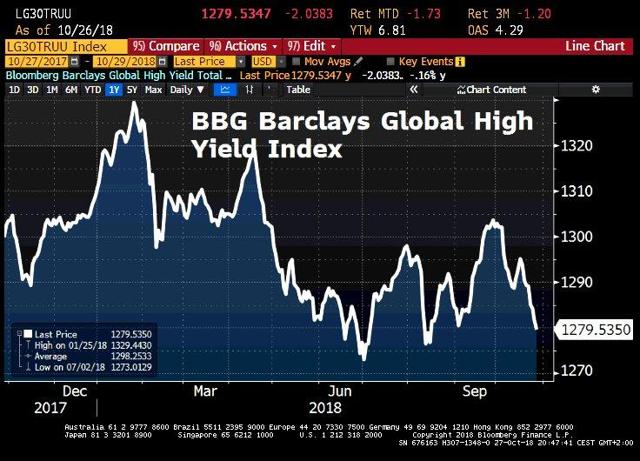 Nevertheless, it's worthwhile noting that global bonds (LQD, AGG, BND, BSV) have gained $241B in value, on course to regain the $50T (in total) mark as US Treasuries (SHV, SHY, IEF, TLT) and German (EWG) Bunds rallied in a risk-off mode environment and as global economic data continued to disappoint. UK (EWU) Gilts rallied even more than their American and German counterparts, outperforming just ahead of this week's much anticipated UK budget.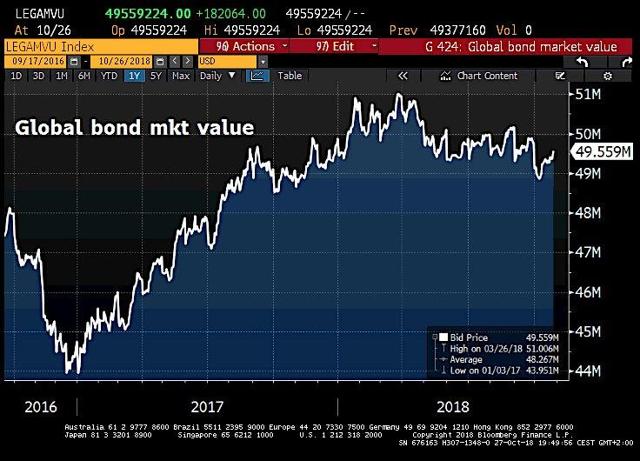 Last Friday - when the US markets lost more than 2% on average - global bonds have rallied, in spite of (perhaps thanks to) the ugly risk-off move.
While the US 10-year Treasury yields dropped to 3.06%, German 10-year Bund yields fell to 0.34%. Yes, the spread is still huge at 2.72%...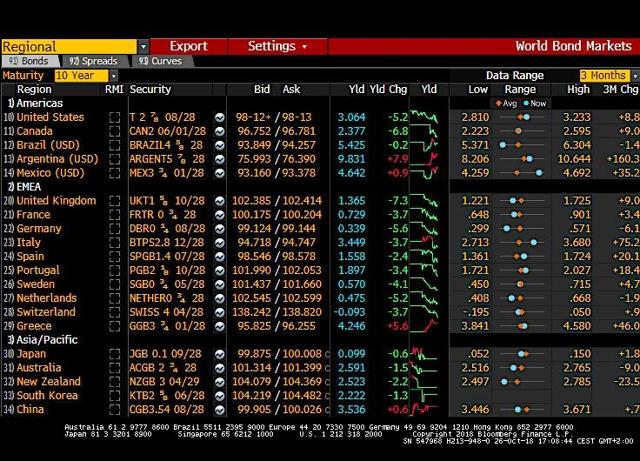 As the below summary proves, we have been very active in warning against long-duration (over 7-8 years) in general, as well high-yield with even medium duration (greater than 4-5 years):
However, it's important to note the following:
Most high yield debts are having short duration (less than 3-4 years).
Most of the high credit quality segment (from AA- up to AAA) is comprised of government (and some, though much less, corporate) bonds.
The medium credit quality range (from BBB- up to A+) is the dominant segment among investment-grade bonds.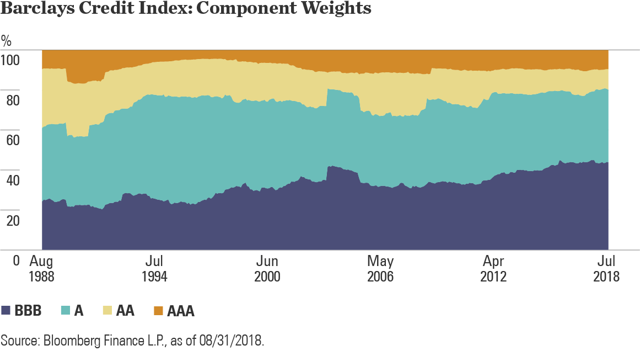 About one-fifth of debts issued by US corporations is HY.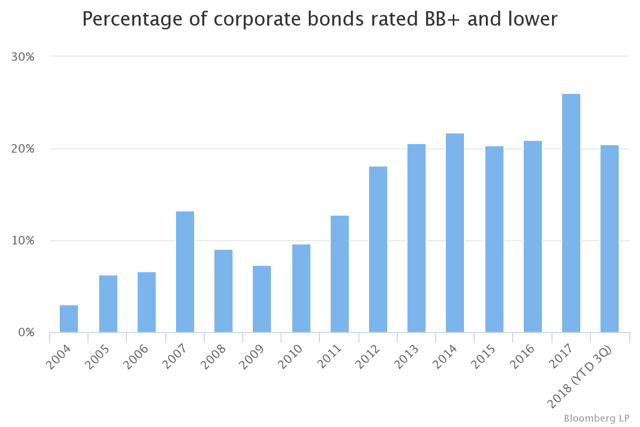 Why do we mention all these (allegedly random) facts? Because of a few, worthwhile noticing, reasons:
When we get closer to a recession - bonds will become attractive again. The run to safety as well as the higher yields (they are likely to offer at that point in time) will allure a lot of money.
Short-duration almost always do the job, regardless of how close or distant we are from the next recession.
When the recession is upon us - long-duration, high-grade, bonds will be the best place to put your money into (That, of course, aside of shorting stocks, but this is of course a completely different level of risk).
Therefore, if we are sounding to you bearish on bonds - you're right. Nonetheless, it's important to note that we are not bearish on all types of bonds (even now), and we are likely to shift our stance quite dramatically when the time comes.
It may be sooner than many think, believe, or hope for.
Author's note: Blog post notifications are only being sent to those who follow an author in real time. In order to receive notifications for both articles and blog posts, go to Author Email Alerts, which lists all the authors you follow, and turn on "Get e-mail alerts" (see below).


The Wheel of FORTUNE is one of SA Marketplace's most comprehensive services. We view our service as a "supermarket of ideas" with an emphasis on risk management and risk-adjusted returns.
Our monthly review for October, where you can find all suggestions since launch, is only one click away.
We cover all asset-classes: common stocks, preferred shares, public debts, baby bonds, options, currencies, and commodities.
With Trapping Value on-board, you're getting two leading authors for the price of one.
Before committing to the service on a long-term basis, take advantage of the two-week free trial.
Disclosure: I am/we are long JPM.
I wrote this article myself, and it expresses my own opinions. I am not receiving compensation for it (other than from Seeking Alpha). I have no business relationship with any company whose stock is mentioned in this article.