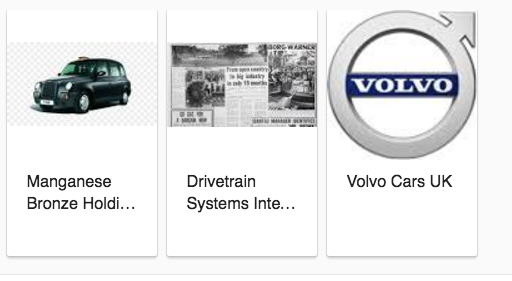 Some assets in the stable of Geely companies

I wrote three articles about Zhejiang Geely Automobile Holdings Ltd ADR (OTCPK:GELYY) (OTCPK:GELYF) in 2018. In each, I recommended GELYY as a buy at the time and continue to do so today for long-term investors. Anyone able to take advantage of financial losses for end-of-year tax purposes can do so if you bought GELYY high but then jump back into GELYY. First, speak with an accountant and broker about implications, limitations and tax obligations because GELYY is a China-based company.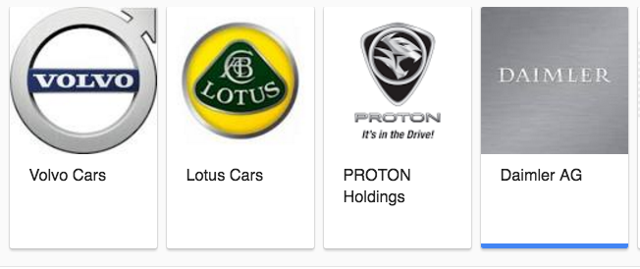 GELYY shares are oversold considering the continuing waves of good news. The share price topped $75 in 2018, experiencing a run-up faster than profits rose. Shareholders expected unit sales and profits to catch-up but they didn't. Nevertheless, there is little justification for the precipitous toppling of the share price from June 11, 2018, when shares sold for $61.83 each down over the past 5 weeks in a slide to ~$42 and now selling at ~$35 per share. Except to say the following:
The Bad News:
Management of Sweden-based Volvo Cars and Geely lay the blame for the postponement for an IPO of Volvo on trade tensions that might continue on for a while
Trade, Brexit fears, rising car loan borrowing rates, and higher fuel costs combined to drive the broad-based decline in GELYY shares and the Stoxx 600 Auto and Parts index that is today 22% percent lower YTD
Furthermore, China is demanding a total switch to electric vehicles in the near future BUT cut the subsidies to electric and hybrid vehicles to which Geely committed. Fear is omnipresent that near-term E V sales will be hit and the industry is characterized by lassitude
The Good News: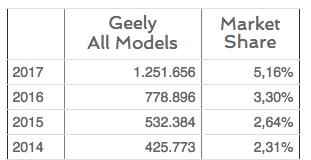 Business Insider reports young Chinese car buyers rank domestic car brands on par for quality with foreign-made vehicles (same as they do with smartphones) and they prefer to buy domestic brands.
Chinese carmakers owned 38.4% of the domestic market in 2014 and 44.2% in 2017. Tesla (NASDAQ:TSLA) will face strengthening headwinds with Musk's expansion plans. Geely outpaced 2018 sales in China of all Japanese car brands including the three top Japanese rival carmakers
Expansion abroad is nascent. +98% of Geely sales are still in China and few of its vehicle parts supplied by Geely Auto Parts are imported. Geely shares technology with Volvo, Volvo Trucks and Construction, and, per the guffaw from one pundit, "Does the new Daimler shareholder (Geely's owner bought in for €7B) just want to do a little technological cuddling? No one believes that"
Daimler and Geely announced in October they are launching the JV ride-hailing 50-50 venture in China driving two companies closer together
Geely is backing Terrafugia for its first flying car that started taking orders
Volvo Car Corp.'s China sales and deliveries rose 14% in September '18 primarily of their sedan models. This is a good sign higher-priced car sales are strong in sectors where bigger profits accrue regardless that overall upscale sedan, MPV, SUV and crossover utility vehicles slumped in China 12% during September
Volvo and Nvidia (NASDAQ:NVDA) are partnering to develop an AI core computer for safe, fully autonomous, self-driving Volvo cars
Geely's owner is a significant stakeholder in Volvo Group, +8%, the truck, and construction equipment business that is a leader in R&D and deployment of mining vehicle prototypes purportedly lurching toward the goal of reducing carbon emissions by 95%
Founder and billionaire, Li Shu Fu, holds the controlling interest in Geely. That is a strong plus better ensuring long-term stable management, little need to personally drain money from the company for personal use, for building a workforce working in unison to implement his mission and plans for global expansion
The Light Emerging
GELYY shares will continue to welter because investors are logy fearing the uncertain when it comes to trade wars, tariffs, vagaries in foreign economies, and related uncertainties. Conditions are the result of such uncertainties and not reasonable assessments of Geely's fundamentals, which appear strong and able to weather storms. China's population and especially the middle class are continuing to grow and get richer. That is a portent for more domestic car sales. The company is dipping its toe into the American market as I've reported earlier. Its strengthening relationship with European and British carmakers bodes well for stabilizing volume and profits. Management has a vision and is sticking to it. The long-term looks prosperous for Geely and its investors. To borrow a quip from Shel Silverstein, there is "A Light in the Attic" and it's Geely.
Editor's Note: This article discusses one or more securities that do not trade on a major U.S. exchange. Please be aware of the risks associated with these stocks.