During the last week, HYG fell significantly (-79 bps), reaching its new 2-year low (HYG price fell slightly lower back in November 2016). During Wednesday and Friday, the ETF fell by over 40 bps on a day. The movements closely tracked S&P 500, which saw its second correction by over 3% on Wednesday, following weaker-than-expected corporate earnings. Friday added more pain, with SPX closing at -3.94%, loosing the entire growth gained during 2Q and 3Q. Still, in comparison with other major equity markets, which are down between 6% amd 13%, US by far lead the race.
S&P 500 total return YTD now stands at 0.98%, while HYG total return is 0.20% (including dividend reinvestments).
At Figure 1 it can be seen that correlation between HYG and SPX reached very high level during sell-off.
Figure 1. HYG & SPX price dynamics during the week ending February 28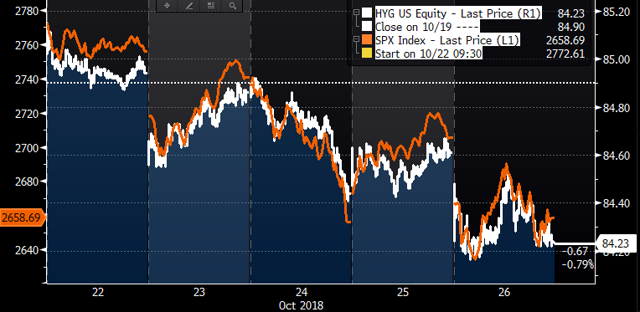 Source: Bloomberg Terminal
Investors turned to US Treasuries, depressing its price, and leading to strongly negative correlation with HYG, as can be seen from Figure 2.
Figure 2. HYG & 10-year US Treasuries price dynamics since beginning of October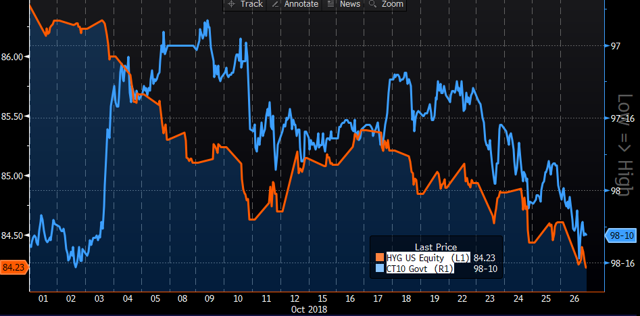 Source: Bloomberg Terminal
10-year UST reached 3.08% by the end of the week, yield previously seen in the beginning of October. Medium and long-term part of UST curve went down by 10-15 bps, as seen in Figure 3.
Figure 3. Change in US Treasury Active Contracts Curve for the last week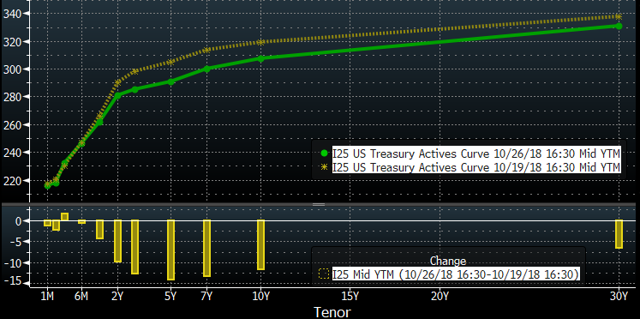 Source: Bloomberg Terminal
HYG price depreciation is mostly driven down by the collapsing price of underlying bonds (Figure 4). Difference between its price (84.23) and NAV (84.26) now is insignificant.
Being the largest sector contributor, Communications brought the most significant part of the correction.
Figure 4. Contribution of sectors to changes in HYG over the week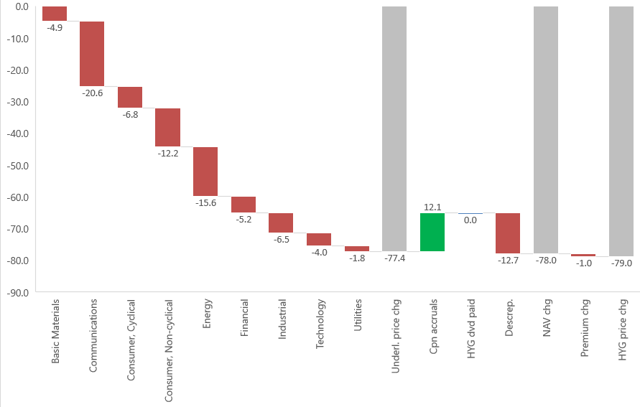 Source: Bloomberg Terminal, BlackRock Inc, Lighthouse Research
The risk-off touched each and every sector, see Figure 5. Basic materials and Energy were the weakest on slump of crude price on Tuesday (Brent dropped another 4.3%, while WTI fell 4.0%, later the benchmarks recovered part of the losses).
Hexion's 2020 Notes (Chemicals/Basic materials) continued to slide, loosing another 19% over week, after 2nd lien creditors hired financial advisor for debt restructuring purposes.
Energy sector losers included Sanchez Energy, Jones Energy and Weatherford Bermuda whose ratings were cut following corporate events and in anticipation of weak next week earnings.
In Communications sector, notes of debt-ridden Dish Network, Frontier Communications and Intelsat continued to slump.
Few companies delivered positive returns over week.
Endeavor Energy Resource 2026 and 2028 Notes appreciated by 3.6% and 4.9% after the company's announcement that it got takeover interest and now explore sale opportunity.
Tesla 2025 Notes gained 3.8% after strong 3Q, in which the automaker managed to reach one of its new production record as well as demonstrated first in a long time positive free cash flow.
Figure 5. HYG sectors price changes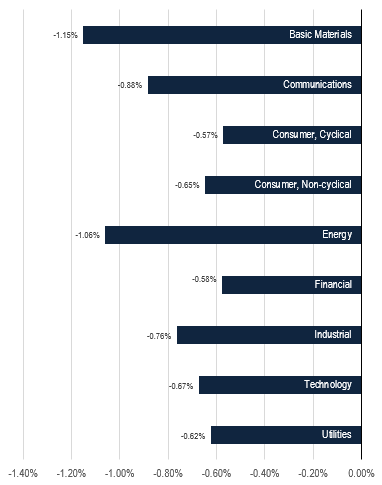 Source: Bloomberg Terminal, BlackRock Inc, Lighthouse Research
Thank you for reading!
BR,
Alexander Shvedov
Disclosure: I/we have no positions in any stocks mentioned, and no plans to initiate any positions within the next 72 hours.
I wrote this article myself, and it expresses my own opinions. I am not receiving compensation for it (other than from Seeking Alpha). I have no business relationship with any company whose stock is mentioned in this article.