Maybe you think that I am crazy or have read too much Kostolany. I'm also pretty sure that I belong to a minority that thinks so, because most people assume that Amazon (NASDAQ:AMZN) (or other stocks) can rise continuously. That may be true in the long run. Nevertheless, there are a few points that worry me (in the short to medium term) and that I would like to share with you. I am not referring to the fundamental situation of the company, but purely to the price development and the current market conditions.
1. Overall market conditions
In the bull market, even the worst stockpicker can do something while in the bear market not even the best win. - André Kostolany
First of all, I could imagine that we could slide into a general market correction or even into a bear market. I have written two detailed articles on my German blog, which you can read with the help of a translation service (here and here), explaining the reasons that make me feel insecure in this context.
While share prices have continued to fall over the past week, I was particularly suspicious of the price rises on Thursday - the day the quarterly figures for Amazon and Alphabet (NASDAQ:GOOG) (NASDAQ:GOOGL) were published. After the losses of the previous days, Amazon has risen by 7% over the course of the day. My fear was that Amazon could be massacred even if the slightest earnings miss was made.
Finally, the figures were published and the share fell by more than 7% the next day. Thus the price gains of the day were more than lost. Regardless of the results, it was interesting to see that while analysts had lowered their price targets, they still recommended Amazon (and Alphabet) as a buy (It is important to mention that I do not rely on analyst opinions because they can quickly change their mind).
Interestingly, Seeking Alpha Editor Brandy Betz wrote the following before the quarterly figures were published: "Last quarter, Amazon missed sales estimates and included downside guidance but didn't suffer for it due to its sheer market size and growth potential." (here).
So while the market reacted positively to the result in the last quarter, this time the stock was punished for a minimal revenue miss, despite a tenfold increase in earnings.
2. Investors' Carelessness
A bull market movement initially remains within the classical framework, then it spreads to questionable values. Through a slow infection, it leads to an unreasonable over-increase in mediocre stocks. After all, this upturn encompasses a large number of unvalues, yes, of anti-values. - André Kostolany
I noticed that nearly everyone (e.g. value investors, growth investors, retail investors) simply bought the stock and recommended it to others. I admit that I couldn't resist the temptation either and bought the stock. I recently sold it again.
At the same time, I have the feeling that shareholders are paying far too much attention to the price ticker than to the playing field and are euphorically buying in the event of the slightest drop in prices, believing that they have made a bargain (known as "buy the dip"). This can work in a general bull market, but in a potential bear market, it can lead to greater (book) losses and expensive buying prices.
I've seen conversations where investors joke that the stock has only one direction anyway, that they've already won the restaurant dinner in one day (the day the quarterly figures are published) and still want to win the cocktails afterwards (the price dropped by over seven percent after the quarterly figures are published and has lost more than the daily profits, shit happens).
3. Phase of bubble territory
A company can make such good profits and pay dividends, it can have such good prospects for the future, it will not rise on the stock market until demand exceeds supply. This is the only postulate of stock market logic. - André Kostolany
According to Kostolany, every bull market and bear market on the stock exchange (be it equities, bonds, commodities or precious metals) consists of three phases:
Phase of stock price correction;
phase of increasing volume; and
phase of bubble prices.
In the following, the Kostolany Egg is shown with its different prices: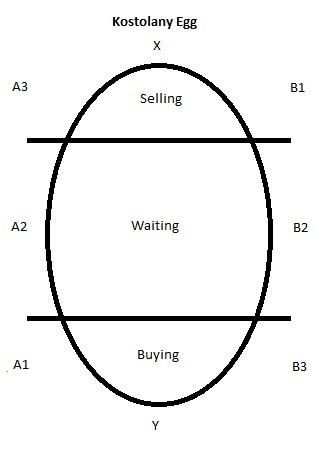 A1 = Stock price correction; low volume, low number of stock owners.
A2 = Increasing stock prices; volume and number of stock owners are increasing.
A3 = Bubble prices; high volumes, high number of stock owners.
B1 = Stock price correction; low volume, number of stock owners are slowly decreasing.
B2 = Decreasing stock prices; volume and number of stock owners are decreasing further.
B3 = Market crash prices; high volumes, low number of stock owners.
You should buy in A1 and B3 and sell in A3 and B1.
Kostolany also mentions in his book that when everybody (taxi driver, colleague, etc.) around him own and talk about stocks (or a special stock) that could be a sign for a bubble.
Let's now look at the different phases of the Amazon share price. I'm not a chartist, but if you look at the chart, then you can easily distinguish the different phases in my opinion. I think I don't have to mention at this point that Amazon has a current PE ratio of 149 and a forward PE of 65 (according to Finviz).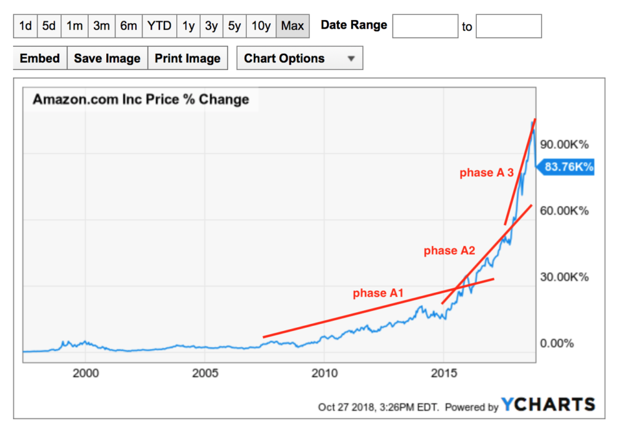 Amazon's share price development over time as of 26 October 2018
Let's now take a look at Bitcoin's share price performance. I think that you can easily identify the different phases after Kostolany here as well. In this respect, it seems only a matter of time before Amazon slides into phases B1 (stock price correction) and B2 (decreasing stock price).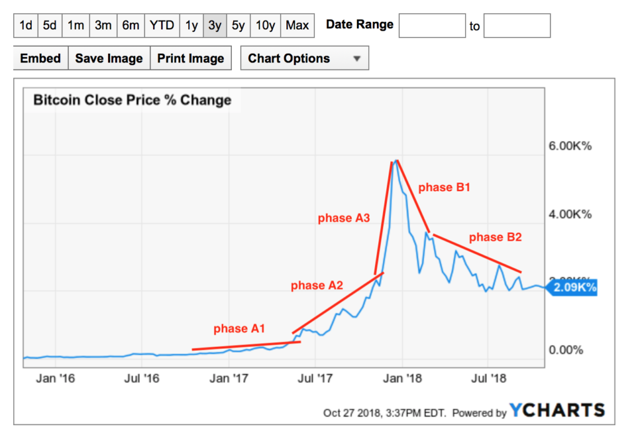 Bitcoin/USD price development over time as of 26 October 2018
It is also worth mentioning in this context that Amazon has already lost 19.5 percent since its high and is currently in correction mode (see following chart).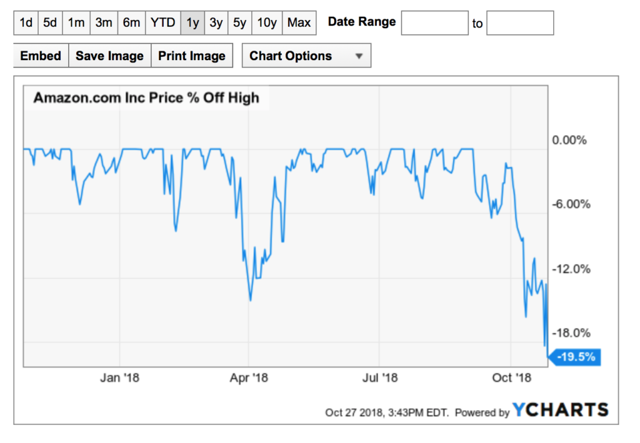 Amazon price % off high as of 26 October 2018
4. Potential year-end rally/stock market rally after the midterm elections to recover the stock prices
I read from many investors who invest with the intention that there might be a year-end rally or a price rally after the midterm elections. For me, the odds are 51:49 that there won't be a year-end rally. I will reveal why I think this is the case if my assumption is confirmed. There is a very simple reason for this.
An important point in this context is that last year investors waited for the year-end rally, but it didn't come. Surprisingly, this was exactly the time when the Bitcoin bubble emerged. The chart below shows that after the sell-off of bitcoins in December 2017, the stock market rally started in January 2018. The capital was obviously deducted from the bitcoins and invested in equities. Coincidence? I don't think so.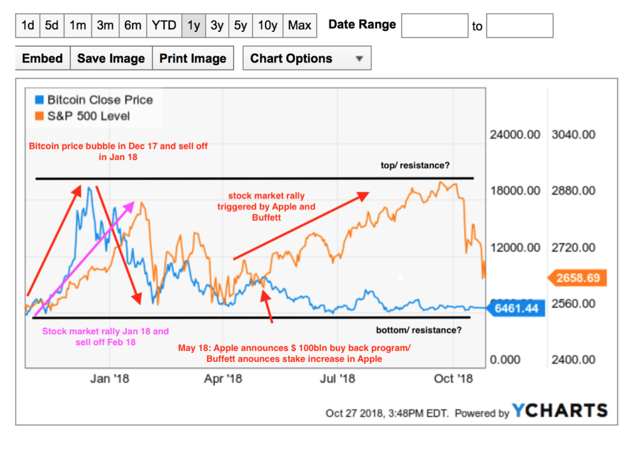 Bitcoin vs. S&P 500 price development as of 26 October 2018
It is also worth noting that the market was in correction mode from February to May. The market began a price rally after it became known that Buffett had increased his stake in Apple (NASDAQ:AAPL), and Apple had announced a USD 100 billion share buyback program.
In this context, I wrote an article on my German blog entitled "Market analysis as of 5 May 2018: How Apple and Buffett unleash the animal spirits of the shareholders" (You can read here on my German blog by using a translator). In this article, I wrote the following:
"On the one hand, it seems as if Buffett has triggered a price rally and catapulted the Apple share to a new all-time high of $184.23. On the other hand, it looks as if the investors' desire to buy and their 'Animal Spirits' have been unleashed again."
In addition, investor legend Ken Fisher writes in his book (The Only Three Questions That Still Count: Investing By Knowing What Others Don't) the following:
"Bull markets die with a whimper, not a bang. A basic rule! Normally bull markets don't have a dramatic peak, but slowly tip over. Around the peak of 2000 there was a ten-month phase in which the global stock market never came out of a nine percent range."
And now take a look at the current development in the S&P this year: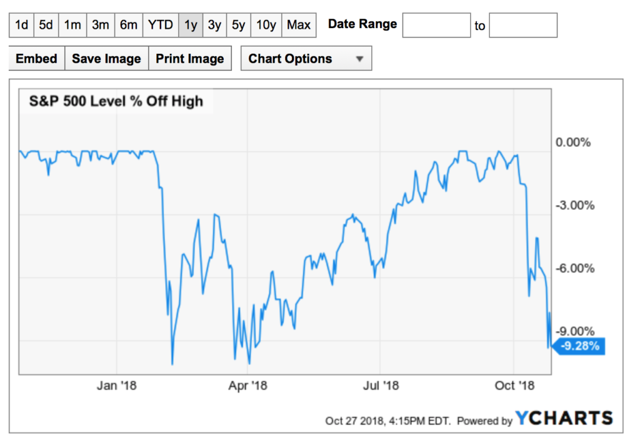 S&P 500 Level % Off High as of 26 October 2018
The parallels are amazing. However, this can also only be a coincidence. I suspect that an impulse from "outside" (e.g., Fed, Trump) is necessary for the mood to turn and for the price rally to start again. It needs new buyers. The question is who buys at the current prices?
Warren Buffett compares value investing with a moat. I would like to extend this comparison a little. In order to benefit from this moat, you first have to set foot in the castle. I think investing could be like sieging a castle. You can attack directly, but then you may have to reckon with high losses. Alternatively, you can besiege the castle and wait until the supplies inside the castle are used up. Either those in the castle will stand outside the castle, fall over from weakness, or surrender.
So, since I currently see many buyers buying back at the slightest price loss and even profit warnings because they assume they have bargained, my strategy is to create a battle plan (i.e., define my potential investments) and wait patiently until others have used up their "reserves" and (if my assumption is right) collect the shares at low prices (of course, it is important that my assumptions made today continue to hold).
5. Conclusion
"A Rothschild can also make a bull market,

but never prevent a bear market."

- André Kostolany
I chose the above quote deliberately. While reading Kostolany's book repeatedly, I remembered my market analysis of 5 May 2018: "How Apple und Buffett unleash the animal spirits of investors" (linked above).
I would advise investors to be extremely cautious in the current market environment. This article can be applied not only to Amazon, but also to stocks like Netflix (NASDAQ:NFLX) or even Apple. If you take a look at the share price performance, you will discover amazing parallels. Maybe you'll laugh at this article and make fun of it. But I've seen investors invest 10-15% of their assets in Amazon because the stock would only know one direction. If you're one of those investors, maybe this article will give you something to think about and you'll diversify your values more broadly. Because nothing would be worse than to lose a lot of your savings due to an unexpected event. Stock prices tend to go up and down due to exaggerations.
In addition, the Fed is becoming increasingly hawkish, and there are also signs of a slight slowdown in economic growth combined with falling asset prices (e.g., housing prices).
It seems to be a good solution to have a diversified portfolio with different asset classes in the current market environment. I already positioned and prepared myself. What are your opinions? Which asset classes do you think could have an upswing in case of a potential bear market? I'm excited to hear your answers and comments.
I hope you enjoyed reading this article.
Disclosure: I am/we are long AAPL.
I wrote this article myself, and it expresses my own opinions. I am not receiving compensation for it (other than from Seeking Alpha). I have no business relationship with any company whose stock is mentioned in this article.
Additional disclosure: I/we have no short/long position in AMZN or NFLX and no plans to initiate any positions within the next 72 hours. I may sell my AAPL stock in the next 72 hours.