Editors' Note - this article is meant to introduce Wide-Moat Investing Platform, a new Marketplace service run by Eric Nickolaison.
"But when short-term and long-term conflict, widening the moat must take precedence."
Above is a Warren Buffett quote from his 2005 shareholder letter. I had an epiphany the first time reading this and now base a lot of my investment decisions upon this framework.
While owning moaty type businesses can provide comfort over a long duration, businesses are highly complex and do change overtime. Some investors might be stuck on legacy moats that are shrinking, I like to try and identify sustainable or emerging moats.
Below is a newspaper clipping showing Buffett purchasing Sun Newspaper: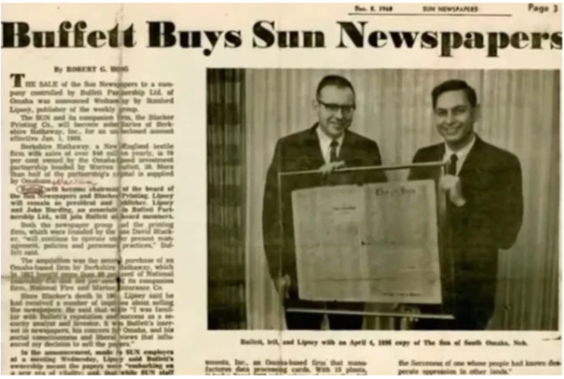 Buffett's love for newspapers were justified decades ago as they offered a monopoly city by city. Today, the digital world has wiped away ad revenues at prolific rates toward newspaper organizations. More ad dollars now gravitate to tech companies like Facebook (FB) who have integrated news on their platform.
Buffett first mentioned the term Moat in his 1986 shareholder letter and is a concept that will never be replaced in my view. In such a simplistic way it describes a difficult and complex concept that is immediately identifiable. Buffett is an investing genius, and he knew going forward investing in competitively advantaged businesses would be advantageous.
I'm launching a Marketplace service called Wide-Moat Investing Platform to help investors do just that. With my services I hope to help investors avoid pitfalls of moat-erosion (hint newspapers over the past decade), as I prefer to invest in moaty type businesses with winds at their back. Continuous business and industry research will help identity these attributes. If your an investor who loves the concept of owning high quality companies over a long time horizon, that will earn high returns on invested capital, this service could be for you
During any market cycle attractively priced, high quality businesses offer high probabilities of compounding capital. As an investor we are buying the future, so why not buy businesses that have a safeguard around them that insulates them from competition. I hope this resonates with potential members that are considering joining the platform. An ideal subscriber will be a long-term patience investor that wants to learn and find compelling investment research.
What is a Moat?
Here's a list of them:
Cost leadership
Intangibles
Switching costs
Network effects
Efficient scale
Management
All of these attributes will be studied and reviewed in great detail within the specific company reports that will be published monthly. Members will have access to a Mock Portfolio showing my favorite top holdings and a Wide-Moat watch list. The watch list will be invaluable to members as this will be a list of companies we will want to own at the right price - the issue currently is the market has too much optimist-ism baked into them. Along with access to the Mock Portfolio and Wide-Moat watch list members will receive in-depth analysis on specific companies each month. Regular market updates will follow on all holdings in our Mock Portfolio and watch list as more public information is released.
To cherry pick my public research some, under two years ago one of my long-term wide-moat ideas at the time was VeriSign (VRSN). From my original write-up on the company shares were trading hands around $88 and delivered a 65% return under those two years. This might be an anomaly of how quickly it played out, but it was a business insulated from competition that was selling for a reasonable price. The moat was switching, as there is no other wholesale provider for internet domain names ending in .com or .net as they have an exclusive agreement with ICANN. I would like to note I do feel the business is fairly valued now.
For readers curious about my background
I have been passionate about investing since graduating college and reading for the first time The Intelligent Investor. I hold a BA in accounting and MBA. With my background as a financial auditor I do bring an in-depth understanding of financial statements that is invaluable when reviewing 10K's and 10Q's.
I like to think I view the world from a different lens which provides an edge. Over the next 12 months I'm going to try my hardest to bring compelling research to the platform to gain scale, creating a community where information flows freely through chat making the platform that more valuable.
I have already wrote one premium piece about a holding company that is selling for a 25-35% discount to its net asset value. Some of the assets within the holding company are very attractive with moat like attributes. The biggest competitive advantage I see is the CEO of the business is a value investor at heart. Along with this analysis I've created a real-time NAV calculation of the company as some of the holdings are publicly traded. Other in-depth research will quickly come to the platform on my top favorite ideas. Our Mock Portfolio has been created and has just started buying positions. The Watch List will always be an evolving list, but there are already a handful of companies on there that have attractive moats.
As a special offer to kickstart and hopefully make my launch auspicious, I am offering a 20% subscription discount, during the month of November 2018 only, for the first 25 subscribers. Rates will be $35 a month or $280 annual for the first 25 and after that it moves backup to $44 a month and $350 annually. If you have questions, please feel free to reach out to me via a direct message.
Recap of what you'll find waiting for you if you join today:
One premium research report on a holding company selling at a 25-35% discount. (Another premium report already in progress)
Real Time Net Asset Value Calculation of the Holding Company
Access to the Mock Portfolio (Updated Weekly)
Access to the Wide-Moat Watch List (Updated Weekly)
Go here to sign up. And welcome!
Disclosure: I am/we are long FB.
I wrote this article myself, and it expresses my own opinions. I am not receiving compensation for it (other than from Seeking Alpha). I have no business relationship with any company whose stock is mentioned in this article.
Additional disclosure: The information contained on this article is not and should not be construed as investment advice, and does not purport to be and does not express any opinion as to the price at which the securities of any company may trade at any time. The information and opinions provided herein should not be taken as specific advice on the merits of any investment decision. Investors should make their own decisions regarding the prospects of any company discussed herein based on such investors' own review of publicly available information and should not rely on the information contained herein.