Key points
Uncertainty over the sustainability of earnings growth is fueling equity weakness, reinforcing our call for boosting resilience in equity portfolios.
Global equities fell amid elevated market volatility. Government bonds and the U.S. dollar rallied, while oil prices declined.
This week's U.S. employment and inflation data may provide clues about the future path of Federal Reserve rate increases.
Equity market performance has been weak so far this earnings season, with market participants more focused on earnings growth sustainability than generally strong third-quarter reports. We believe the uncertainty around future earnings growth has increased and will likely remain high, reinforcing our call for adding resilience to equity portfolios via exposures to quality companies.
Chart of the week
Developed market equity performance versus earnings growth, 2017-2018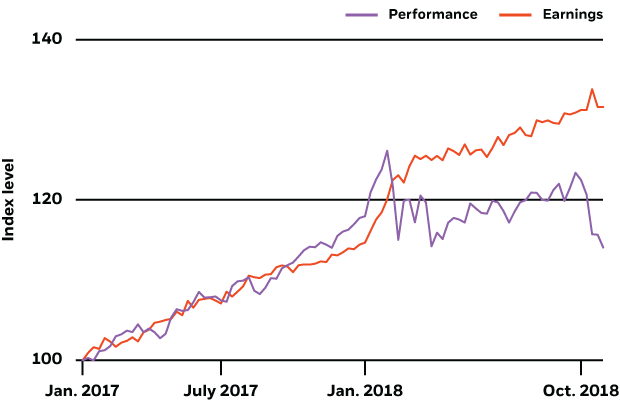 Past performance is not a reliable indicator of current or future results. It is not possible to invest directly in an index.
Sources: BlackRock Investment Institute, with data from Thomson Reuters and MSCI, October, 2018. Notes: The blue line represents the performance of the MSCI World Index and the green line shows 12-month forward earnings-per-share estimates for the index. Both series are rebased to 100 at the start of 2017.
Recent equity market weakness is not a reflection of current earnings, in our view. See the divergence between the blue and green lines in the chart above. Rather, we attribute it to the uncertainty surrounding the sustainability of strong earnings in 2019 and beyond amid rising concern about trade conflicts and their impact on global supply chains. The pace of earnings growth so far has slightly moderated relative to the second quarter as expected, but it's still on track to be very strong year over year, especially in the U.S. Revenue growth has been slower than the robust 10% for the S&P 500 in the second quarter, but consensus estimates point to 7% growth this quarter, well above the long-term average. And estimates for third-quarter earnings per share and fourth-quarter sales have drifted higher over the quarter, even as headlines have focused on negative surprises.
What's ahead for earnings
Last week's selloff appears to be a risk-off event, with bond yields falling and defensive stocks outperforming. Our analysis shows a fade in overall market risk positioning not explained by current earnings, even the stocks of many companies beating analysts' expectations sold off. Market participants look to be increasingly sensitive to the tone of corporate management teams' forward guidance during earnings calls. A number of companies have talked about the impact on global supply chains of a deteriorating U.S. trade relationship with China. Increased tariffs could prompt some companies to shift supply chains out of China. The costs of such adjustments could be significant, potentially threatening corporate margins in the quarters ahead. Our Systematic Active Equity team has picked up greater market concern around rising labor costs. U.S. midterm election uncertainty may also be adding to the anxiety.
It's fair to expect a slower pace of earnings and sales growth in 2019, in our view. This partly reflects a higher year-on-year hurdle after the big boost to corporate earnings from U.S. tax cuts. We also see a moderate slowdown as consistent with our view that the global economy is transitioning to the later stages of the economic cycle. Our BlackRock GPS indicator still points to robust global growth over the next year with moderate inflation. This should provide a positive backdrop for corporate earnings. Yet, the range of potential outcomes for corporate earnings looks to be widening, just as uncertainty around the growth outlook has risen. The outlook for corporate margins could turn south if trade conflicts escalate in 2019 and pricing pressures build further, potentially hitting earnings.
Bottom line: Our base case is that solid global growth will support corporate earnings, but the risks to this view have increased as geopolitical tensions and less-stimulative fiscal and monetary policies amplify economic uncertainty and investor angst. Against this backdrop, we advocate boosting portfolio resilience via exposures to quality companies, particularly those with strong balance sheets and solid earnings prospects. We find these firms primarily in the U.S. We like the technology and health care sectors in particular.
Week in review
Global equities fell, while government bonds and the U.S. dollar rallied. The Nasdaq index posted its biggest single-day drop since August 2011. The VIX volatility gauge traded above 20. Consumer staples, utilities and telecoms shares outperformed, while technology and materials stocks underperformed.
Global economic data were mixed. The eurozone composite PMI fell to 52.7, its lowest level in more than two years. The European Central Bank held interest rates steady and said it doesn't expect to change them through next summer. Annualized third-quarter U.S. GDP growth came in at 3.5%, above the 3.3% expected, but investment slowed.
Brent crude prices fell after Saudi Arabia's energy minister said OPEC would produce as much as needed to meet any supply shortfalls. Right-wing candidate Jair Bolsonaro won Brazil's presidential election.
Week ahead
| Date: | Event |
| --- | --- |
| Oct. 30 | Eurozone Q3 GDP; U.S. consumer confidence |
| Oct. 31 | Japan industrial production; China NBS Manufacturing PMI; eurozone unemployment rate; U.S. Employment Cost Index |
| Nov. 1 | Japan Nikkei, China Caixin, U.S. ISM Manufacturing PMIs |
| Nov. 2 | U.S. employment report, international trade data, factory orders |
| Nov. 4 | U.S. sanctions on Iran go into effect |
U.S. employment and wage inflation data this week may provide clues about the path of Fed tightening, especially as market debate has increased lately about whether the central bank will pause its rate increases at its upcoming meetings. Economists expect solid October non-farm payroll growth to further confirm a strong U.S. labor market, though recent hurricanes could add some noise to the data. Wage inflation data are expected to come in strong. This economic backdrop would be consistent with the gradual pace of Fed normalization we expect, with around three more rate increases over the next 12 months.
Global snapshot
Weekly and 12-month performance of selected assets
| Equities | Week | YTD | 12 Months | Div. Yield |
| --- | --- | --- | --- | --- |
| U.S. Large Caps | -3.9% | -0.6% | 3.8% | 2.0% |
| U.S. Small Caps | -3.8% | -2.4% | 0.3% | 1.3% |
| Non-U.S.World | -3.7% | -12.7% | -9.4% | 3.5% |
| Non-U.S.Developed | -3.9% | -11.2% | -8.3% | 3.7% |
| Japan | -4.6% | -8.7% | -4.5% | 2.5% |
| Emerging | -3.3% | -17.2% | -13.2% | 3.2% |
| Asia ex-Japan | -3.7% | -17.9% | -14.2% | 3.1% |
| Bonds | Week | YTD | 12 Months | Yield |
| --- | --- | --- | --- | --- |
| U.S. Treasuries | 0.7% | -1.7% | -1.1% | 3.1% |
| U.S. TIPS | 0.4% | -1.7% | -0.1% | 3.2% |
| U.S. Investment Grade | 0.3% | -3.2% | -2.0% | 4.2% |
| U.S. High Yield | -0.7% | 0.9% | 0.9% | 6.9% |
| U.S. Municipals | 0.3% | -0.8% | -0.3% | 3.0% |
| Non-U.S. Developed | 0.1% | -3.7% | -1.1% | 1.0% |
| Emerging Market $ Bonds | -0.2% | -4.7% | -3.4% | 6.7% |
| Commodities | Week | YTD | 12 Months | Level |
| --- | --- | --- | --- | --- |
| Brent Crude Oil | -2.7% | 16.1% | 30.9% | $77.62 |
| Gold | 0.6% | -5.3% | -2.6% | $1,234 |
| Copper | -1.0% | -15.0% | -11.8% | $6,160 |
| Currencies | Week | YTD | 12 Months | Level |
| --- | --- | --- | --- | --- |
| Euro/USD | -1.0% | -5.0% | -2.1% | 1.14 |
| USD/Yen | -0.6% | -0.7% | -1.8% | 111.91 |
| Pound/USD | -1.9% | -5.1% | -2.5% | 1.28 |
Source: Bloomberg. As of October 26, 2018.
Notes: Weekly data through Friday. Equity and bond performance are measured in total index returns in U.S. dollars. U.S. large caps are represented by the S&P 500 Index; U.S. small caps are represented by the Russell 2000 Index; Non-U.S. world equity by the MSCI ACWI ex U.S.; non-U.S. developed equity by the MSCI EAFE Index; Japan, Emerging and Asia ex-Japan by their respective MSCI Indexes; U.S. Treasuries by the Bloomberg Barclays U.S. Treasury Index; U.S. TIPS by the U.S. Treasury Inflation Notes Total Return Index; U.S. investment grade by the Bloomberg Barclays U.S. Corporate Index; U.S. high yield by the Bloomberg Barclays U.S. Corporate High Yield 2% Issuer Capped Index; U.S. municipals by the Bloomberg Barclays Municipal Bond Index; non-U.S. developed bonds by the Bloomberg Barclays Global Aggregate ex USD; and emerging market $ bonds by the JP Morgan EMBI Global Diversified Index. Brent crude oil prices are in U.S. dollars per barrel, gold prices are in U.S. dollar per troy ounce and copper prices are in U.S. dollar per metric ton. The Euro/USD level is represented by U.S. dollar per euro, USD/JPY by yen per U.S. dollar and Pound/USD by U.S. dollar per pound. Index performance is shown for illustrative purposes only. It is not possible to invest directly in an index. Past performance is not indicative of future results.
Asset class views
Views from a U.S. dollar perspective over a three-month horizon
Asset Class
View
Comments
Equities
U.S.
Solid corporate earnings and strong economic growth underpin our positive view. We still like the momentum factor, but have a growing preference for quality as the 2019 macro and earnings outlooks become more uncertain. Technology tops our list of favored sectors.
Europe
Relatively muted earnings growth, weak economic momentum and political risks are challenges. A value bias makes Europe less attractive without a clear catalyst for value outperformance. We prefer higher-quality, globally-oriented names.
Japan
We see a weaker yen, solid earnings and cheap valuations as supportive, but await a clear catalyst to propel sustained outperformance. Other positives include shareholder-friendly corporate behavior, central bank stock buying and political stability.
EM
Attractive valuations, along with a backdrop of economic reforms and robust earnings growth, support the case for EM stocks. We view financial contagion risks as low. Uncertainty around trade is likely to persist, though a lot of it has been priced in. We see the greatest opportunities in EM Asia on the back of strong fundamentals.
Asia ex Japan
The economic and earnings backdrop is encouraging, with near-term resilience in China despite slower credit growth. We like selected Southeast Asian markets but recognize a worse-than-expected Chinese slowdown or disruptions in global trade would pose risks to the entire region.
Fixed Income
U.S. government bonds
We see rates rising moderately amid economic expansion and Fed normalization. Longer maturities are vulnerable to yield curve steepening but should offer portfolio ballast amid any growth scares. We favor shorter-duration and inflation-linked debt as buffers against rising rates and inflation. We find reasonable longer-term value in mortgages, but see short-term challenges as the Fed winds down its mortgage holdings.
U.S. municipals
Solid retail investor demand and muted supply are supportive, but rising rates could weigh on absolute performance. We prefer a neutral duration stance and up-in-quality bias in the near term. We favor a barbell approach focused on two- and 20-year maturities.
U.S. credit
Sustained growth supports credit, but high valuations limit upside. We favor investment grade (IG) credit as ballast to equity risk. We believe higher-quality floating rate debt and shorter maturities look well positioned for rising rates.
European sovereigns
The ECB's negative interest rate policy has made yields unattractive and vulnerable to the improving growth outlook. We expect core eurozone yields to rise. Valuations in the periphery appear tight. The exception is Italy, where spreads are reflecting simmering political risks. The upcoming end to the ECB's net asset purchases could dampen appetite for the asset class.
European credit
Valuations are attractive, particularly on a hedged basis for U.S. dollar investors. We favor subordinated financial debt, where yields are more attractive. We also prefer European over UK credit as the market is not pricing in a significant Brexit premium. Industrials and financials are favored sectors. Political uncertainty is a concern.
EM debt
We prefer hard-currency over local-currency debt and developed market corporate bonds. Slowing supply and broadly strong EM fundamentals add to the relative appeal of hard-currency EM debt. Trade conflicts and a tightening of global financial conditions call for a selective approach.
Asia fixed income
Stable fundamentals, cheapening valuations and slowing issuance are supportive. China's representation in the region's bond universe is rising. Higher-quality growth and a focus on financial sector reform are long-term positives, but a sharp China growth slowdown would be a challenge.
Other
Commodities and currencies
*
Global supply constraints are likely to underpin oil prices. Trade tensions add downside risk to industrial metal prices. We are neutral on the U.S. dollar. Rising global uncertainty and a widening U.S. yield differential with other economies provide support, but an elevated valuation may constrain further gains.

* Given the breadth of this category, we do not offer a consolidated view.
This post originally appeared on the BlackRock Blog.