MACRO NEWS
Global: Last week was marked by a severe risk-off environment with equities trying to find a low as concerns over US-China trade war, low excess liquidity and global growth slowdown continue to frighten investors. According to Bloomberg, global stocks have lost nearly USD 8 trillion in October, the most since 2008 (as of Friday). Market participants have been trying to find the level of equities that would generate a reaction from the Fed's official, and the 2,400 threshold for the SP500 index seems to be the 'popular one'. The December 2019 EuroDollar futures implied rate is currently trading at 3.15% (figure 1, left frame), which means that the market is pricing another 3 to 4 hikes by the end of next year (including the December hike) and seems definitely more concerned than US policymakers. With the Dec20-Dec19 and Dec-21-Dec-20 yield curves both slightly negative, investors are expecting the tightening monetary policy cycle to end by December 2019. Two central banks are meeting this week (BoE and BoJ); however, no change is priced in regarding their monetary policy.
US: Annual real GDP growth in the US came in at 3.5% in the third quarter, slightly higher than the 3.3% expected, due to the build up in inventories, which contribute to 2.07% of the output. Even though we do not see any recession concerns for the time being, some leading indicators are pricing in a little slowdown in the business activity for the next 6 months to come. All eyes will be on ISM Manufacturing PMI and NFP and earnings figures coming in on Thursday and Friday, respectively.
EZ: European equities have also been vulnerable since the beginning of the year, especially the financial sector as the index is down almost 30% since this year's high (according to Eikon Reuters). The slowdown of the economic activity combined with the decrease in excess liquidity as we saw previously is weighing on banks' share prices; the SX7E banks' index is down 33% since January's high and is slowly gradually trending towards its all-time low support. This week, real GDP growth is expected to slow to 1.8% in Q3 while inflation is expected to increase by 0.1% to 2.2% (figure 1, right frame); the question now is: 'where is the value in the Euro area considering that real growth is slowing?'
German Chancellor Angela Merkel also announced her 'retirement' from politics at the end of her current term in 2021 after the CDU party achieved its worst result in 50 years in Hesse, winning 27% of the vote (down from 38.5% 5 years ago). On the other hand, the far-right party Alternative for Germany (AfD) won 13.1% of the vote, more than tripling its results since 2013.
Figure 1

Source: Eikon Reuters, Bloomberg
USD SPECULATIVE POSITIONING
On aggregate, speculators are still significantly bearish on US Treasuries (NYSEARCA:TLT) with net short positioning totaling -1.87M contracts on the week ending October 23rd according to the CFTC report. However, we saw an important reduction in shorts over the past month, especially for the 5Y and 10Y contracts (combined net shorts are down 233K in the last month).
Figure 2

Source: CFTC
FX POSITIONING
EURUSD: EURUSD broke its 1.1450 support last week, corresponding to the 50% Fibo retracement of the 1.0340 – 1.2560 range, and found a low at around 1.1330. Even though the single currency appears cheap according to a range of range of fair value metrics (i.e. PPP prices EURUSD at 1.33), the euro is still very sensitive to a sudden risk-off environment.
Figure 3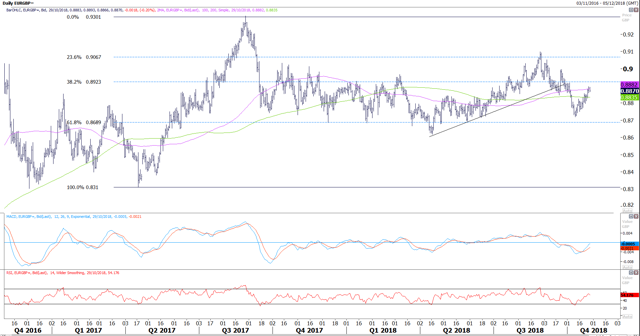 Source: Eikon Reuters
EURGBP: Momentum has been bullish on EURGBP since the beginning of the month, with the pair up 1.5 figure and trading around its 100D SMA at 0.8880. The vulnerability of the pound ahead of Brexit negotiations and the UK Budget on Monday could lead to a breakout of the next resistance at 0.8925. We still see some upside potential in the short-term and would consider buying some if the pair comes back down to 0.88.
GBPUSD: The pair found support at 1.2775 (Sep 5th low) but is still subject to some volatility in the short term and therefore we will stay away from it for the time being. Traders will watch the BoE meeting on Thursday and NFP figures on Friday.
USDJPY: We did not manage to enter our short position on USDJPY last week, but we still remain long Japanese yen from our short position on AUDJPY. USDJPY found support at around 111.40 on Friday, which corresponds to the intersection of the 38.2% Fibo retracement of the 99.60 – 118.70 range and the 100D SMA. We would not short the pair at current levels as we could see some equity gains this week with a preference for holding risk-on assets.
USDCAD: As expected, the BoC raised its policy interest rate to 1.75% last week (25bps increase); however, we saw some selling pressures on the Canadian dollar. It looks like USDCAD is about to break its 1.31-1.3125 resistance zone, which corresponds to the high of the downward trending channel and the 61.8% Fibo retracement of the 1.2060 – 1.3780 range. The trend looks bullish, and we are looking to buy some USDCAD if the pair consolidates toward 1.3050.
Figure 4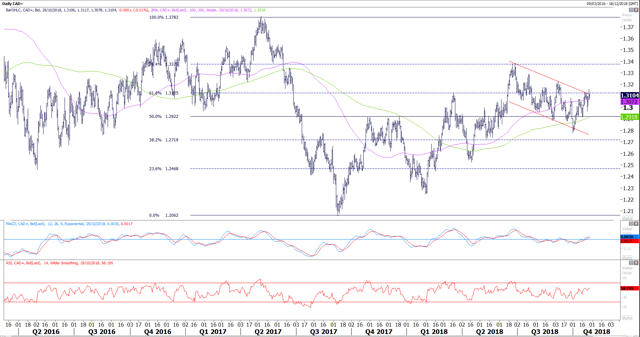 Source: Eikon Reuters
USDCHF: Momentum on USDCHF seems to be fading after a significant rise from 0.9550 to over 1 over the past couple of months. We would go short at around 1.0070 (76.4% Fibo retracement of 0.9250 – 1.0330 range) and play a short-term reversal. We would keep a tight stop at 1.0125 with a first target at 0.99.
Figure 5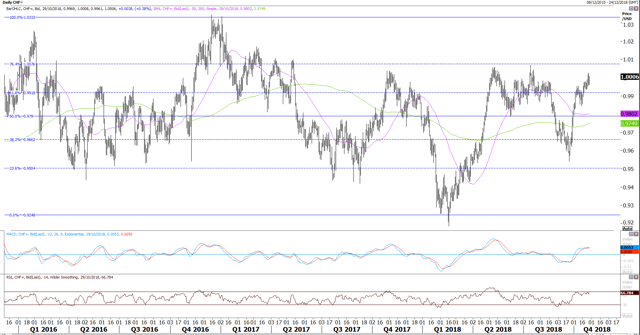 Source: Eikon Reuters
CHART OF THE WEEK
It is clear that the elevated uncertainty around Brexit in addition to the sharp decline in leading economic indicators have been challenging the UK outlook and financial asset prices. We previously challenged the 1.5% real growth rate expected for 2018 as sentiment on the economic activity has been falling in recent months, confirming our 6 to 12-month view. The Deloitte CFO survey fell to -29.5 in the third quarter, its lowest level in two years, as top executives are expecting business spending and hiring to slow post-Brexit. In addition, CBI business optimism has also been trending lower and tend to act as a good 6M leading indicators of real economic output as figure 6 shows. If the indicator continues its negative momentum in the two quarters, the probability of a recession in the UK will start to become significant.
Figure 6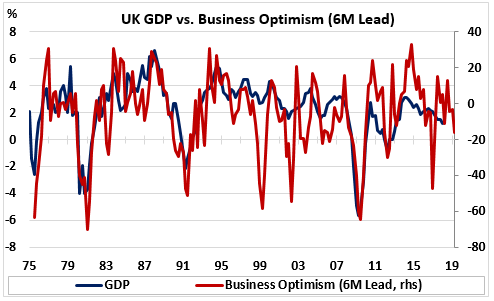 Source: Eikon Reuters, DataStream
Disclosure: I am/we are short AUDJPY.
I wrote this article myself, and it expresses my own opinions. I am not receiving compensation for it (other than from Seeking Alpha). I have no business relationship with any company whose stock is mentioned in this article.